I love taking traditional recipes and turning them into something more! Today's turkey-lentil cannelloni combines two hearty proteins, some homemade sauces (that can easily be subbed for store-bought,) and meal prep/batch cooking! Plus, this is a recipe that can be made for a household with mixed dietary restrictions!

This is a sponsored post. I was fortunate enough to receive monetary compensation and/or products from Lentils.org (Canadian Lentils.) Though compensation was received, all opinions are my own and I would not recommend a product that I did not enjoy.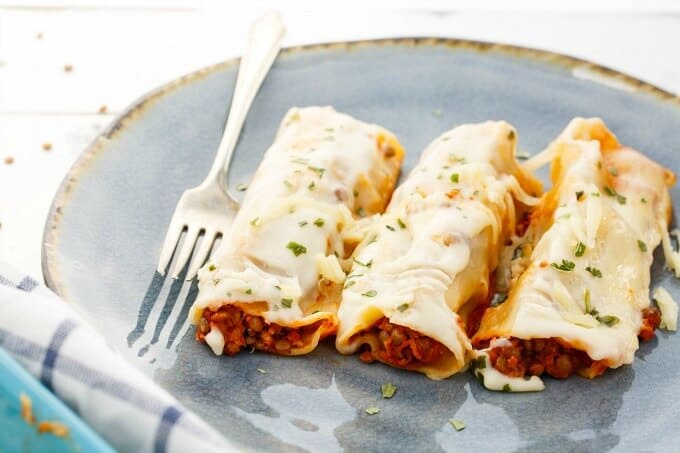 I've teamed up with one of my favorite organizations to bring you these turkey-lentil cannelloni!
Lentils.org is all about pulses. Pulses are part of the legume family, but focus on the dried seed. Think chickpeas, lentils, split peas, etc. Lentils are by far my favorite pulse as, unlike many dried beans and chickpeas, they require no soaking. Meaning you can work with them straight from the bag! If you are even more short on time, you can turn to canned lentils, but red lentils cook in under 10 minutes so I feel it isn't any extra work on my part to just cook them.
---
For the longest while I have been thinking of ways to showcase both meat and vegetarian recipes that a family can enjoy where there are mixed food lifestyles. Many are shocked when I tell them I am vegetarian because I still cook meat for my family. What am I going to do, let them starve?! My reasoning for being vegetarian comes from a lot of things, but I like seeing my family happy 🙂
My favorite meal is something that we can enjoy altogether. I shouldn't have to make a vegetarian dish just for them to enjoy a meal with me. So I have begun to really focus on meals that can be made with meat, but also quickly transformed into a vegetarian one so there is as little cooking as possible. Because let's face it, having to make two meals every day is a little tiring 😉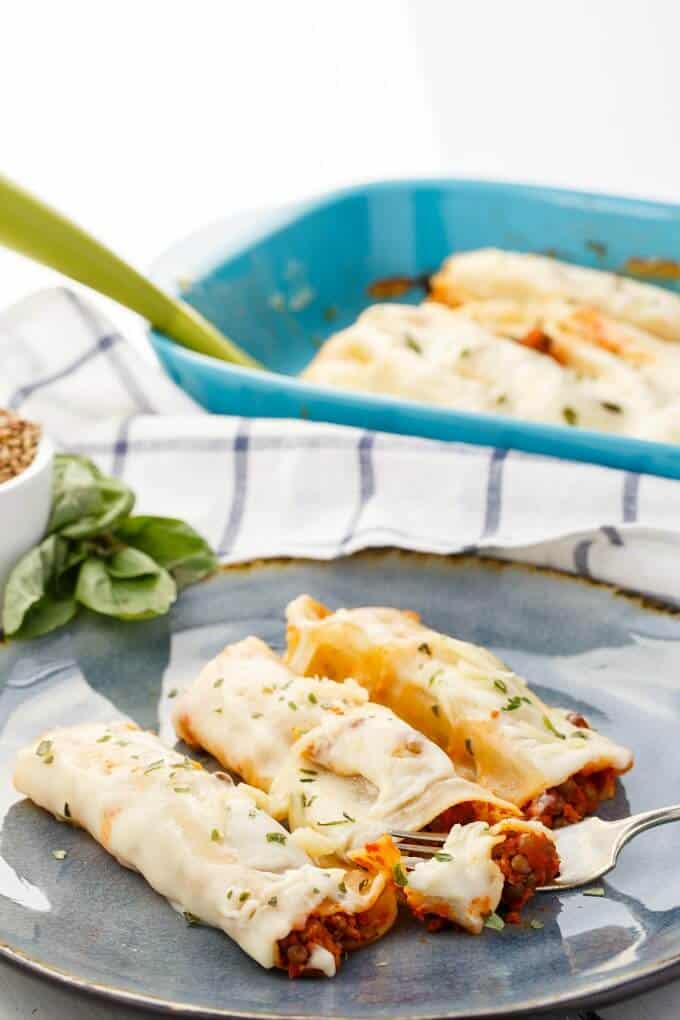 That's where these turkey-lentil cannelloni come in! Lentils are a great meal prep and batch cooking protein. So simple to cook, and they hold up well in the fridge. It is a nice habit to always have some on hand in the fridge, because they really do extend a meal. For example, today's recipe would traditionally use two pounds of ground beef. I decided to use up my extra one pound container of ground turkey, and compensate the rest with cooked lentils. Now my family enjoys two nutritious proteins, and we keep the meal to a budget.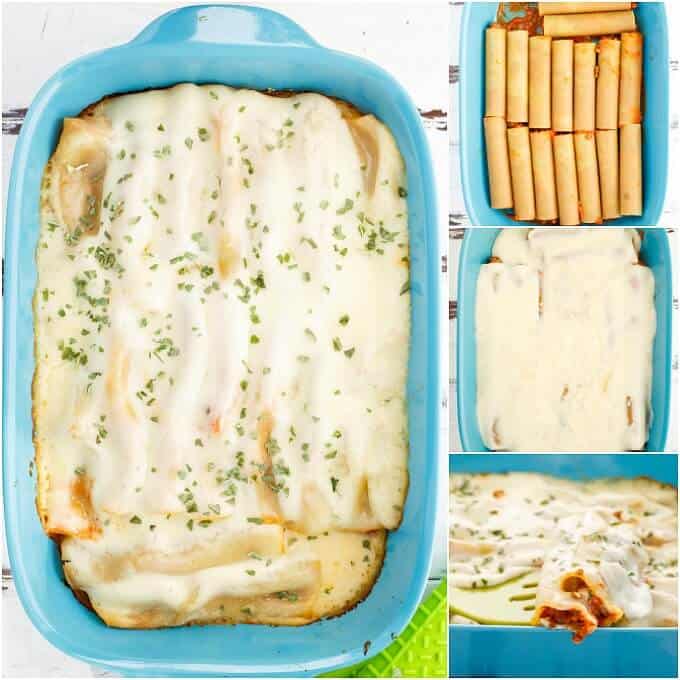 But what about vegetarians?!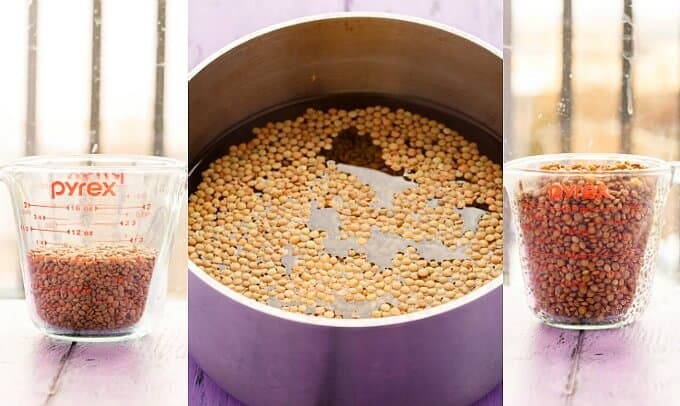 Well, simple. Just cook up extra lentils, and measure out one pound of cooked lentils for a half batch of this recipe, or two pounds for a full batch. But let's be honest, in my case, I have TWO people eating a full recipe, and then there is just me eating the vegetarian ones (well, now I am lying because I know my husband would dive into my vegetarian ones!) However, you could always go with one pound meat, one pound lentils and keep them separate. Fill half the tubes with meat, and the other half with lentils and there you have it: ONE recipe for two different lifestyle choices 🙂 That is a BIG WIN in my books, especially in the meal prep world.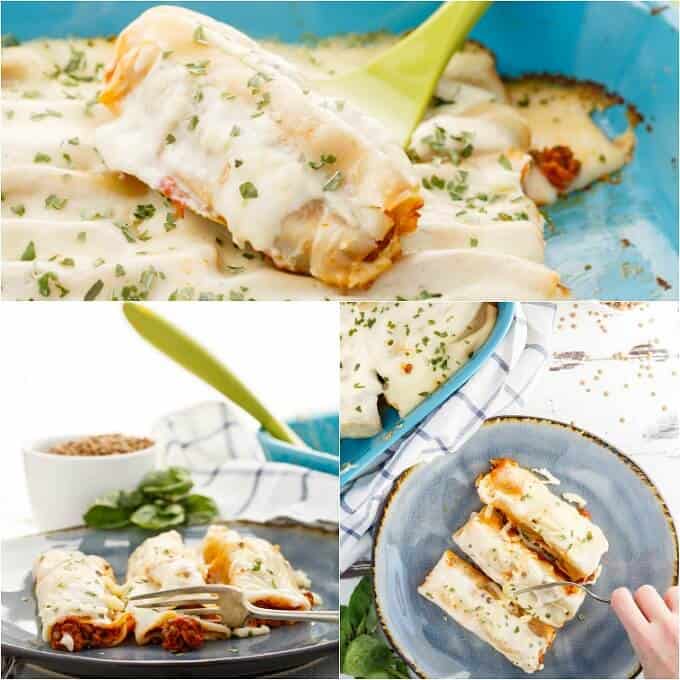 I know many associate lentils with vegetarian/vegan cooking, but they really do transform a meat dish. These turkey-lentil cannelloni now have extra benefits: sure, great protein, but they are also packed full of fiber and are low in fat. Plus, this is a sneaky way to get your kids introduced to lentils (you can cook them a bit longer so they are softer and more hidden within the meat.)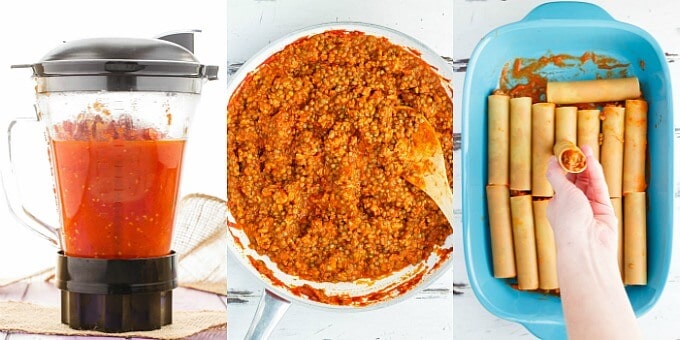 However, if you have someone like my daughter who has no issues with lentils, well, you will probably have a kid who devours this meal in one sitting and then asks for more! I was so happy to run back into the kitchen to get her two more tubes because she liked them that much 🙂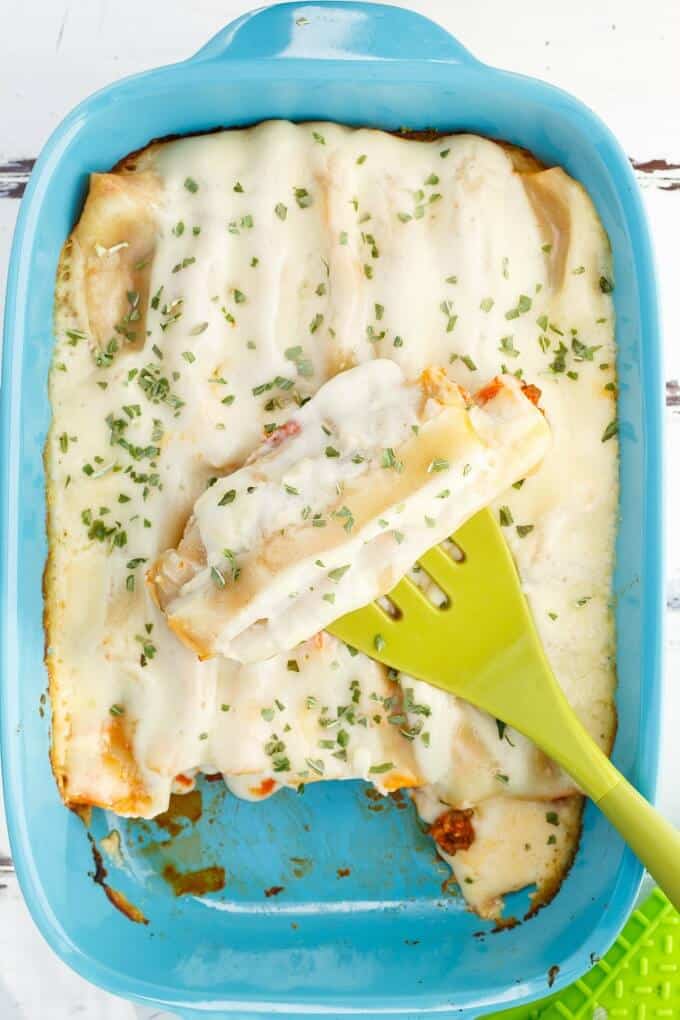 Now that I understand all about busy work weeks, I totally support meal prep and batch cooking. These turkey-lentil cannelloni can be stuffed and then frozen before cooking, leaving you with some prepped recipes in the freezer. I also feel this recipe is a great way to use up any extra ground meat you have hanging around. Sometimes we do not need to use up two pounds of meat, but the way it came in the packaging leaves us with little options. And if you do not have extra lentils hanging around in your fridge, no worries as they do not take long to cook at ALL.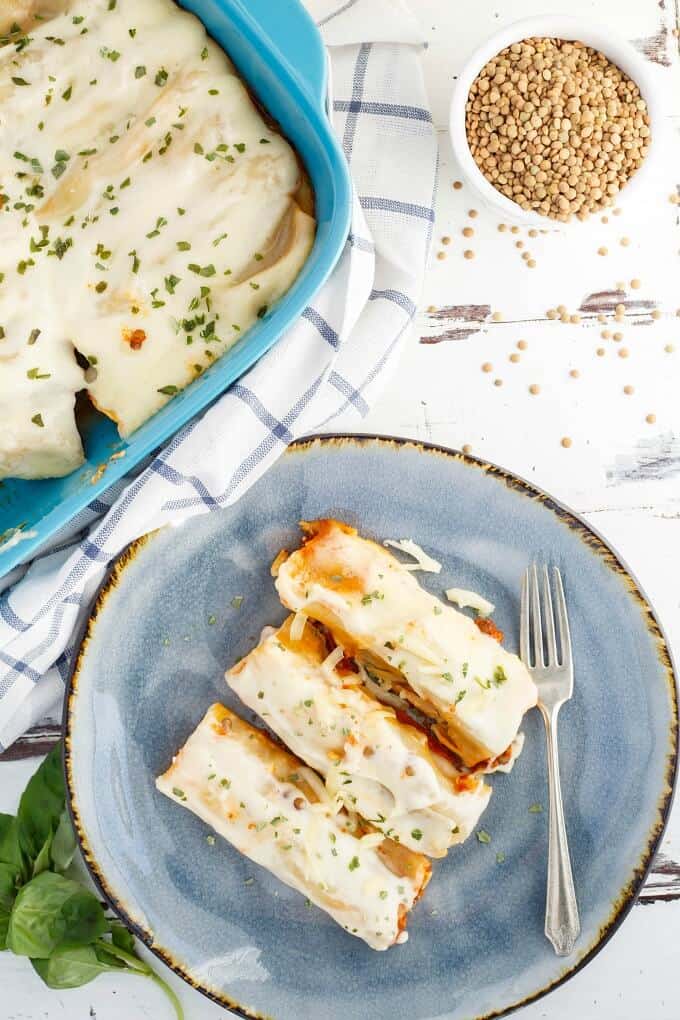 So the next time you think of lentils, think outside the box! Sure, soups and curries are delicious, but look at this turkey-lentil cannelloni recipe. It screams comfort food, without being totally unhealthy, and it utilizes batch/meal prep cooking. My only regret was not making more to store in the freezer 😉
📖 Recipe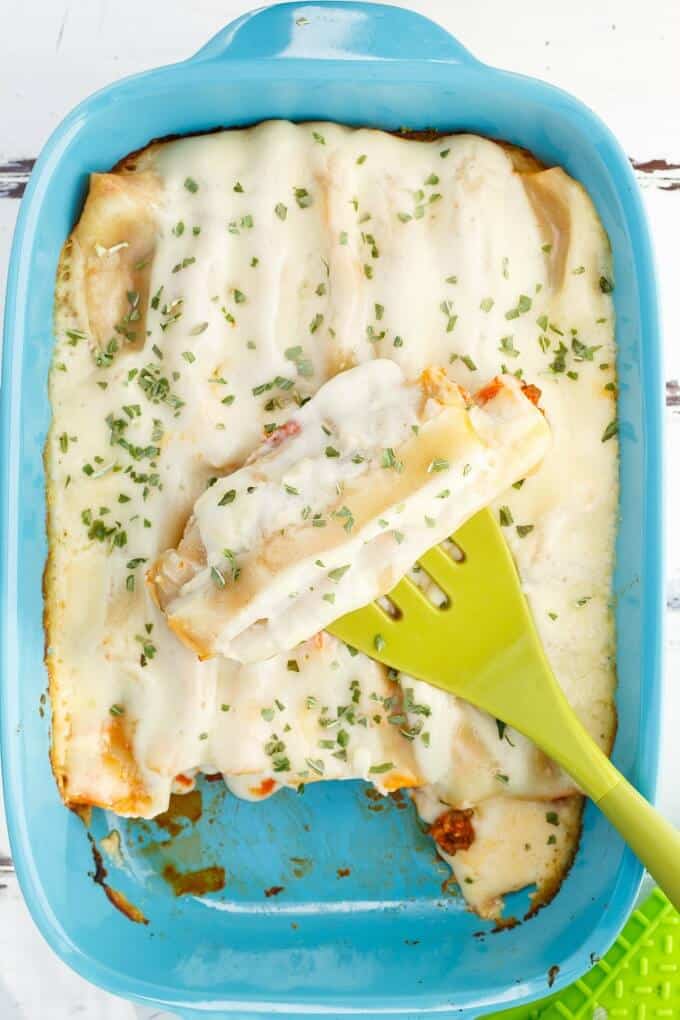 Turkey-Lentil Cannelloni (Vegetarian Version Inc.)
Total Time:
2 hours
25 minutes
A little bit of work, but well worth it! You can easily sub in store-bought sauces for this turkey-lentil cannelloni, making it more time-efficient.
Ingredients
2 (250g each) boxes uncooked oven ready cannelloni tubes
8 oz dried green lentils, rinsed (I used Eston Green Lentils) yields 16 oz cooked lentils
1 lb ground turkey
1 onion, diced
3 garlic cloves, minced
Tomato Sauce
2 (28 oz each) cans diced tomatoes
Salt and pepper
1 tbsp. olive oil
1 garlic clove, minced
2 tsp. granulated sugar
2 sprigs fresh basil
White Sauce
¼ cup salted butter
¼ cup all-purpose flour
¼ cup white wine
2 ½ cups milk
1 tsp. coarse whole grain mustard
1 cup grated cheese (Parmesan, sharp Cheddar, Gouda, etc.)
Instructions
Add lentils and 3 cups water to a large pot over high heat.
Bring to a boil, cover, and simmer for 10-15 minutes, or until tender (15-20 minutes if using larger green lentils.) Drain and season with salt.
Tomato Sauce
Add all tomato sauce ingredients to a large saucepan. Bring to a boil, reduce heat, and simmer, uncovered, for 30 minutes. Remove basil, move to blender, and puree until smooth.
Filling
Heat a large frying pan over medium-high heat. Add ground turkey and onion. Cook until browned, about 10 minutes. Stir in salt, pepper, and garlic. Cook until aromatic, about 1 minute.
Pour in cooked lentils and 3 ½ cups of tomato sauce, reserving the rest for coating the bottom of the pans so the pasta does not stick. Simmer for 20-30 minutes, remove from heat and allow to cool.
White Sauce
While sauce is simmering, add butter to a small pan over medium heat. Once bubbling, stir in flour. Whisk constantly, cooking for about 5 minutes, or until roux has browned. Deglaze with white wine. Add milk, whisking constantly, until smooth. Stir in mustard. Heat until mixture thickens and bubbles begin to form. Boil for 1-2 minutes, whisking constantly. Remove from heat and stir in cheese.
Assembly
Spread sauce evenly on bottom of two baking dishes (9x13.)
Place meat filling into a large piping bag (or freezer bag with a corner snipped off.) Pipe mixture into cannelloni tubes and lay flat in pan with no overlap.
Pour white sauce on top to completely cover pasta. Cover pans with aluminum foil.
Place into preheat 375F for 45 minutes, or until pasta is tender. Sprinkle with additional fresh basil if desired.
Notes
If you cook the dish from frozen, add 10-15 minutes to your cook time. You can sub in store-bought sauces to save time. For vegetarian recipe, omit turkey and double lentil quantity. The longer you cook your meat in the tomato sauce, the more tender it gets. I like to simmer my tomato sauce in the first step for a few hours to really get it concentrated in flavors. Remember, different lentil types take more or less time when cooking, so be sure to check out Lentils.org tips: How to cook lentils!
Nutrition Information:
Yield:

6
Serving Size:

1
Amount Per Serving:
Calories:

671
Total Fat:

36g
Saturated Fat:

16g
Trans Fat:

1g
Unsaturated Fat:

17g
Cholesterol:

151mg
Sodium:

498mg
Carbohydrates:

43g
Fiber:

11g
Sugar:

11g
Protein:

43g
This is a sponsored post. I was fortunate enough to receive monetary compensation and/or products from Lentils.org (Canadian Lentils.) Though compensation was received, all opinions are my own and I would not recommend a product that I did not enjoy.
Love these turkey-lentil cannelloni?! Try some of these recipes: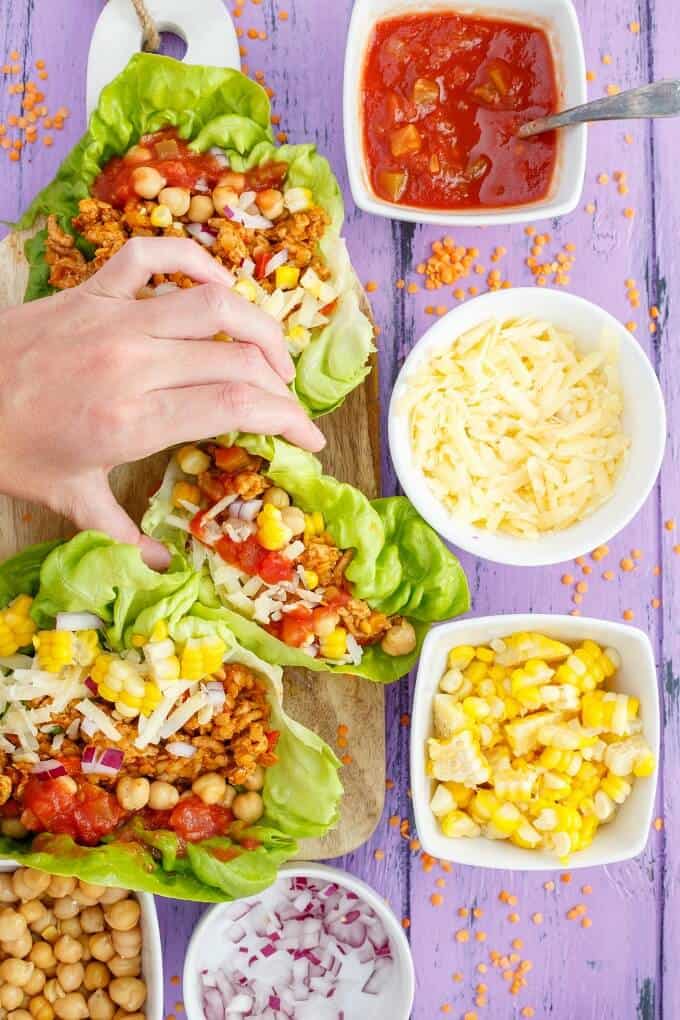 Taco Turkey-Lentil Lettuce Wraps