While not exactly a one-pot meal (you have to remove the sausages at one point,) this beer gravy sausage dinner is a great midweek meal that yields a rich, bold taste! You better be a beer lover for this one 😉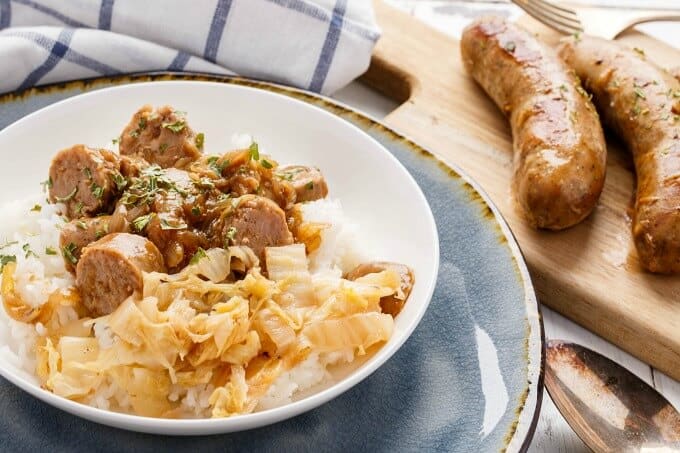 I am back again!
I have been planning ahead for my blog transition and while I THINK I have all my recipes thought out for the rest of the year, I am sure some things will change 😉 I want to be ahead in posts by at least a month so that leaves me time to promote and such in between.
So while I have made some meat recipes with their vegetarian counterpart, I still have a few more to make before I am where I want to be 🙂 That means today is another ordinary meat recipe!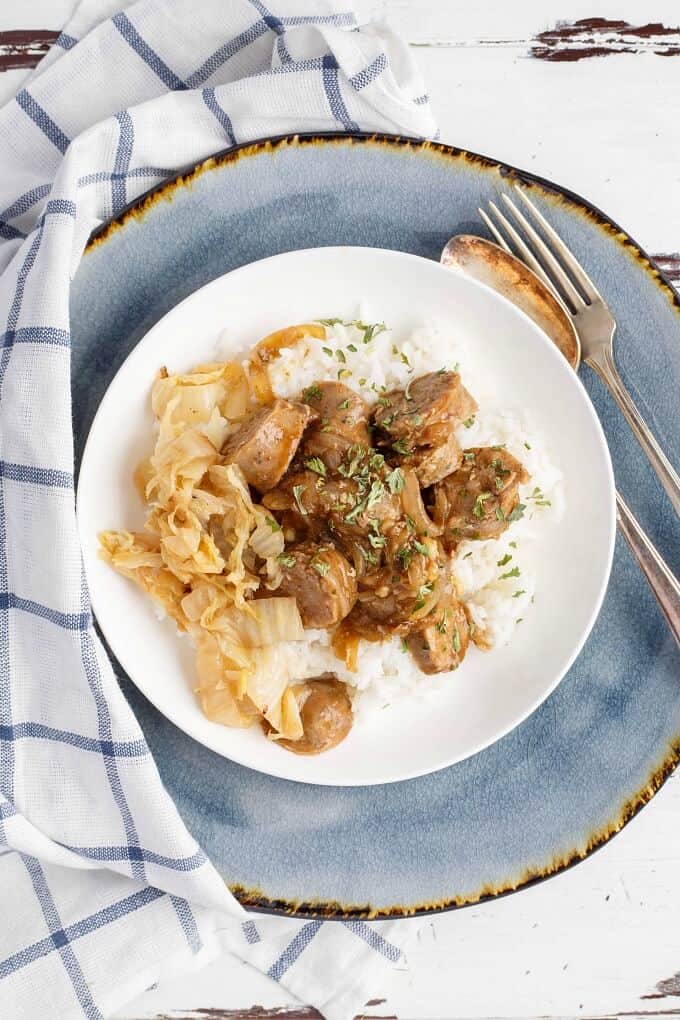 This beer gravy sausage dinner came to life when I was digging through our freezer for salmon and discovered an avalanche… Never let your husband into your well-organized freezer ever again! I don't even know where the salmon is now, but hey, there was a lot of sausage sitting on top!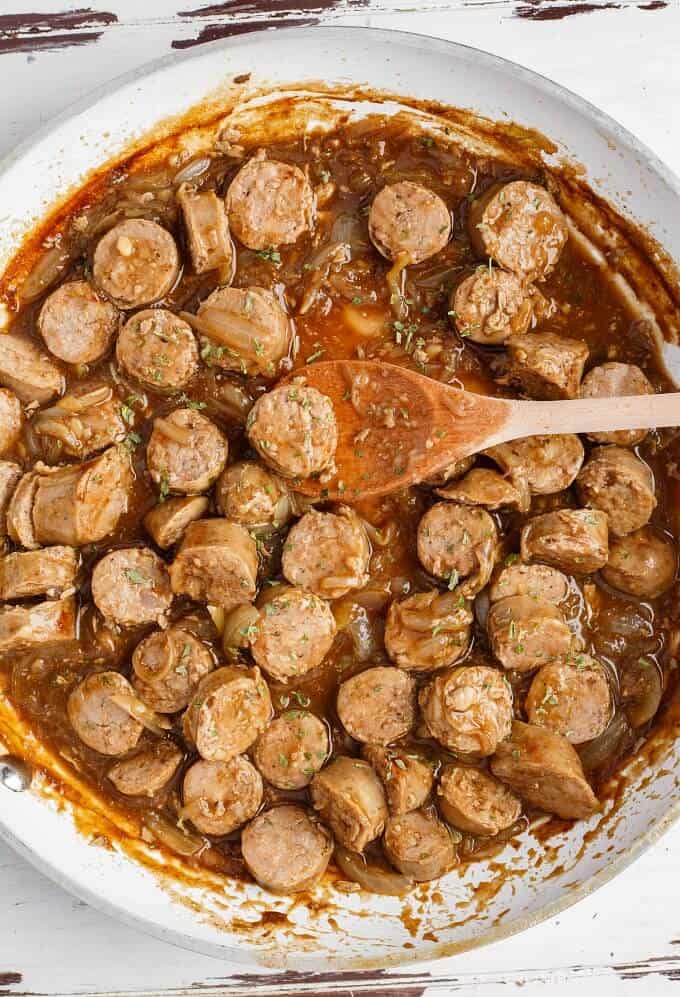 I don't really have St. Patrick's Day recipes on the blog. It has never really been one of my "goals." I mean, we do not celebrate it. We do not go out for it (don't even think about getting close to a bar!) But I do feel this recipe is appropriate, so I'll dub it my "one-and-only St. Patrick's Day recipe" 🙂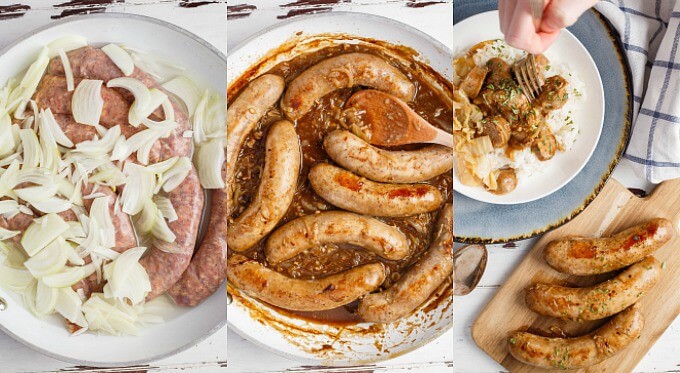 Of course, this beer gravy sausage dinner is made with none other than Guinness! But I do feel any dark beer will work (it is what we had on hand.) Now, as I said in the opening paragraph, you better be a beer lover for this dish! The sauce is made mostly of beer, meaning LOTS of beer flavour! I did not even bother letting my daughter try this one because I knew what her opinion would be, lol.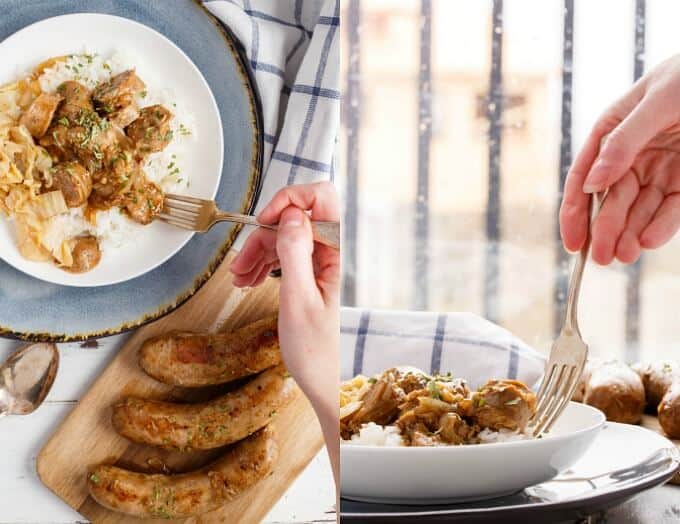 But if you have someone like my husband in your life, they will really appreciate the bold flavours of this dish. We are not huge drinkers, but do enjoy finer beverages when desired. So of course we had Guinness laying around 😉 I was out of potatoes or would have served these over mashed spuds, however, rice worked perfectly! The gravy yield is not huge, but it is rich, so a little goes a long way. Paired with some sour cabbage and you have a great dinner!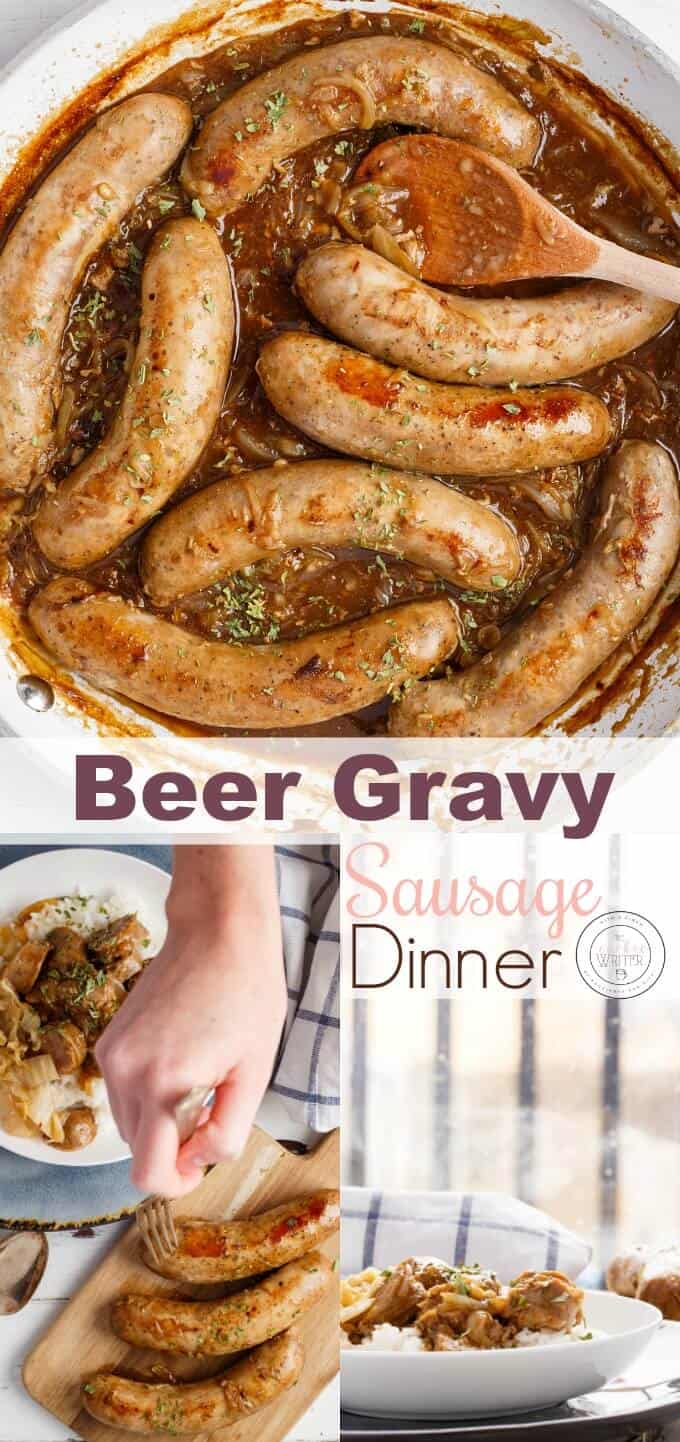 Beer Gravy Sausage Dinner
---
A very simple recipe, this beer gravy sausage dinner is perfect for ale lovers! If you are not a beer fan, this may not be for you 😉
5 minPrep Time
40 minCook Time
45 minTotal Time
Ingredients
2 lbs hot Italian sausages (or your favourite!)
2 onions, sliced
1/2 cup water (or enough to cover the bottom of your pan and rise about halfway up the sausages.)
Black pepper
1 tbsp. all-purpose flour (or a gluten-free variety if needed!)
1 1/4 cup dark beer (I used Guinness but a dark gluten-free beer could work!)
Fresh oregano or parsley for garnish
Instructions
Place a large frying pan over medium heat. Add sausages, onion, black pepper, and water. Once boiling, cook for 10 minutes. Flip sausages, and cook for another 10 minutes. Once liquid has reduced, remove about 1-2 tbsp. of liquid to reserve. Keep cooking sausages until nicely browned on both sides. Remove to a plate (leaving onions in pan.)
Add liquid back to pan with flour. Cook over medium heat, stirring frequently, for about 5-7 minutes, or browned in colour. Pour in beer and whisk constantly, getting the browned bits off the bottom of pan. Simmer for a few minutes.
Add sausages back to pan (whole or sliced: though sliced does make serving easier!) Continue to cook until sausages are heated through and desired "gravy" consistency is reached!
Pour over rice, mashed potatoes, or even pasta! Pairs perfectly with vinegar-cabbage! Sprinkle with fresh oregano or parsley if desired.
Notes
The "gravy" sauce can be doubled, just make sure to remove more liquid before it dissipates. If you don't have enough liquid, butter makes a great substitute!
7.8.1.2
595
https://thecookiewriter.com/beer-gravy-sausage-dinner/
Need something to pair this meal with?! Here are my recommendations:
Healthy Baked Mac n' Cheese from Fuchsia Freezer
Easy Parmesan Mashed Potatoes from 365 Days of Recipes
Love this beer gravy sausage dinner?! Try some of these recipes: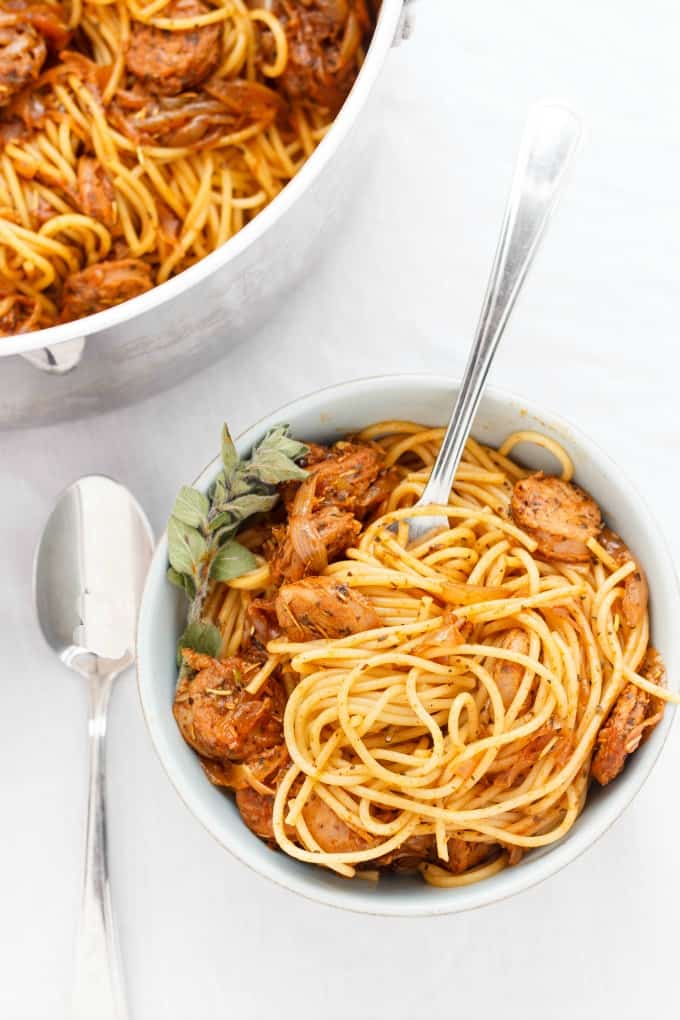 onioDry Herb Sausage Spaghetti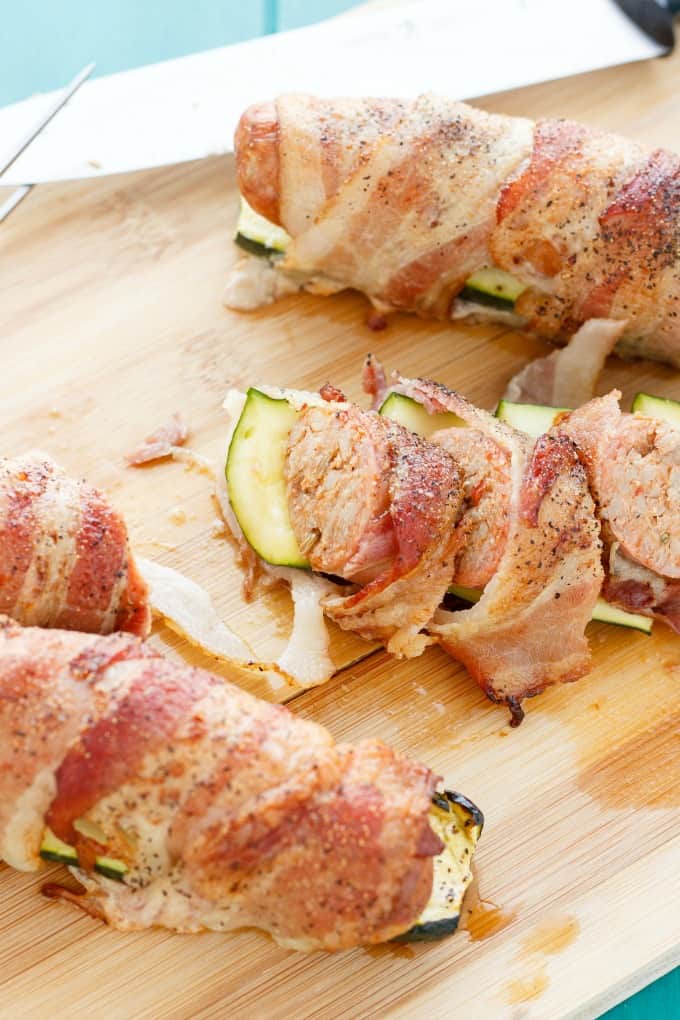 Bacon Wrapped Sausage and Zucchini