Comfort food is all the rage, even if we are still dealing with hot temperatures outside! This turkey bacon chili bowl is a lighter take on my previous bacon chili bowl recipe.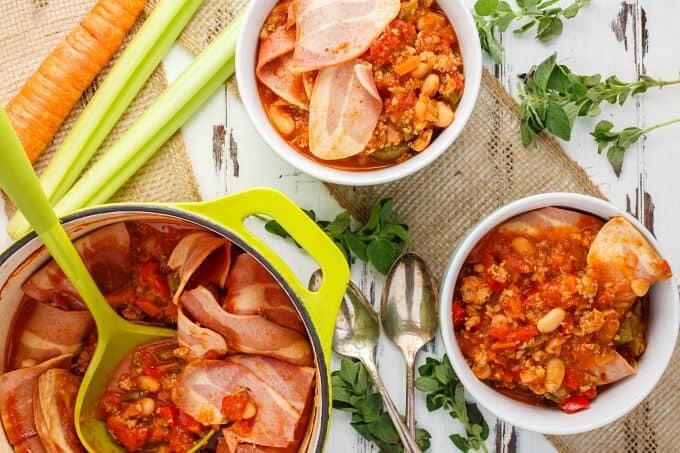 I told you I would keep to my schedule! Somewhat...
Admittedly, yesterday was a holiday so I am shifting my posts to Tuesday and Wednesday 🙂
Kiddo is officially back to school and I am back to work. To think I had this beautiful plan for all this summer posting...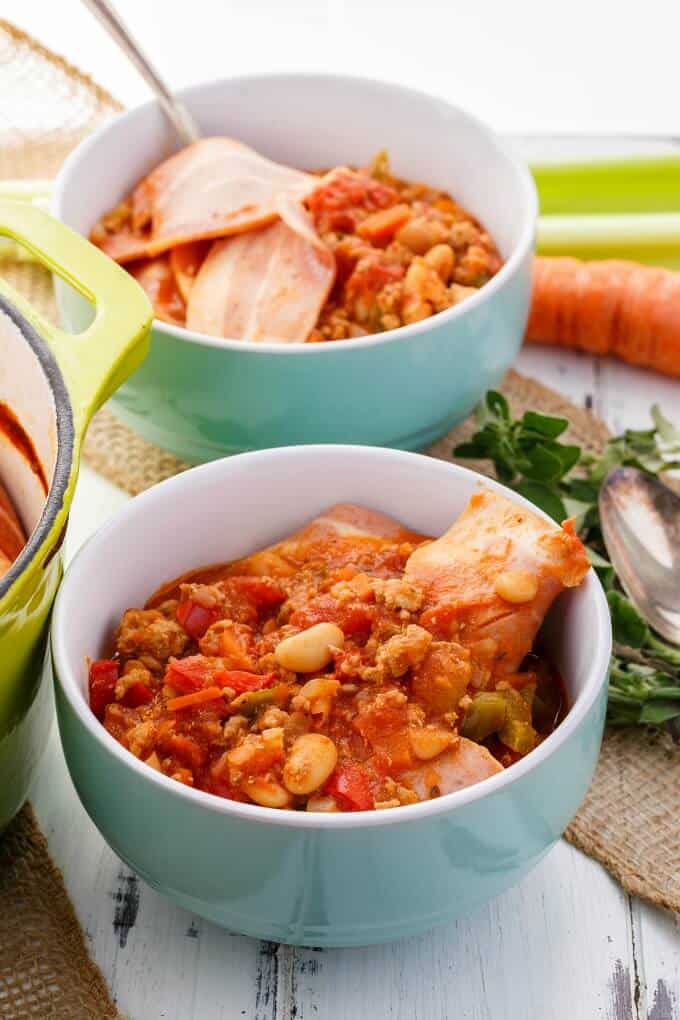 Her first day back to school is always a fun event! Of course, for me it is all about food! Her first lunch back is not this turkey bacon chili bowl, but a three meat chili. However, I think she would be happy with this recipe, too, since it went over so well in the past!
Meaning, like some of my recent posts, that I actually developed this recipe many months back in preparation for sharing in the fall. And here it finally is!!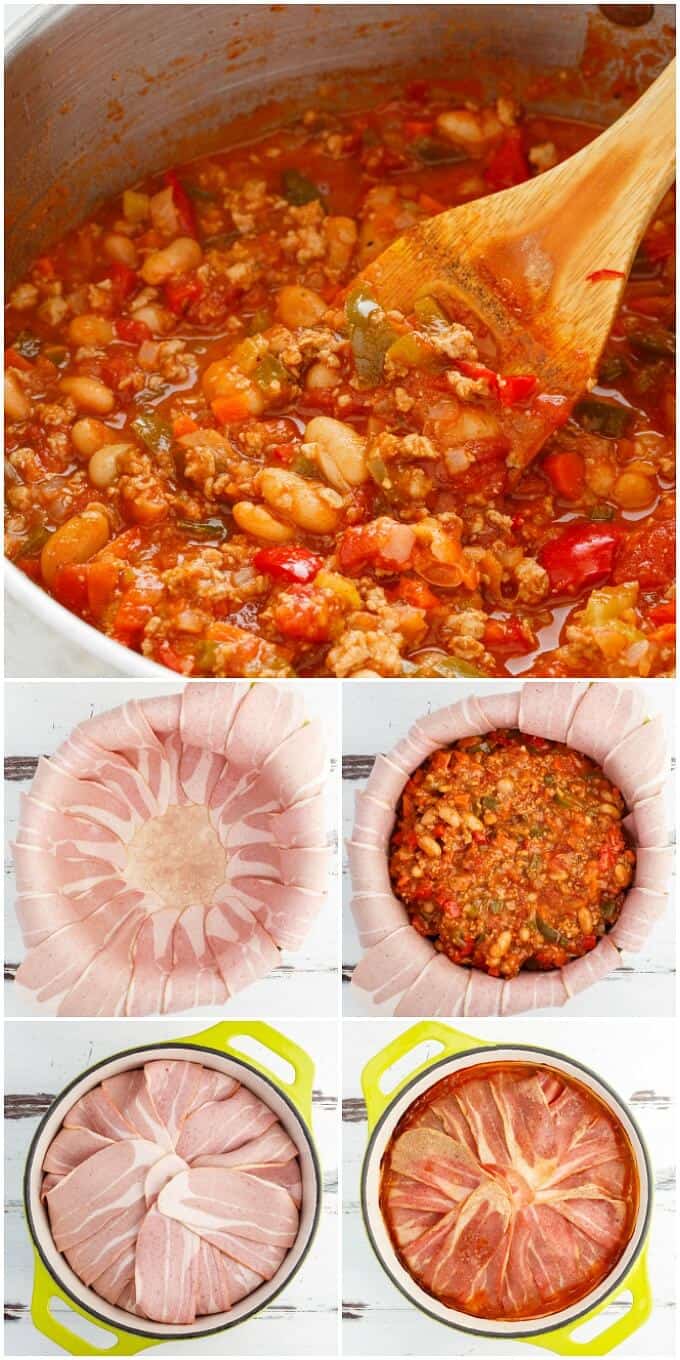 We are happy to eat chili any day of the year! But when the cooler months hit, there is something so satisfying about a homemade chili. I use canned tomatoes in this recipe, but fresh tomatoes work perfectly (if you follow me on Instagram, you will see my chili this past weekend contained fresh garden tomatoes!)
As many know, I am a brand ambassador for Canadian Turkey. Even in my down time, I turn to turkey meat as it is a lean and healthy protein. My non-sponsored work still contains turkey, or potatoes (Little Potato Company,) etc. because they are ingredients I use and trust. Sometimes I feel like a giant ad, but rest assure, what I am promoting are foods that we use pretty much daily.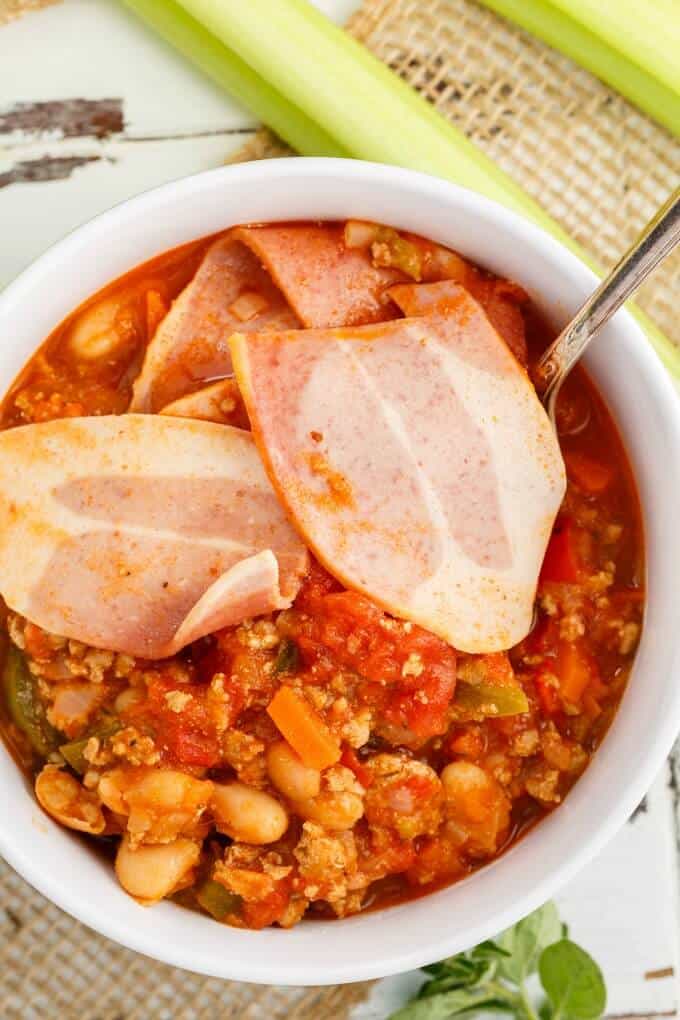 When it comes to this turkey bacon chili bowl recipe, you really cannot go wrong. As I have begun to experiment more with different turkey cuts (specifically turkey bacon,) I have come to realize every brand has their way. Meaning, the turkey bacon I used in this recipe was Butterball. Looks like traditional bacon for the most part with their long slices. However, I have recently been working with Lilydale turkey bacon and it is completely different! Wouldn't really work for this recipe as their strips are smaller and wider (but a fan-favorite here!) So basically, look around and see what your market provides.
However, my family enjoys both brands and each has their place!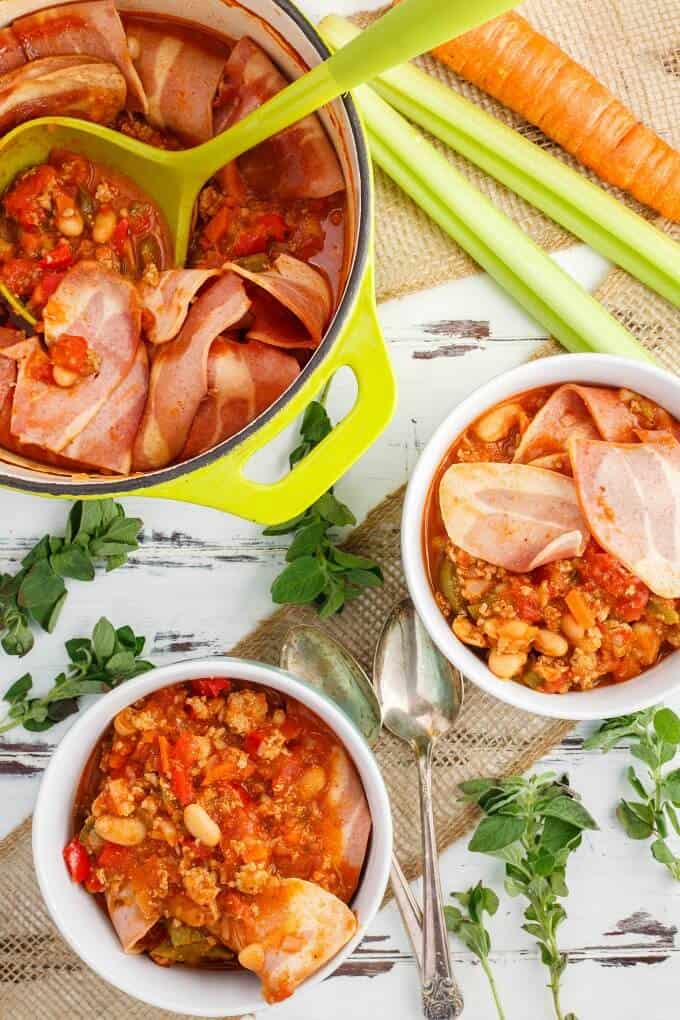 On a final note, this chili can be made in the slow cooker the night before and then finished off in the oven (with the bacon bowl.) I recommend cooking up the ground meat with the veggies first before throwing everything together in the slow cooker and proceeding like normal.
📖 Recipe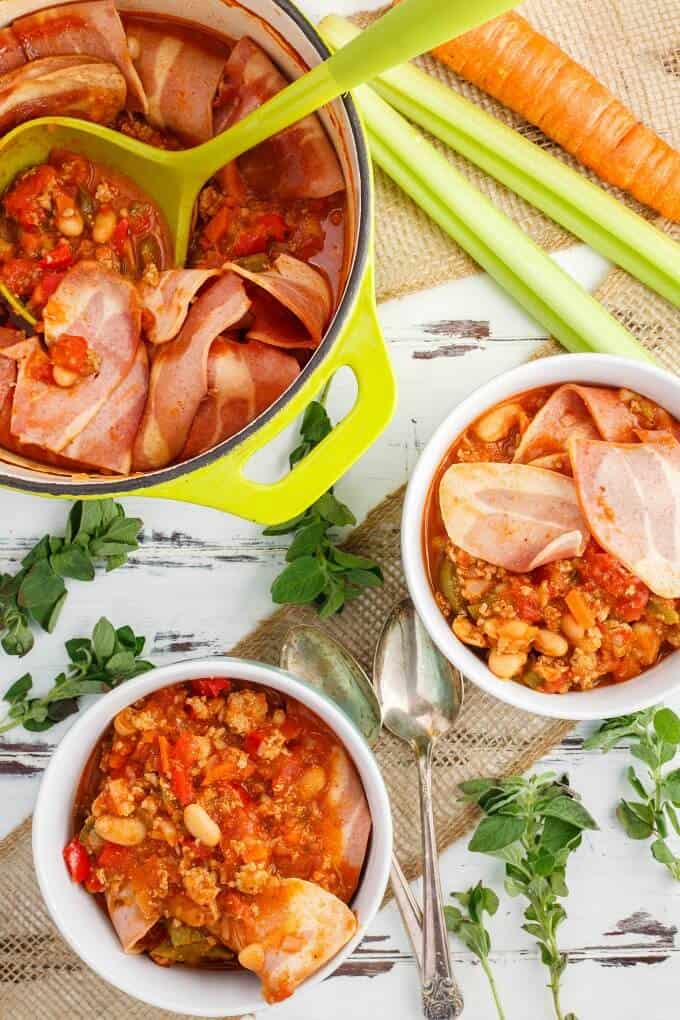 Turkey Bacon Chili Bowl
Cook Time:
1 hour
35 minutes
Total Time:
1 hour
55 minutes
Back-to-school can be stressful and easy weeknight dinners are all the rage! This turkey bacon chili bowl recipe is simple to make, freezes well, and leftovers can be used for chili-cheese dogs!
Ingredients
1 lb ground turkey
1 tbsp. olive oil
1 (28 oz) can diced tomatoes
1 (19 oz) can white kidney beans, NOT drained
1 tbsp. chili powder
1 tsp. cumin
2 tsp. dried oregano
1 tsp. Hungarian paprika
Salt and pepper
¼ cup tomato paste
1 red pepper, diced
1 green pepper, diced
1 large onion, diced
4 garlic cloves, minced
1 large carrot, chopped small
1 tsp. granulated sugar
20 slices turkey bacon (may need more or less depending on size of dutch oven.)
Instructions
In a large pot over medium-high heat, add in olive oil. Once shimmering, add the ground turkey. Cook for 2 minutes and then add onions and carrots. Cook until meat is browned, about 5 minutes. Add in garlic and cook for another minute.
Stir in the seasonings, making sure to add salt and pepper. Stir in tomato paste and cook for a few more minutes. Add in tomatoes, and beans. Reduce heat to a simmer and cook, uncovered, for 30 minutes. Add in your peppers and sugar. Taste for seasoning. Cook for another 30-45 minutes, or until veggies are tender-crisp.
Preheat oven to 400F.
Prepare your cast iron dutch oven by layering the bacon slices around the inside of the pan, overlapping slightly. You want to leave enough overhang so when you fold back the bacon, it covers the top nicely. The amount of bacon slices depends on the size of your dutch oven (mine is 2.5 quarts.)
Pour the chili into the bacon-wrapped pot and then bring the overhanging slices of bacon over the top to cover the chili (almost like the chili is sitting in a giant bacon cup now.)
Place pan into the oven, uncovered, and bake for 30-45 minutes, or until your bacon reaches desired crispiness. Allow to cool slightly and dig in!
Notes
To make this recipe in the slow cooker, brown your meat, onions, and garlic in a large pan. Add all the ingredients except for the bacon to your slow cooker and cook on low heat for about 8 hours. You will have to finish the recipe in the oven.
Nutrition Information:
Yield:

6
Serving Size:

1
Amount Per Serving:
Calories:

406
Total Fat:

23g
Saturated Fat:

6g
Trans Fat:

0g
Unsaturated Fat:

15g
Cholesterol:

121mg
Sodium:

749mg
Carbohydrates:

20g
Fiber:

5g
Sugar:

7g
Protein:

32g
Here is the sneak peek of the "Meaty" Vegetarian Chili (No Fake Meat!) going live tomorrow!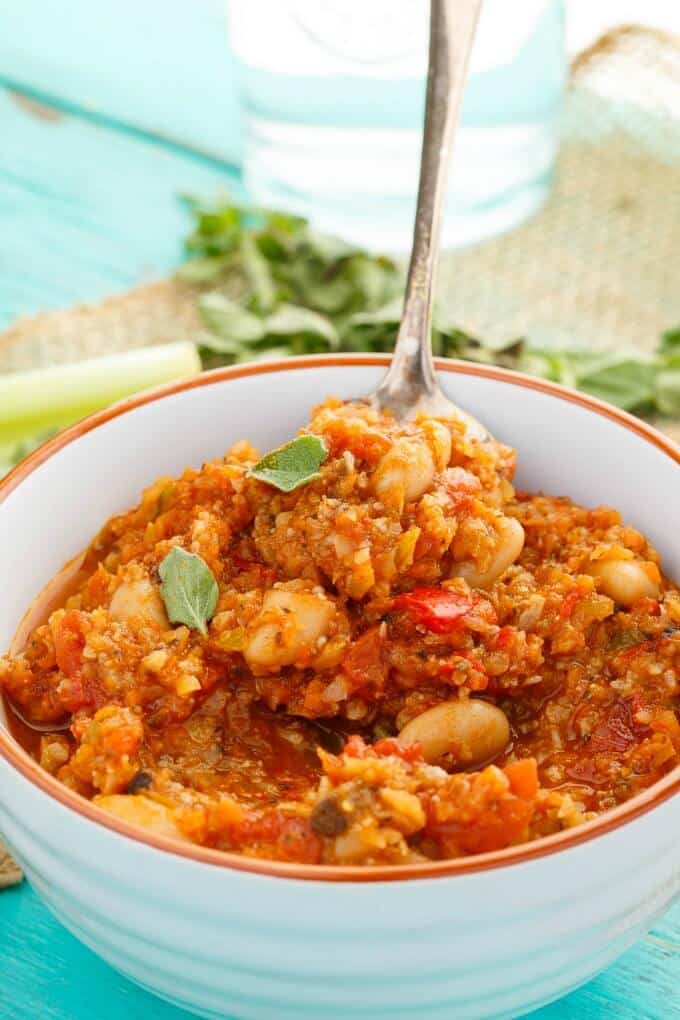 Love this turkey bacon chili bowl?! Try some of these recipes: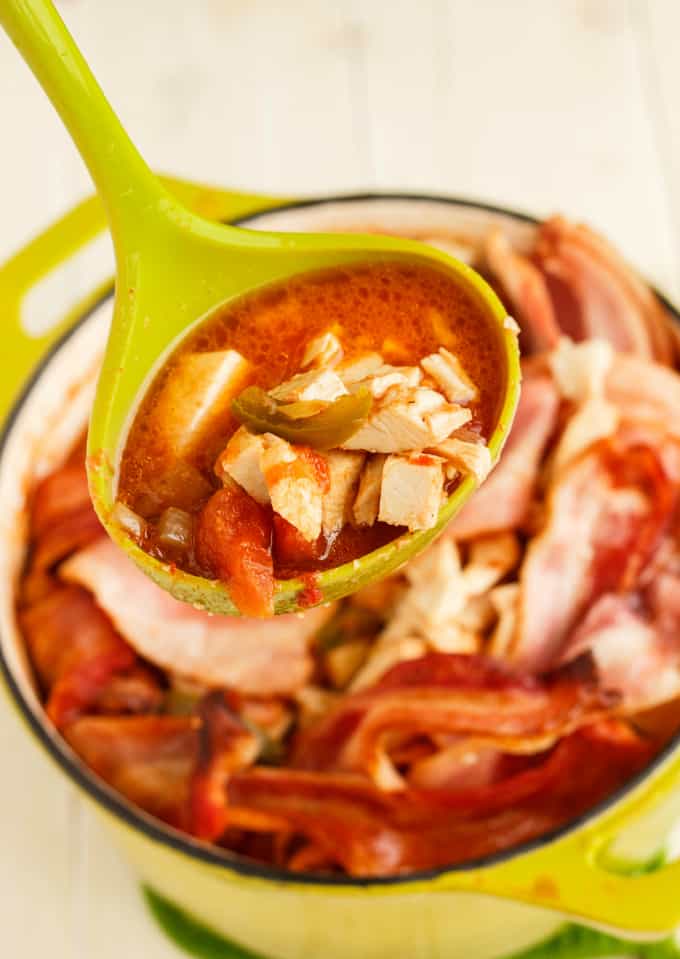 Beer and Turkey Chili in a Bacon Blanket