Ahhhh! I am pretty sure I created the vegetarian nightmare today, but the idea popped into my head and I knew Dan would love it. We had a ton of leftover turkey from Christmas to use up and when I spotted this cool idea on Pinterest regarding bacon, I knew I would put my own spin on it. While my bacon blanket was not the prettiest, the beer and turkey chili turned out phenomenal! I had reserved a couple of bowls of the beer chili before adding in the meat so I could have my own vegetarian version. Otherwise, this beer and turkey chili in a bacon blanket is faaaaaaar from being vegetarian!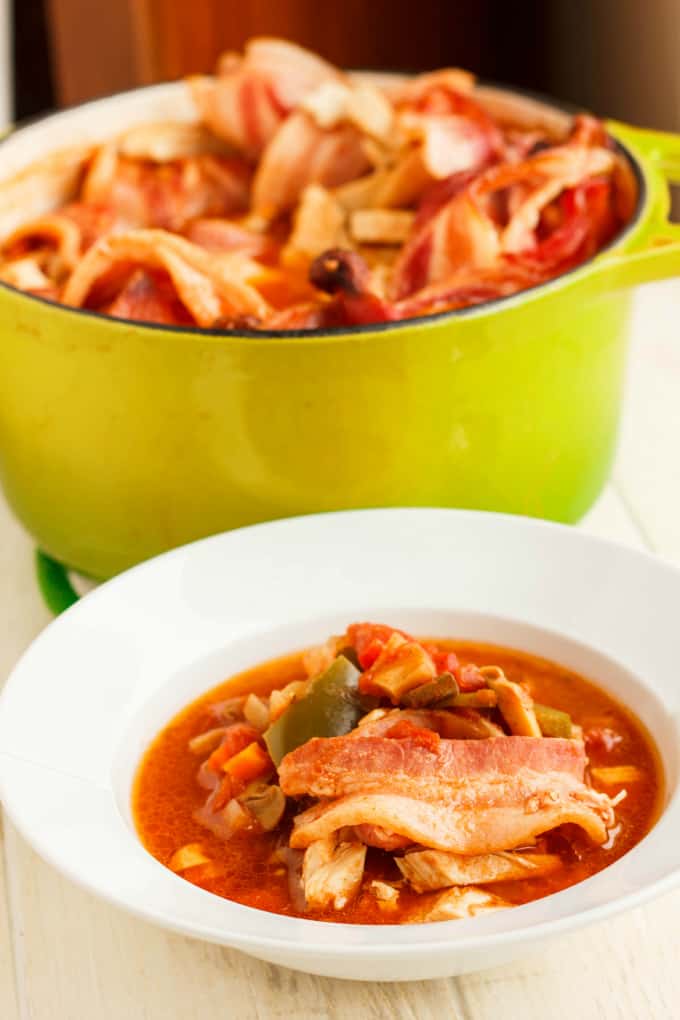 To begin, you can easily substitute in ground beef for the turkey. I used turkey because it needed to be used up. If using beef, fry up the ground beef in a frying pan with the onions and garlic before adding it to the slow cooker. I cooked the chili in the slow cooker without the turkey because the turkey was already cooked, and recooking it for 8 hours, even on low, had me worried it would dry out. When the chili finished in the slow cooker, I mixed in the turkey and then transferred it into the bacon pot, allowing it all to cook for about 50 minutes. This way, no dry turkey, and all the flavours come together!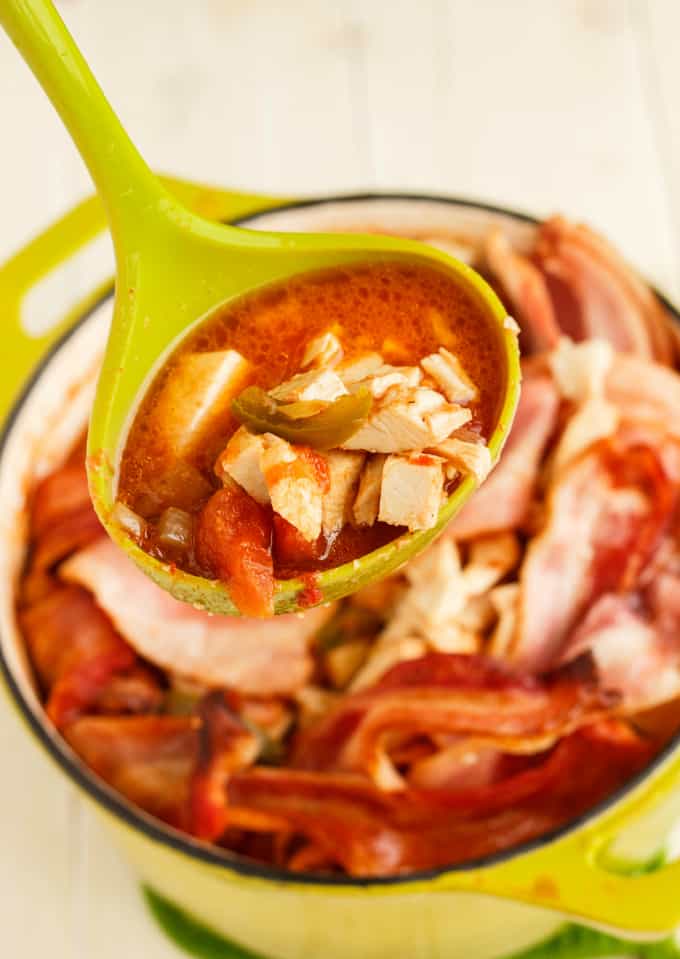 This beer and turkey chili was quite liquidity because of the addition of beer. I only wanted to add half a bottle, but Dan insisted on the whole thing. I was starting this at 3AM (don't ask!) so I did not put up a fight. The beer flavour really came through. Reducing it by half a bottle would probably help with the liquid, or you could always add in another can of diced tomatoes (making sure they are drained) and another can of beans (also drained.) It does not help that the bacon put off some grease, so even more liquid is made! Just serve the chili over rice if you are concerned, or when you transfer it to the bacon pan, try and leave behind some of the extra liquid in the slow cooker.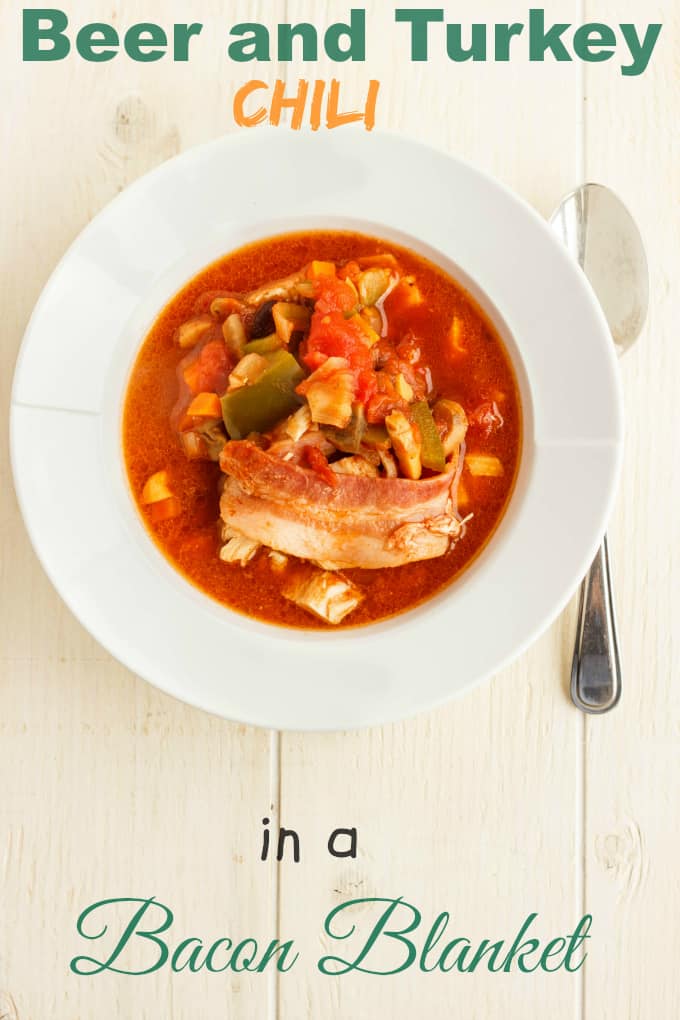 Now for the beer blanket! I don't know what size my small dutch oven is. I probably should have used my 5 quart, but I was concerned my bacon would not reach across the top to cover the chili properly. I was wrong. I actually had too much extra bacon when it came to length (as you can see in the pictures.) I think this recipe is going to be more of a puzzle for some when it comes to figuring out how much overhang to leave. My smaller dutch oven worked fine, just need to use less bacon slices next time and no pieces on the bottom of the pot (I really thought my bacon slices would be too short!) Otherwise, the idea was really fun and it turned out nice and crispy on top, with cooked bacon along the sides and bottom of pan. Obviously those pieces did not get as crispy, but they were still cooked through.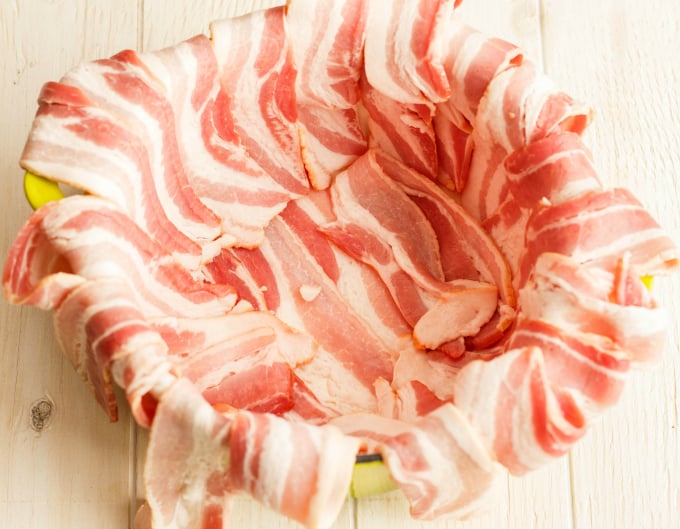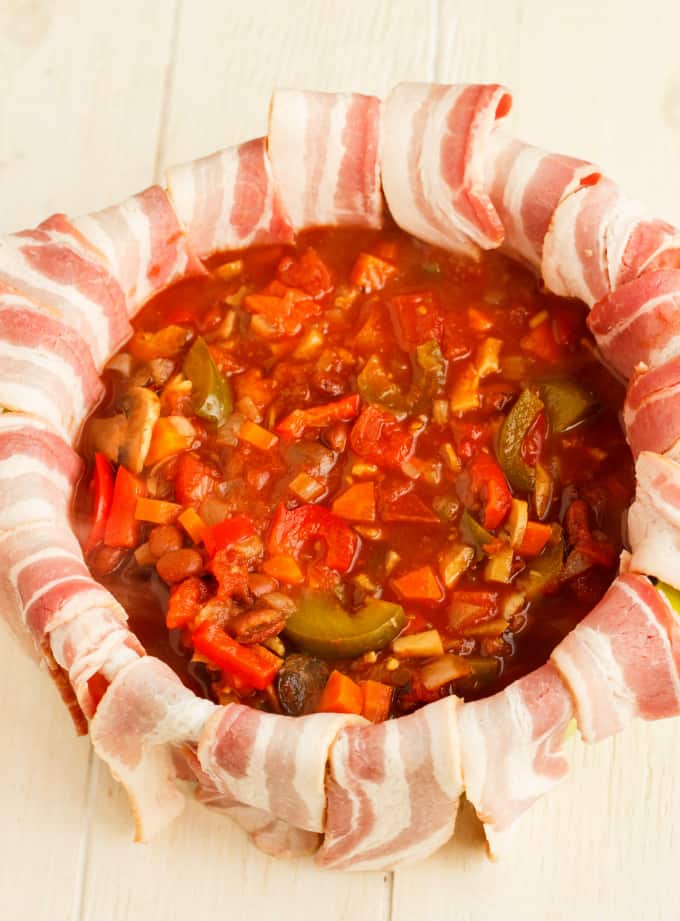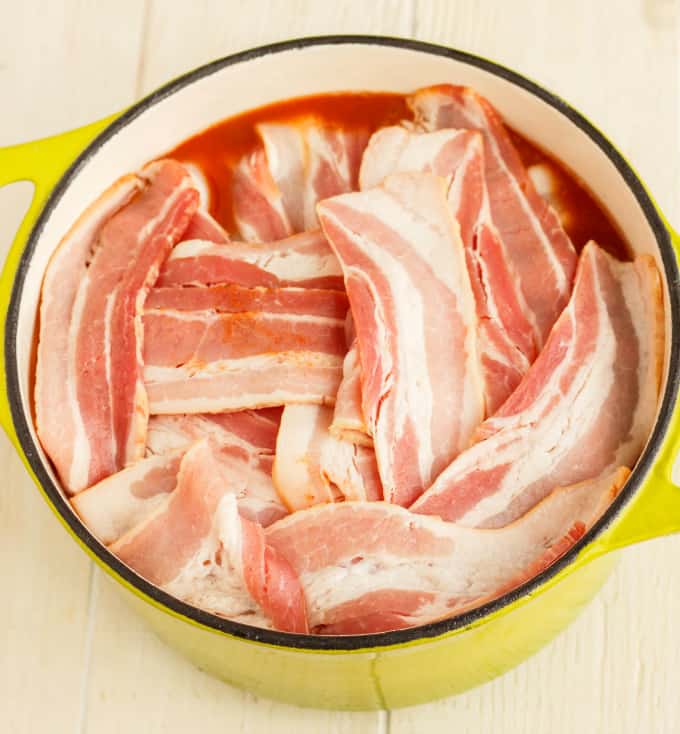 Feel free to omit the beer! This was my first time adding beer to a chili and I really enjoy it in my vegetarian version. It added a whole new element. I love cooking with alcohol and the idea of beer in chili hit me one night. Omitting the beer would also cut down on the excess liquid, but I prefer it this way. Chili over rice gives the meal more substance, and lots more room for leftovers. Dan is already talking about me making this dish again for his icing fishing trip next month! Maybe then I will perfect the bacon blanket for this beer and turkey chili (or ground beef!)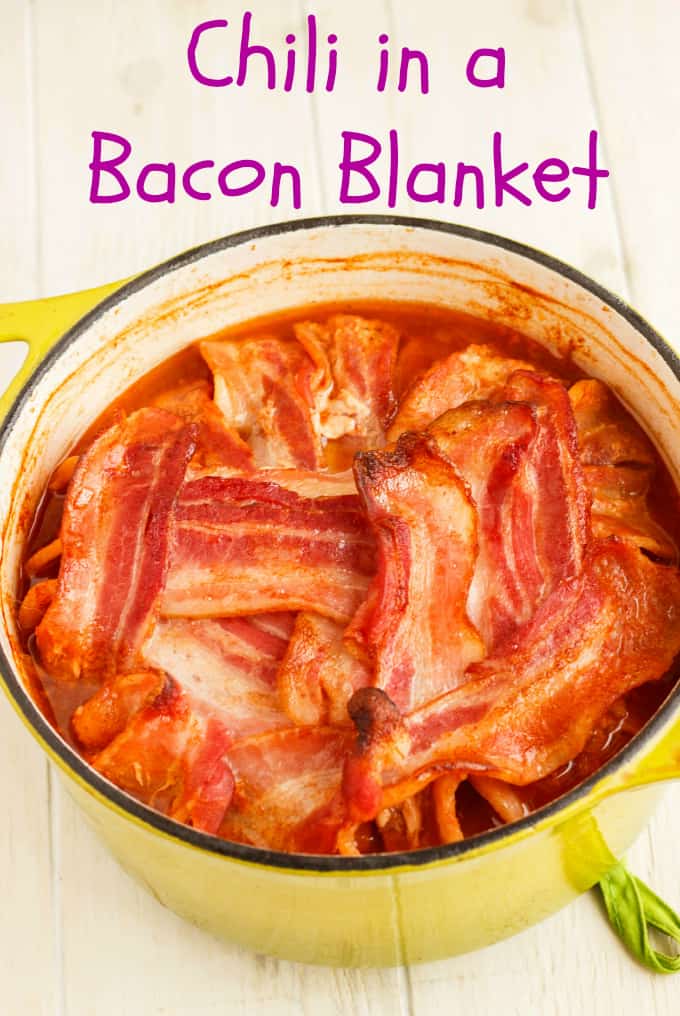 ---
Kacey
Yields 6
30 minPrep Time
9 hrCook Time
9 hr, 30 Total Time
Ingredients
1 (28 oz) can diced tomatoes
1 (14 fl oz) can Heinz Chili Style beans (or a mixture of kidney and pinto beans. I just find this mix contains all the things I love!)
1/2 tbsp. chili powder
1/2 tsp. cumin
1/2 tsp. dried oregano
1/2 tsp. paprika
Salt and pepper
1/2 of a 5.5 fl oz can tomato paste
1 (375 mL) bottle of beer
1 red pepper
1 green pepper
2 medium onions
3-4 garlic cloves, minced
8 oz fresh mushrooms
2 small/medium carrots, peeled
1 tsp. granulated sugar
2 (375 g each) packs bacon
1-2 lbs leftover Christmas turkey (or fresh turkey breast cooked and chopped into small pieces.) Ground beef can also be substituted here.
Instructions
Prep all your veggies but slicing them into bite-size portions. I slice my mushrooms, dice the onions, chop the peppers into small cubes, and slice my carrots in half once or twice depending on their thickness. Add to your slow cooker along with the fresh garlic. Add all remaining ingredients except for the bacon and turkey. Combine and set your slow cooker on low for 7-8 hours.
Preheat oven to 375F.
Prepare your cast iron dutch oven by layering the bacon slices around the inside of the pan, overlapping slightly. You want to leave enough overhang so when you fold back the bacon, it covers the top nicely. I had left too much overhang so my bacon top was kind of messy (just try not to overlap too many pieces in the middle.) The amount of bacon slices depends on the size of your dutch oven (I don't know the size of mine, it is smaller than a 5 quart though.)
Add the turkey into your chili and stir to combine. Pour into the bacon covered pot and then bring the overhanging slices of bacon over the top to the cover the chili (almost like the chili is sitting in a giant bacon cup now.)
Place pan into the oven, uncovered, and bake for 45-60 minutes, or until your bacon reaches desired crispiness. Allow to cool slightly and dig in!
**NOTES: The bacon will add saltiness to your chili, so perhaps be a bit light handed on the salt when you originally season your chili. Also, the beer adds quite a bit of liquid to this dish. Next time I would add another can of diced tomatoes (drained of their liquid) and another can of beans to thicken it up. Extra veggies are always good, too!
7.8.1.2
228
https://thecookiewriter.com/beer-and-turkey-chili-in-a-bacon-blanket/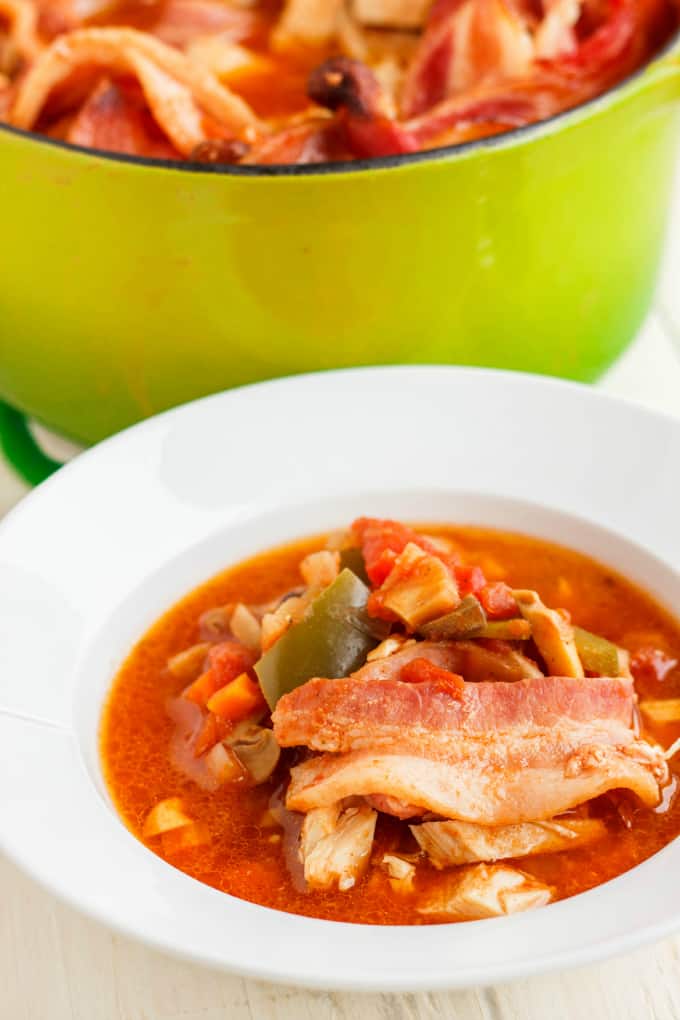 The beer and turkey chili can easily be made on the stove top to save time. I cooked it overnight in the slow cooker and finished it off in the morning in the oven. Chili always tastes better when it chills overnight in the refrigerator, but it is up to you! The only downside to beer in this recipe is that it makes the recipe no longer gluten-free. I hear some beers are gluten-free, but just to be safe, I will not list it as so.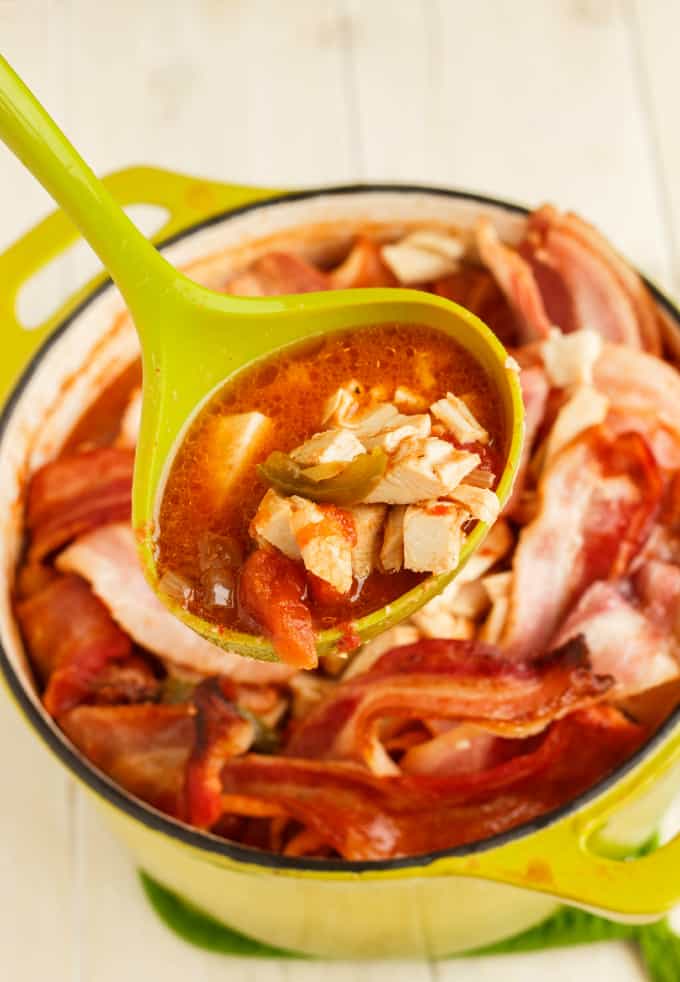 I thought this beer and turkey chili was the perfect way to ring in the New Year! Then onto some healthy recipes! I guess this recipe is kind of healthy before you wrap it in copious amounts of bacon…