Cool, refreshing, and healthy, these three ingredient strawberry frozen bites are sure to cool you down this summer!
Canada day is this Friday, and that means a long weekend for many! Even my American readers will be enjoying a long weekend since July 4th falls on a Monday. That being said, everyone is looking for easy and delicious recipes that knock the socks off their guests (though, in these temperatures, I am not wearing socks…)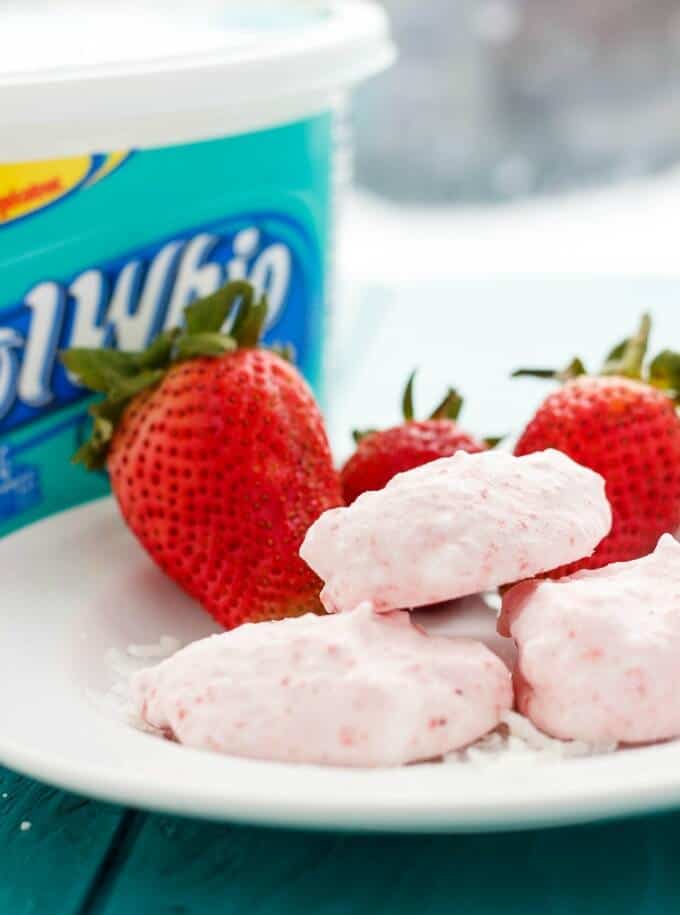 These three ingredient strawberry frozen bites are inspired by Danielle at The Creative Bite (remember how I covered her skinny frozen peanut butter whips?!) I kept thinking about them and how simple they were. Well, strawberries are in season and I LOVE coconut so this recipe just seemed perfect. And it was! My daughter has been eating these things with no complaints and deems them "not a treat" because they are healthy and "eating healthy foods are good for you." Well, you are right, Éowyn, but there is also such thing as too much of a good thing 🙂 That being said, I have no problems with her snacking on these because they are much healthier than a lot of treats out there (personally, I love enjoying some mojitos through the summer!)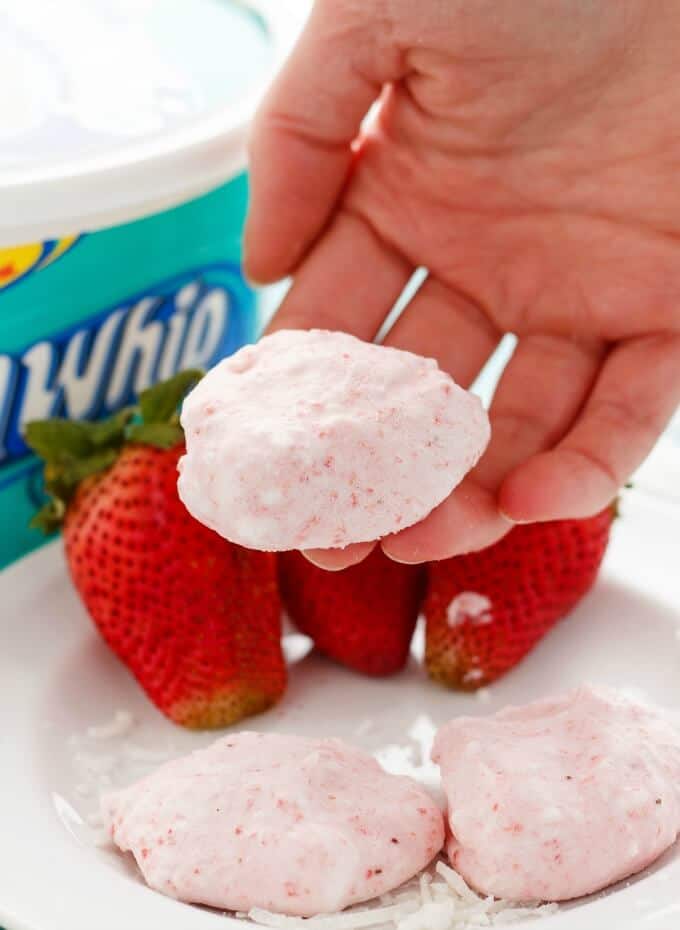 Of course, these three ingredient strawberry frozen bites need to stay in the freezer, but being that they are so small (and cute!) when you serve them your guests should have little to no mess because they will inhale them! Like I said, I had to keep a small child's hand from the freezer bag…

Three Ingredient Strawberry Frozen Bites
---
Kacey
Yields 16-20
A healthy dessert that can quench any of those sweet desires!
15 minPrep Time
15 minTotal Time
Ingredients
1/4 cup fresh strawberry puree (about 1/2 lb fresh strawberries)
1 cup fat-free Cool Whip
1/2 cup unsweetened shredded coconut
Instructions
To make strawberry puree, just add fresh strawberries to a food processor and process until smooth.
Place coconut into food processor and process until very fine (1-2 minutes.)
Add the coconut, puree, and Cool Whip to a large mixing bowl and stir with a spatula until just combined.
Line a baking sheet with parchment paper or silicone liner. Measure out one tablespoon-sized portions onto the pan. Pop into the freezer until frozen solid (about 5 minutes.)
Eat as is or move to a freezer bag for quick access (work quickly so they do not get soft!)
7.8.1.2
410
https://thecookiewriter.com/three-ingredient-strawberry-frozen-bites/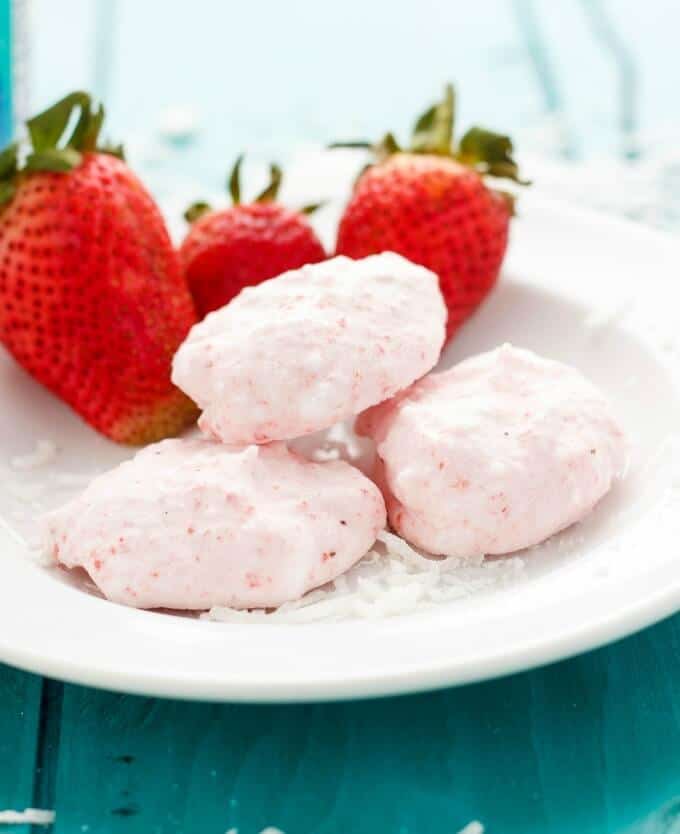 Super light and refreshing, you can definitely make these your own by changing up the fruit. I have some blueberries on hand and cannot wait to try the recipe with them. I wonder if I could ever get some rhubarb into these… One day!
And it is that time again!
To see last weeks choices, visit my Executioner post. And don't fret! I am saving all these recommendations into an excel spreadsheet so you can always looks back 🙂
Song: The Bleeding by Five Finger Death Punch. One of the first songs I ever heard by them and still love them to this day. My husband is all aboard going to see them perform live in September and that says a lot since he is not a big concert goer!
TV Show: Supernatural. Keeping this the same as last week! I am one of those people. I love the show! My dad started it when it first came out but I wavered. Now I am all caught up with my husband and while the show has its ups and downs (cough cough, repeating plot lines) it is fully entertaining and one of the best casts out there! UPDATE: Seriously, one of the best seasons in a LONG time!
Movie: Eternal Sunshine of the Spotless Mind. Remember how I said I like comedians in serious roles? The same can be said for Jim Carrey because he does an amazing job in this movie! I watched it one night while I was home alone and I have forever deemed it one of my top movies!
Book: To Kill a Mockingbird by Harper Lee. Okay, classics are not for everyone and generally if you are forced to read a book in school you end up hating it, but this book is a true masterpiece. I believe even my dad said this was one of the few books he enjoyed reading in school. The movie is also really well done, but I always recommend reading the book first 🙂
Video Game: Tropico 4 and Tropico 5. I LOVED Tropico 4. Running my own country, politics, the environmentalists hating me. Heck, one of the few games I have 100% achievements in Steam. It is just all around fun and while Tropico 5 has its pros, I find Tropico 4 pulls ahead 🙂 Still get to run your own country though! The communist seem to love me…
Love these three ingredient strawberry frozen bites?! Try some of these recipes: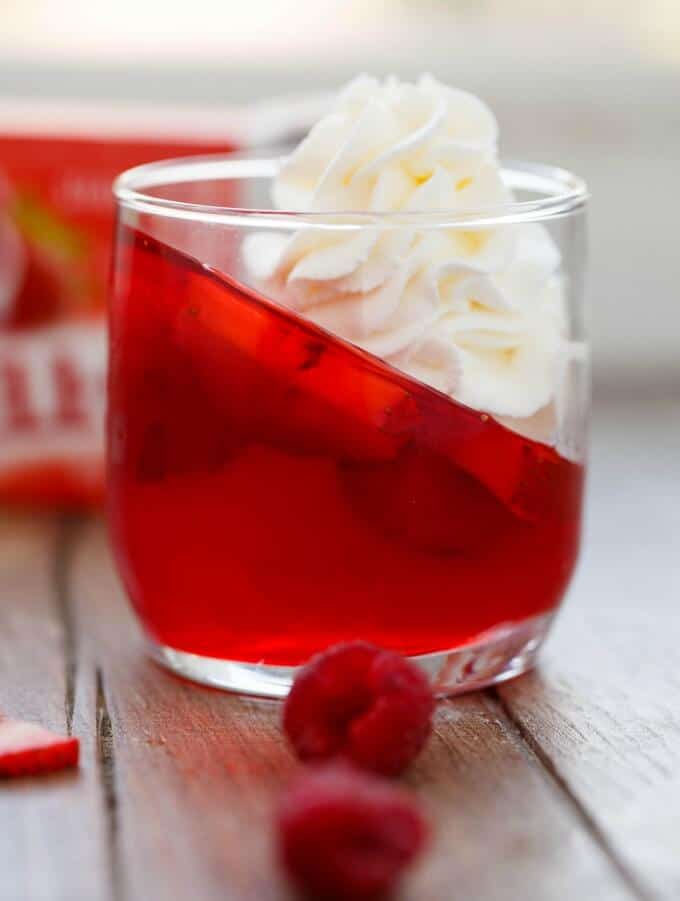 Strawberry and Raspberry Jell-O Parfaits with Almond Whipped Cream