Light meals are always welcome during the hot months! This roasted mushroom wild rice salad has a simple sauce and lots of veggies!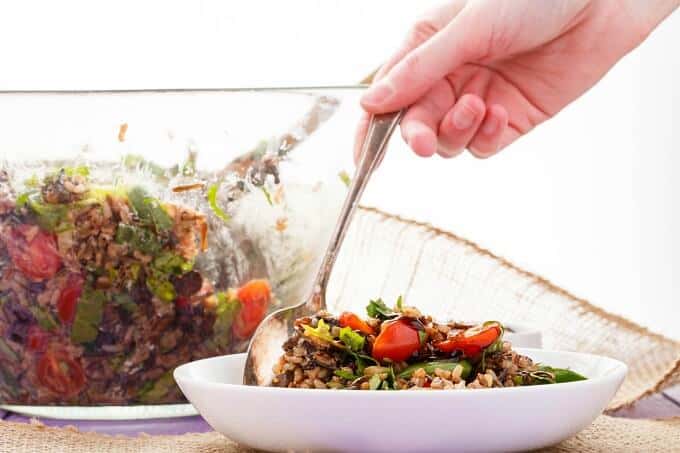 Another week of summer gone!
Time is flying and I am sad to say my mind is already thinking of back-to-school recipes... Arg!
But for now I will try and enjoy my summer!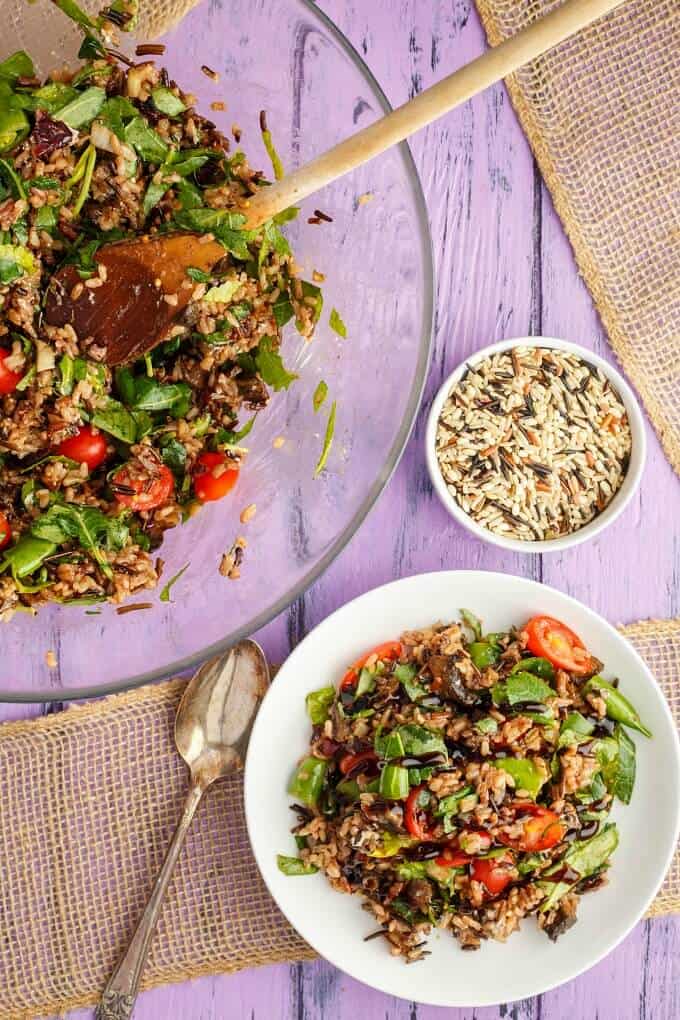 This roasted mushroom wild rice salad contains lots of veggies and is easy to customize to your liking. You can add, or take away, whatever you like! I really love simple recipes like this one because you can change things up every time you make it 😉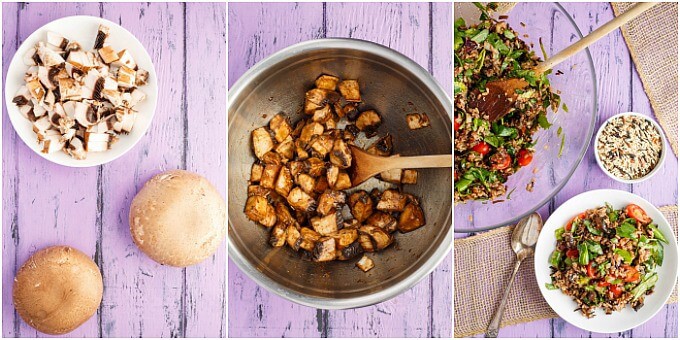 Wild rice has a special place in my heart. There is something about its texture, its color, and the taste that has me coming back again and again! The only downside: it can be pricey. Sometimes I get lucky finding a big bag at Costco, but as of late I have had no luck and hate paying the same price for a smaller bag by the exact same company!
Now that I think about it, I got the rest of the ingredients for this salad at Costco! Pretty handy if you ask me! They are my go-to place to get mushrooms as they have a nice variety, and they look great! The containers are handy for my fridge, too 🙂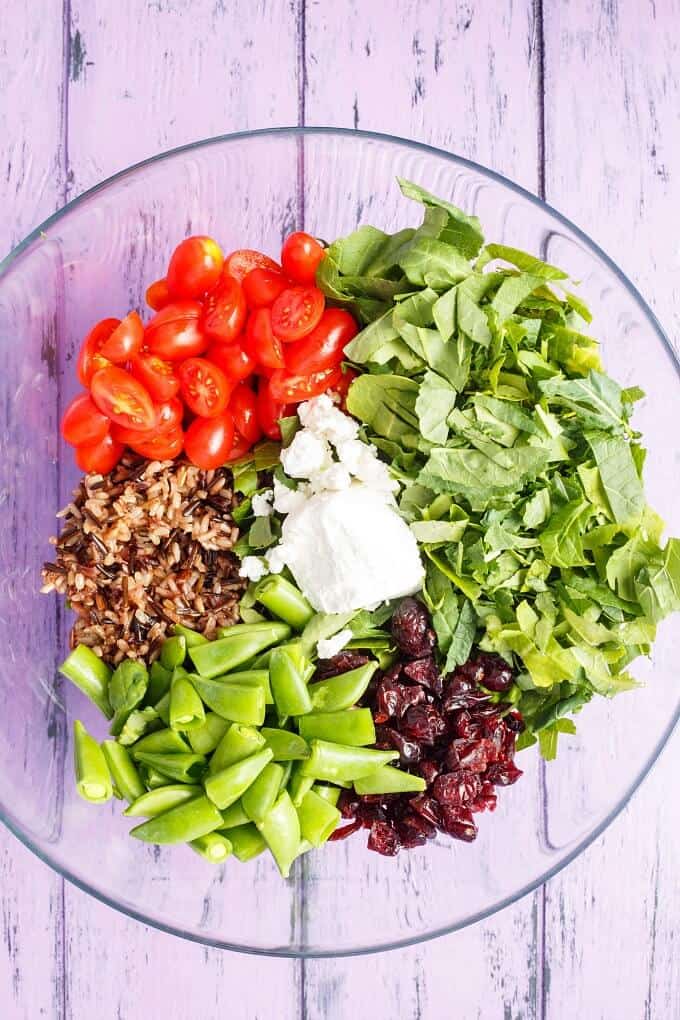 One note I want to make about this roasted mushroom wild rice salad is about the dressing. The dressing is REALLY simple, and is based around taste. I like a strong taste of balsamic vinegar so I tend to use less oil. However, if you have a favorite bottle balsamic dressing, you can use that here!
Also, add the dressing slowly. Mix, and see if you need more. Or you can allow your guests to add their own amount, however, I find with a salad like this, you want the flavors to meld together!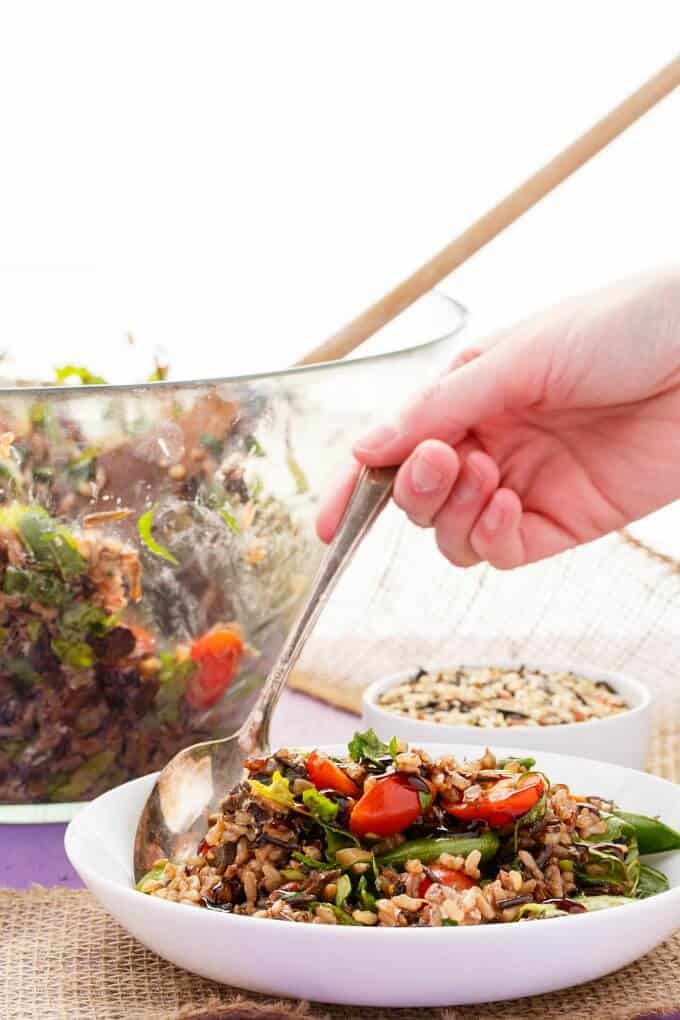 And on a final note, you can easily make this recipe vegan by omitting the cheese (or using a vegan cheese substitute.) I like the bite of goat cheese, so no letting that go, but like I said, easy to customize!
📖 Recipe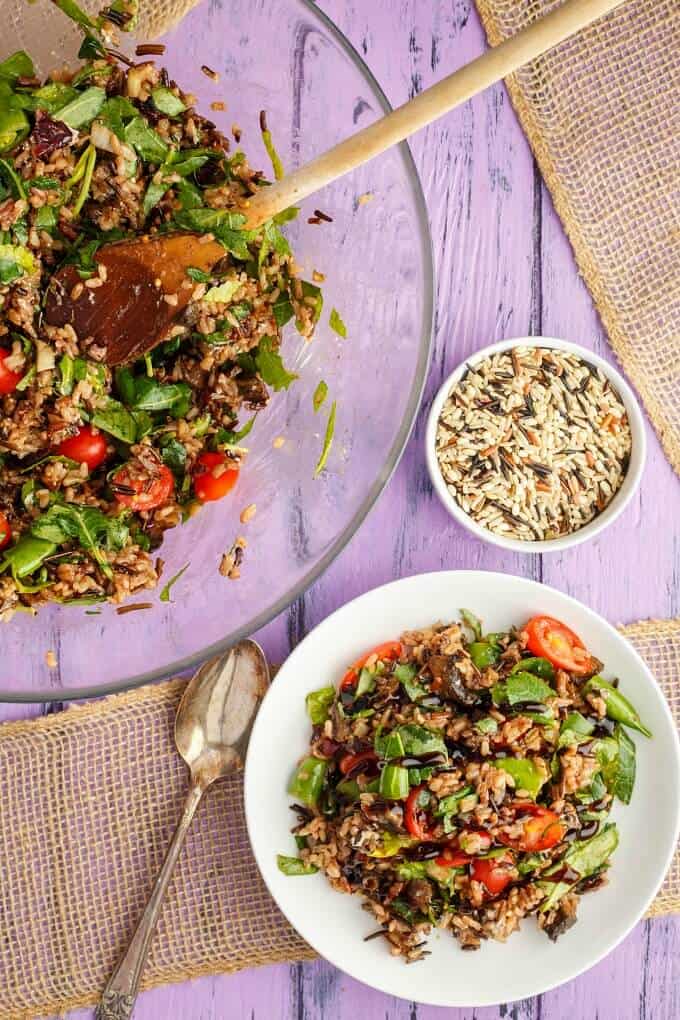 Roasted Mushroom Wild Rice Salad
Hearty and healthy, this roasted mushroom wild rice salad is the perfect meal any day of the year!
Ingredients
2 cups wild rice
3 ½ cups (900 mL) vegetable broth
1 portobello mushroom, chopped
1 onion, diced
1 tbsp. olive oil
1 tbsp. balsamic vinegar
½ tsp. dried thyme OR 2 sprigs fresh thyme
Salt and pepper
5 oz cherry tomatoes, halved
3 oz snap peas, cut in half or thirds
3 oz craisins (dried cranberries)
3 oz baby kale, roughly chopped
2-4 oz goat cheese, crumbled
Balsamic glaze for drizzling if desired!
Dressing
2 tbsp. olive oil
3-4 tbsp. balsamic vinegar (to taste)
Instructions
Cook rice according to instructions with broth (I always use my rice cooker so I am not much help here!) 😉
Preheat oven to 425F.
Toss mushrooms, onions, olive oil, vinegar, thyme, salt, and pepper together in a mixing bowl. Place into baking dish in a single layer. Roast for 15 minutes, stirring about halfway through, or until mushroom are cooked to your liking.
Combine rice, mushroom mixture, tomatoes, snap peas, craisins, kale, and goat cheese. Season with salt and pepper. Toss until well combined. Stir in desired amount of dressing (up to taste!)
Drizzle with additional balsamic glaze if desired (my preferred method!) Sprinkle with fresh thyme leaves if desired.
Notes
For a vegan recipe, omit the cheese (or add in a vegan substitute!)
Nutrition Information:
Yield:

4
Serving Size:

1
Amount Per Serving:
Calories:

555
Total Fat:

25g
Saturated Fat:

10g
Trans Fat:

0g
Unsaturated Fat:

14g
Cholesterol:

32mg
Sodium:

661mg
Carbohydrates:

61g
Fiber:

5g
Sugar:

33g
Protein:

22g
Need something to pair this meal with?! Here are my recommendations: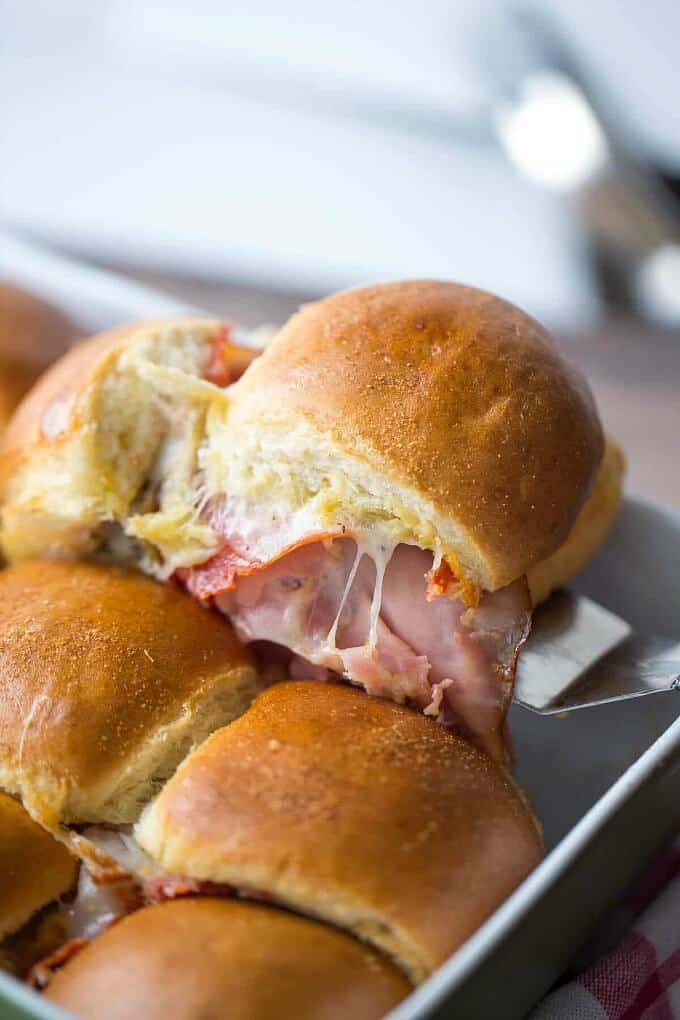 Hot Italian Party Sandwiches from Lemons for Lulu
Pina Colada Sangria from The First Year Blog
Love this roasted mushroom wild rice salad?! Try some of these recipes: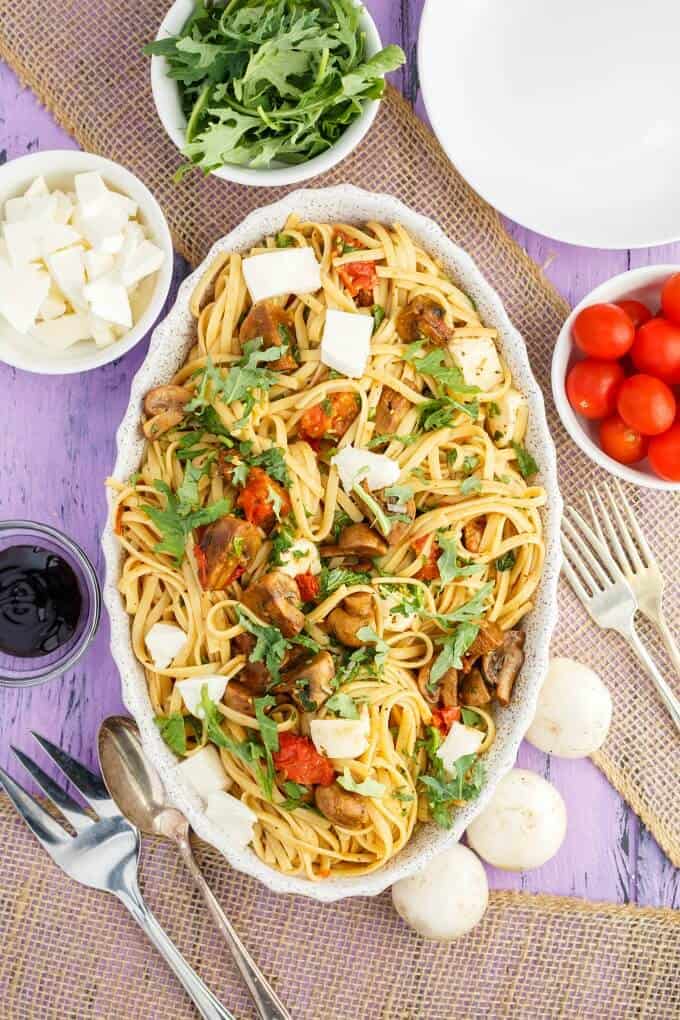 Roasted Mushroom Caprese Pasta