Summer is still here, but we are all about back to school now! This roasted tomato, cucumber, and bocconcini salad is an easy, light salad for the summer, but a perfect healthy lunch for the work-week!
I made this roasted tomato, cucumber, and bocconcini salad soooo long ago with the intentions of posting it in early summer. As you can see, that did not happen, but I am still happy to bring it forward today! Plus, my kale has been going crazy in the garden (as seen with my recent revisit of my coconut oil kale chips) so I thought this would be the perfect time to introduce the recipe.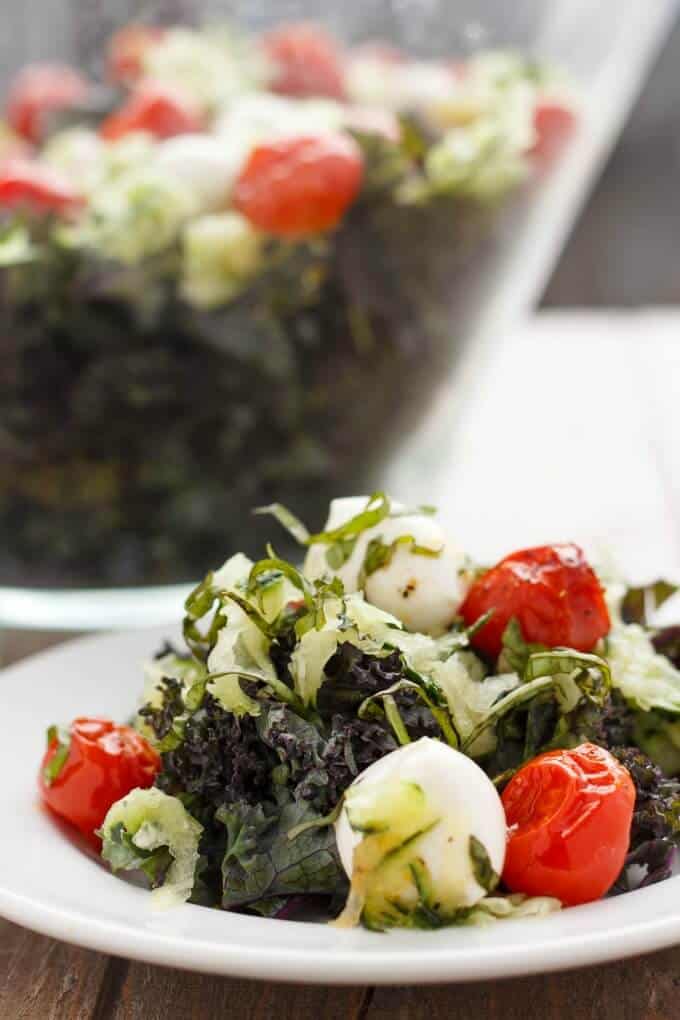 Bocconcini is an amazing cheese. My mother-in-law introduced it to me and I feel I could eat it all the time! Little mozzarella balls that just pop into your mouth... Yeah, I have eaten containers of cheese on my own... Hey! I like cheese! For this salad, I knew the bocconcini would work for many reasons. The biggest factor is convenience. You can buy bocconcini in different sizes, so I tend to get smaller balls and put them directly in my salad. No slicing necessary. Secondly, I LOVE bocconcini paired with balsamic vinegar, so this was a no brainer!
For a change I went with purple kale (but green works fine!) Green kale is taking over my garden, but I love the color change. It just looks so pretty! Next year I definitely plan to have purple kale in the garden. However, friends I know did try and grow it and all the bunnies got to theirs!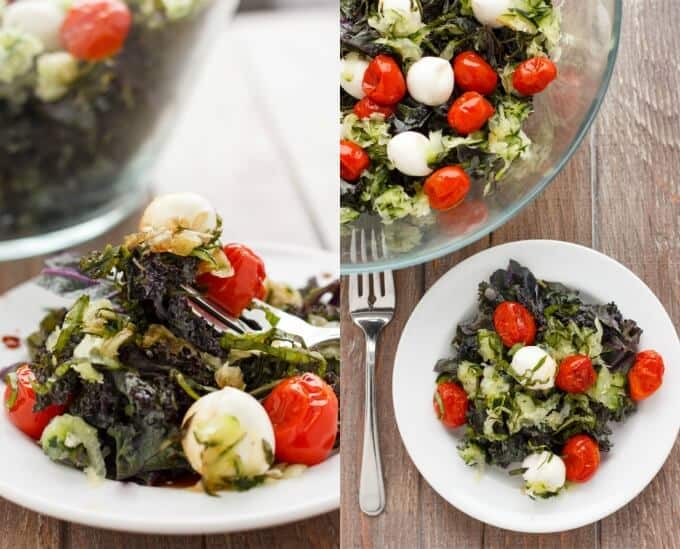 Lastly, the amount of dressing you used is based on your preferences. I like less dressing, but I know there are people who loved their salads drenched! You can always make more dressing if needed for this roasted tomato, cucumber, and bocconcini salad. Since I am the only one who eats salad here I made sure not to pour all the dressing on at once because I knew this would be too much salad for one person. Just store all your ingredients separately and you can revisit this salad all week! Well, I ate mine in two days so maybe it will get you through a week... 🙂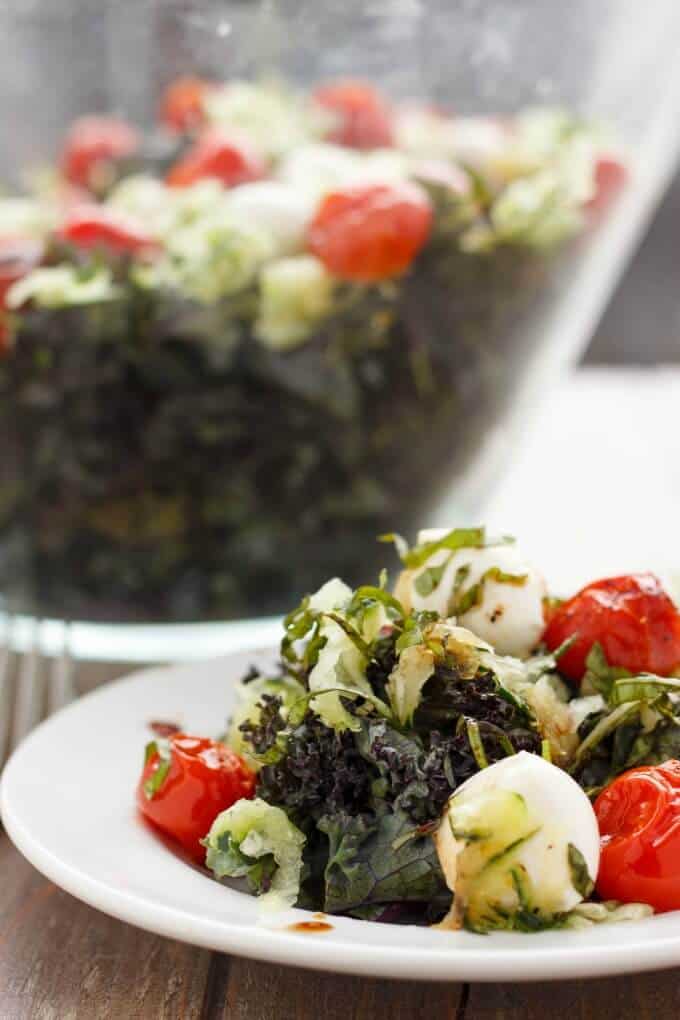 📖 Recipe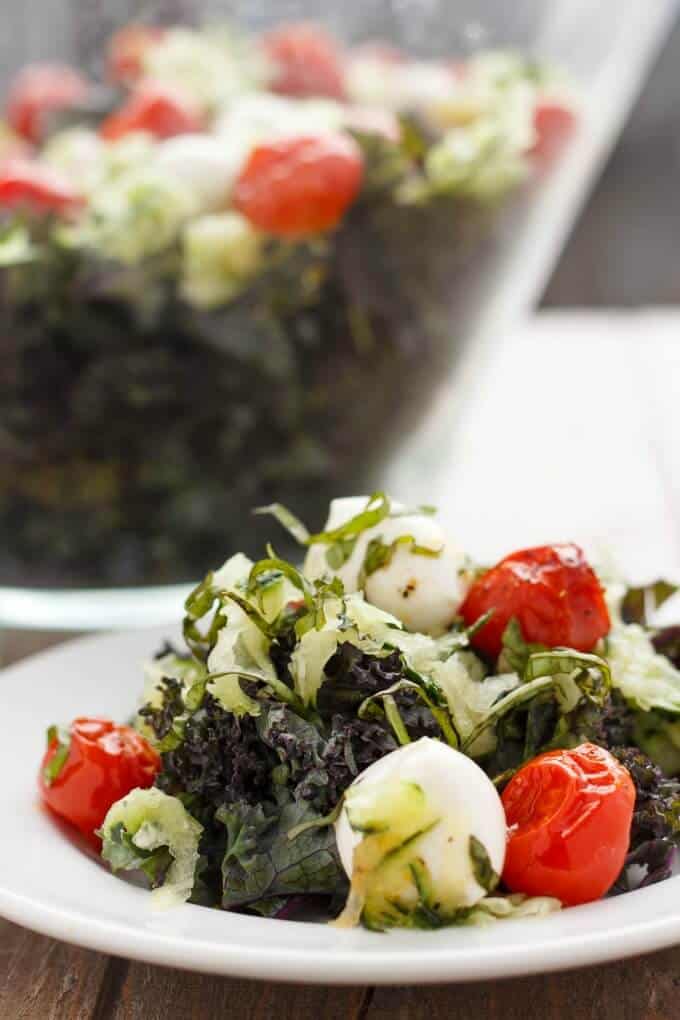 Roasted Tomato, Cucumber, and Bocconcini Salad
This salad is super simple and the addition of roasted tomatoes really transforms the salad!
Ingredients
1 bunch of red kale (or green of your choosing!)
1 (130g) container bocconcini cheese, drained and pat dry
1 cucumber, grated and squeezed of excess liquid
¼ cup fresh basil, chiffonade
1 pint cherry tomatoes
2 tsp. olive oil
Salt and pepper
⅛ tsp. garlic powder
Dressing
4 tbsp. avocado oil (or your preferred oil)
8 tbsp. balsamic vinegar
Pinch of salt and pepper
Instructions
Preheat oven to 450F. Place tomatoes into a shallow baking dish with the olive oil, salt, pepper, and garlic powder. Toss. Roast for 10-15 minutes, or until caramelized to your liking. Remove and set aside.
Roughly chop or tear kale and place into a large bowl. Top with cheese, grated cucumber, tomato, and basil.
Dressing
Whisk together dressing ingredients. Pour onto salad just before serving (or if serving individual portions, ration out sauce. You may need more or less depending on how you like your salad.
Nutrition Information:
Yield:

4
Serving Size:

1
Amount Per Serving:
Calories:

254
Total Fat:

20g
Saturated Fat:

4g
Trans Fat:

0g
Unsaturated Fat:

15g
Cholesterol:

11mg
Sodium:

198mg
Carbohydrates:

14g
Fiber:

2g
Sugar:

8g
Protein:

5g
I am okay with the idea that summer is coming to an end. Been back to school shopping for kiddo and coming up with lunch ideas. Mostly though, I will not miss these HOT temperatures. Even walking the dog at around 9 and 10PM has been resulting in humid trips. It does not make the walk enjoyable, but confining myself to the treadmill during the summer is not my cup of tea either. Come on autumn weather!
Love this roasted tomato, cucumber, and bocconcini salad?! Try some of these recipes: