If your garden is anything like mine, collard greens are taking over and we need a way to use them up! These collard green chips are a fantastic healthy snack that may be deemed more delicious than kale chips!
August is here. We have about a month of summer left before kiddo starts school again and we are going to take every opportunity to enjoy it!
The garden is still blooming nicely. Much of my early summer stuff is gone, but I am waiting for the tomatoes to turn red and the later stuff to begin popping up (broccoli, carrots, you name it!) With my leafy greens I was stealing the outer leaves of the plants so that the plant would keep producing. I love kale, arugula, and collard greens, but it came to the point where they were all coming in together, and fast! I needed to use things up!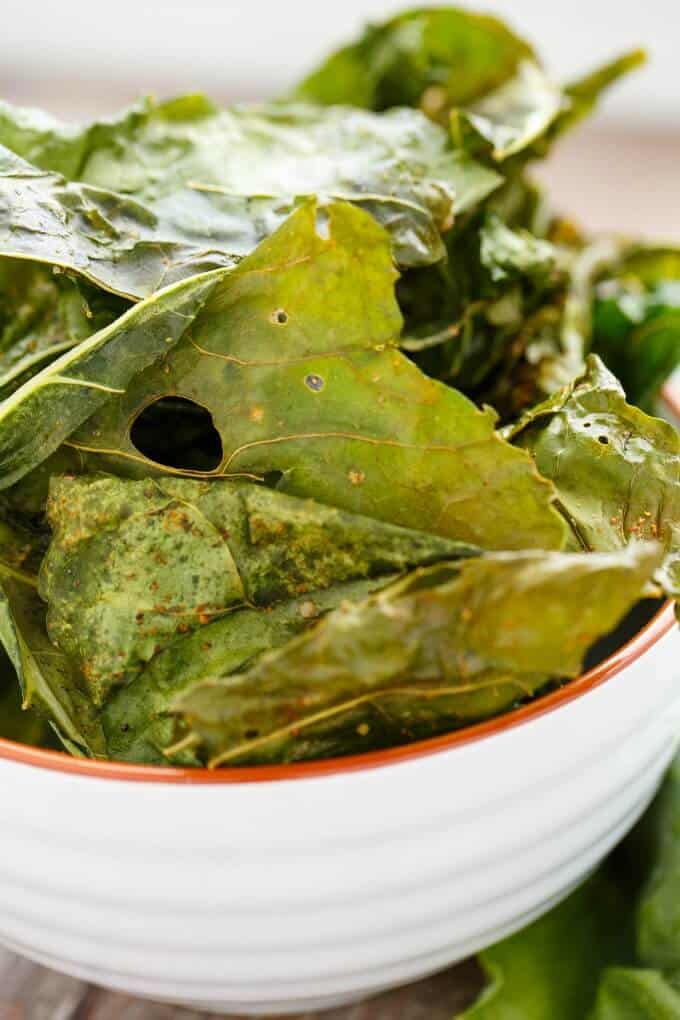 While revisiting my coconut oil kale chips recipe, I thought to myself, "why not collard green chips?" And they were born! Basically the same method, though I did go with an oil besides coconut (it would work!) I also know collards can be quite bitter so I wanted to adjust my seasonings accordingly. I presented both the kale chips and collard green chips to Mr. TCW, and while both were devoured, we both said there was just magical about those collard green chips... They were sooo crispy, but full of flavor! I see another round of greens in my garden so guess what is happening again?!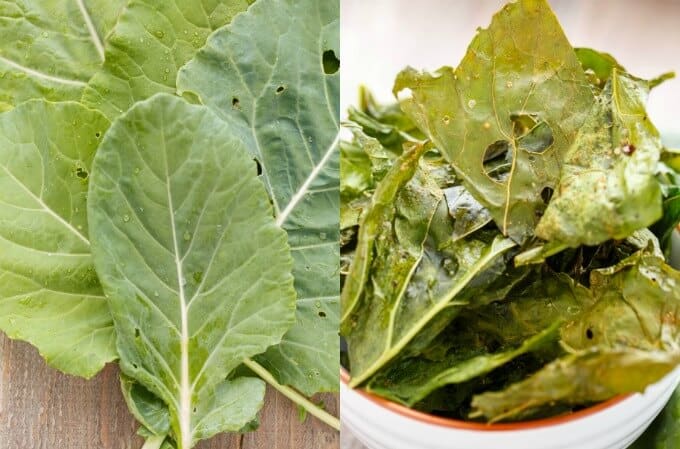 Funny story. We made these chips and I was doing one last batch and guess I forgot about them in the oven overnight (oven was off!) The next day I go to cook and like always, check my oven, and bam! Kale and collard green chips! I won't lie, we ate them, and they were by far the best batch! So crispy, like actual chips, and they were gone in seconds. I feel if anyone still has soggy chips after baking for the allotted time, they just have to throw them into the oven longer. This recipe really seems like one you cannot screw up!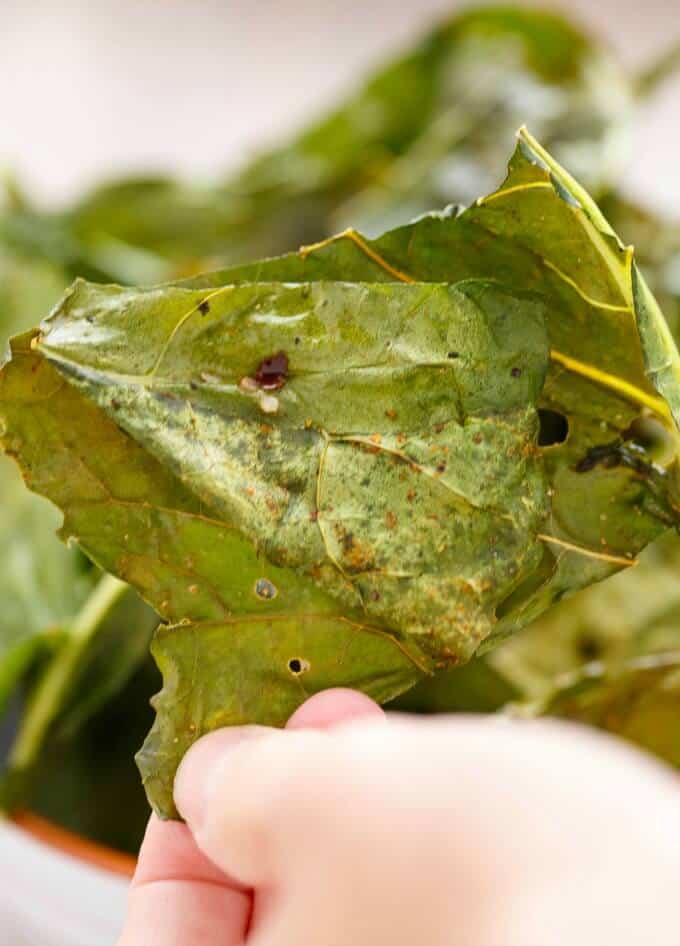 📖 Recipe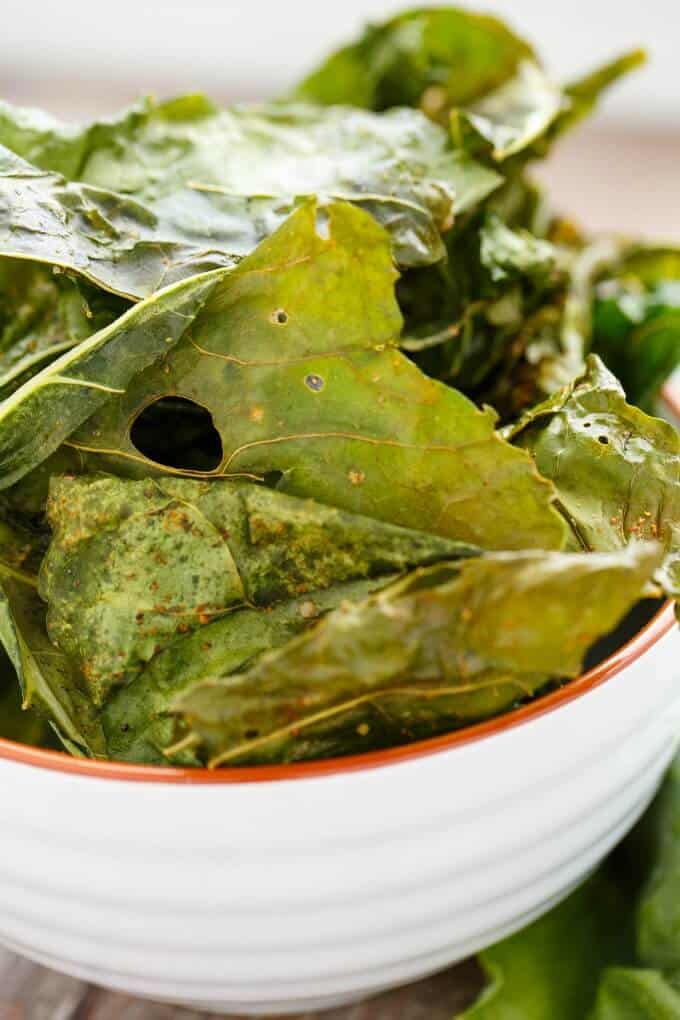 Collard Green Chips
You can use whatever oil and spices you like! used garden greens, but store-bought work just as well.
Ingredients
1 bunch of collard greens, washed, dried, and stems removed
1 tbsp. avocado or olive oil (or coconut will work, too!)
¼ tsp. garlic powder
¼ tsp. cayenne powder (use ⅛ tsp. if you are not big on spice!)
⅛ tsp. ground ginger
Salt and pepper to taste (be sparse on the salt, trust me.)
Instructions
Preheat oven to 300F.
Cut or tear the collard greens into smaller pieces so the chips are not huge. Spread them out onto a baking sheet. Pour oil over the collards and massage until all leaves are covered. Sprinkle on the garlic, cayenne, ginger, salt, and pepper. Toss to combine.
Place into the oven and bake for about 15 minutes, and then give them a toss. Continue cooking until crispy, 5-10 minutes.
Note: I accidentally left my collard green chips in the oven after turning it off. Sitting in the residual heat helped make them extra crispy!
Nutrition Information:
Yield:

2
Serving Size:

1
Amount Per Serving:
Calories:

103
Total Fat:

8g
Saturated Fat:

1g
Trans Fat:

0g
Unsaturated Fat:

6g
Cholesterol:

0mg
Sodium:

163mg
Carbohydrates:

6g
Fiber:

4g
Sugar:

0g
Protein:

3g
A fun, healthy appetizer or snack that is perfect during a movie! My daughter was not a fan, but hey, more for us!
Love these collard green chips?! Try some of these recipes: