Looking for a way to use up all that kale from your garden?! These coconut oil kale chips are fantastic and super good for you (but any oil will do if you do not have coconut!)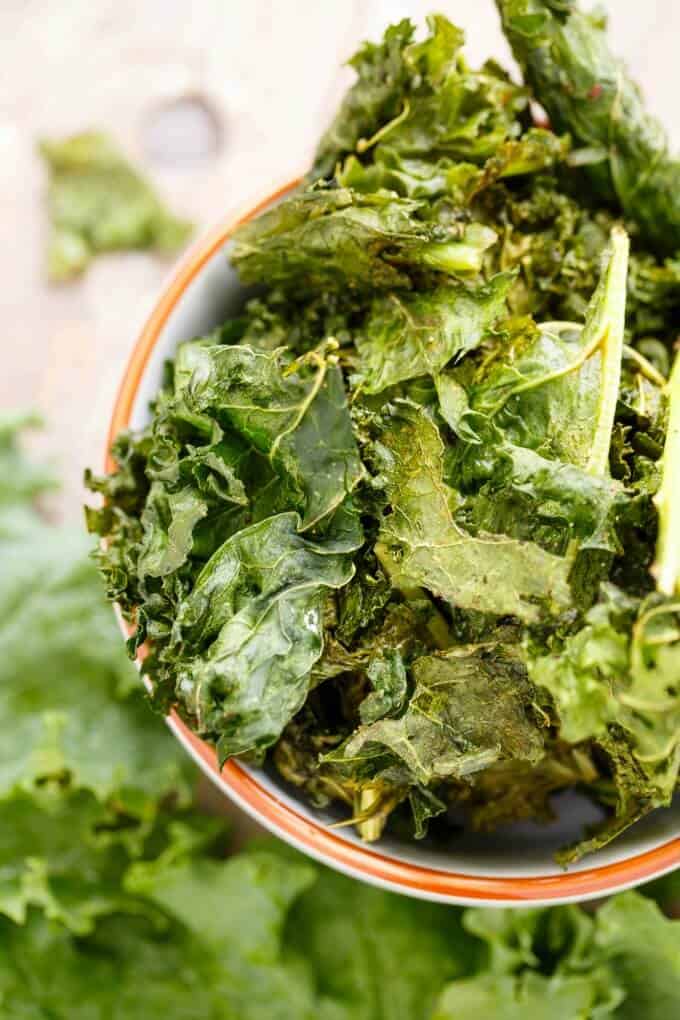 It is one of those surprises in life. I never got around to trying it until I had Girlie and was making homemade baby food. One of the recipes was for pureed kale, where I had to steam it and then blend it. I tried the kale before pureeing and I loved it, even as plain as it was. Since then it has been a staple in our house, an item we buy during every grocery shop. UPDATE: I used fresh kale from the garden and the chips were AWESOME! I accidentally left my kale chips in the oven after turning it off. Sitting in the residual heat helped make them extra crispy!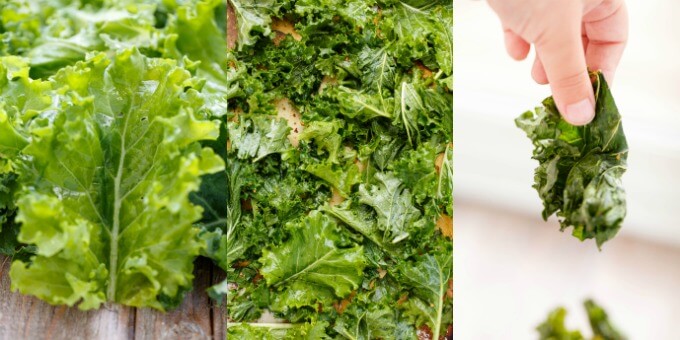 One of the most popular recipes when it comes to kale is probably kale chips. They are crunchy, flavorful, and healthy! Can't go wrong there. The only one who doesn't eat them in this house is Girlie, but I can see why kale chips would be weird to a 2.5 year old. Nonetheless, when we do make them, they are gobbled up in minutes. I don't make them often because they are a snack and I usually use kale in my main entrees.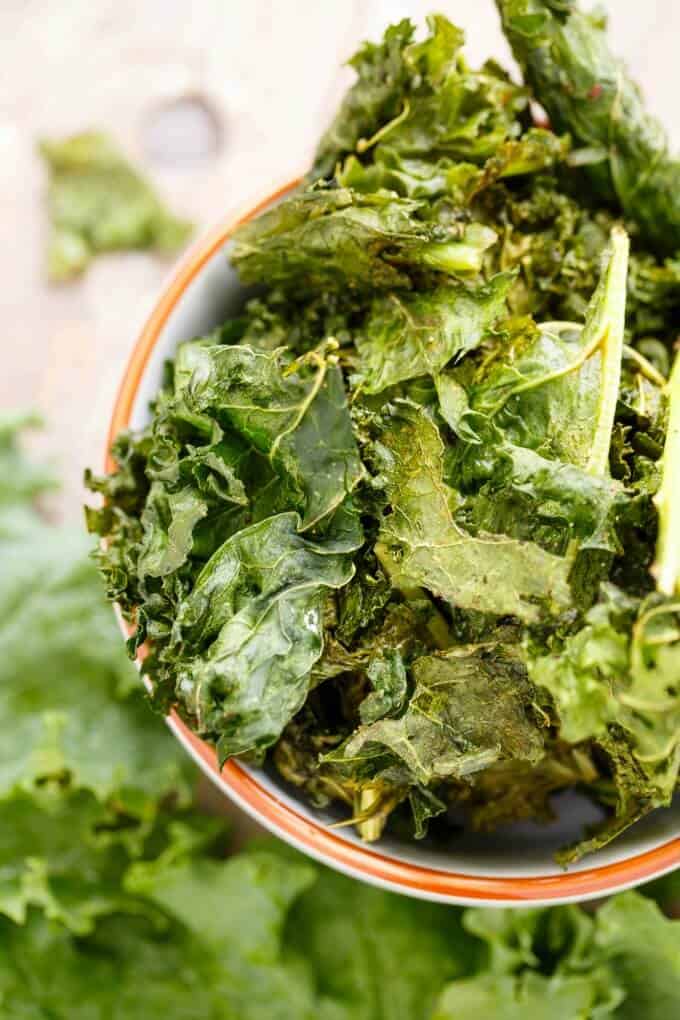 Coconut Oil Kale Chips
These kale chips are super healthy and a great alternative to buttery popcorn when watching a movie!
Ingredients
1 bunch of kale, washed, dried, and stems removed
1 tbsp. coconut oil, melted (or any of your favorite oils!)
¼ tsp. garlic powder
¼ tsp. red chili flakes (use ⅛ tsp. if you are not big on spice!)
⅛ tsp. ground ginger
Salt and pepper to taste (be sparse on the salt, trust me.)
Instructions
Preheat oven to 300F.
Cut or tear the kale into smaller pieces so the chips are not huge. Spread them out onto a baking sheet. Pour the melted coconut oil over the kale and massage until all kale leaves are covered. Sprinkle on the garlic, red chili flakes, ginger, salt, and pepper. Toss to combine.
Place into the oven and bake for about 15 minutes, and then give them a toss. Continue cooking until crispy, 5-10 minutes.
Note: I accidentally left my kale chips in the oven after turning it off. Sitting in the residual heat helped make them extra crispy!
Nutrition Information:
Yield:

2
Serving Size:

1
Amount Per Serving:
Calories:

93
Total Fat:

7g
Saturated Fat:

6g
Trans Fat:

0g
Unsaturated Fat:

1g
Cholesterol:

0mg
Sodium:

172mg
Carbohydrates:

6g
Fiber:

2g
Sugar:

1g
Protein:

2g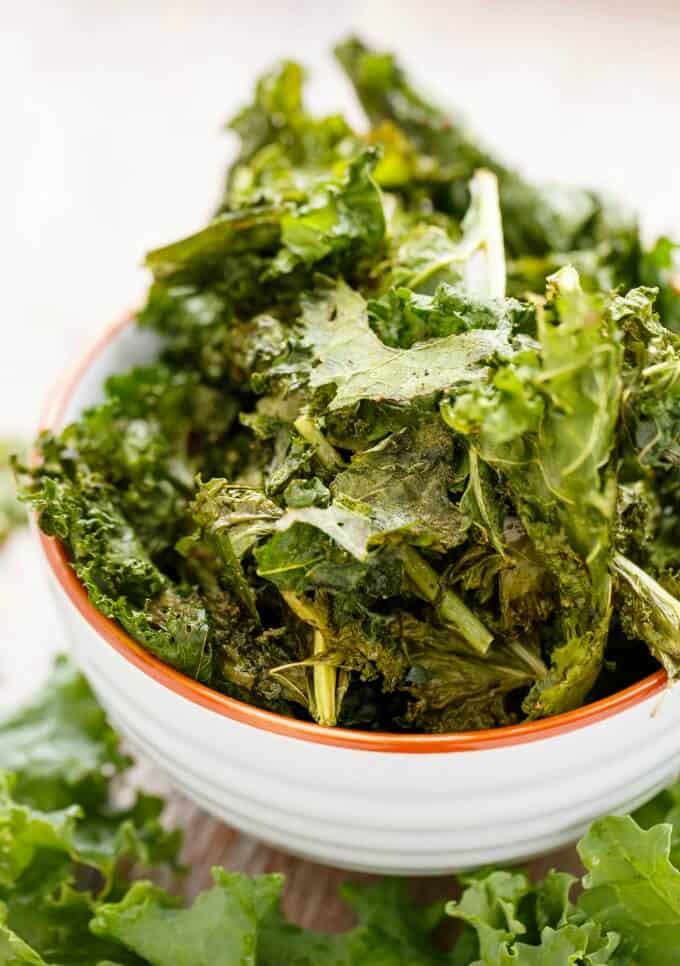 This is another recipe that I love for its versatility. When I began making these chips over a year ago, I used olive oil. It wasn't until recently that I thought to use coconut oil instead. The coconut flavor is so minor, you wouldn't even know it was there unless you looked for it. With the seasoning, you can do whatever you like! I meant to add sesame seeds to my batch to go with the Asian-flare but completely forgot. When you add salt, be very careful. I find with all the other spices, you don't really need that much salt.
The green color stands out wonderfully on the boards Mr. TCW cut me! I will be getting a tutorial up soon for how we created 16 different backgrounds for under $20! Not only that, but he surprised me with a homemade lightbox made from scrap wood! With the longer days, I won't be resulting to the lightbox any time soon, but now my winter months won't be horrible for picture quality.
Love these coconut oil kale chips?! Try some of these recipes: