Mushrooms, tomatoes, and cheese, oh, yes! This (vegetarian) roasted mushroom caprese pasta is my latest favorite, and you can bet it has been made MANY times! #2meals1recipe
I told you today's recipe was a good one!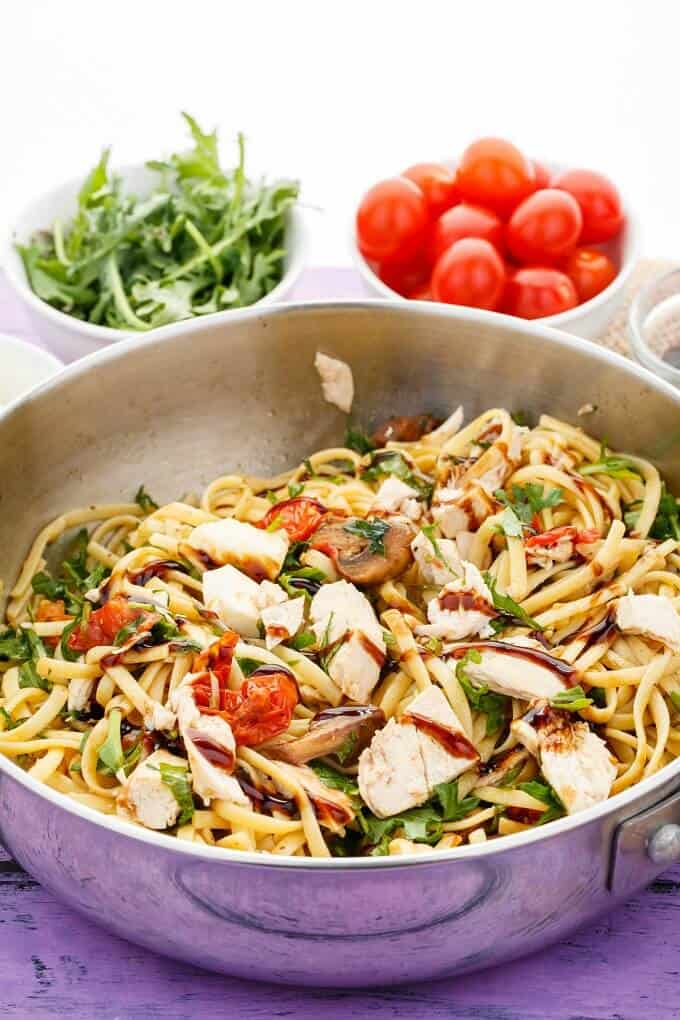 In case you missed it, yesterday's roasted chicken caprese pasta was our meat-meal. The only real difference between the two is that one uses chicken while the other doesn't 😉 And you don't even have to cook up chicken if you don't want to! Leftovers work perfectly 🙂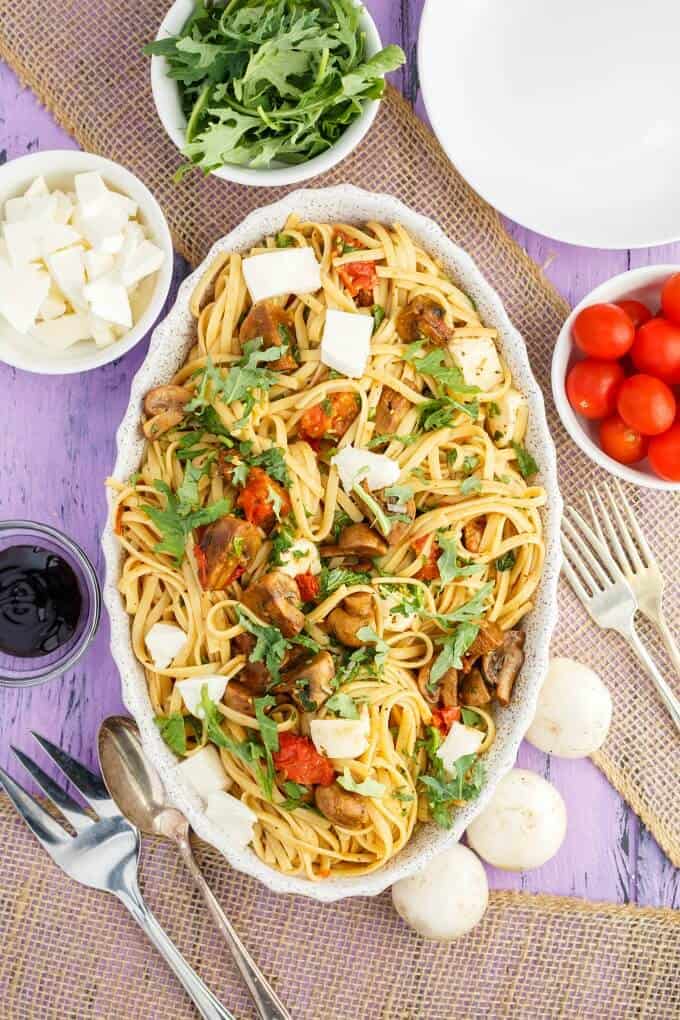 However, in this recipe, mushrooms get all the love! I am telling you, roasting vegetables does something amazing. Time and time again I have said if I could only cook veggies one way, it would be roasted!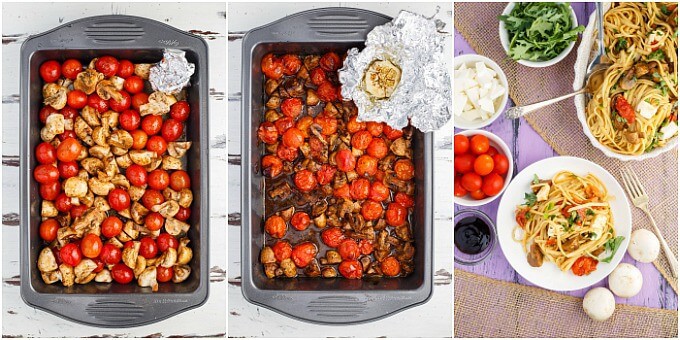 But with summer around the corner, grilled veggies are a very close second! Making this roasted mushroom caprese pasta perfect for those hot days (we even use our side burner to boil pasta outside!)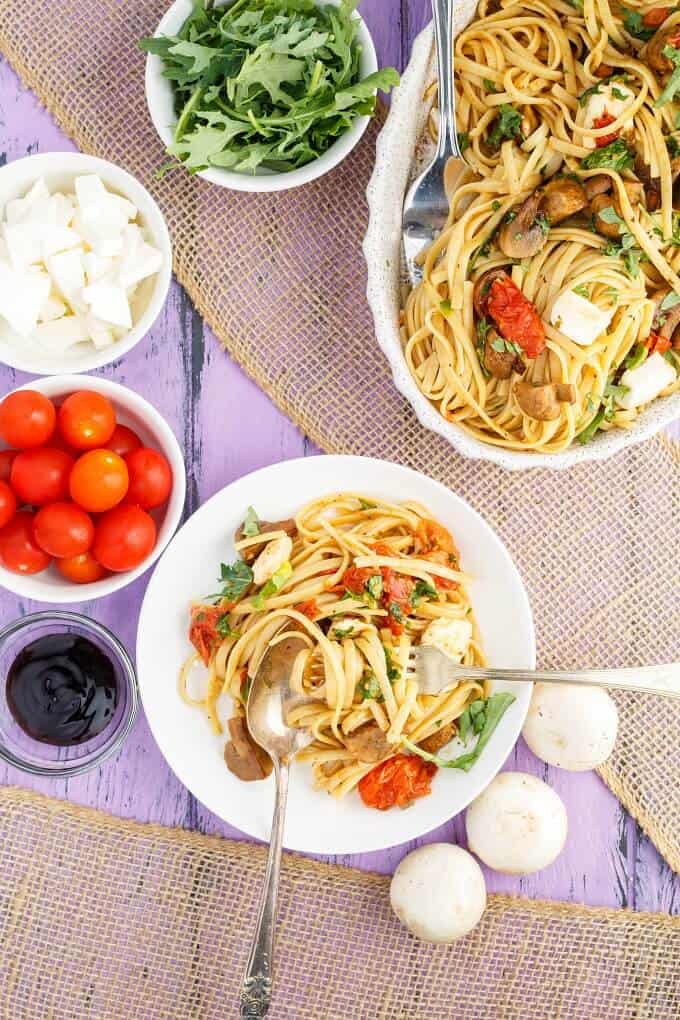 Arg, I swear, every time I go to write "caprese pasta" I write "caprese salad." Makes sense as caprese salad is your typical recipe 😉 And I do have caprese salad recipes on the blog that can easily be made vegetarian!
Roasted Potato and Chicken Caprese Salad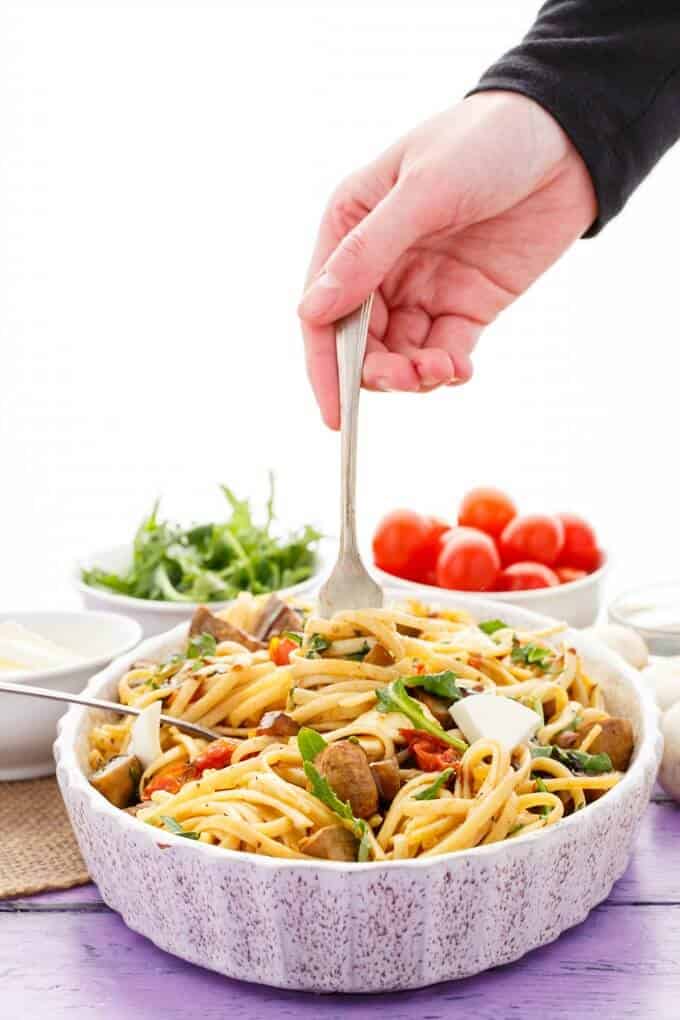 Caprese always goes over well with a crowd! It is one of those meals that I could eat every day (along with poutine, lasagna, and chocolate, lol.) And while I do deem it "healthy," you must remember, everything in moderation! Especially that fresh mozzarella cheese (though, that has never stopped me!) Give me all the cheese!!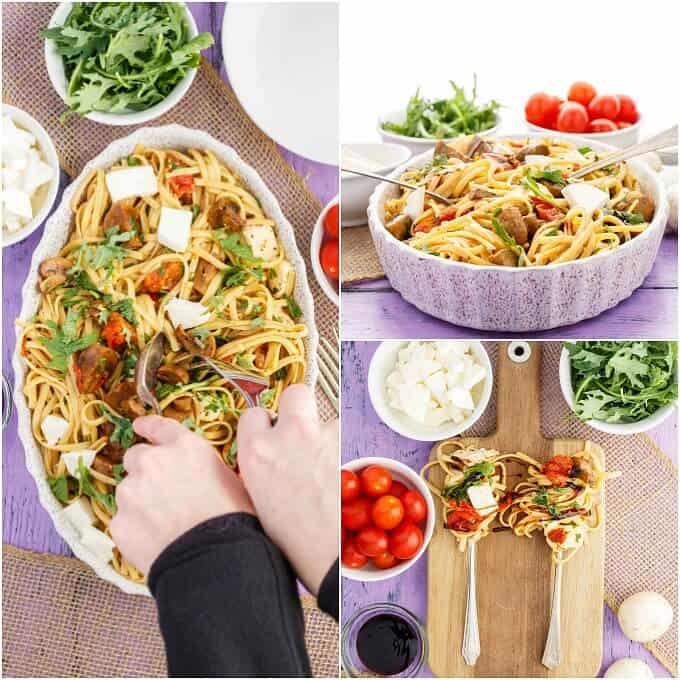 PS: Recipe is easily made vegan by omitting the cheese! Then again, food has come so far nowadays that I am sure there is some delicious vegan cheese substitute you can use here 🙂
📖 Recipe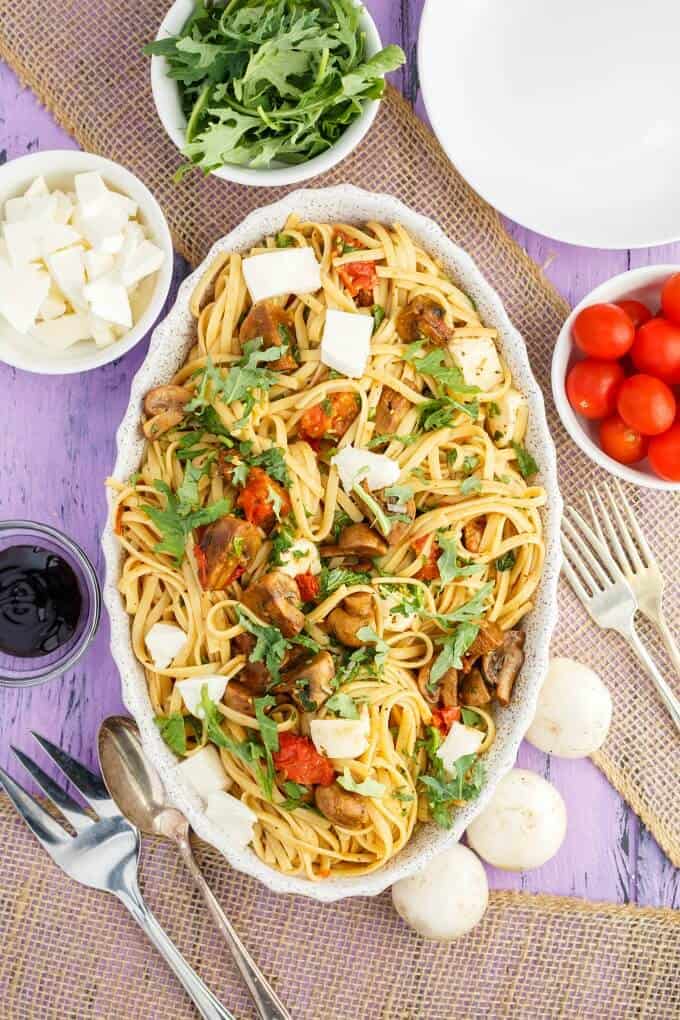 Roasted Mushroom Caprese Pasta
A hearty vegetarian dish that will win over meat eaters, this roasted mushroom caprese pasta is hard to resist!
Ingredients
1 lb dry linguine pasta
1 lb button mushrooms, quartered
1 quart grape tomatoes
1 tsp. dried basil
2 tbsp. olive oil
3 tbsp. balsamic vinegar
1 head of garlic, top of cloves exposed
2-4 oz fresh baby kale, roughly chopped
190 g fresh mozzarella, cubed
4 fresh basil leaves, chiffronade
Balsamic glaze for topping
Instructions
Preheat oven to 400F.
Combine tomatoes, mushrooms, salt, pepper, dried basil, olive oil, and vinegar. Toss together until evenly coated.
Place garlic on a piece of aluminum foil. Pour some olive oil on exposed garlic cloves, followed by salt and pepper. Wrap up securely and place into pan with veggies.
Roast vegetables for 30 minutes, or until browned to your liking.
Cook pasta in salted water until al dente. Reserve ½ cup of pasta water.
Combine pasta with vegetables (including pan drippings,) roasted garlic cloves (roughly chopped,) baby kale, mozzarella, and fresh basil. Toss until well combined and stir in pasta water (a little at a time) to help make the sauce "saucier." 🙂
Serve with additional basil and balsamic glaze if desired.
Notes
I like lots of goodies in my pasta, but you can cut back on things (such as the cheese! But who wants less cheese?!) Boil your pasta water as your veggies roast to save time!
Nutrition Information:
Yield:

4
Serving Size:

1
Amount Per Serving:
Calories:

463
Total Fat:

18g
Saturated Fat:

6g
Trans Fat:

0g
Unsaturated Fat:

10g
Cholesterol:

30mg
Sodium:

273mg
Carbohydrates:

58g
Fiber:

8g
Sugar:

12g
Protein:

21g
Need something to pair this meal with?! Here are my recommendations:
Roasted Mushroom, Onion, and Snow Pea Crostini from eyepoppercandy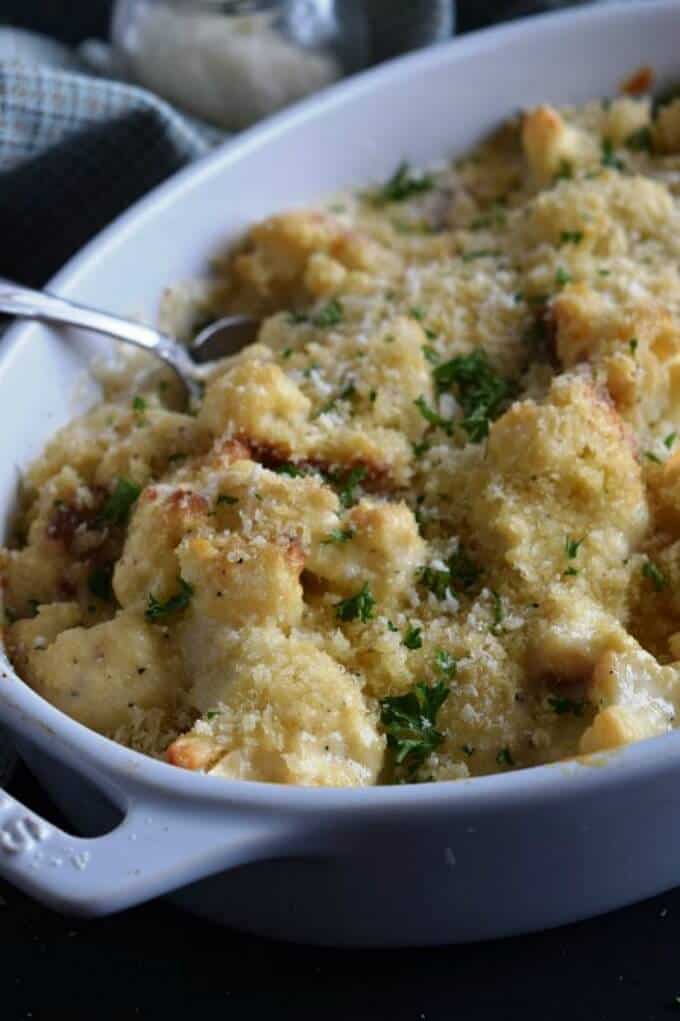 Oven Roasted Cauliflower and Cheddar Gratin from Lord Byron's Kitchen
Love this roasted mushroom caprese pasta?! Try some of these recipes: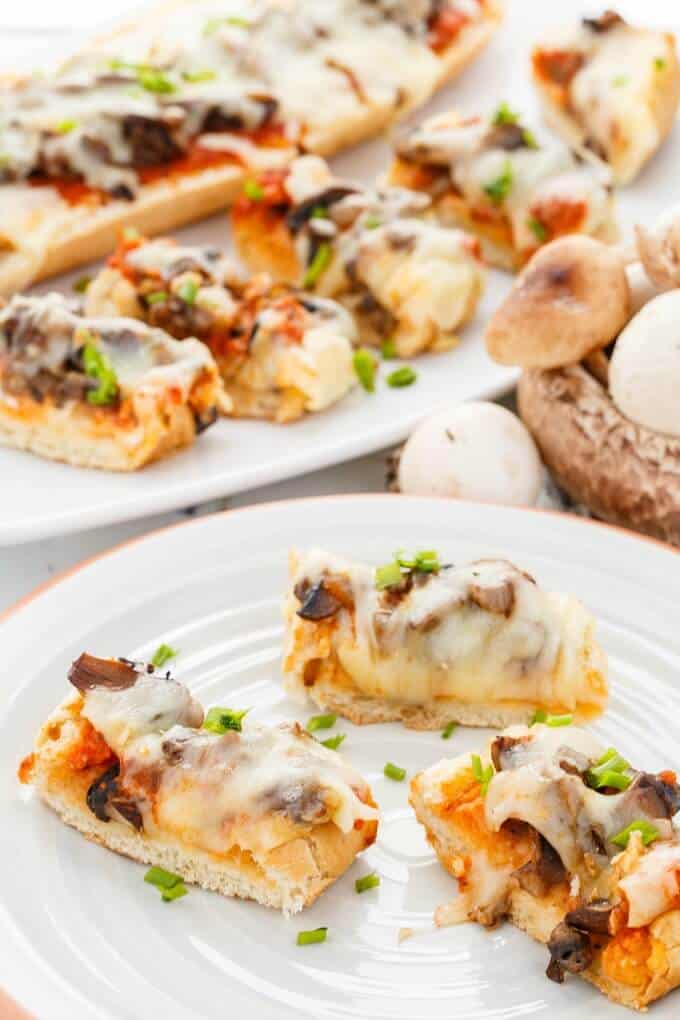 Vegetarian Mushroom Pizza Bread (Semi-Homemade!)