Whether using leftovers, or cooking a whole bird, this roasted chicken caprese pasta will reward you! Simple to make, packed full of flavors, and great for a mix of any dietary restrictions!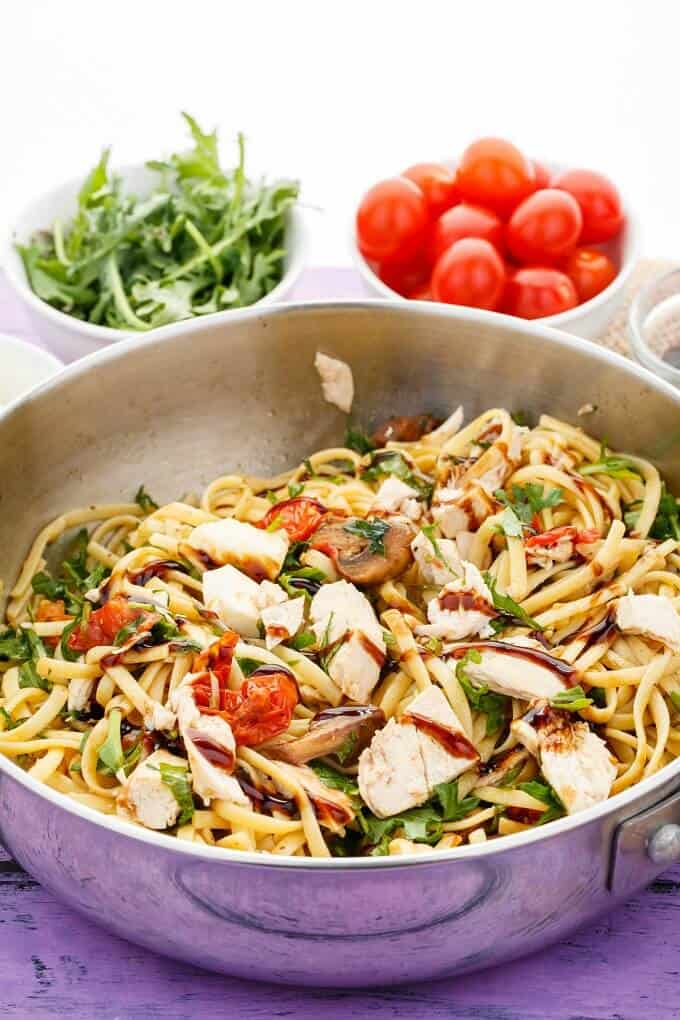 Today's roasted chicken caprese pasta is by far our favorite pasta recipe in this household!
Of course, things always change, so let's see how long it lasts 😉
My vegetarian version, going live tomorrow, is AMAZING and the only difference really is the exclusion of chicken. I tend to double up my veggies for more filler and mushrooms are a great meat substitute. To make things easier, I used mushrooms in this recipe, too!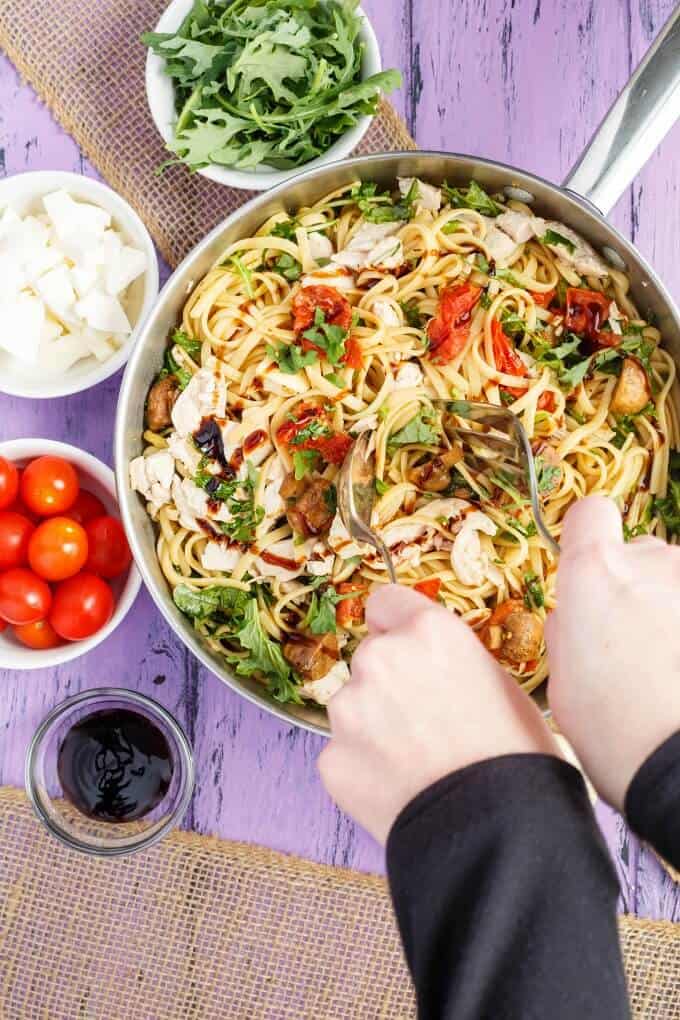 The big "game-changer" for me in this recipe is the use of fresh mozzarella cheese. You know what I am talking about: the stuff found sitting in liquid and it is sooooo soft! What a difference from the blocks of cheese we buy from the grocery store!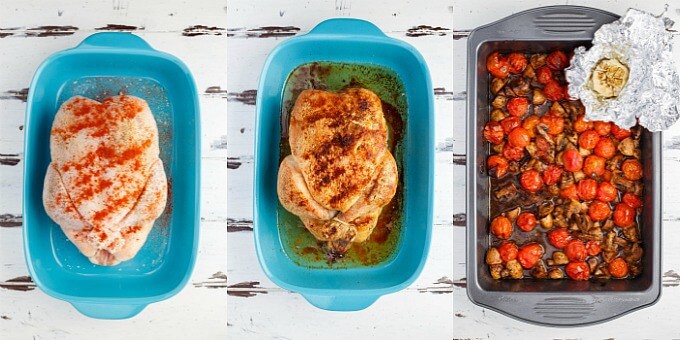 Now, with warmer temperatures here, this would make for a fantastic BBQ recipe! Grill up some chicken or turkey breasts, alongside the veggies, and you have the perfect summer dinner. Actually, don't be too surprised if you see a grill version of this pasta recipe on the blog this summer 😉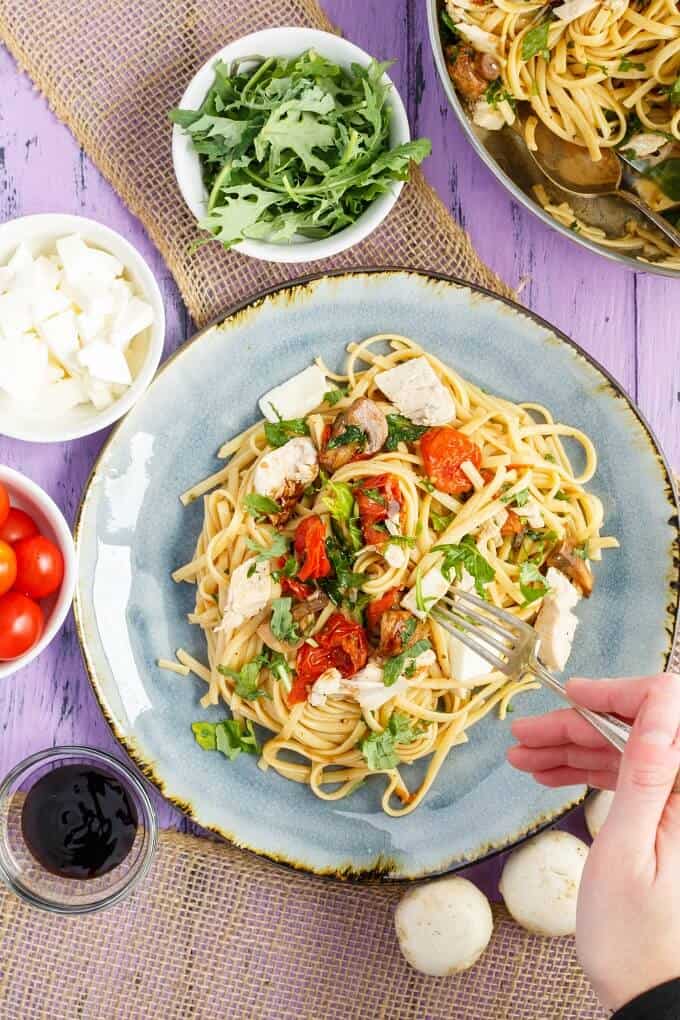 Speaking of summer, who is ready for swimming, picnics, and no more snow?!
*ME!*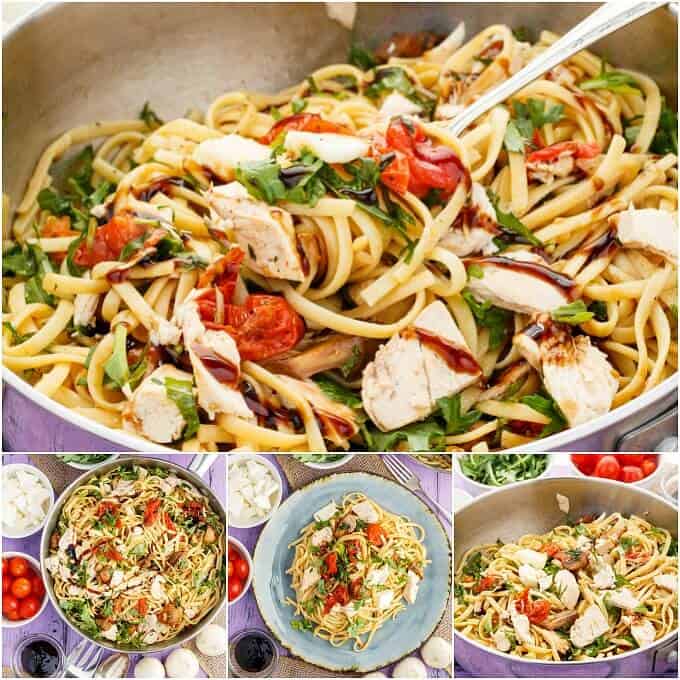 I've been slacking on social media because I am trying to get ahead with summer recipes. It is important to me that my daughter has my full attention. And since she will be home all summer long, my mind will still be on cooking, but not blog related (though I do plan to make lots of my favorite recipes from the blog without the stress of retaking pictures!)
Plus, with all the renovations under our belt, and the extreme need to get the backyard landscaping done, I feel summer is going to speed on by! Before you know it, I'll be sharing back-to-school recipes, haha!
📖 Recipe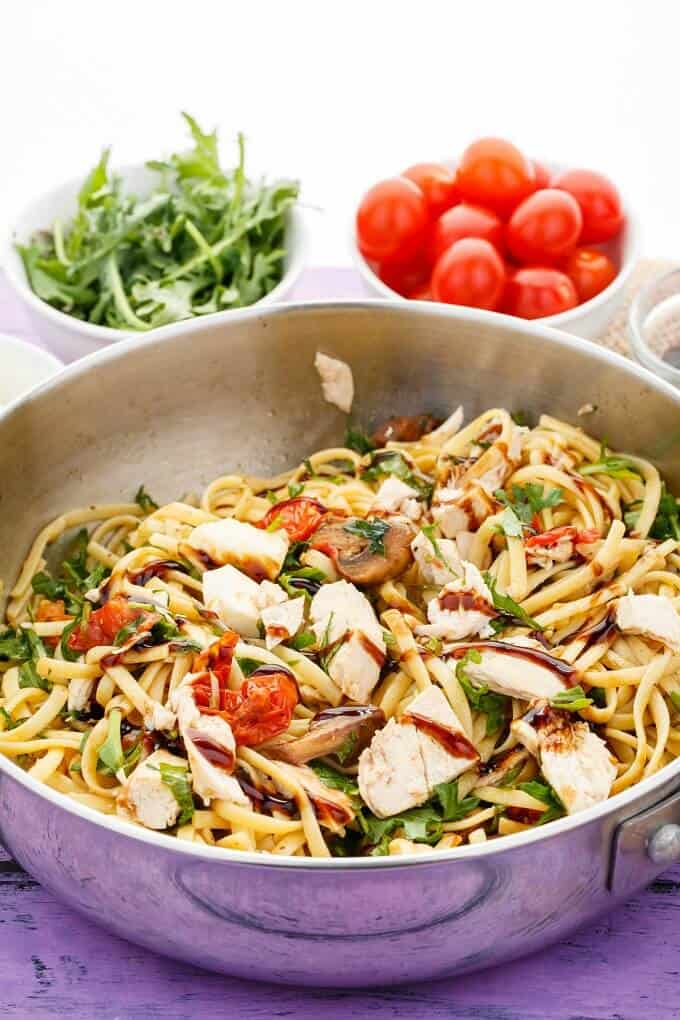 Roasted Chicken Caprese Pasta
A simple and easy weeknight meal, this roasted chicken caprese pasta can be made using leftover chicken!
Ingredients
1 lb dry linguine pasta
4 ½ lb whole chicken, pat dry
Salt and pepper
1 tsp. garlic powder
1 tsp. paprika
1 lb button mushrooms, quartered
1 quart grape tomatoes
1 tsp. dried basil
2 tbsp. olive oil
3 tbsp. balsamic vinegar
1 head of garlic, top of cloves exposed
2-4 oz fresh baby kale, roughly chopped
190 g fresh mozzarella, cubed
4 fresh basil leaves, chiffronade
Balsamic glaze for topping
Instructions
Preheat oven to 400F.
Place chicken into small roasting pan (or baking dish.) Season with salt, pepper, garlic powder, and paprika. Place into oven and roast for 1 hour, or until internal temperature reaches 160F.
Combine tomatoes, mushrooms, salt, pepper, dried basil, olive oil, and vinegar. Toss together until evenly coated.
Place garlic on a piece of aluminum foil. Pour some olive oil on exposed garlic cloves, followed by salt and pepper. Wrap up securely and place into pan with veggies.
Roast vegetables for 30 minutes, or until browned to your liking (I place my pan into the oven when my chicken is halfway done cooking.)
Cook pasta in salted water until al dente. Reserve ½ cup of pasta water.
Combine pasta with cubed chicken slices (included chicken pan drippings if you have any,) vegetables (with pan drippings,) roasted garlic cloves (roughly chopped,) baby kale, mozzarella, and fresh basil. Toss until well combined. Add in pasta water (small amounts) until desired sauce is made.
Serve with additional basil and balsamic glaze if desired.
Notes
You can use leftover chicken instead of roasting a whole chicken to make things easier! We like lots of goodies in our pasta, but if you can always cook up extra pasta noodles to balance things out 🙂
Nutrition Information:
Yield:

4
Serving Size:

1
Amount Per Serving:
Calories:

1687
Total Fat:

87g
Saturated Fat:

26g
Trans Fat:

0g
Unsaturated Fat:

52g
Cholesterol:

480mg
Sodium:

766mg
Carbohydrates:

59g
Fiber:

8g
Sugar:

13g
Protein:

160g
Need something to pair this meal with?! Here are my recommendations: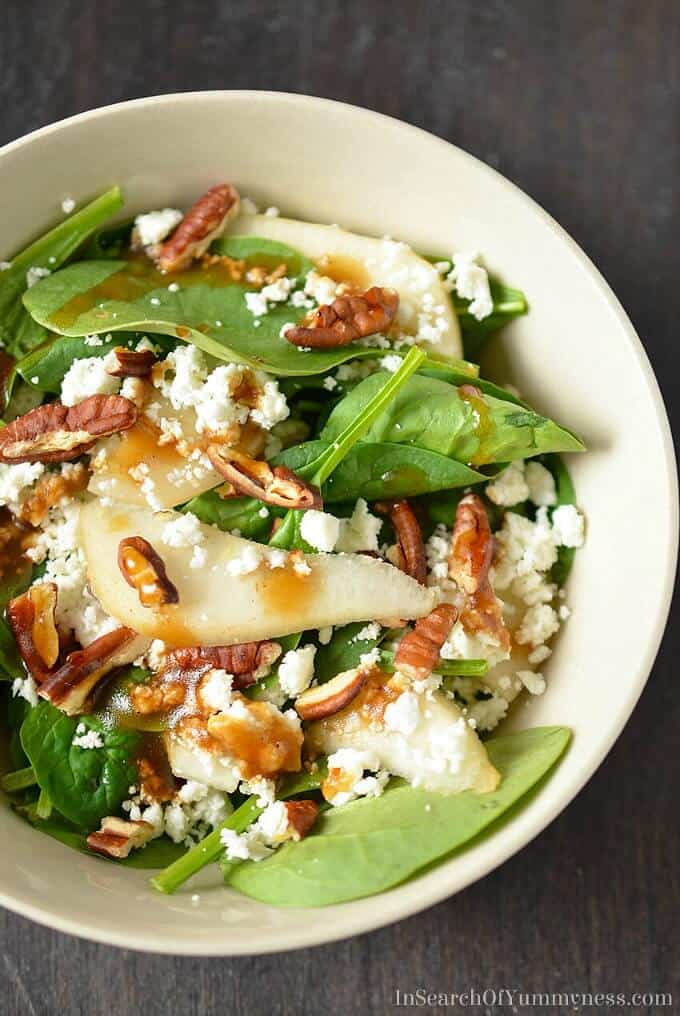 Spinach Salad with Pears, Pecans, and Goat Cheese from In Search of Yummy-ness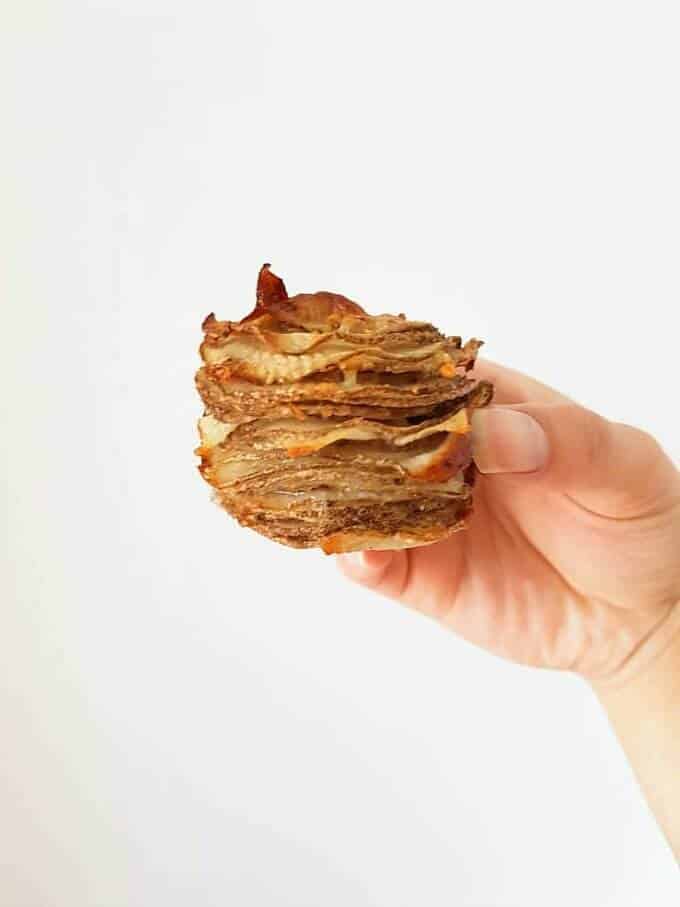 Parmesan Potato Stacks (with a spiralizer) from Carmy
Here is the sneak peek of the (vegetarian) roasted mushroom caprese pasta going live tomorrow!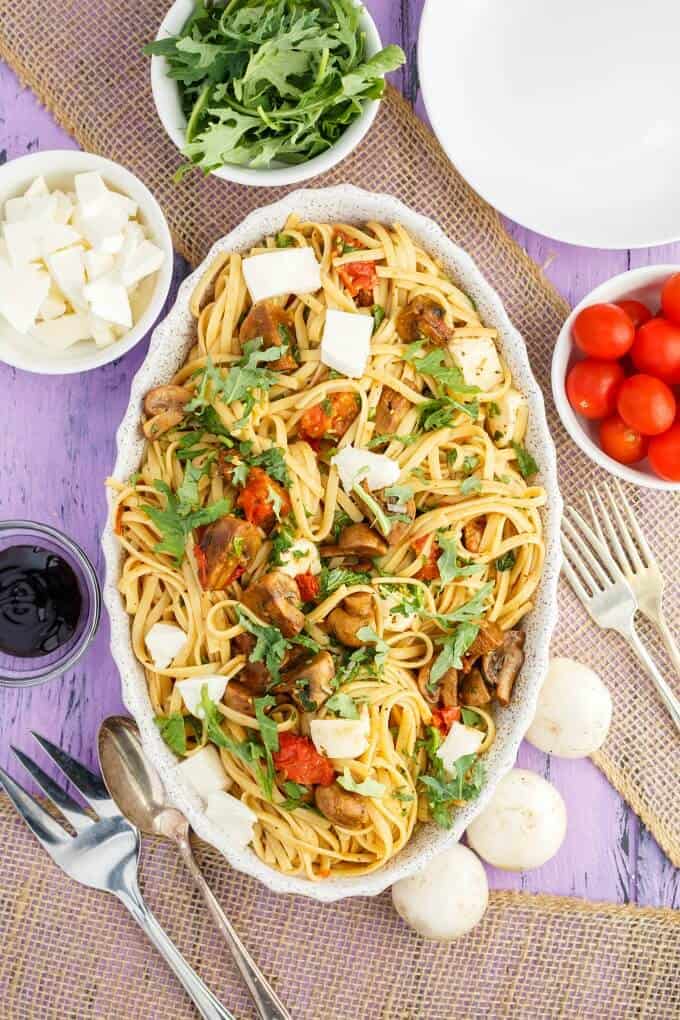 Love this roasted chicken caprese pasta?! Try some of these recipes: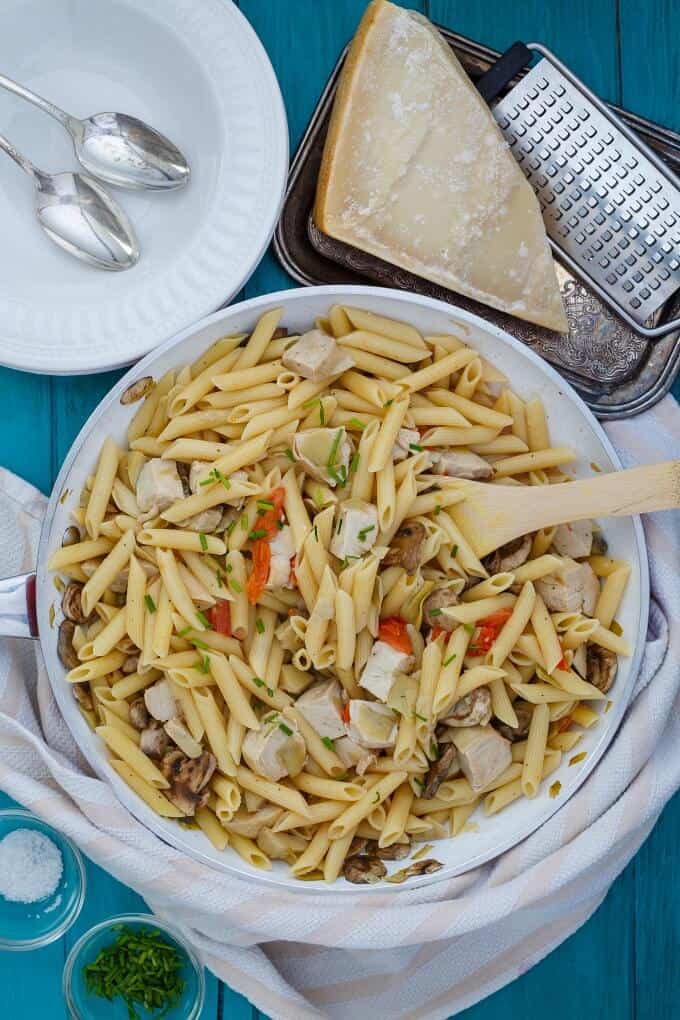 One Pan Creamy Chicken Pasta (Barilla Pronto)