Roasted garlic adds so much to a recipe! This tutorial shows you how to make roasted garlic in bulk (but you can definitely use it to make one single bulb.)
While this post is not sponsored per-say, I did receive products from Cookina to try out (by requesting them myself.) Though products were received, all opinions are my own and I would not recommend a product that I did not enjoy!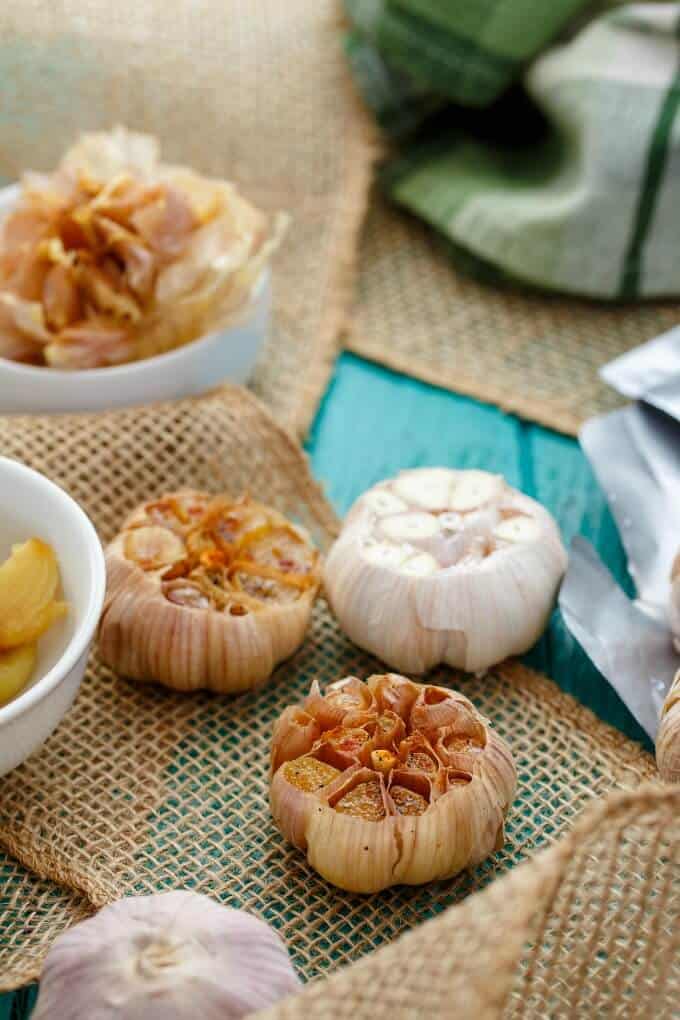 I had started blogging just before my daughter was born in 2011 and thought that I could keep it going. Raising a child and beginning a blog is NOT the right way to go about things, haha.
Instead, I took a hiatus and began seriously blogging in November 2014. Since then, it has been history and my business has flourished more than ever!
Today's roasted garlic recipe has been updated and I am using Cookina's Reusable Cooking Bag. I am in LOVE with this product!! I don't even know where to begin!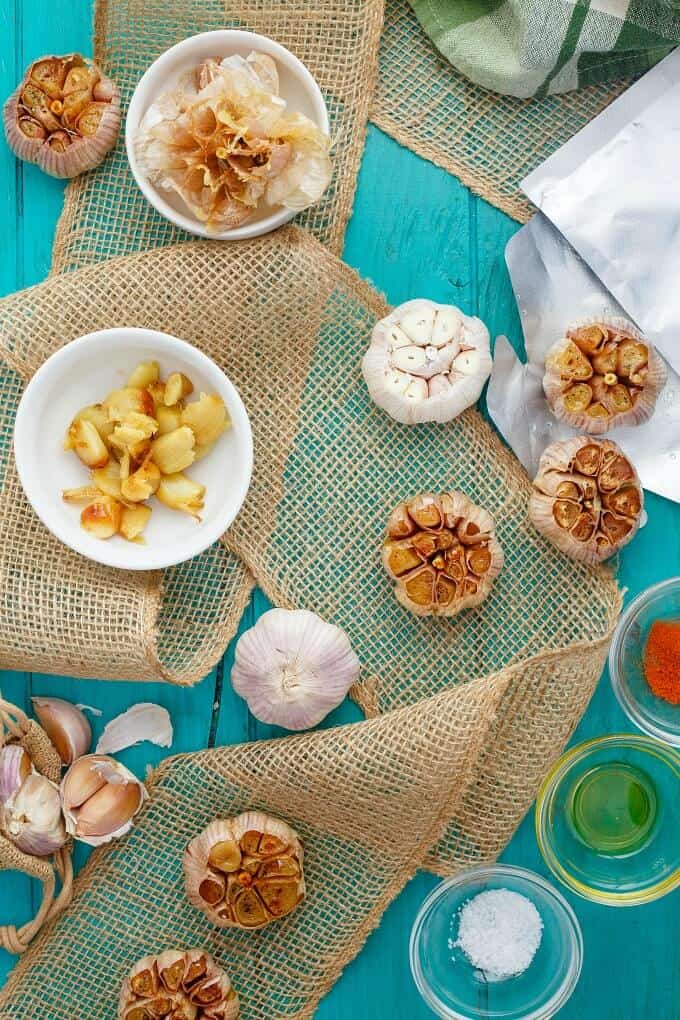 First off, it is reusable, making it ideal for pouch recipes (think on the grill or in the oven veggie/seafood creations.) But get this: the product also works in the MICROWAVE! How neat is that?! Now, I did not try it there, but you can be assured that I will!
Okay, another big pro to this product is how it reduces waste. Whenever I make individual roasted garlic bulbs, I wrap them in aluminum foil. It works great and creates a tender, decadent garlic bulb. But it also creates waste. And chances are you are not saving that foil to reuse.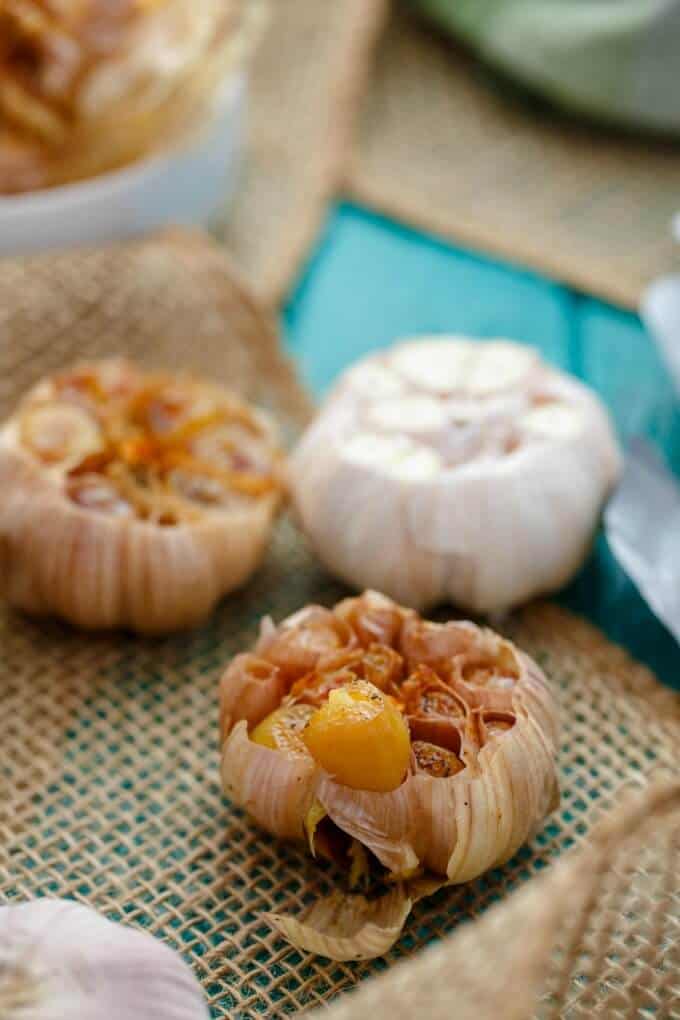 With Cookina's Reusable Cooking Bag I was able to create 8 roasted garlic bulbs without digging into my parchment drawer. AND all I had to do in the end was wash it!
Ideally these bags are used for steaming, but I had no issue with this recipe. This specific product is not grill appropriate, but they do have the same pouches made for grills and smokers 🙂
That side, I am really happy to revisit this roasted garlic recipe. I use roasted garlic A LOT and have really been meaning to come back to this. Easy, vegan, and gluten-free, roasted garlic adds a lot to a dish.
And another great feature?! It freezes! So if you happen upon a lot of garlic at some point, use this recipe and freeze the leftovers 🙂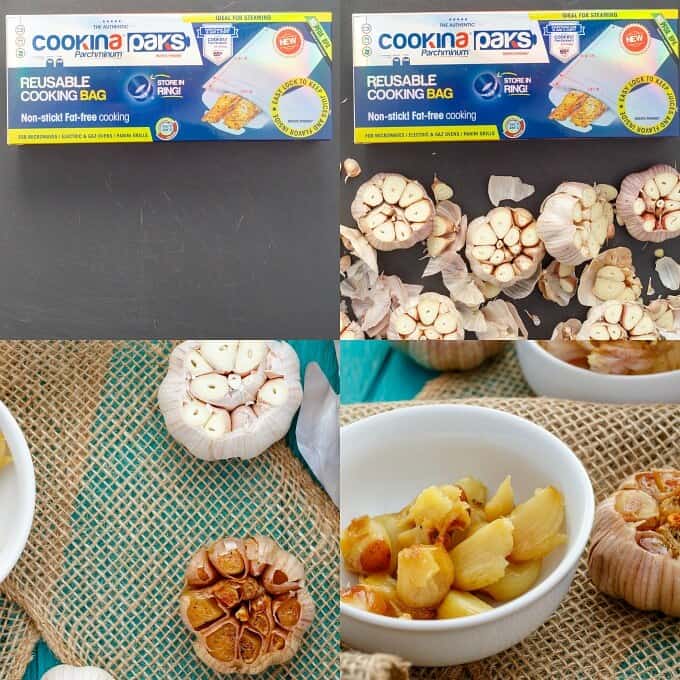 📖 Recipe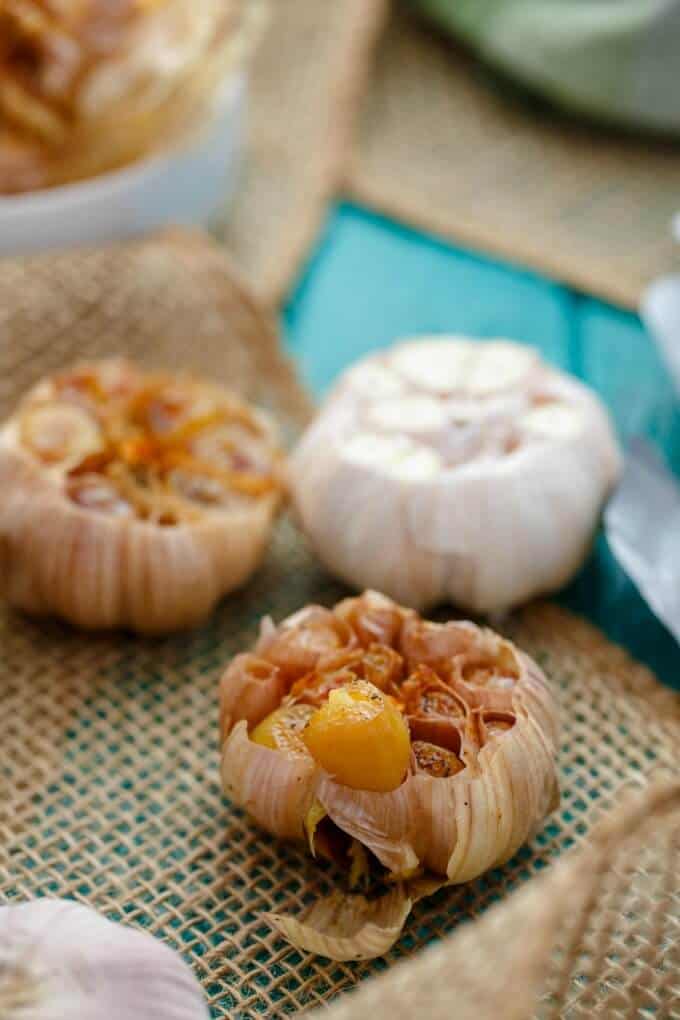 Roasted Garlic
Cookina's Reusable Cooking Bags makes this recipe super easy and clean-up is a breeze!
Ingredients
8 bulbs of garlic
Olive oil
Salt and pepper
Cayenne powder
Instructions
Preheat oven to 400F.
Slice the top off each head of garlic (just enough to expose the garlic.) Drizzle with olive oil, making sure to get into all the crevices. Season with salt, pepper, and cayenne powder (if desired.)
Place into Cookina's Reusable Cooking Bags OR into a large baking dish (covered with aluminum foil afterwards.)
Bake for 40 minutes, or until garlic is tender and a deep brown.
Allow to cool before popping out garlic from paper.
Notes
If only one head of garlic is needed, follow the same technique but wrap one head of garlic in cooking package or aluminum foil.
Nutrition Information:
Yield:

8
Serving Size:

1
Amount Per Serving:
Calories:

20
Total Fat:

2g
Saturated Fat:

0g
Trans Fat:

0g
Unsaturated Fat:

1g
Cholesterol:

0mg
Sodium:

38mg
Carbohydrates:

1g
Fiber:

0g
Sugar:

0g
Protein:

0g
Love this roasted garlic (bulk recipe)?! Try some of these recipes: