A chilly winter day, or a fantastic summer night, this roasted tomato and garlic soup will sure to please!
Seems like I am continuing the train of healthy recipes for this week!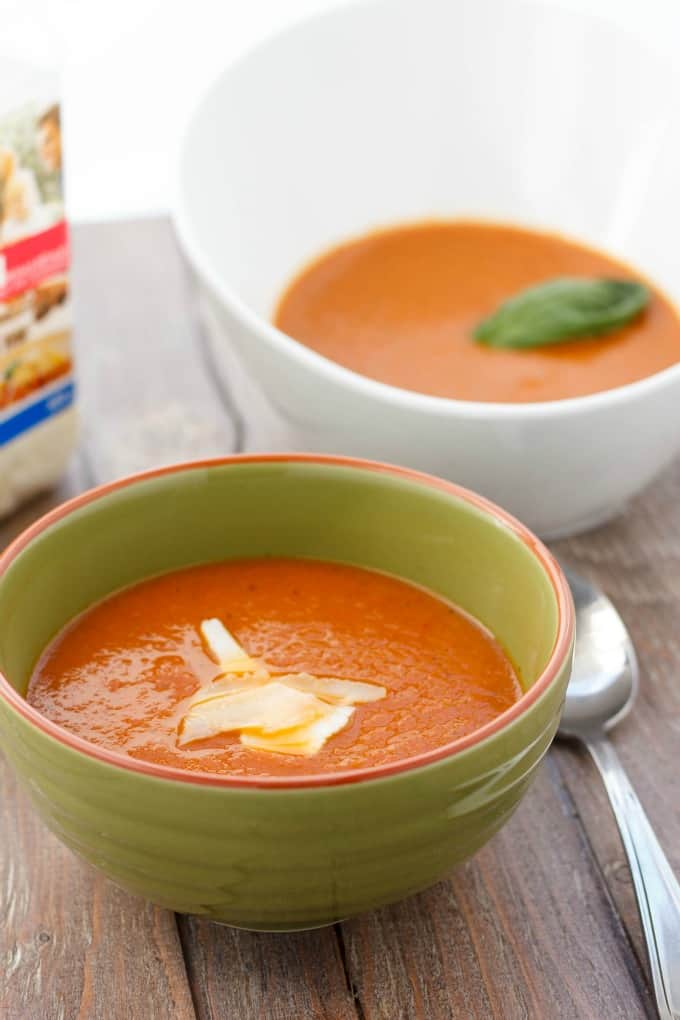 Today's roasted tomato and garlic soup was a recipe I made before Christmas, but have not had the chance to share it yet. Today seemed perfect because we are expecting minus 30 degree temperatures! Arg, it is like they know I have made a goal to walk the dog every single day, no matter what the weather. This might be pushing it though...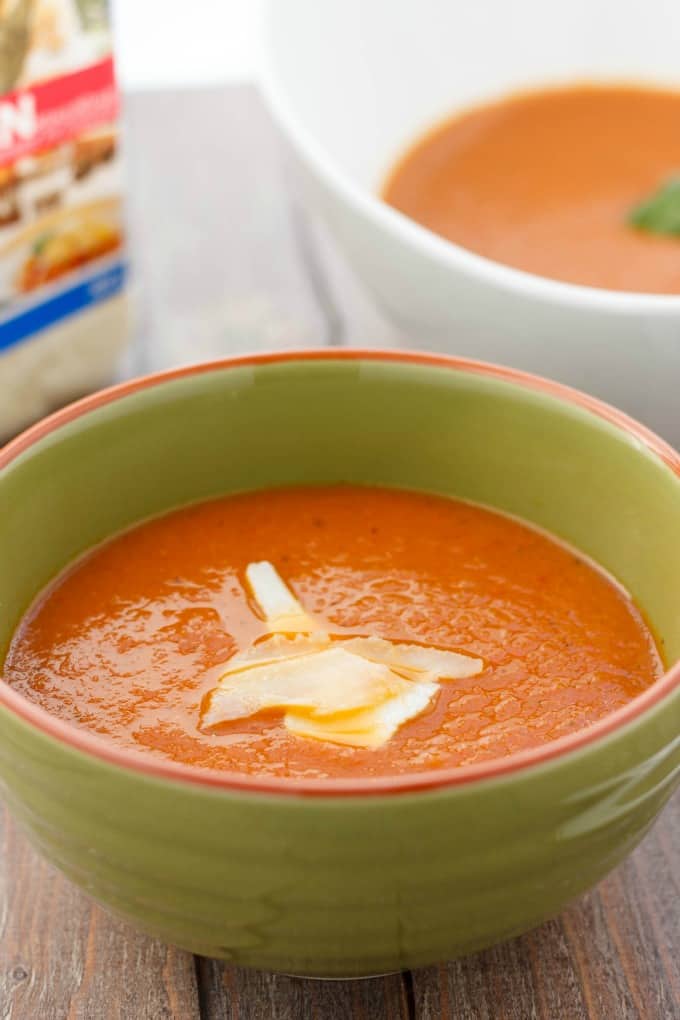 Nonetheless, I know this soup would surely warm me up! We loved it so much! The whole head of roasted garlic really helped mellow out the flavors (because sometimes garlic can be overpowering.) I wanted a nice tomato taste, with a hint of something deeper. The roasted garlic worked perfectly, and the fresh basil only elevated the soup. The only downfall to this recipe was how quickly we ran out of servings!
While this roasted tomato and garlic soup is vegan and gluten-free friendly, you could always add in a splash of cream for an even richer experience. Otherwise, it is perfect as is! Tomato, basil, and garlic. Where can you go wrong with that combination?!
📖 Recipe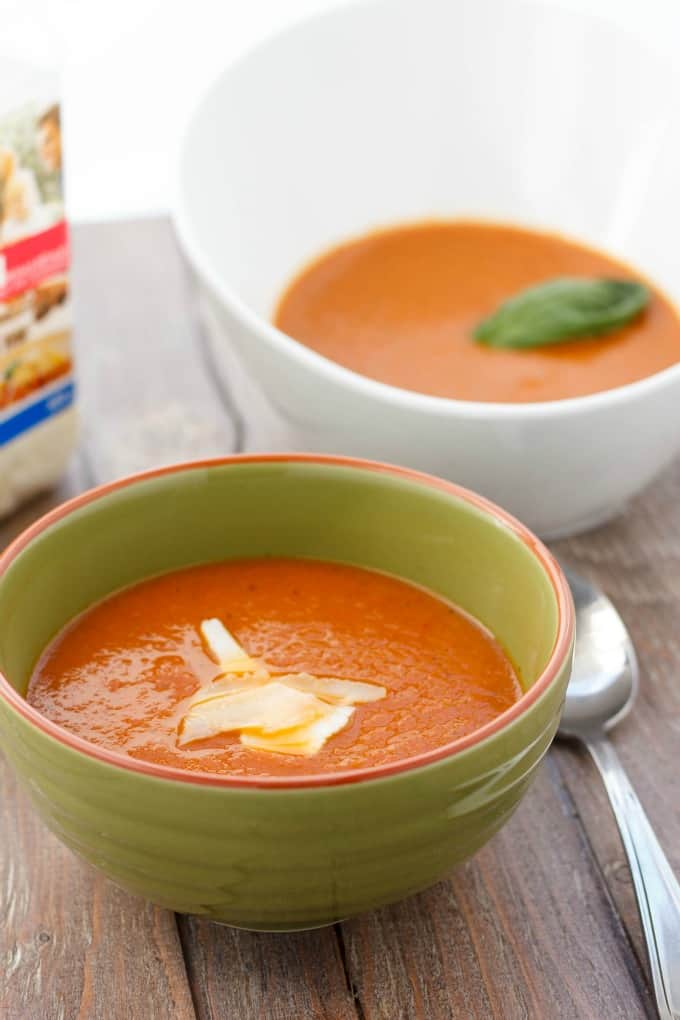 Roasted Tomato and Garlic Soup
Cook Time:
1 hour
10 minutes
Total Time:
1 hour
30 minutes
Put away that canned tomato soup, because this roasted tomato and garlic soup is rich, tasty, and so easy! Vegan, gluten-free, and positively healthy!
Ingredients
2.5 lbs tomatoes
1 head of garlic
Olive oil
Salt and pepper
¼ tsp. red chili flakes
1 medium red onion
1 red pepper
½ cup fresh basil, divided
900 mL container vegetable broth (about 4 cups.)
Instructions
Preheat oven to 400F. Line with parchment paper or silicone mat for easy clean up.
Roughly chop your tomatoes and place onto a baking sheet. Chop your onions, and peppers into pieces that are a bit smaller than your tomatoes. Combine with tomatoes and season with salt, pepper, red chili flakes and just enough oil to coat the veggies.
Take your head of garlic and remove some of the papery parts. Slice the top off the garlic, exposing all the cloves (not too deep, just enough to expose the garlic.) Coat with some olive oil, salt, and pepper. Place onto aluminum foil and wrap securely.
Place your baking sheet into the oven, and place the wrapped garlic directly beside the pan on the racks. Bake for 45 minutes, or until vegetables are slightly caramelized (you may want to check on your garlic around the 35 minute mark.)
Allow garlic to cool slightly. Move the veggies to a large stock pot and squeeze the garlic into the pot. Pour in the broth and ¼ cup fresh basil leaves (you can leave them whole as we are removing them later.) Bring to a boil and simmer for 15 minutes. Remove basil and transfer the soup in batches to a blender and puree until smooth (BE VERY CAREFUL. I always seem to add too much soup and make a big mess!) In the last bit of soup, puree the remaining basil with the soup. Return to the pan and season accordingly.
Serve with your favorite sandwich or on its own! Parmesan cheese was a nice addition!
Nutrition Information:
Yield:

4
Serving Size:

1
Amount Per Serving:
Calories:

124
Total Fat:

4g
Saturated Fat:

1g
Trans Fat:

0g
Unsaturated Fat:

3g
Cholesterol:

0mg
Sodium:

725mg
Carbohydrates:

20g
Fiber:

4g
Sugar:

11g
Protein:

4g
While I absolutely love my creamy soups, this one was a nice change. Healthy and not heavy at all, it is definitely perfect during the winter months. Mr. TCW brought home a new soup idea that I had never heard of before, and I will be posting it sometime next week hopefully. I considered it to be another healthy recipe, even with the sausage involved. Pop in next week to see my secret soup reveal!
And the caldo verde soup is up!