A classic recipe found at many Canadian Chinese restaurants, these dry garlic ribs are anything but dry!
With Mr. TCW having so many weeks off, we found ourselves living off whatever food we had in the house. I am not complaining; it makes sense to use up everything in the house when you have no where to be. That being said, kiddo only had 10 diapers left so we were forced to leave the house eventually.
The Superstore had a special; if you spent over a certain amount at their store you received a free BBQ set. Perfect! We needed diapers and buying a couple of boxes definitely helped bring our total up. Mr. TCW traveled to the meat section and found a TON of ribs on sale. I swear it was over 6 pounds. We picked them up to help bring our total over the allotted amount, but I also had two rib recipes that I had made previously for him and wanted to do a tutorial on them.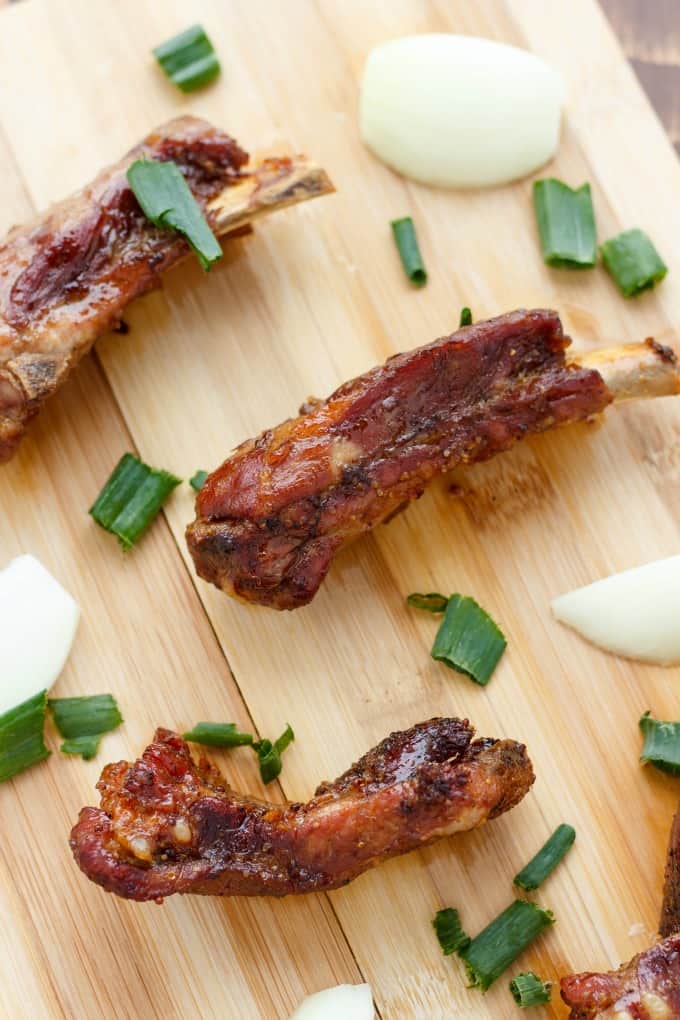 This recipe is remarkably similar to the ribs you get at your local Chinese Food restaurant in Canada. Fellow Canadians will know what I am talking about but they are sweet, sticky and delicious (according to Mr. TCW and others!)

📖 Recipe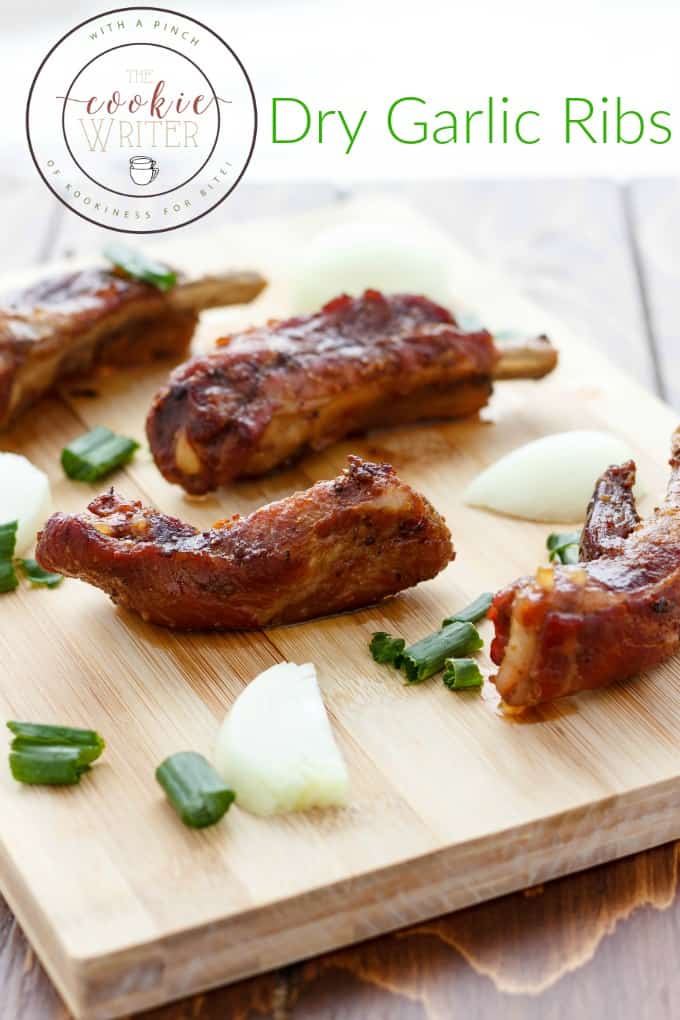 Dry Garlic Ribs: Canadian Chinese Style
Total Time:
2 hours
15 minutes
These Dry Garlic Ribs are what you typically find in a Canadian Chinese Food Restaurant.Easy. quick, and delicious!
Ingredients
3 lbs pork spareribs, fat removed and cut into individual pieces
¾ cup beef broth
¾ cup brown sugar
2 tbsp. soy sauce
6 garlic cloves, minced
2 tbsp. mustard or Dijon mustard
1 small onion, diced (optional)
Salt and pepper
Instructions
Preheat oven to 350F.
Layer ribs in a single fashion in a shallow baking dish. Season with salt and pepper.
In a small saucepan over medium-heat, add the broth, sugar, soy, garlic, mustard, and onion. Stir frequently so the sugar does not stick to the bottom. Bring to a boil and cook for a few minutes (making sure the sugar has dissolved.) Remove from heat and pour over ribs. Cover with aluminum foil and place into oven to 1 hour.
Remove foil and place back into oven for 15 minutes (uncovered.) Remove and flip the ribs. Cook again for 15 minutes. Repeat these two steps one more time, or until meat is cooked through (you can also broil the meat in the end to get a nice crust.)
Serve over rice (perfect way to use up that extra juice!)
Nutrition Information:
Yield:

4
Serving Size:

1
Amount Per Serving:
Calories:

1384
Total Fat:

105g
Saturated Fat:

32g
Trans Fat:

1g
Unsaturated Fat:

47g
Cholesterol:

357mg
Sodium:

1119mg
Carbohydrates:

38g
Fiber:

1g
Sugar:

34g
Protein:

73g