Beginning in early spring, right up until the end of summer, people around us are working in their gardens. My neighbours to the right of us have remarkable patience when it comes to gardening. I swear she could charge people to come into her yard to see the various flowers she has. I am not the flowery type but I will admit, she makes gardening look simple! I prefer vegetable gardens and even though I have not done one the last two years, I still receive an abundance of food from other people's gardens. Or sometimes just their regular produce from the fridge that they are not going to use up in time. My mother-in-law is famous for giving me leftovers that she is not going to use or cannot eat. Case in point: Cucumbers.
     Keep in mind, I don't find cucumbers horrible. They are just boring. I am not one of those people who would cut up a cucumber as a snack. However, we do use them in other means such as pairing with cheese or mixing into a salad. When I was given more cucumbers I began to look around for something new to try. I came across a delicious recipe from
Eat Yourself Skinny
 and knew I had to make it!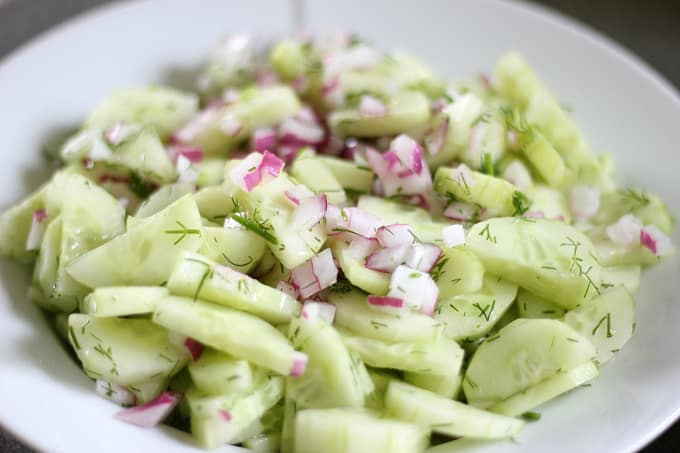 Cucumber Salad with Fresh Dill and Red Onion
---
Kacey
Yields 4
10 minPrep Time
10 minTotal Time
Ingredients
2 medium size cucumbers
1/4 cup white wine vinegar
1 tsp. sugar
1/4 tsp. salt
1 small red onion, diced
1-2 tbsp. fresh dill, chopped
Instructions
Peel cucumbers, cut in half lengthwise and slice halves. In a large bowl whisk together the white wine vinegar, sugar and salt. Pour in the cucumbers, red onion and dill. Stir to combine. Cover and place in refrigerator until chill. Serve paired with a summer BBQ and you are all set!
7.8.1.2
87
https://thecookiewriter.com/cucumber-salad-with-fresh-dill-and-red-onion/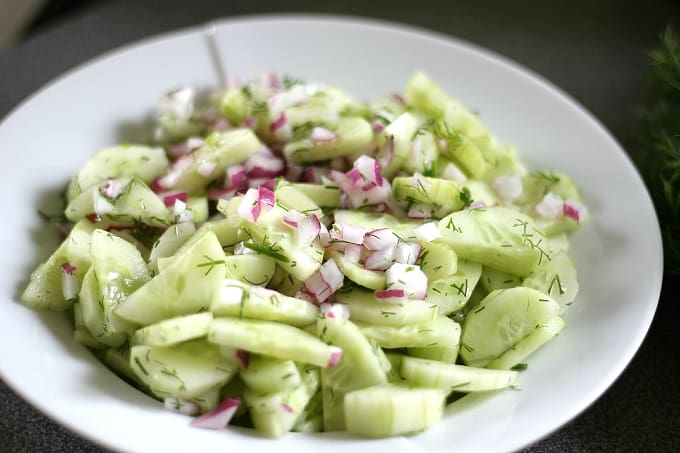 I do not like dill pickles, dill potato chips. or dill flavoured anything. It is just one of those things I do not have an acquired taste for but I must admit, taking a bite of this salad was so refreshing. Using fresh dill is a different experience than processed dill foods so maybe, in the end, dill is not so bad!