My VERY popular roasted baby potatoes in a homemade mushroom sauce has gotten a makeover and it cannot get any better!
Christmas is almost here! I initially wanted to make today's roasted baby potatoes in a homemade mushroom sauce for my contribution to The Little Potato Company as a thank you for sharing their products with me. However, I decided to go with pan-fried fingerling potatoes with bacon. I must say, that recipe is doing amazing! Seems like everyone is enjoying the easy, but flavorful, dish. I could not enjoy the pan-fried fingerling potatoes, but I knew I wanted to revamp my popular mushroom pasta sauce recipe for myself.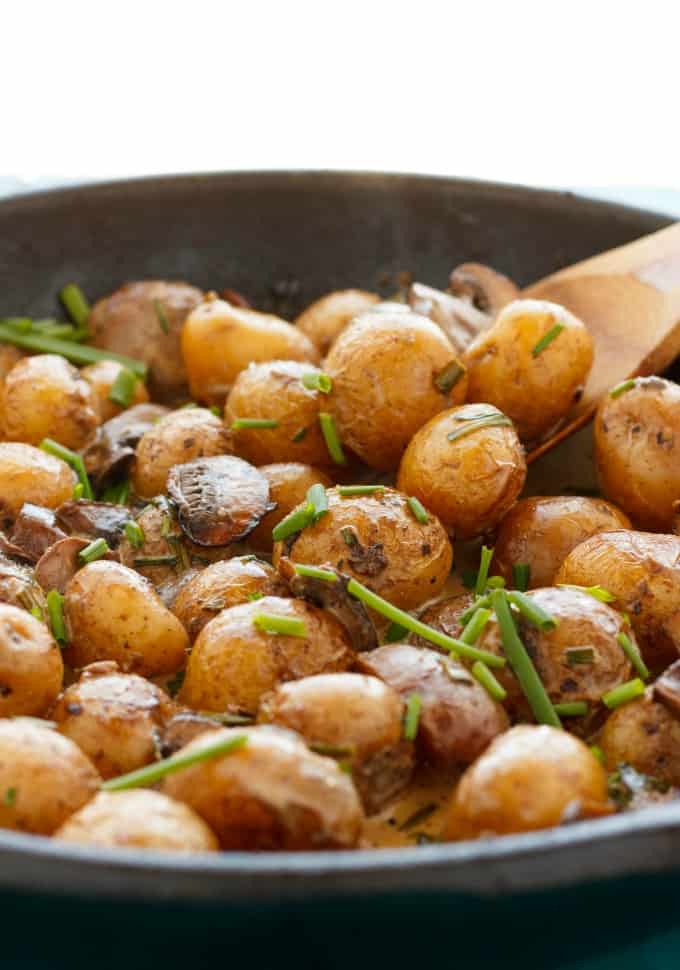 The mushroom sauce worked outstandingly with these baby potatoes. I originally thought I put way too much liquid into this meal, but you would be surprised at how much the potatoes soak up, especially after they sit for some time. My husband is also a big rice lover, so he had no problem pouring any extra liquid on top of his rice. Personally, I love a bit of extra sauce when it comes to pasta or rice, so this roasted baby potatoes recipe worked perfectly for me. It is not a thick sauce, but I could see it working perfectly over mashed potatoes (or just about anything.)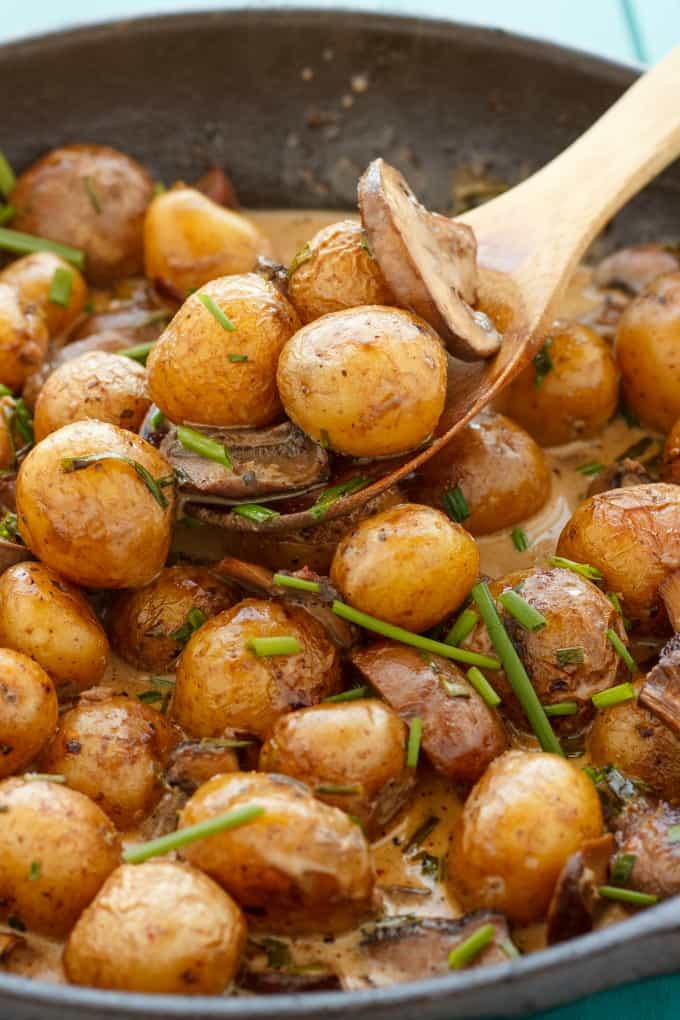 It is a very simple dish to make, but a bit of work. UPDATE: Since revisiting this recipe I have made it so it is a one pan meal! The recipe tastes exactly like the original method, but reduces cooking time (and dishes!) drastically!
As always, the white wine is optional but I swear it makes this dish. I love it paired with mushrooms and it really brings through the earthiness of the mushrooms without masking flavors. UPDATE: When I revisited this recipe I was actually out of white wine. I used red wine instead and it was just as good, if not better! If alcohol isn't your thing, just use more broth!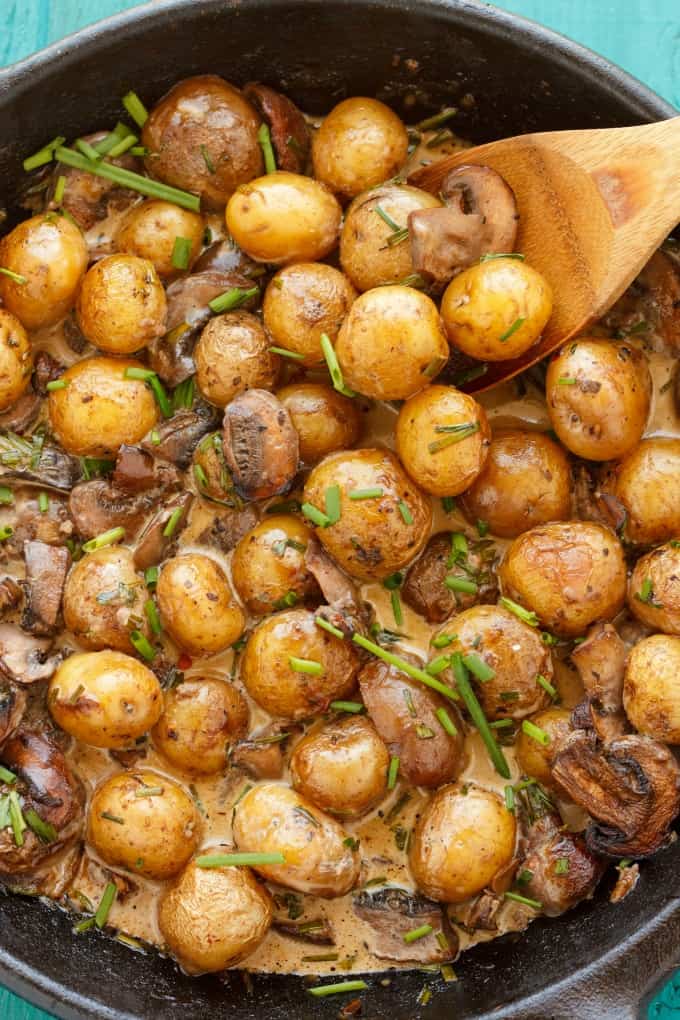 📖 Recipe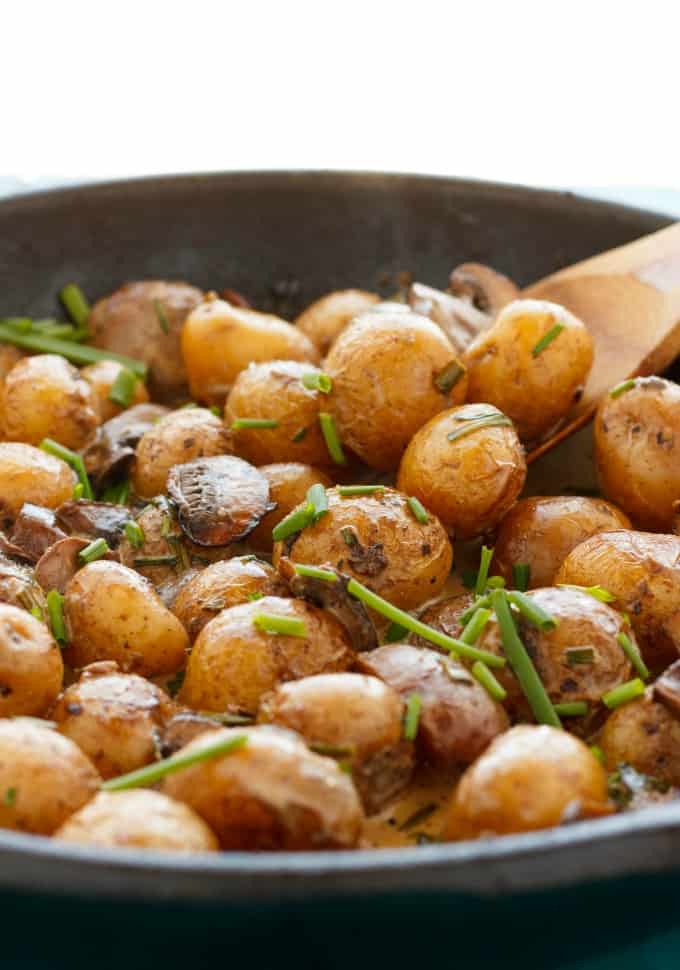 Roasted Baby Potatoes in a Homemade Mushroom Sauce
Making this meal all in one pan saves time and dishes!
Ingredients
1.5 pounds baby OR Creamer potatoes, washed and left whole
2 large portobello mushrooms, halved and sliced ¼-1/2 inch thick
8 oz button mushrooms, sliced
3 garlic cloves, minced
2 tbsp. olive oil
3 tbsp. balsamic vinegar
Salt and pepper
¼ tsp. red chili flakes
¼ tsp. ground thyme
Sauce
⅔ cup vegetable broth
½ cup heavy whipping cream
⅓ cup white OR red wine (can omit and use more broth)
¼ cup chives, chopped (about 30 grams or 1 oz)
Instructions
Preheat oven to 425F.
Place mushrooms, potatoes, garlic, olive oil, vinegar, salt, pepper, chili flakes, and thyme into a large mixing bowl. Toss until evenly coated. Pour into a large cast iron skillet and spread out evenly. Roast for 15 minutes. Toss and cook for another 15 minutes, or until potatoes are fork tender. Remove from oven and place pan over medium heat.
Pour in wine and cook until dissipated, about 2-3 minutes. Pour in broth and cream. Sprinkle with half the chives. Bring to a boil and simmer for 5 minutes. Garnish with remaining chives and serve!
Note: If you do not have a cast iron pan, just cook the mixture in an oven safe pan or baking sheet and then transfer to a stove-top frying or saute pan to finish the recipe off!
Nutrition Information:
Yield:

2
Serving Size:

1
Amount Per Serving:
Calories:

980
Total Fat:

70g
Saturated Fat:

47g
Trans Fat:

1g
Unsaturated Fat:

18g
Cholesterol:

67mg
Sodium:

681mg
Carbohydrates:

75g
Fiber:

6g
Sugar:

11g
Protein:

12g
I could eat this sauce all day, every day. I am sure my body would eventually hate all that cream, but it is just the perfect amount of richness. I could see this recipe working easily for vegans by subbing in the almond milk for the whipping cream. I may have to give that a go soon so Mr. TCW doesn't have to suffer through his lactose intolerance (though the amount of cream is so little it should not be too harsh.)
Instead of chives, fresh dill would work beautifully here. I was tempted to do fresh dill but I had recently made another loaf of my cheese and dill beer bread and thought it would be nice to change things up.
Love these roasted baby potatoes in a homemade mushroom sauce?! Try some of these recipes: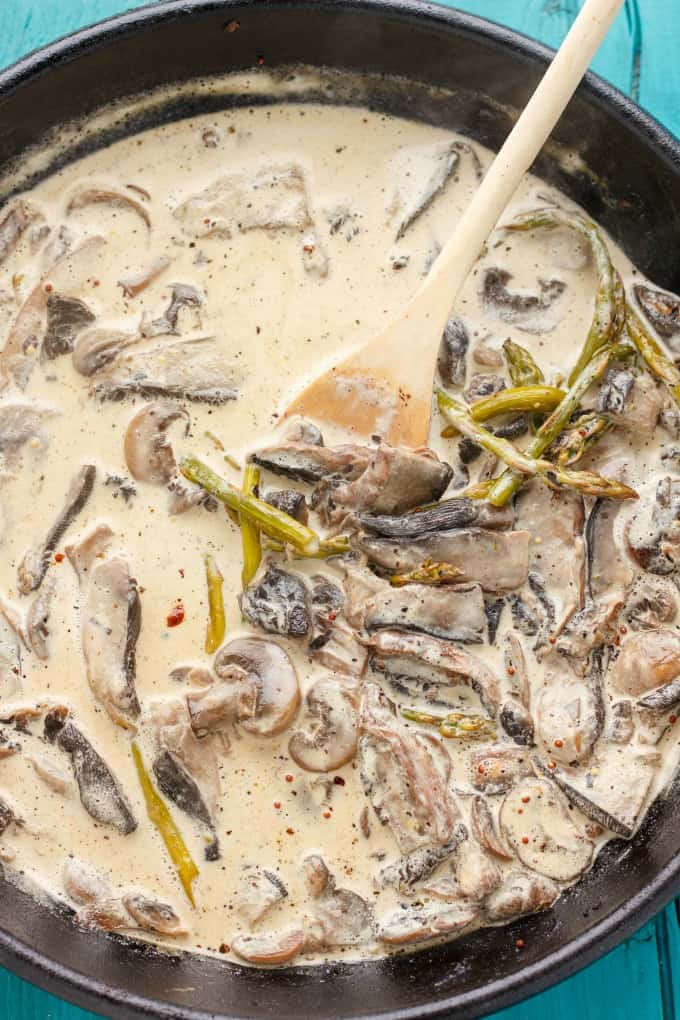 Portobello Mushroom Pasta with Cream Sauce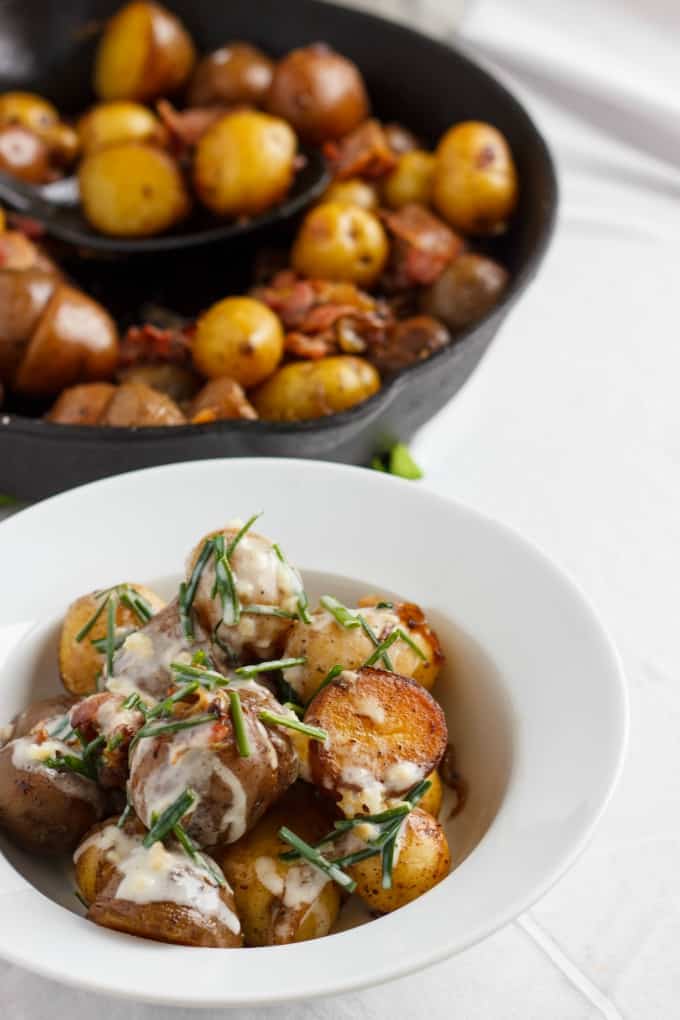 Pan-Fried Creamer Potatoes and Bacon with a Yogurt-Chive Sauce