Nothing beats Christmas cookies during the holiday season! These Hershey's Kisses shortbread cookies can be made with any type of Hershey's Kiss, but I prefer Hugs because they give you a bit of both worlds.
I am going to be straight-forward here: I have been making these Hershey's Kisses shortbread cookies for years, and while this recipe has been on my site for a long time, I am finally just now getting around to remodeling them! Much photography, writing, and general blog-improving has taken place during these years, let me tell you!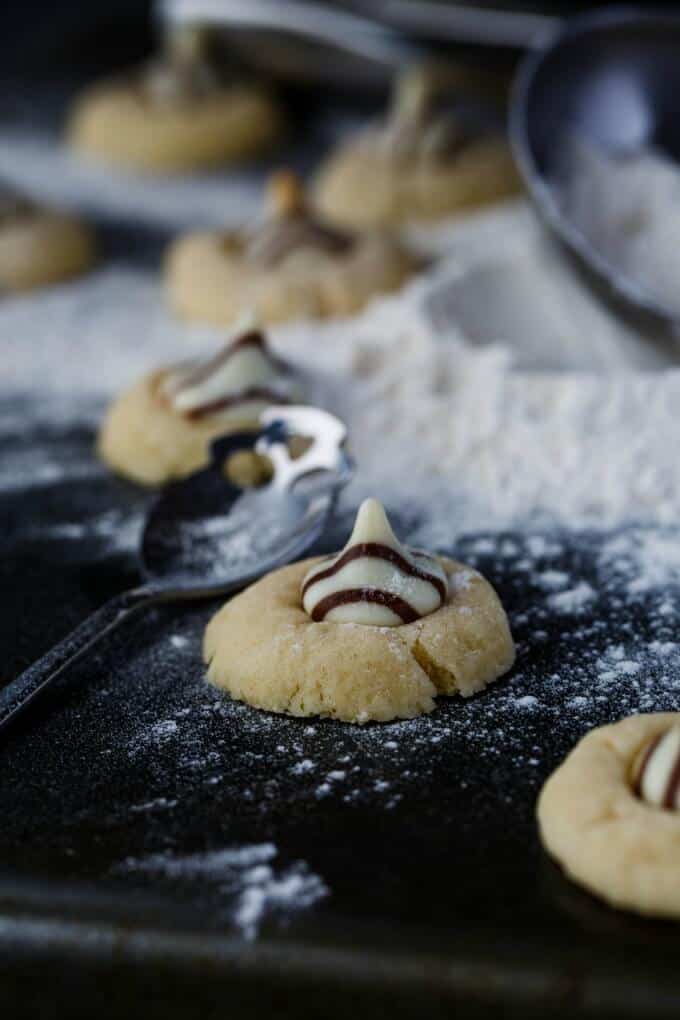 Alright, I have mentioned before that my neighbor and I get together every December to bake loads of cookies. Our husbands' coworkers love the cookies and this year I made sure to make extra shortbread cookies because they are the big hit for most. I changed up my regular Christmas cookies a tad and decided to try a recipe that I had seen floating around Pinterest. UPDATE: My Caramilk Stuffed Snickerdoodles have been updated as well, and are just as great as ever! They will change your life!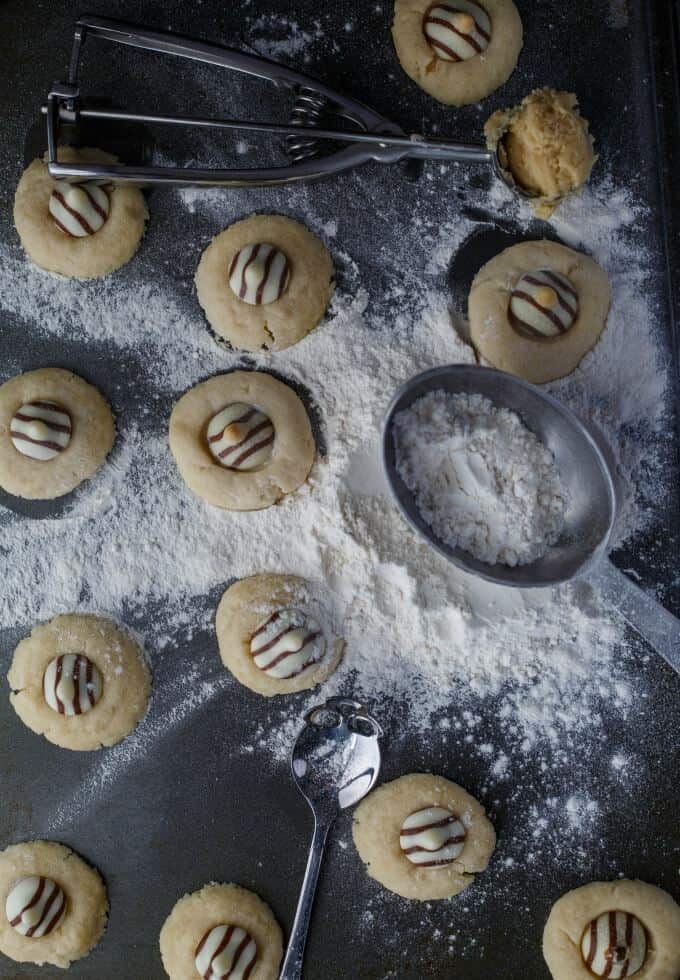 Even though I decided to try some new recipes (nothing against you gingerbread and molasses cookies,) I knew there was one recipe that I was not leaving out! Uncle Bill's Whipped Shortbread Cookies have been a staple of mine since I found them many years ago. I love them, my neighbor loves them, and my husband's boss especially loves them; so I made sure to make an extra batch this year.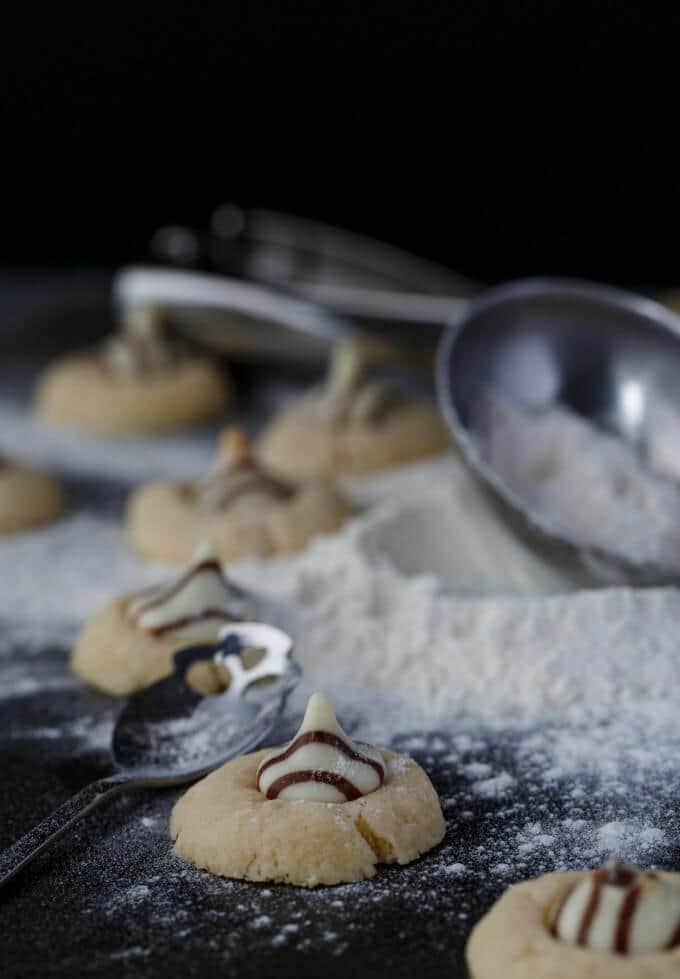 Soft, melt in your mouth, tasty treats that give you a hint of chocolate explosion, I can guarantee you will never go to another recipe. They hold their shape and are the perfect size, filled with anything you like from cherries to chocolate. I recommend a stand mixer to get the perfect airy batter but a hand mixer will work as well.
📖 Recipe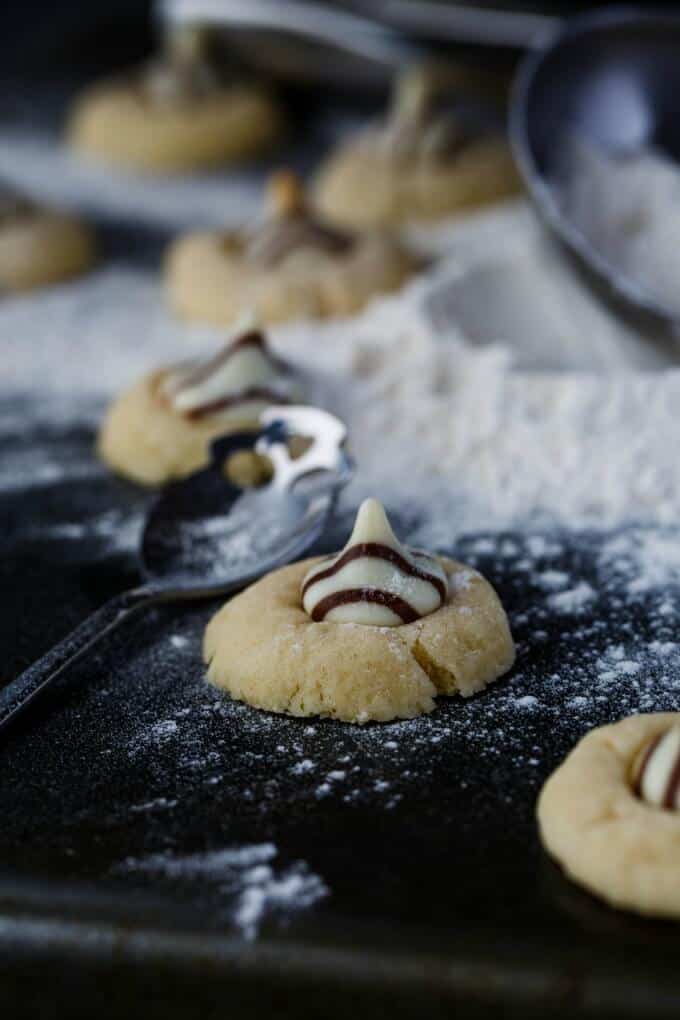 The Best Ever Christmas Shortbread Cookies
You can never go wrong with these soft, melt in your mouth shortbread cookies!
Ingredients
1 cup salted butter, room temperature
1 ½ cups all-purpose flour
¼ cup granulated sugar
¼ cup confectioners' sugar
¼ tsp. almond extract
Hershey's Kisses or Hugs, unwrapped
Instructions
Combine butter and sugars into the bowl of your stand mixer. Beat until light and fluffy, about 5 minutes. Mix in almond extract. Pour in flour and mix until JUST combined.
Preheat oven to 350F. Line a baking sheet with parchment paper or silicone liner. Measure out one tablespoon-sized portions and roll into a ball.
Bake for 11-13 minutes. Place chocolates in the middle of each cookie, very gently! Don't push too hard or they will crack. Allow to cool 5 minutes on baking sheet before moving to wire rack.
Notes
You can place the chocolates in the middle of the cookie before baking, but take a look at the photos. The tops get a bit browned.
Nutrition Information:
Yield:

24
Serving Size:

1
Amount Per Serving:
Calories:

117
Total Fat:

8g
Saturated Fat:

5g
Trans Fat:

0g
Unsaturated Fat:

2g
Cholesterol:

21mg
Sodium:

62mg
Carbohydrates:

10g
Fiber:

0g
Sugar:

4g
Protein:

1g
Please please please, do not over-bake!
I always bake on convection, so I lower my temperature by 25 degrees and cook for a few minutes less. Having made these cookies so many times now I know my oven and can tell when they are cooked. Try experimenting with time, you really want these on the soft side.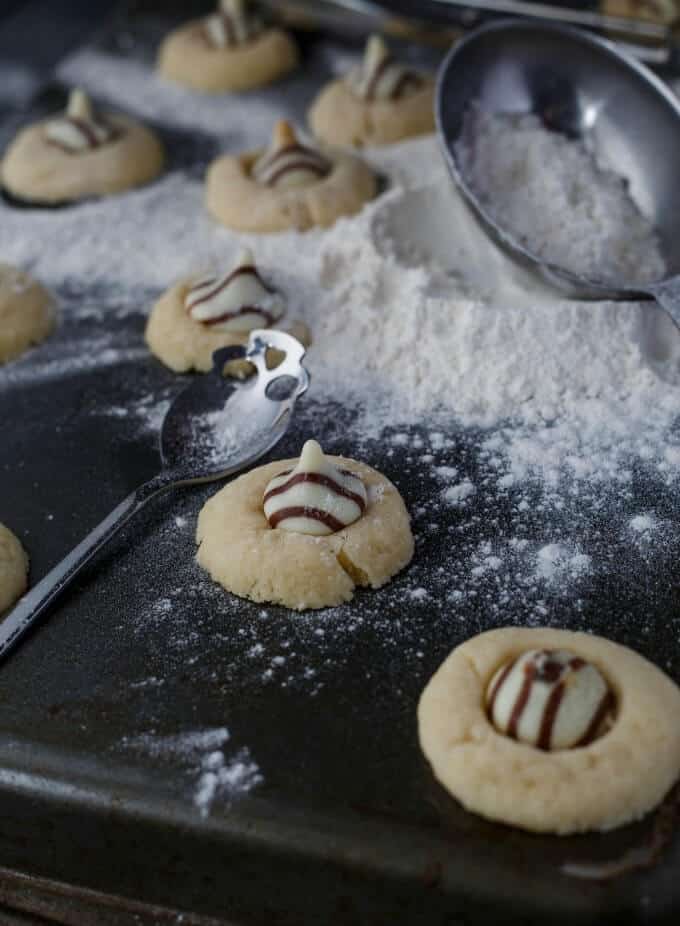 I find the Hershey's Kisses brown at the tip. They are not burnt, nor do they taste burnt. UPDATE: This time around I placed some of the Kisses on the cookies AFTER they came out of the oven. Worked just as well, if not better! You can see in the photos the ones I cooked with the Kisses on top because the tips are slightly browned.
If you are not a chocolate fan, replace with any fruit or leave plain. Pair with a cup of hot tea and you have a wonderful snack for the evening.
Love these Hershey Kisses Shortbread Cookies?! Try some of these recipes: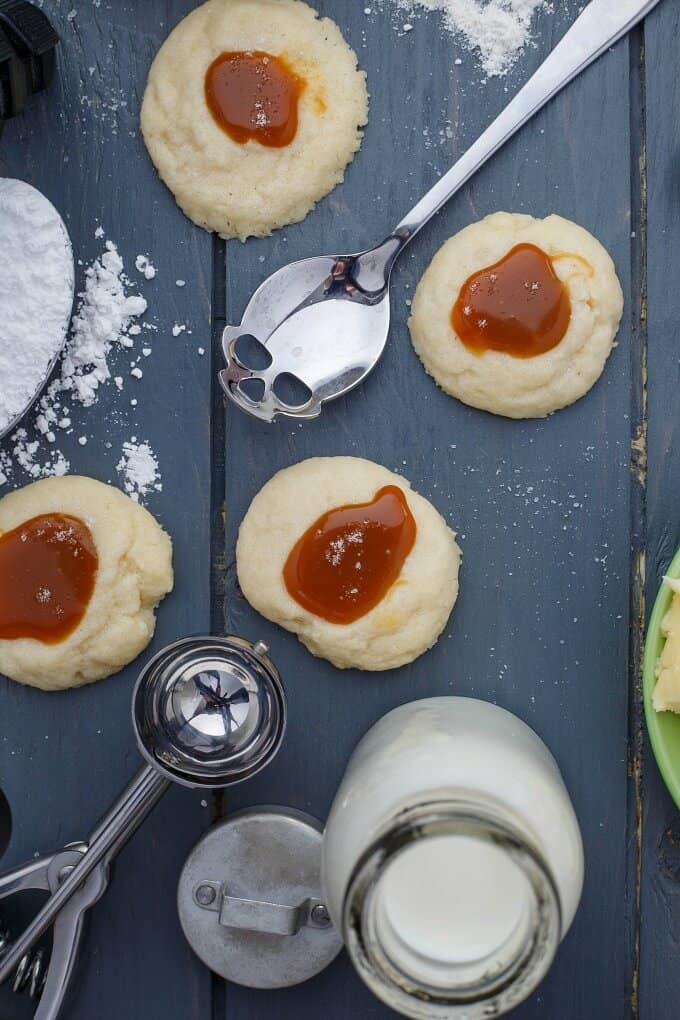 Thumbprint Caramel Shortbread Cookies