A blend of soy sauce, chili flakes, garlic, and sugar makes this sweet and tangy tofu out of this world!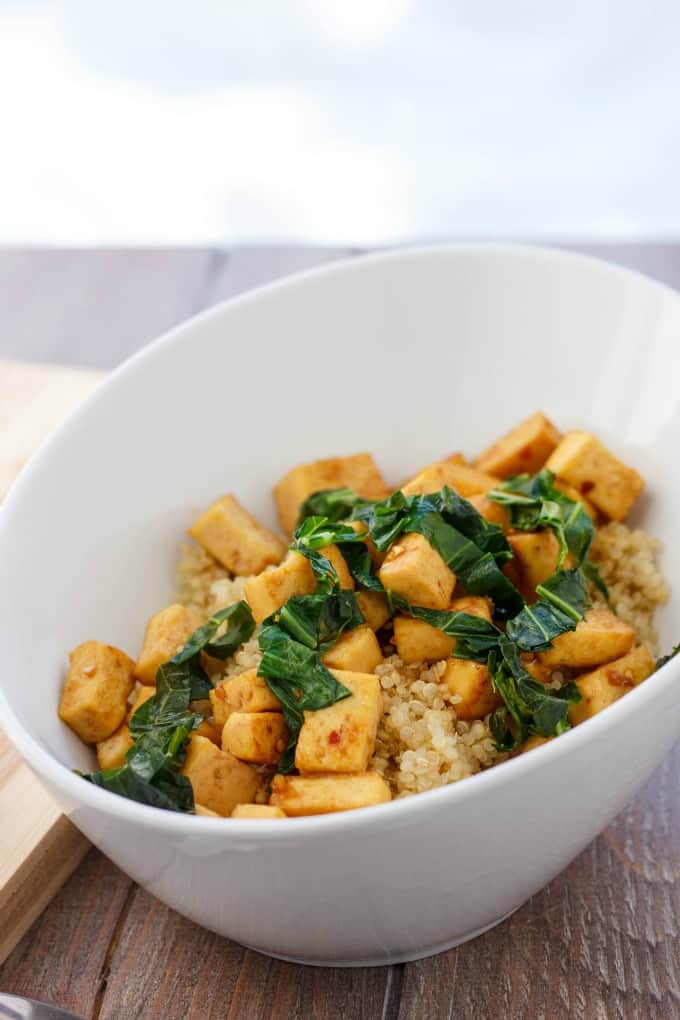 My mouth is watering just thinking about this recipe. I have made it numerous times and each time I have upped the quantity, most recently tripling it! I could eat this for the rest of my life... Mr. TCW says no, that I get sick of things easily, but as of now I can say this is my number one recipe. If it was not so time consuming. I mean, it is not but it is. That sounds confusing and very daunting. It is because I double and triple the recipe that my tofu batches take longer. And after we eat all this sweet and tangy tofu (which seriously can be in one evening if we do not stop ourselves) I feel like it vanished so fast compared to my preparation time. Maybe if Mr. TCW made it once in a while...

📖 Recipe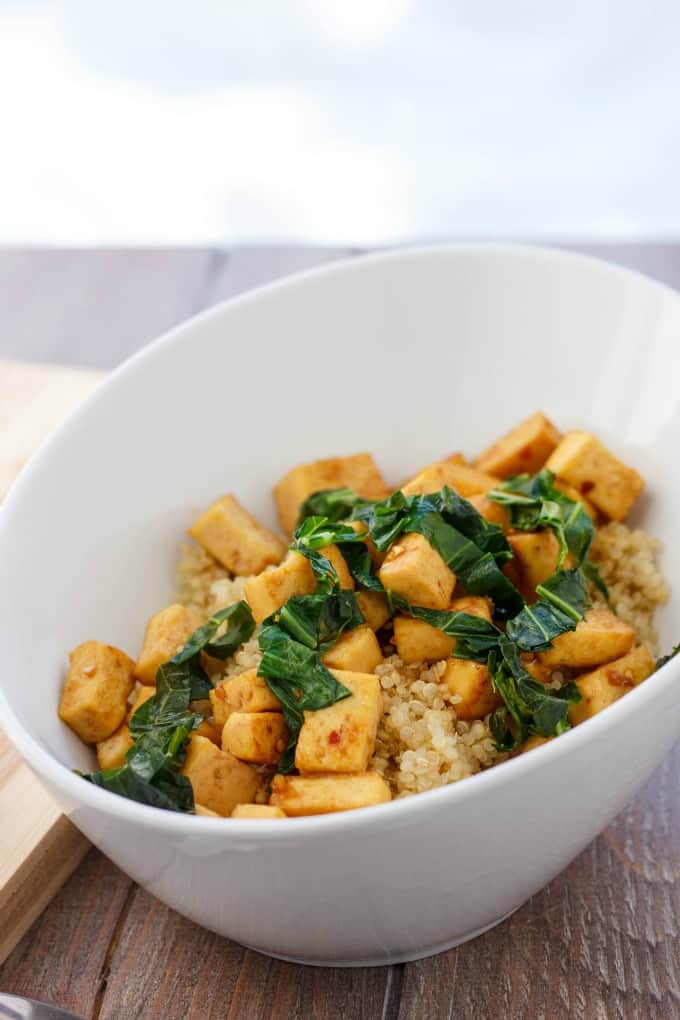 Sweet and Tangy Tofu with Greens over Quinoa
You'll never turn your nose up at tofu again! This sweet and tangy tofu with greens over quinoa is healthy, hearty, and packed full of flavor!
Ingredients
2 blocks extra firm tofu, drained and squeezed of water
2 cups dry quinoa
½ lime, freshly squeezed
¼ tsp. salt
4 cups water (or veggie broth)
Sauce:
4 tbsp. granulated sugar
5 tbsp. reduced sodium soy sauce
⅓ cup freshly squeezed lime juice (about 2-4 limes depending on size)
1-2 tsp. red chili flakes (depending on your spice tolerance!)
5 garlic cloves, minced
Greens:
1 bunch collard greens, veins removed, chiffonade
1 tbsp. coconut oil
⅛ tsp. salt
½ tsp. fresh ginger, minced
Squeeze of fresh lime juice
Instructions
In a medium saucepan, add the quinoa, water, salt, and freshly squeezed lime. Bring to a boil, cover and simmer on low for 15 minutes or until all water is gone. Remove from heat and set aside.
In a small bowl, add the sugar, soy sauce, fresh lime juice, red chili flakes, garlic, and salt. Whisk together until combined. *Before you pour this mixture anywhere, be sure to give one final stir as the sugar will settle to the bottom of the bowl.
In a large frying pan, add the coconut oil and allow to melt over medium-high heat. Add the collard greens, ginger, and a squeeze of lime juice. Season with some salt. Toss for about 5 minutes, or until tender!
Cut your tofu into little squares or triangles. How thick you make them is based on your own personal taste. Place a large frying pan over medium-high heat and add your tofu. You might have to work in two or three batches, but I am lazy and put it all in!
"Fry" the tofu in the pan until golden brown. No oil or butter; you want the tofu to crisp up. Once golden, lower heat to medium and add the liquid to your tofu and watch it bubble. Keep cooking so it forms a nice, thick glaze. I don't cook it away as the sauce is sooooooo good I want as much as possible!
Top your quinoa with tofu and collard greens and remain speechless when you try this delicious meal!
Nutrition Information:
Yield:

4
Serving Size:

1
Amount Per Serving:
Calories:

625
Total Fat:

21g
Saturated Fat:

6g
Trans Fat:

0g
Unsaturated Fat:

14g
Cholesterol:

0mg
Sodium:

888mg
Carbohydrates:

79g
Fiber:

11g
Sugar:

15g
Protein:

38g
The quinoa is not necessary (it is for me!) but adds a wonderful element to this dish. In Canada, I buy mine in bulk at the Bulk Barn. Otherwise, you are paying an arm and a leg. If collard greens are not your thing, switch them up for kale or spinach. Just keep an eye on the cook time as spinach wilts very fast. I honestly triple this batch. The sweet and tangy tofu would be awesome on its own as an appetizer, almost like meatballs in a crockpot except there is no meat 🙂 But everything just ties so well in this vegan dish!