A blend of soy sauce, chili flakes, garlic, and sugar makes this sweet and tangy tofu out of this world!
The recipe and photos for this sweet and tangy tofu with greens over quinoa has been updated as of January 14 2016!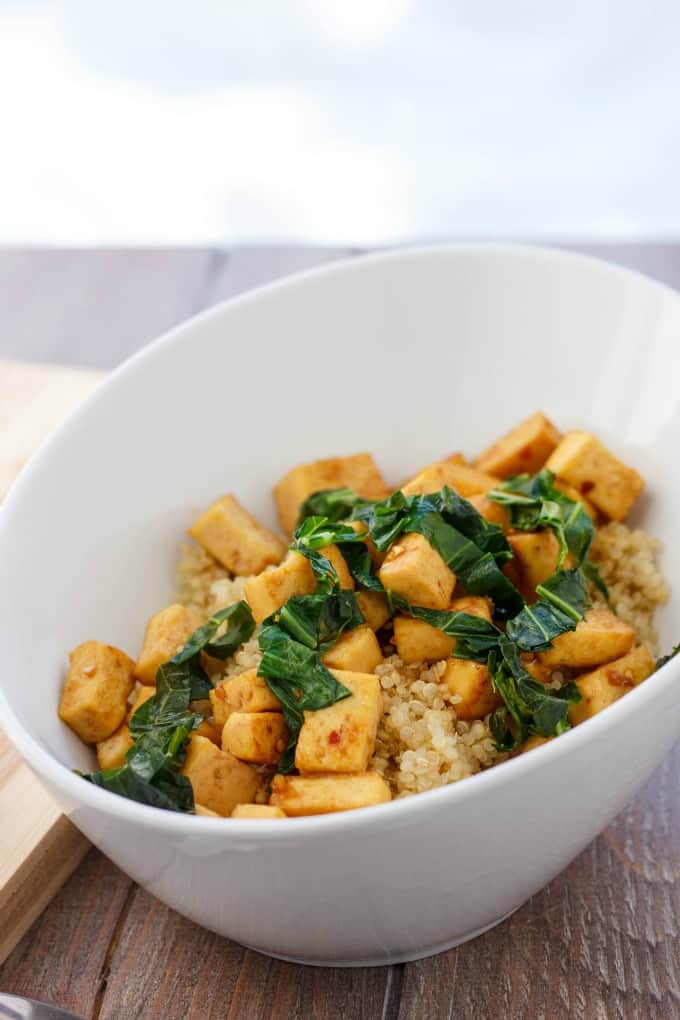 My mouth is watering just thinking about this recipe. I have made it numerous times and each time I have upped the quantity, most recently tripling it! I could eat this for the rest of my life… Dan says no, that I get sick of things easily, but as of now I can say this is my number one recipe. If it was not so time consuming. I mean, it is not but it is. That sounds confusing and very daunting. It is because I double and triple the recipe that my tofu batches take longer. And after we eat all this sweet and tangy tofu (which seriously can be in one evening if we do not stop ourselves) I feel like it vanished so fast compared to my preparation time. Maybe if Dan made it once in a while…
The quinoa is not necessary (it is for me!) but adds a wonderful element to this dish. In Canada, I buy mine in bulk at the Bulk Barn. Otherwise, you are paying an arm and a leg. If collard greens are not your thing, switch them up for kale or spinach. Just keep an eye on the cook time as spinach wilts very fast. I honestly triple this batch. The sweet and tangy tofu would be awesome on its own as an appetizer, almost like meatballs in a crockpot except there is no meat 🙂 But everything just ties so well in this vegan dish!