Prepare to get your spook-on with these vomiting potato monsters! Halloween is looking mighty scary with The Little Potato Company and my continued brand ambassadorship (plus another chance to win a month's worth of free potatoes!)
Okay, I will admit, today's recipe is kind of gross, but not as bad as some others I have seen online.
I mean, there are molds that literally look like human faces for solid dips/cheese balls, and don't get me started on the food that is topped with candy maggots... Shudder.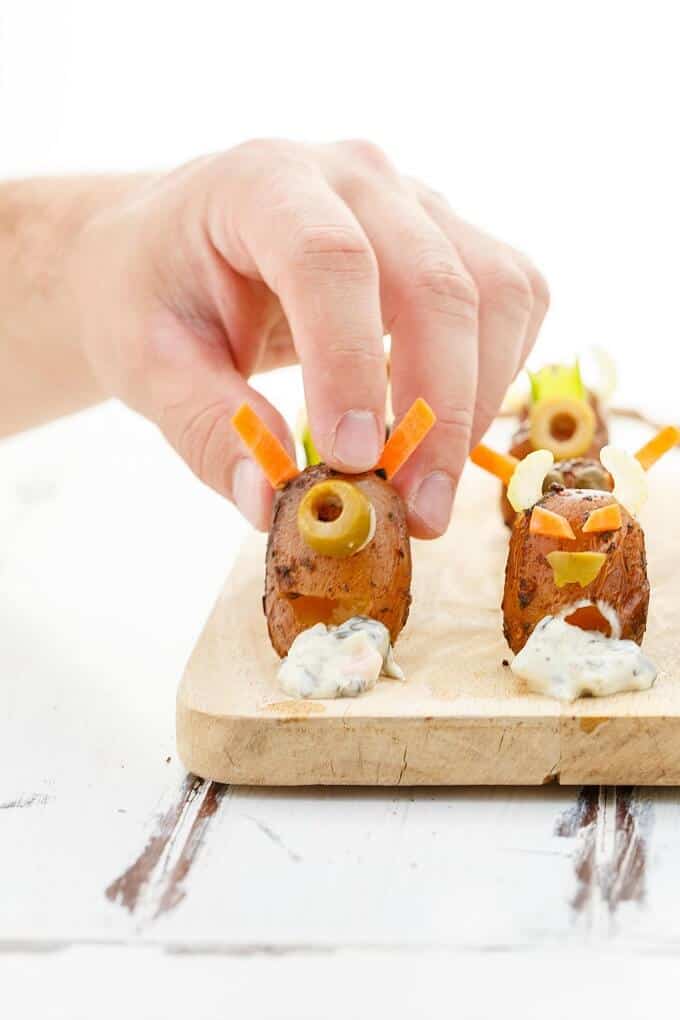 That being said, I want to do something crazy and Halloween-like using The Little Potato Company's #Creamerpotatoes. I hope these vomiting potato monsters translate well (and actually look like monsters!) You will not believe how much I struggle when it comes to creativity for specific holidays. Some people are just gifted, and I am not in this case, but I still think they turned out super cute and monster-like!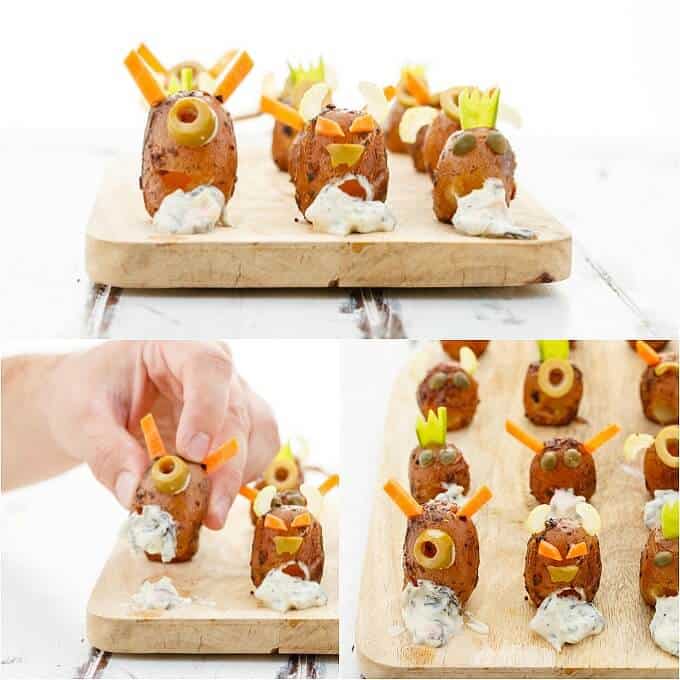 My favorite are definitely the olive-eyed ones. And I don't even like olives! They just represent monsters perfectly 🙂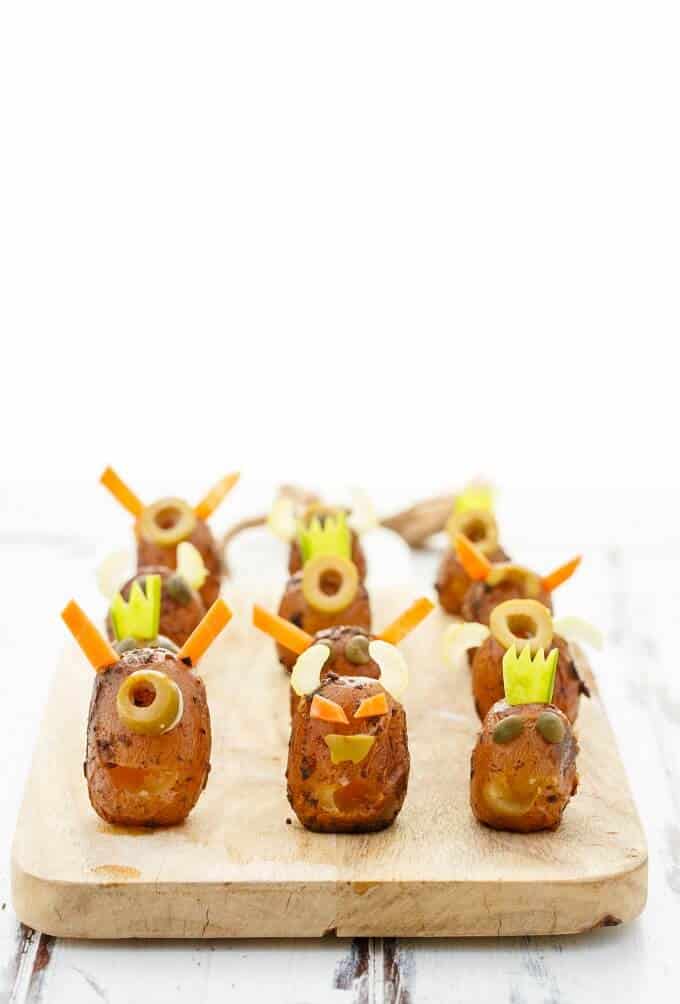 I also think this recipe would be great for kids (sadly, my daughter has begun school so I do not have my partner-in-crime during the week anymore.) Plus, if you are using one of the varietals of potatoes from The Little Potato Company, you are safe to say these little monsters are gluten-free!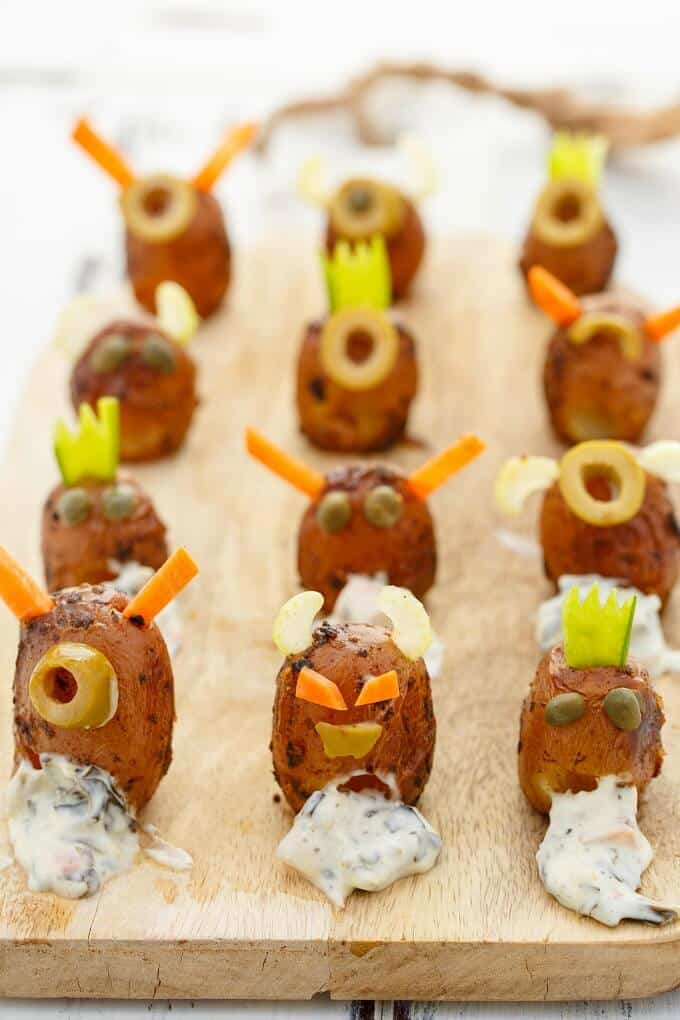 For vegan and allergy-friendly dip recipes, I am sure you can consult online, but I prefer my favorite brand of spinach artichoke dip! Makes the recipe a breeze!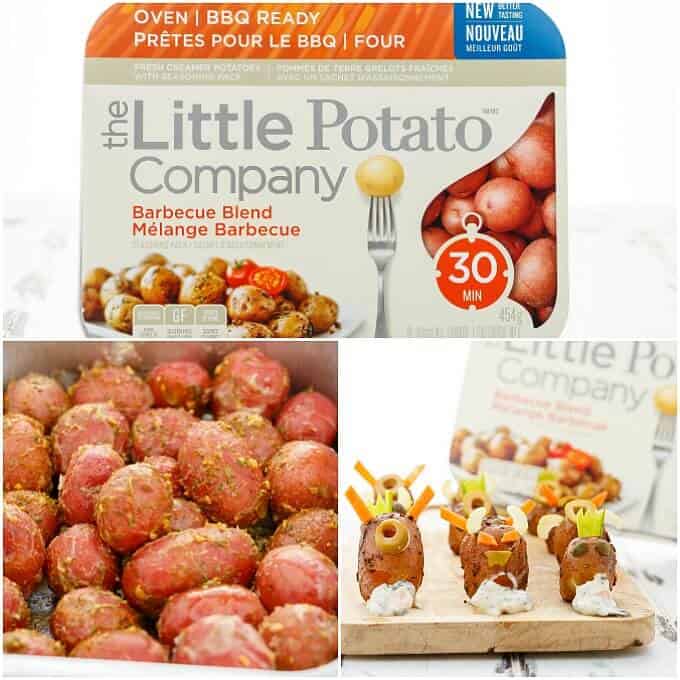 I went with The Little Potato Company's BBQ Potatoes to save time and effort (pre-seasoned and complete in about 30 minutes.) In the past I have gone with their Microwave Ready packages and found no issues! However, Mr. TCW and I both agree that using any other of their varietals would work because the spinach dip is quite powerful and kind of masks the seasoning on the potatoes. Just boil some Creamer Potatoes in salt water, drain, rinse in cold water, and season with salt and pepper. That's it! Roasting them really adds depth, and let's be honest, some garlic powder, paprika, and cayenne has never hurt anyone 😉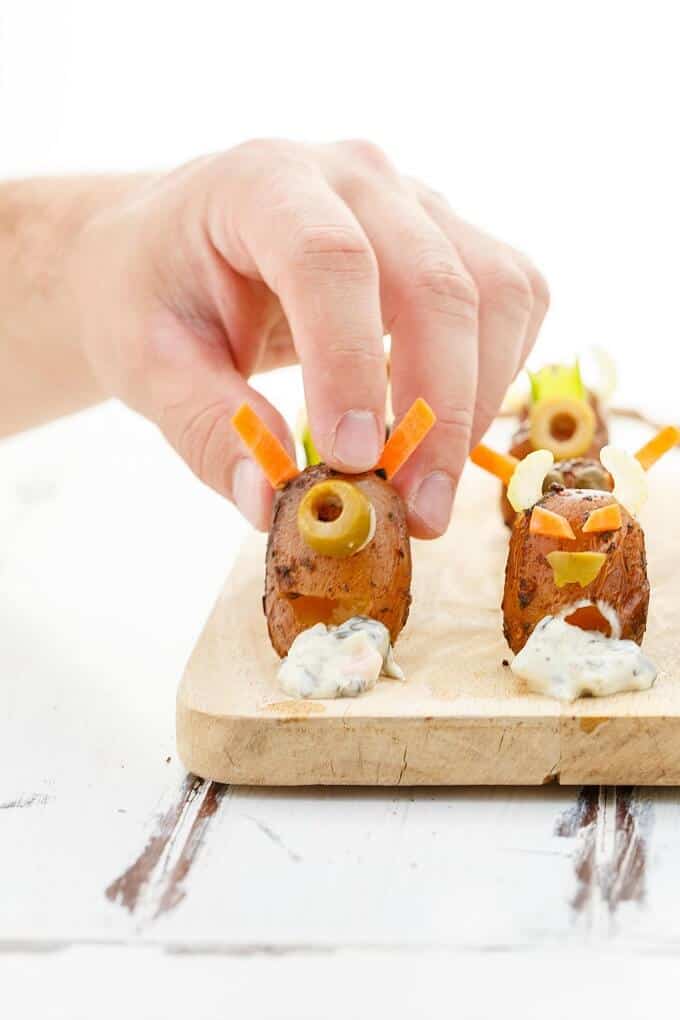 Vomiting Potato Monsters (for Halloween!)
Fun, easy, and a great Halloween appetizer to get your little ones into the spirit!
Ingredients
1 lb Creamer potatoes (I used The Little Potato Company's Oven-Ready Package)
2 tbsp. butter or oil (for the potatoes)
1 (227g) container spinach and artichoke dip
Toppings for Monsters:
Olives
Food coloring if desired
Carrots
Snap peas
Celery
Instructions
If using the oven-ready package, follow the instructions listed on the box. If using another type of Creamer potato, toss potatoes in butter or oil. Season with salt, pepper, garlic powder, and paprika if desired. Place onto baking sheet and roast at 450F for 30 minutes, or until tender. Allow to cool.
Assembly
Slice a small portion from the bottom of each potato so they can stand upright on their own. Cut out a slit in each potato to represent a mouth (you can change the shape up however you see fit: round mouth, smiling mouth, sad mouth, etc.)
Arrange potatoes on plate and assemble with desired "monster-like" toppings! Olive slices, carrots cut thin, food colored spinach dip, etc. You can get really creative here! To get the items to stick, slightly moisten the food with the spinach dip and stick onto potatoes. To attach the ears and hair, make tiny slits with a paring knife and wedge vegetables in place. Finish by placing a desired amount of dip in front of each potato (you can also color the dip green or another color to create a truer sense of "vomit."
Serve as is or with toothpicks!
Notes
Using LPC's oven-ready packages allows for less work (they come with their own seasoning!) Otherwise, leftover roasted potatoes would work here, too! Just season accordingly!
Nutrition Information:
Yield:

12
Serving Size:

1
Amount Per Serving:
Calories:

104
Total Fat:

8g
Saturated Fat:

5g
Trans Fat:

0g
Unsaturated Fat:

2g
Cholesterol:

7mg
Sodium:

74mg
Carbohydrates:

8g
Fiber:

1g
Sugar:

0g
Protein:

1g
This is a sponsored post. I was fortunate enough to receive products from The Little Potato Company. Though products were received, all opinions are my own and I would not recommend a product that I did not enjoy.
Love these vomiting potato monsters?! Try some of these recipes: