Canada celebrated its 150th birthday this year and Mushrooms Canada is on the hunt for an awesome Canadian appetizer recipe for FBC2017! Dive into these tourtiere stuffed mushrooms as I attempt to win for a second time 😉
While this is not officially a sponsored post, I am creating a recipe for Mushrooms Canada in order to win my way into FBC2017 (along with a hotel package!)
Food Bloggers of Canada is holding their annual conference in Ottawa this year, and Mushrooms Canada is back with their appetizer spotlight 🙂
While Mushrooms Canada has been able to attend ALL the conferences (what a feat!) I have been lucky enough to attend one, after winning last year's contest! Woohoo! In case you missed it, my mushroom and beef cheese balls (mini-style!) were a hit! I already have my ticket for the conference this year but cannot help creating a new and exciting mushroom recipe! We all know this vegetarian LOVES mushrooms 🙂
My original plan was mini tourtière pies, but while the recipe turned out fantastic, the "mini" pies were still quite big, even though I made them in a muffin tray. Basically no one would have room for dinner afterwards, lol.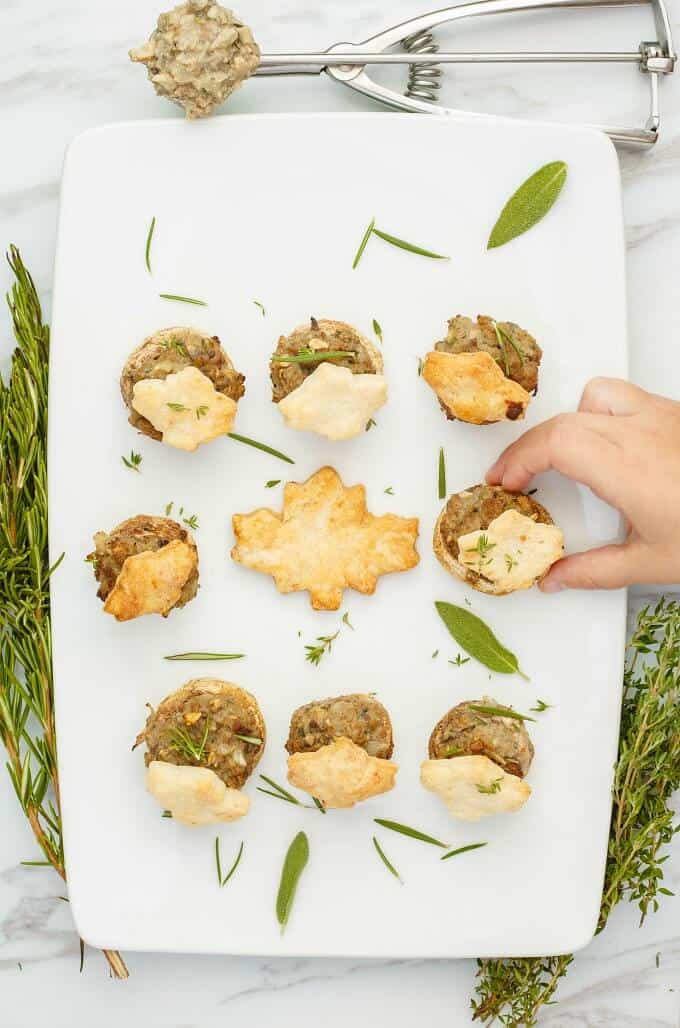 Since I had some extra filling leftover, I decided to go with stuffed mushrooms.
STUFFED MUSHROOMS?! Anyone can do that!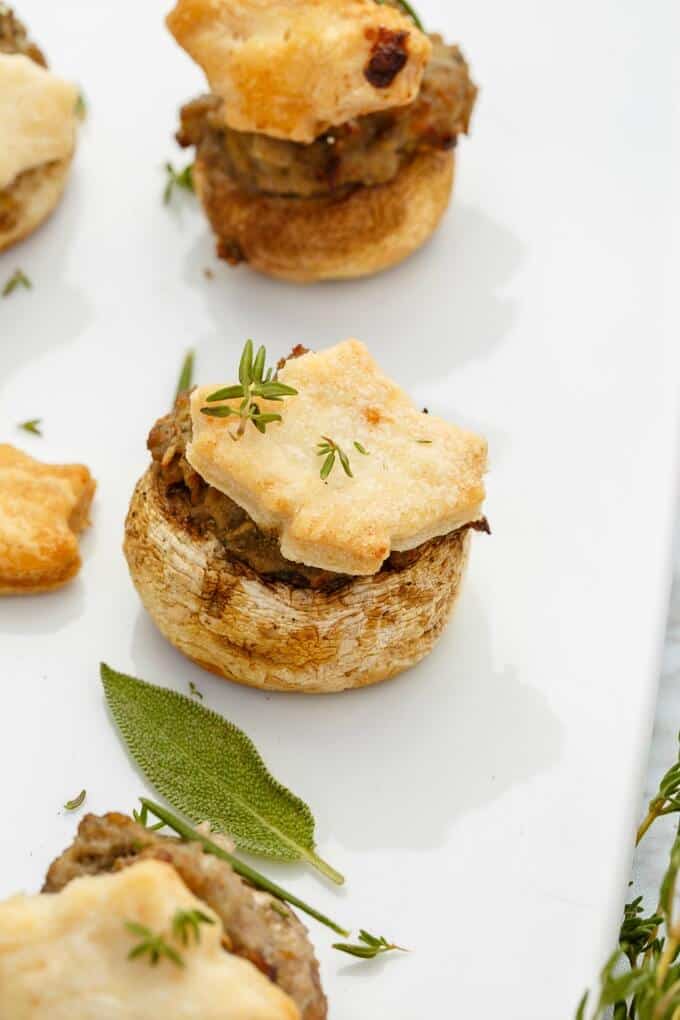 I know I know, not the most ORIGINAL recipe, but over the past two years of entering recipes to their contest, I figure Mushrooms Canada would cut me a break with my third entry 😉 These tourtiere stuffed mushrooms were such a hit! I so wish I could try them because both my husband and daughter were ecstatic over my rendition of a family "secret" recipe. My husband's grandmother passed along her recipe to me, and while I did not follow it exactly, I was so happy with how everything turned out (best pastry dough ever AND a flavorful meat filling!) She is French, so she knows a thing or two about tourtière!
Now, much like the pies I made, I went with the blend & extend method for these tourtiere stuffed mushrooms. I was introduced to this technique last year when I entered the contest, and was very surprised how well the finely chopped mushrooms blended with the ground meat. You are extending meat by adding mushrooms, cutting the cost of the finished dish (we all know how much meat prices have been rising!) So while mushrooms are not found in traditional tourtière, you can bet no one in my family noticed a huge difference until I mentioned it! My husband grew up with his Grandmother's tourtière so I couldn't totally sneak it past him, but it was close 😉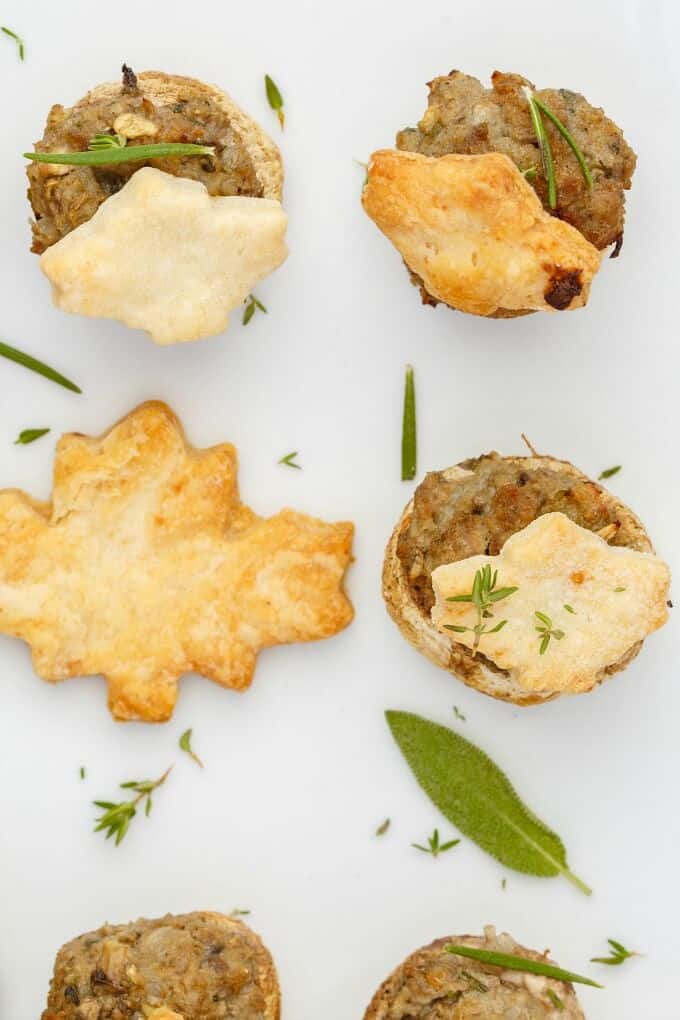 Besides replacing half the meat ratio with mushrooms, I did play around with fresh herbs. My grandmother-in-law tends to use poultry seasoning, but suggested herbs as well. I omitted poultry season altogether and just went with fresh herbs because I love them so much! They really do transform a dish!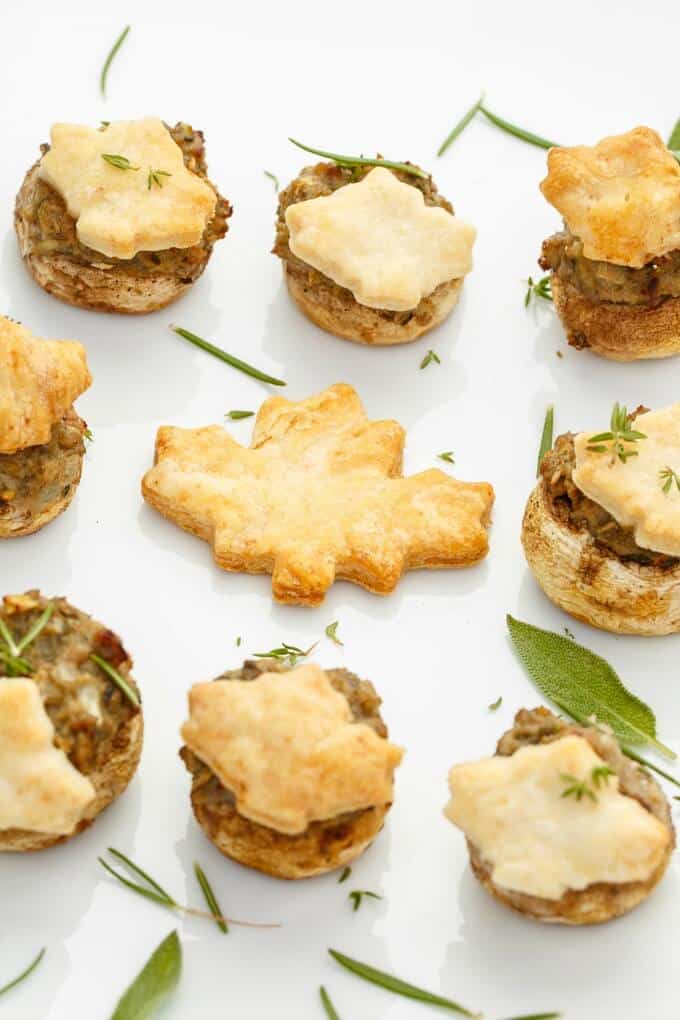 And to make these tourtiere stuffed mushrooms truly Canadian, I used her pie dough recipe to cut out little maple leafs to garnish the appetizer. Because now we have a true tourtière pie appetizer! Woohoo! You can use your favorite homemade pie dough in this recipe, or speed things up by using a store-bought version (trust me, I won't judge here because up until making her recipe, I have had NO luck with pie dough!!!!) PS: I bought my maple leaf cookie cutters from Bulk Barn!
NOTE: I originally made double the meat mixture for my pies. The amount of mushrooms you end up with all depends on their size 🙂 If you want to make an official tourtière pie, be sure to double that filling! I shall be posting my recipe soon 🙂
📖 Recipe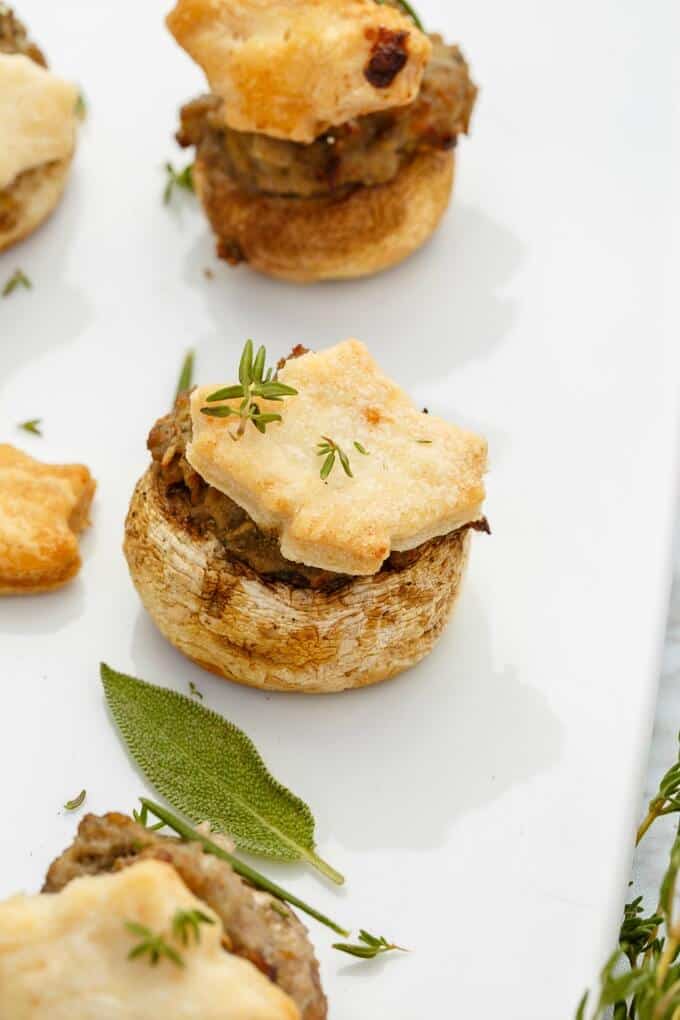 Tourtière Stuffed Mushrooms
Yield:
40 mushrooms (depending on size!)
A classic French Canadian recipe revamped into a small, delicious appetizer!
Ingredients
1 ½ - 2 lbs button mushrooms, washed and stems removed
Store-bought or homemade pie dough (raw)
Salt and pepper
Filling
½ lb ground beef & pork mix (all beef works perfectly!)
½ lb button mushrooms, finely chopped
1 small onion, diced
Salt and pepper
½ tbsp. fresh, finely chopped rosemary
½ tbsp. fresh thyme
½ tbsp. fresh, finely chopped sage
½ cup water
¼ cup breadcrumbs
Pinch of ground cinnamon
Instructions
Place large frying pan over medium heat. Add meat, mushrooms, onion, salt, pepper, and water. Cook, stirring occasionally, until meat is browned.
Stir in breadcrumbs, fresh herbs, and cinnamon. Cook until only a bit of liquid remains (it has almost like a creamy texture: it should not be dry!) Remove from heat.
Preheat oven to 425F.
Roll out dough and use a maple leaf cookie cutter to cut out toppers.
Place mushrooms onto baking sheet (or two!) and season with salt and pepper. Add one tablespoonful of meat filling to each mushroom (may need more or less depending on their size.) Top with pie dough leaves.
Bake for 15 minutes, or until pie toppers are golden brown (you can always use an egg wash to help them brown quicker!)
Sprinkle with additional fresh herbs if desired and serve!
Notes
Mushroom yield will depend on the size of your mushrooms (we go by weight, but all mushrooms are unique!)
You will probably have leftover pie dough. You can always sprinkle it with melted butter, brown sugar, and some cinnamon to have some sweet pie "cookies."
Nutrition Information:
Yield:

40
Serving Size:

1
Amount Per Serving:
Calories:

61
Total Fat:

3g
Saturated Fat:

1g
Trans Fat:

0g
Unsaturated Fat:

2g
Cholesterol:

7mg
Sodium:

51mg
Carbohydrates:

6g
Fiber:

1g
Sugar:

1g
Protein:

3g
While I would love to have another win under my belt with these tourtiere stuffed mushrooms, I'm just happy to see mushrooms getting all the love! They totally deserve it as they are great for both meat-eaters and non-meat-eaters! And for more mushroom fun, be sure to checkout my previous creations AND my guest posts over at Mushrooms Canada!
Entry 1: Mushroom and Spinach Puffs
Entry 2: Mushroom and Beef Cheese Balls (Mini-Style!)
Love these tourtiere stuffed mushrooms?! Try some of these recipes: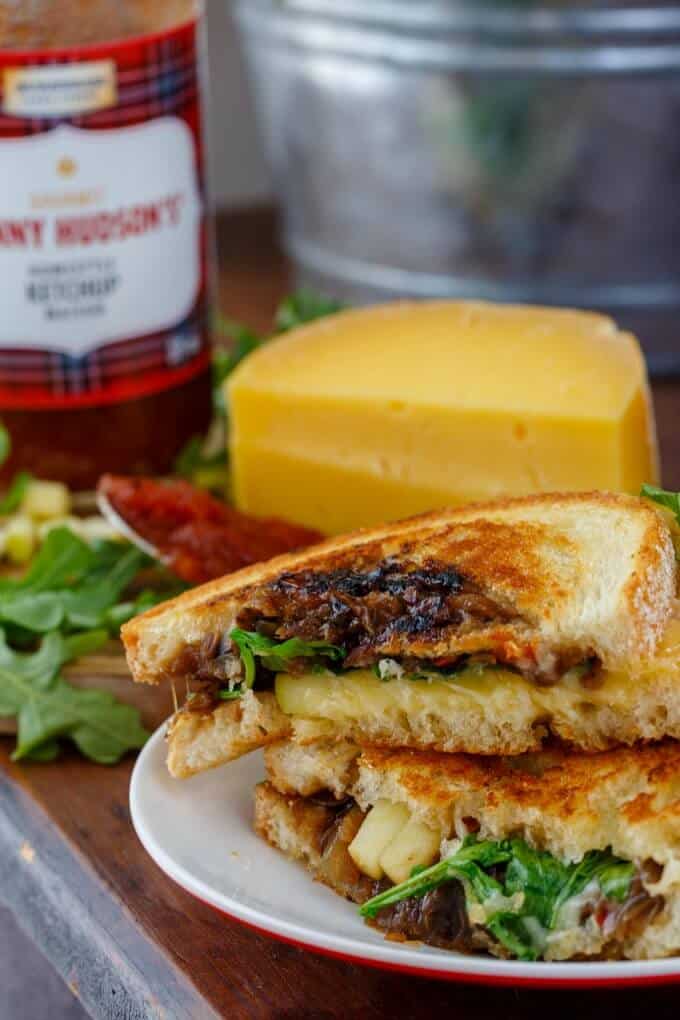 Caramelized Onion-Mushroom Grilled Cheese Sandwich with Apple