These strawberries and cream pancakes have been a long time coming, but so worth it for Mother's Day!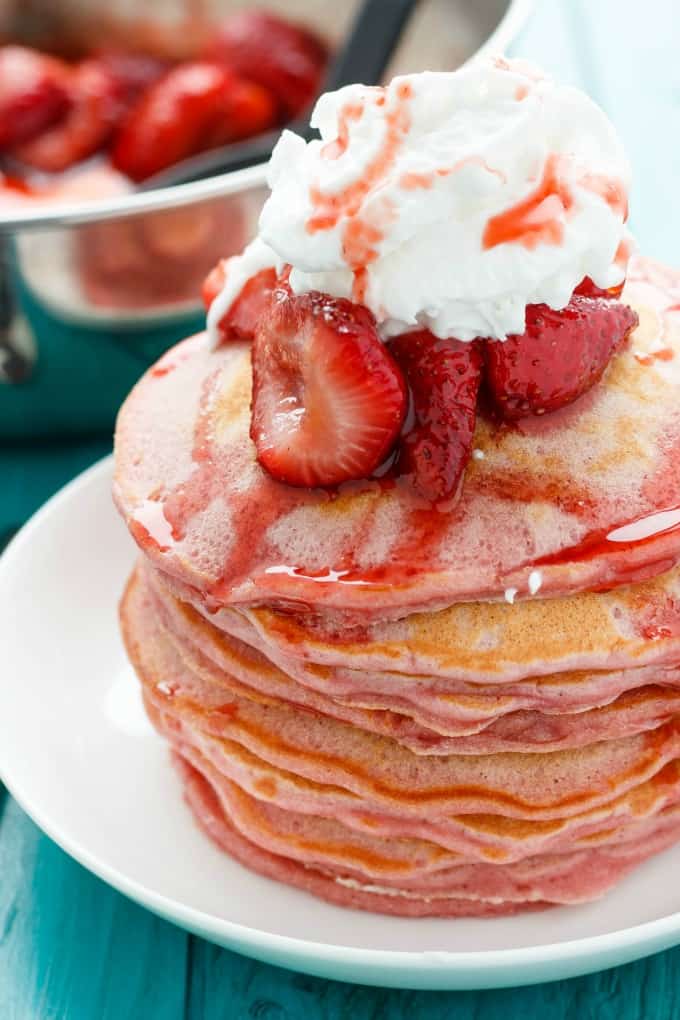 When I originally wrote this post, my daughter was just about to start school for the first time. Now that I am revisiting the recipe for the millionth time, I am actually trying to deal with the fact that her first year of school is almost OVER. Where does time go?! One day I was worrying about school lunches and if she would adjust to school, now I am preparing for summer days! What am I to do?!
I know one thing though, she will always have an awesome breakfast, no matter if school is in session or not! She is a good eater and her most requested breakfast meals are pancakes and eggs. Two really simple meals, and even homemade, pancakes take no time at all. I just don't want her to get sick of the meals, so that is why I find myself making so many different pancake flavors. Today has to be one of my most favorite flavor combinations: strawberries and cream pancakes! I was snacking on them as I made them, resulting in one impatient child!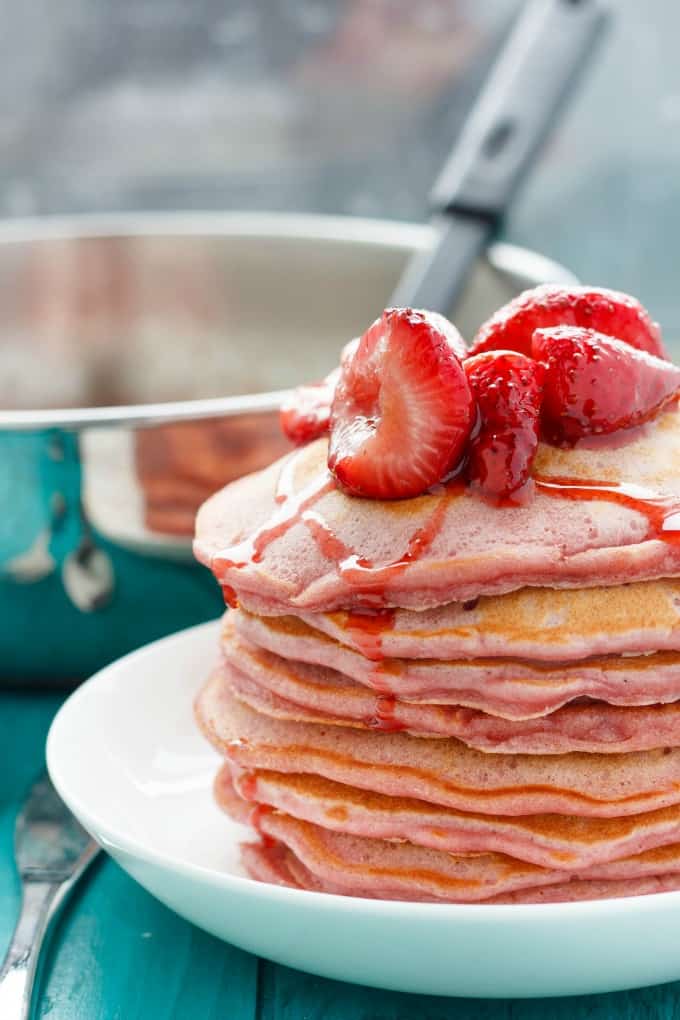 As I have said before, I am not a big fan of maple syrup on my pancakes. This strawberry sauce was super easy and made the pancakes to-die-for! It took everything in me not to eat all the sauce from the pan... And even kiddo did not miss the syrup. Of course, I need some whipped cream on these strawberries and cream pancakes because, why not?! I love making my own whipped cream because surprisingly, I prefer less sugar in the recipe. I actually love the taste of cream so why mask it?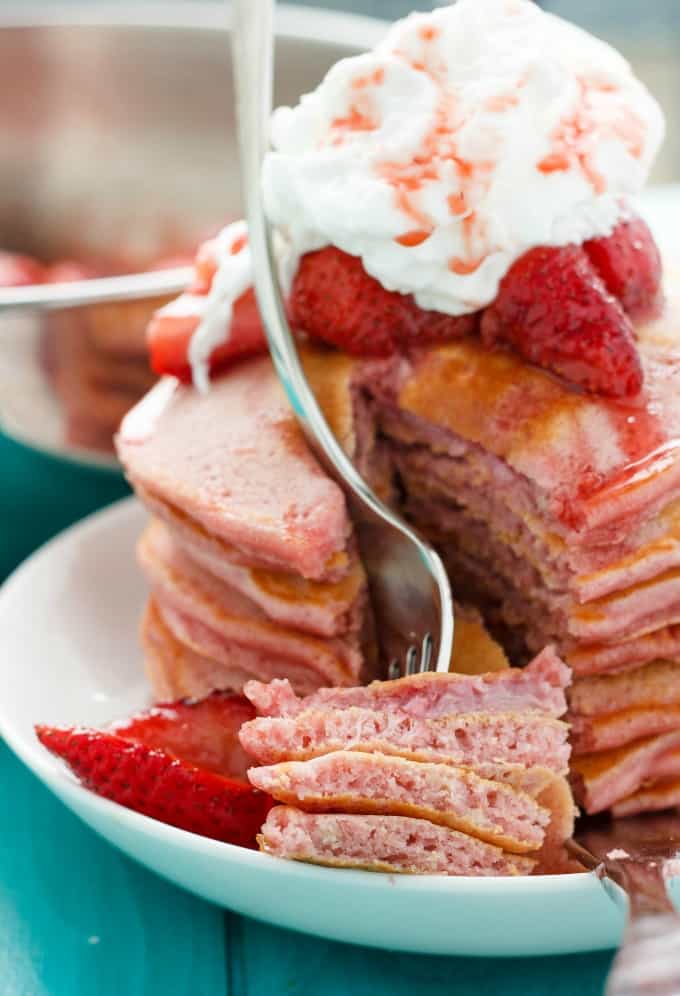 Now, as a breakfast recipe before school, these strawberries and cream pancakes may be a bit much. But think about it, the strawberry sauce and whipped cream can be made a day or two in advance. And I will admit, I am high maintenance and there are a lot of recipes I won't eat unless they are "complete." Basically, I am not having hot chocolate unless there is whipped cream to go with it... Yes, I admit I have a problem! But don't you worry, these pancakes will surely be on our summer menu!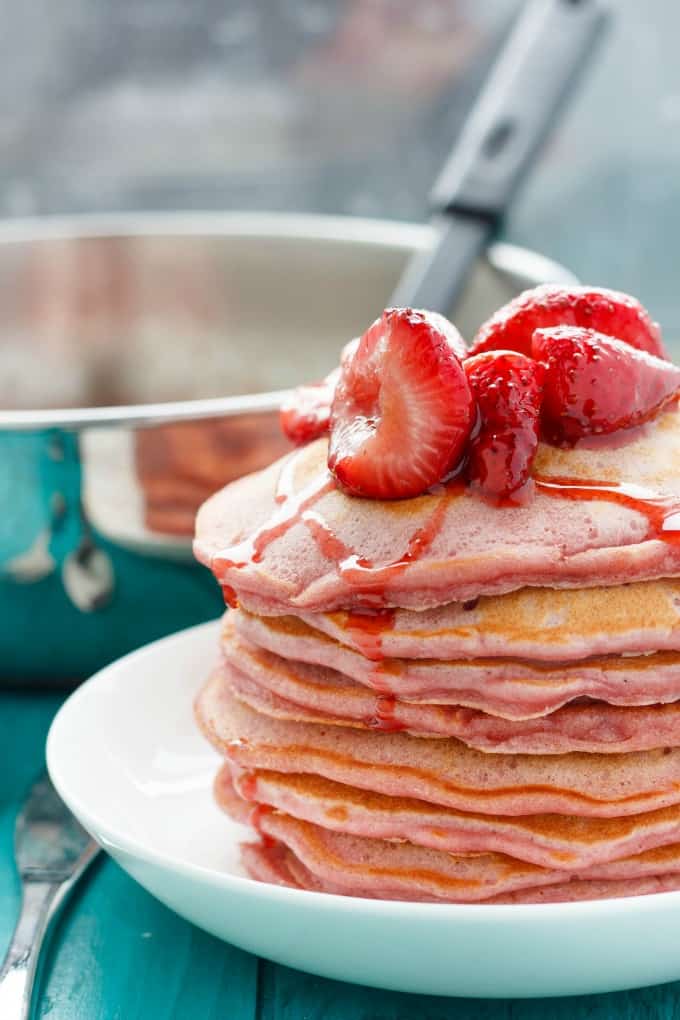 Strawberries and Cream Pancakes
Depending on how you slice your strawberries you can have a more syrupy dressing or a chunky sauce!
Ingredients
Sauce
1 lb strawberries, diced or halved
¼ cup granulated sugar
1 tbsp. freshly squeezed lemon juice
½ tsp. balsamic vinegar
¼ tsp. vanilla
Salt
Pancakes
1 cup all-purpose flour
1 cup heavy whipping cream (milk also works)
1 tbsp. freshly squeezed lemon juice
1 tsp. baking powder
½ tsp. baking soda
Salt
1 egg, room temperature
¼ tsp. vanilla
2 tbsp. butter, melted
¼ cup of the strawberry sauce listed above
Homemade or store-bought whipped cream for topping
Instructions
Sauce
Combine the strawberries, sugar, lemon juice, balsamic vinegar, and salt in a large saucepan over medium heat. Mixing frequently, cook until the strawberries breakdown and resemble a thickened sauce (about 5-8 minutes.) Remove from heat, stir in vanilla, and set aside.
Pancakes
Combine the 1 cup cream and lemon juice together. Set aside to combine.
In a medium mixing bowl, add the flour ,salt, baking soda, and baking powder. Whisk to combine.
Once the cream and lemon juice have time to react, whisk in the egg, melted butter, and vanilla until combined.
Pour the wet mixture into the dry mixture. Stir in the ¼ cup strawberry sauce and mix until just combined. I usually give the batter a quick taste to see if it needs more seasoning.
Heat a large frying pan over medium-low heat. Add in some butter or coconut oil (I prefer the coconut oil) and allow it to melt. Once the pan is nice and hot, add ¼ cup portions of batter to the pan. Cook until the underneath side is nice and golden. Flip, and do the same for the remaining side. Cook until no batter remains.
Stack the pancakes and pour some strawberry sauce over top. Finish off with the whipped cream!
Nutrition Information:
Yield:

10
Serving Size:

1
Amount Per Serving:
Calories:

212
Total Fat:

12g
Saturated Fat:

7g
Trans Fat:

0g
Unsaturated Fat:

4g
Cholesterol:

52mg
Sodium:

261mg
Carbohydrates:

24g
Fiber:

1g
Sugar:

13g
Protein:

3g
I have made the sauce two different ways now and find both work! This time around I sliced my strawberries in half, which allowed for more of a syrup than a sauce. In the above picture I cubed the strawberries small and this resulted in a thicker sauce. I love both! Sometimes I want a chunkier topping, sometimes I want more of a syrup. Oh! I also neglected to add any sugar to the pancake batter but I think the strawberry topping adds enough sugar 🙂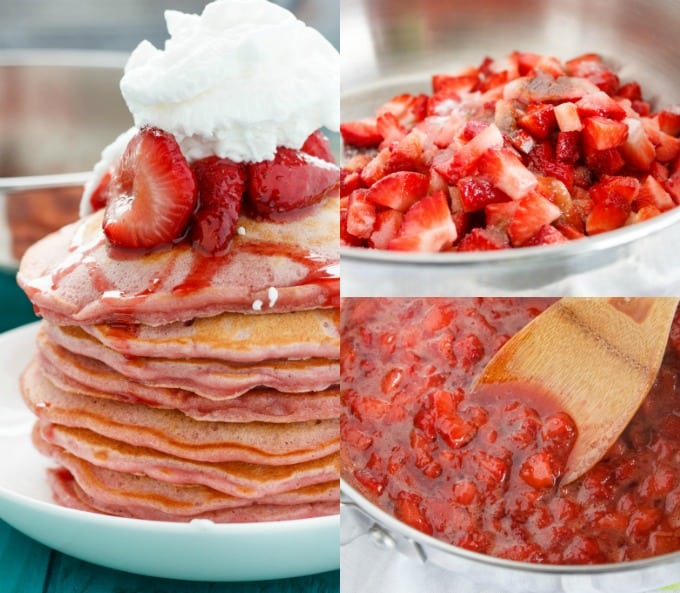 Having made these pancakes numerous times now, I have to say they just keep getting better and better! My poor kiddo went to school on Monday not feeling the greatest, so I thought I would surprise her with a nice treat. Totally would have kept her home if not for the giant butterfly cookie we made for her library party! How do you tell a child they have to stay home and miss a party? You don't!
Love these strawberries and cream pancakes?! Try some of these recipes: