Christmas is less than two weeks away! Still thinking about dinner? This slow cooker herb butter inside round roast is made in record time, and people will think you slaved away in the kitchen ALL DAY! Easy, gluten-free, and delicious! Make sure to enter the giveaway below for a chance to win a Kitchen Aid Stand Mixer!
UPDATE AS OF JUNE 2017: 4 hours is an estimate! Every slow cooker is different. This is why I recommend an appliance with a built in meat probe (never overcooked a piece of meat since investing in this slow cooker MANY years ago!)
Where has December gone?!
We are already almost halfway through the month and before you know it, 2017 will be here!
I have many goals for next year, and with your help, I hope to achieve them 🙂 Until then, let's drool over this slow cooker herb butter inside round roast!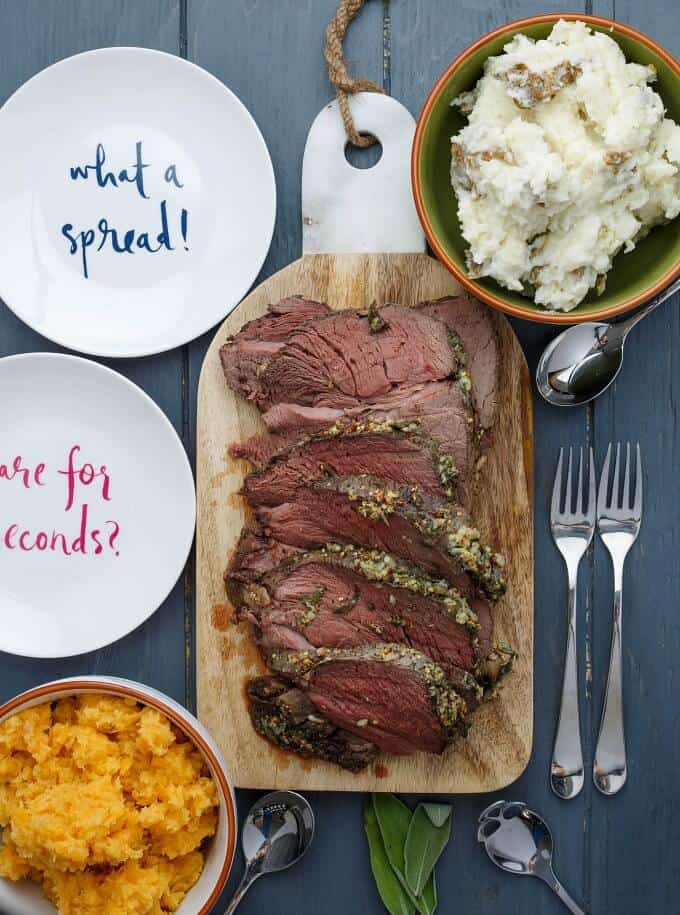 It does not get any easier than this when it comes to recipes. I for one was super impressed with how well my slow cooker did. Inside round roasts are not something I work with very often, but I could not pass up the deal I found. So many plans were made for this roast, but with my busy schedule I decided to use the slow cooker in the end. And so glad I did!
I love my Hamilton Beach 6-Quart Slow Cooker because it comes with a thermometer probe (no affiliation.) No overcooked meat ever when it comes to this appliance. Normally I would have cooked this on low for 4-6 hours, but my probe showed that I only needed 4 hours exactly in the end. This means I totally would have overcooked my meat! See, already worth it!
I will admit, the other reason I made this slow cooker herb butter inside round roast recipe the way I did was because my mother-in-law said it wasn't the best cut of meat and tends to be tough. Had me panicking! I figure if it was still tough after cooking it to only 140F, then I would not try the cut again. But it all turned out, so trust me, this will be happening again in our house (maybe for New Years as everyone is always looking for simple recipes for the evening.)
Slow Cooker Herb Butter Inside Round Roast + Giveaway
---
Boneless inside round roasts are super easy to work with, especially when made in the slow cooker!
10 minPrep Time
4 hrCook Time
4 hr, 10 Total Time
Ingredients
3 lb boneless inside round roast
1 onion, halved
1/4 cup butter, room temperature
3 garlic cloves, minced
1 tbsp. coarse whole grain mustard
1 tbsp. freshly chopped sage leaves
3 sprigs fresh thyme
Salt and pepper
Instructions
Season your meat with salt and pepper. Combine butter, garlic, mustard, and sage together in a small mixing bowl. Mix until well combined.
Place meat into a 6-quart slow cooker and surround with onion. Rub herb butter on top. Place thyme sprigs on top.
Cover and cook on low heat for 3-4 hours, or until internal temperature reaches 140-145F. Move to cutting board, cover with aluminum foil, and allow to rest for 10-15 minutes.
Slice and serve with additional fresh herbs if desired!
Notes
If medium-rare is not your thing, continue cooking meat a bit longer 🙂 UPDATE: 4 hours is an ESTIMATE! Every slow cooker is different! This is why I recommend the slow cooker I have because it cooks to the internal temperature that I state. Please keep a meat probe nearby if you are worried about overcooking. The quality of meat you buy may also come into play here (there is a reason why people pay for certain cuts/store brands.) Thanks!
7.6.4
498
https://thecookiewriter.com/slow-cooker-herb-butter-inside-round-roast/
I had such a great time as a contributor for the Julie's Eats and Treats team! So much learned, great friendships made, and something great for you guys: a GIVEAWAY!
This giveaway will start on Monday, December 12th, 2016 at 12:00 AM EST. It will run until Friday, December 18th, 2016 11:59 PM EST. The prize is one Kitchenaid Stand Mixer from Julie's Eats and Treats! The giveaway is open to residents of the US only. Who wouldn't want this under their tree for Christmas?!
Love this slow cooker herb butter inside round roast?! Try some of these recipes: