It can seem daunting to use one of the most expensive cuts of meat during the holidays, but trust me, this bacon-wrapped balsamic and rosemary beef tenderloin is SUPER easy and practically fool-proof!
Okay, let me start off by saying that the entire thought process leading up to this meal involved my mind going "don't screw this up; this meat is way too expensive to kill!" I was stressing majorly! No worries about the potatoes, or carrots, or even the dessert. I just wanted this meat to turn out perfect.
If you have worked with pork tenderloin in the past you know it is really easy to overcook. I knew the same could be said for beef tenderloin. Did you know beef wellington is made with beef tenderloin?! I can now see why chefs yell and scream when a person screws up this meal (especially overcooking!) No way was my first experience with beef tenderloin going to be beef wellington, haha. I figured something sweet and simple where I could actually see the meat would work. And bacon. Everything seems better with bacon... Or so I am told!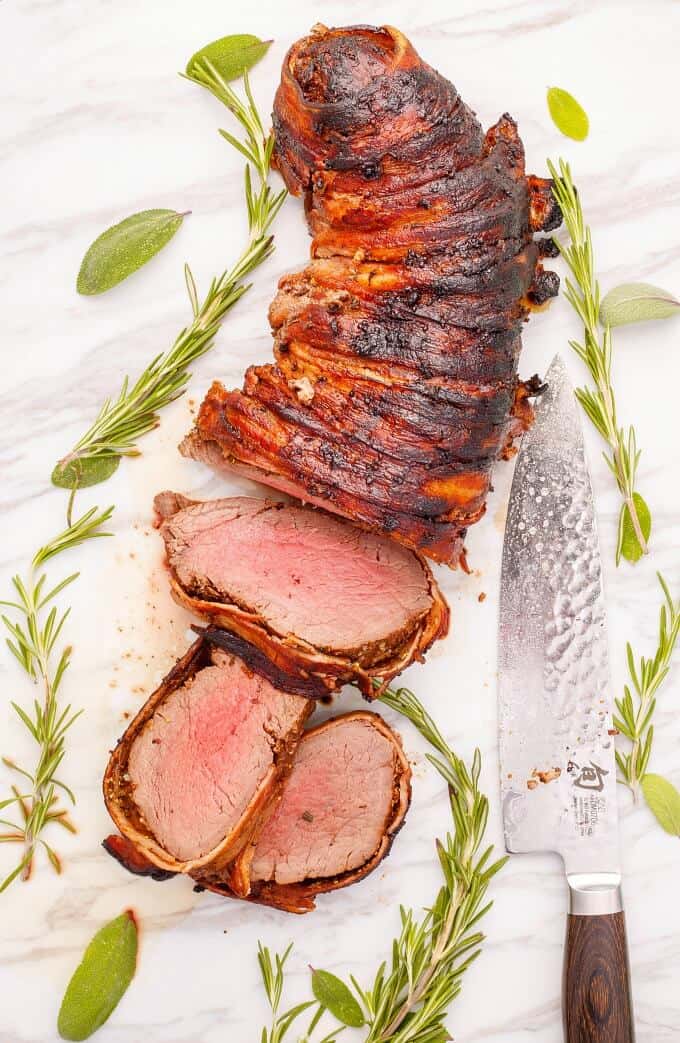 This bacon-wrapped balsamic and rosemary beef tenderloin is packed full of flavor and really basic. Marinating meat is quite essential for maximum flavor, and to brine the meat is even better. I marinaded the beef tenderloin for about 12-18 hours before cooking, and made sure to set the meat out before cooking so it could come to room temperature (trust me, it helps.) I gave myself lots of time to cook this meat, but I am not kidding you when I say this cooks in under 1 hour! Then there is resting time (also so important!) This seems like a lot of mumble jumble but I assure you, it is all important!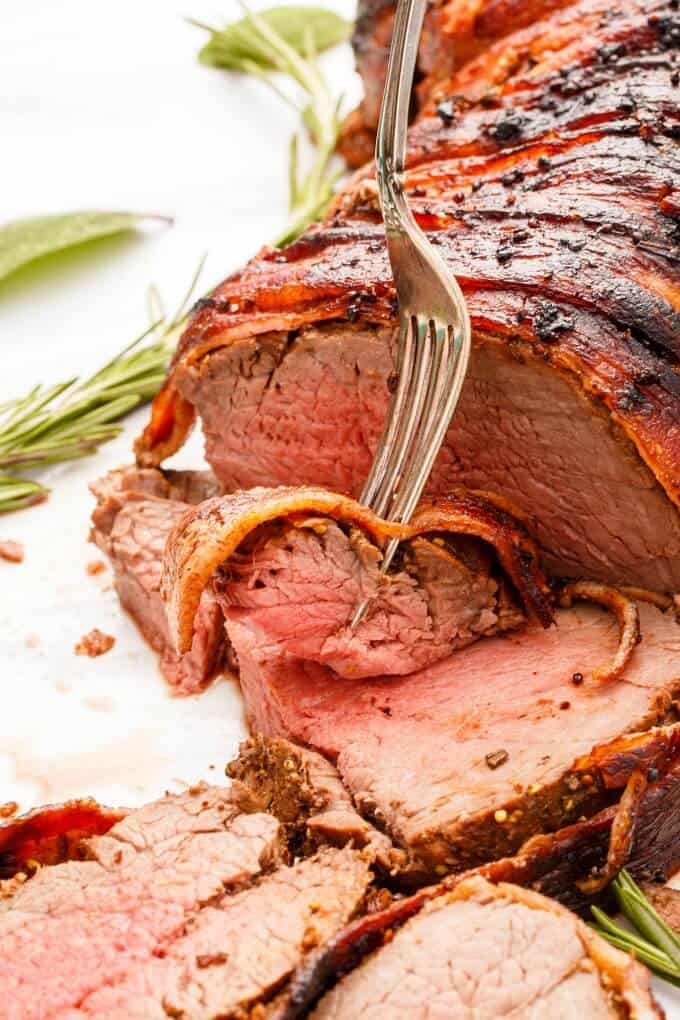 Now, let me tell you about everyone's reactions.
I was SUPER worried about overcooking this beef tenderloin (have I mentioned this enough?) It was so bad I had THREE different thermometers to keep track of the internal temperature (just in case one or two of the devices was defective.) Needless to say, overkill, but it kept me sane.
With some research online I decided to cook my beef tenderloin until the internal temperature reached 135F. Many sites stated as low as 120-130F, but I wasn't so sure about that. Keep in mind that while my husband and sister's boyfriend love a good, rare steak, the rest of the family is not on the same page.
When I removed the meat at 135F, I immediately moved it to a shallow baking pan and wrapped it in aluminum foil. It is essential to allow the meat to rest and allow the temperature to rise some more on its own. Give it a good 10-15 minutes. Then, slice away! When I began slicing I was SHOCKED to see how pink/red it was. I was so worried about overcooking that I never thought about UNDER-COOKING! Mr. TCW insisted it was perfect. I think my dad almost had a heart attack when he saw it! UPDATE: I revisited this recipe and cooked it to a lower temperature (125-130F and it wasn't even as red as before!!! I don't get it! I was worried I overcooked it but I checked again with multiple thermometers and they all read the same.)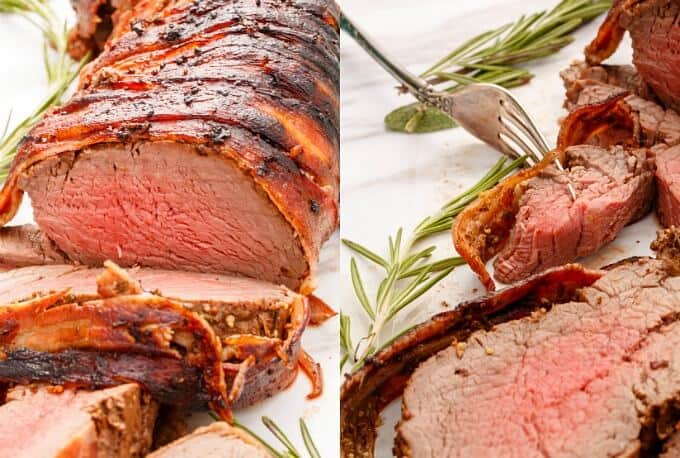 But I listened to Mr. TCW, and you know what? It worked! I did take a couple of pieces and put them back in the oven a bit longer for the people who do not like their meat still mooing, but I want to say 90% of the guests went for the original pieces. Even my mother who shocked me. Operation beef tenderloin a success!
I learned a lot on the way and know what I would do differently next time. I was concerned the bacon would burn so I originally cooked the meat for 20 minutes and then wrapped it in bacon for the last 20 minutes. Honestly, you could probably get away with wrapping it in bacon straight from the beginning. The only benefit I saw to my method was this allowed the beef tenderloin to brown a bit first. But if you pan-sear the meat first, wrapping it in bacon from the beginning still works.
UPDATE: This time around I just wrapped the meat in bacon from the beginning; no pre-cooking first.) The bacon browned rather quickly (maybe because I poured the marinade over-top of the bacon.) I had to cover the meat with aluminum foil near the end of cook time so it would not burn! So either way will work, and I honestly found the second method easier, but just keep an eye on that bacon and cover when needed!
Secondly, even though I only went to 135F and allowed it to rest, the meat still continued to cook after I sliced it. While the meat was originally very pink, you can see from this picture how much the heat from each piece cooked one another. Maybe separate the pieces a bit better 🙂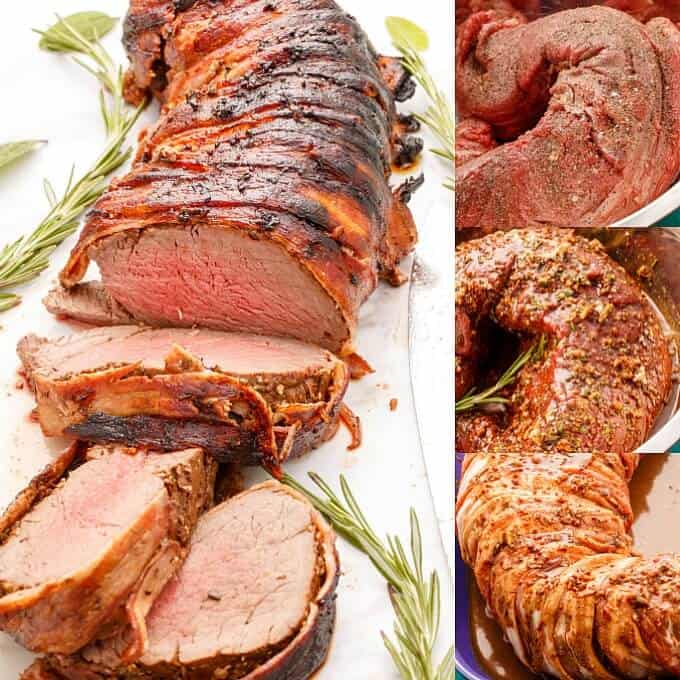 And finally, my sister's boyfriend told her this was the best meat he has ever had. That's right. Except he did not tell me that. No, instead he waited until he left and then told my sister, who, in return said "why didn't you tell Kacey that at dinner?!" Haha, I admit our family can be a bit intimidating so I am happy with his words from my sister's mouth!
📖 Recipe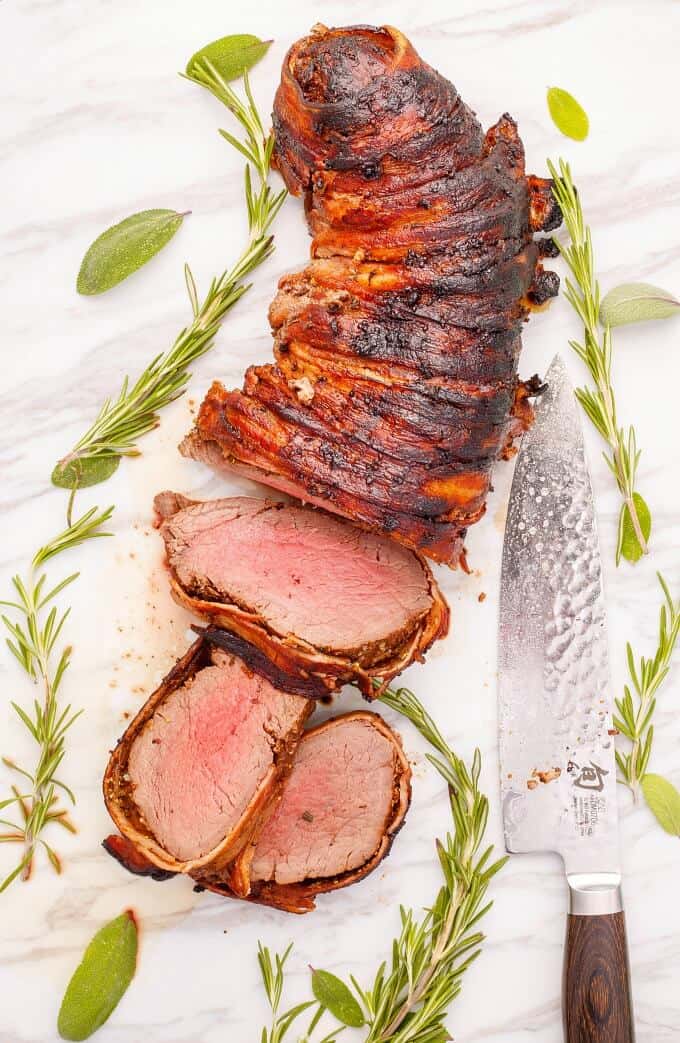 Balsamic and Rosemary Beef Tenderloin
You can wrap the bacon around the meat from the beginning (and it will ensure crispier bacon!)
Ingredients
3 kg beef tenderloin, silver skin removed if necessary (you can have a butcher do this.)
1 tbsp. freshly chopped rosemary
1 tbsp. freshly chopped sage
½ cup balsamic vinegar
¼ cup butter, melted
5 garlic cloves, minced
1 tbsp. coarse whole grain mustard
1 (375 g) package of bacon slices
Salt and pepper
Instructions
Place tenderloin into a large bowl. Season generously with salt and pepper.
Mix together the rosemary, sage, vinegar, butter, garlic, mustard, salt, and pepper. Pour over top of the meat and massage if necessary to cover. Place into the fridge, uncovered, overnight.
The day of cooking, preheat oven to 425F. Remove meat from fridge and allow to come to room temperature. Transfer to a baking sheet, tuck smaller end underneath meat, and place uncovered, into oven, baking for 20 minutes. Remove from oven and carefully wrap bacon slices around the meat (you can also wrap the bacon around the meat from the beginning and forgo this step! If the bacon browns too quickly for your liking, you can cover gently with aluminum foil.) Return back to oven and cook for another 20 minutes, or until internal temperature reaches 130-135F.
Move meat to a shallow dish and cover with aluminum foil for 10-15 minutes. Slice meat and serve immediately!
Notes
You can wrap the tenderloin in bacon before placing it into the oven. If the bacon is looking browned, you can cover with aluminum foil for the rest of cook time.
Nutrition Information:
Yield:

10
Serving Size:

8
Amount Per Serving:
Calories:

1034
Total Fat:

79g
Saturated Fat:

32g
Trans Fat:

0g
Unsaturated Fat:

36g
Cholesterol:

268mg
Sodium:

277mg
Carbohydrates:

3g
Fiber:

0g
Sugar:

2g
Protein:

72g
Not too shabby for this vegetarian! I will say though, trimming the silver skin off the beef tenderloin was... interesting. You can see how badly I butchered the meat in the collage photo but I have NO experience trimming meat at all. If you happen to buy a pre-trimmed beef tenderloin, pat yourself on the back! If not, check out
this tutorial
on how to achieve great results. It helped me tremendously and I would have been lost without it!
Love this Bacon-Wrapped Balsamic and Rosemary Beef Tenderloin?! Try some of these recipes: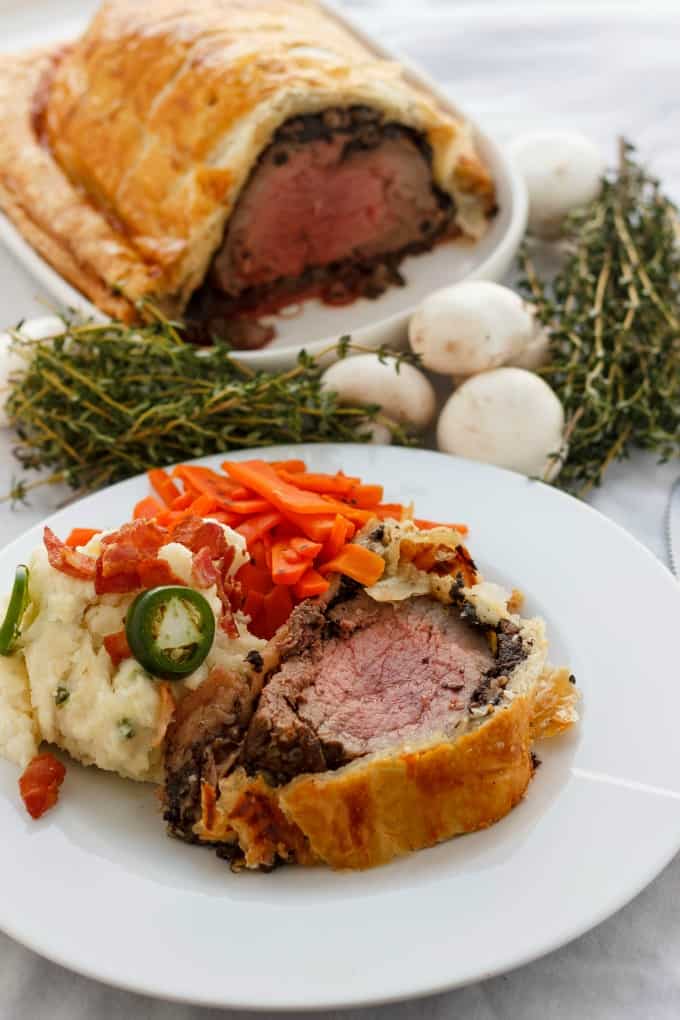 Beef Wellington with Bacon and Button Mushrooms