Christmas is SOOOOO close! While I have dubbed this recipe "Christmas Cranberry Mojitos," they would be perfect any time of the year (hint, hint, New Years is coming!)
I love Christmas! The spirit, the movies, the food. Dan likes to pretend like he is Scrooge, but I think he likes it, too. Then again, I do all the Christmas shopping and food making so what is there not to like?!
Christmas only gets more exciting as my daughter grows. Sure, her first two Christmas's were a bit quiet (she was only a couple of months old the first year,) but she is really getting into the holiday spirit this year.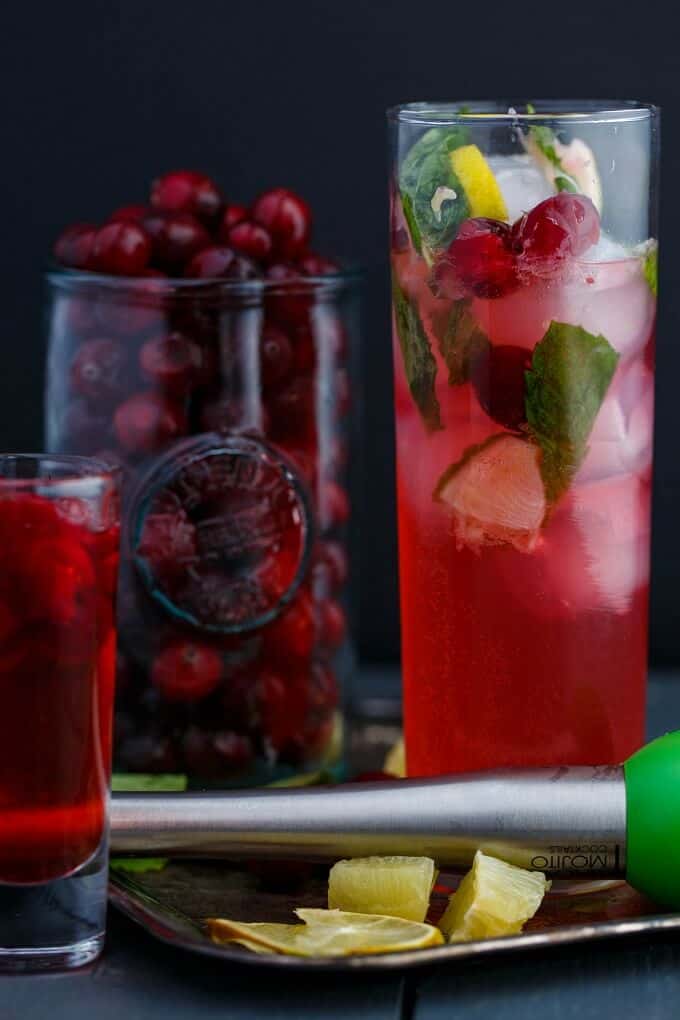 And what better way to celebrate than with these Christmas cranberry mojitos!
I think they will be a new tradition here. Santa would surely like a bit of punch after all his traveling, don't you think? And while rum is traditional in mojitos, you can totally leave it out to make the recipe family-friendly. I tend to leave the pitcher alcohol free, and add rum to the glasses as we go. This way my daughter can enjoy a glass or two with no worries (because mojitos are definitely up there in her favourite drink department!)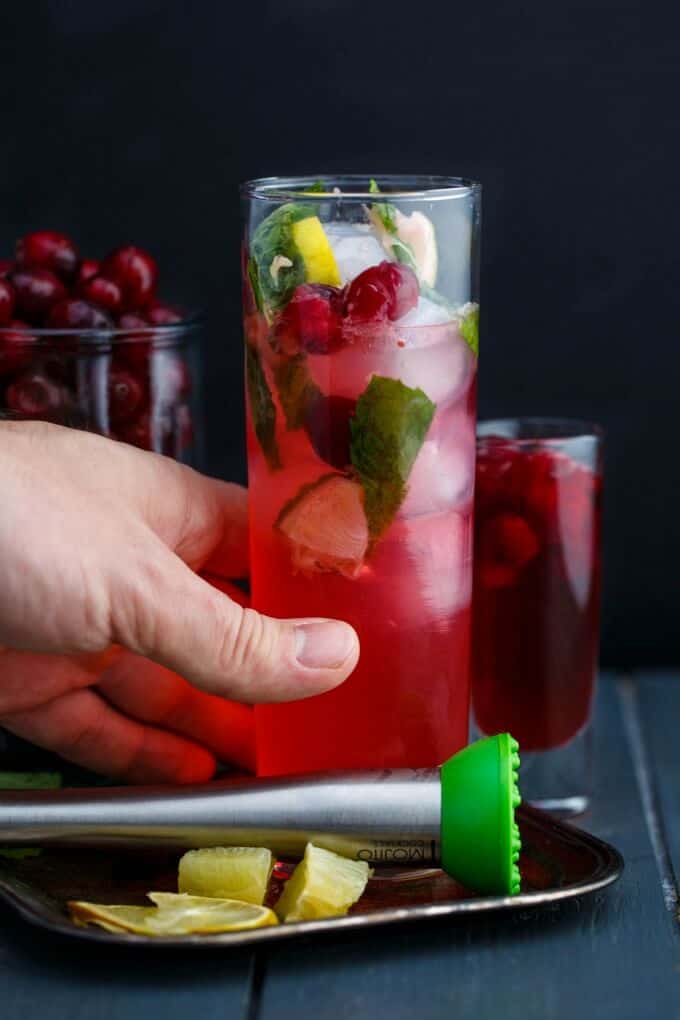 Originally I planned to leave the cranberries in their raw state, but raw cranberries are very tart. Don't need someone biting into one of those suckers while enjoying a drink or two! So I pre-cooked them a bit. I guess you could say I made a cranberry simple syrup for this recipe 🙂 My fear was turning the simple syrup into cranberry sauce, but if you cook the cranberries until they just begin to pop, you should be good. I squished the cranberries as I stirred the syrup to help break them down (without going too far!)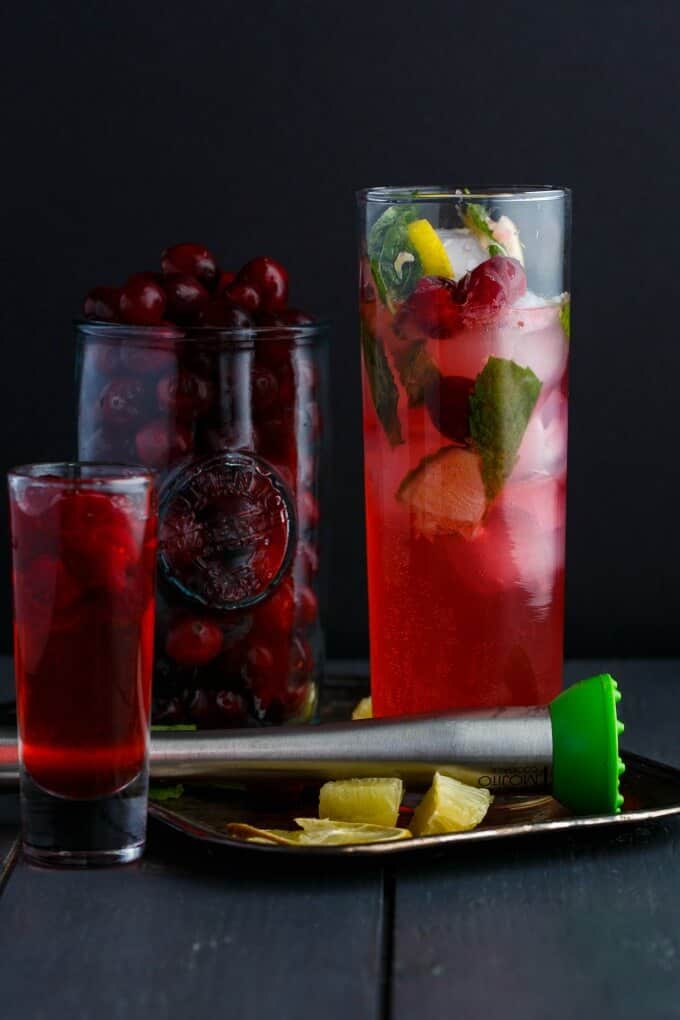 These Christmas cranberry mojitos are not just for the holiday season! They would make a great New Years drink. And if you keep frozen cranberries in your freezer all year round, you can enjoy this recipe in the summer (when I really bring out the mojito recipes!)
Stay tuned for one more recipe before the holiday season (here I thought I would get some more Christmas cookie recipes in, but I guess not!)
Love these Christmas cranberry mojitos?! Try some of these recipes: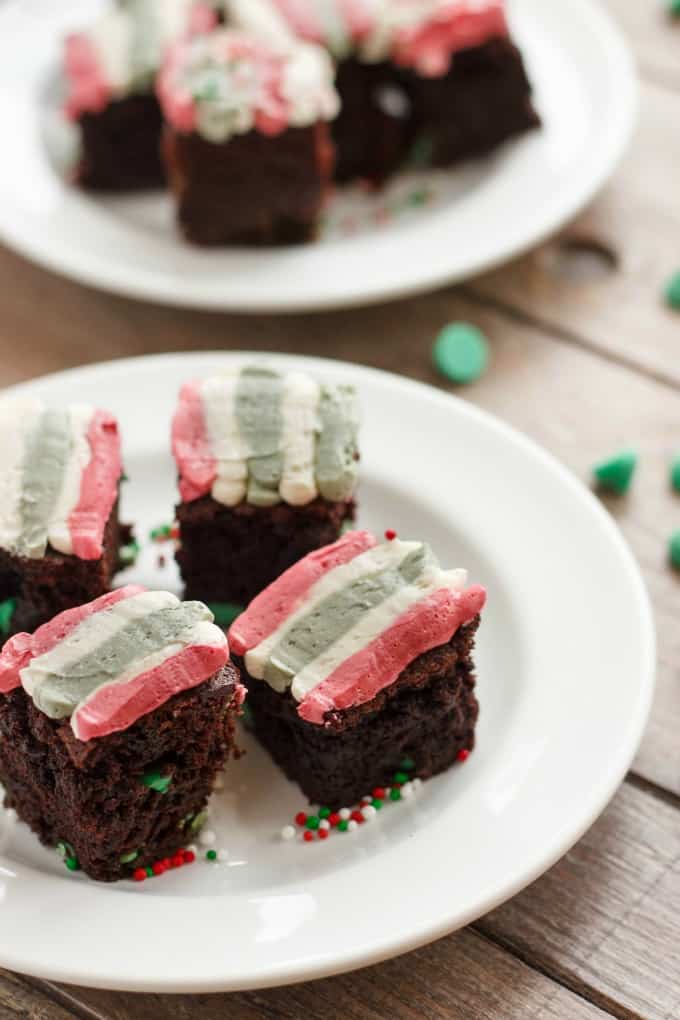 Christmas Brownies (Mint Chocolate Brownies)