Christmas is SOOOOO close! While I have dubbed this recipe "Christmas Cranberry Mojitos," they would be perfect any time of the year (hint, hint, New Years is coming!)
I love Christmas! The spirit, the movies, the food. Mr. TCW likes to pretend like he is Scrooge, but I think he likes it, too. Then again, I do all the Christmas shopping and food making so what is there not to like?!
Christmas only gets more exciting as my daughter grows. Sure, her first two Christmas's were a bit quiet (she was only a couple of months old the first year,) but she is really getting into the holiday spirit this year.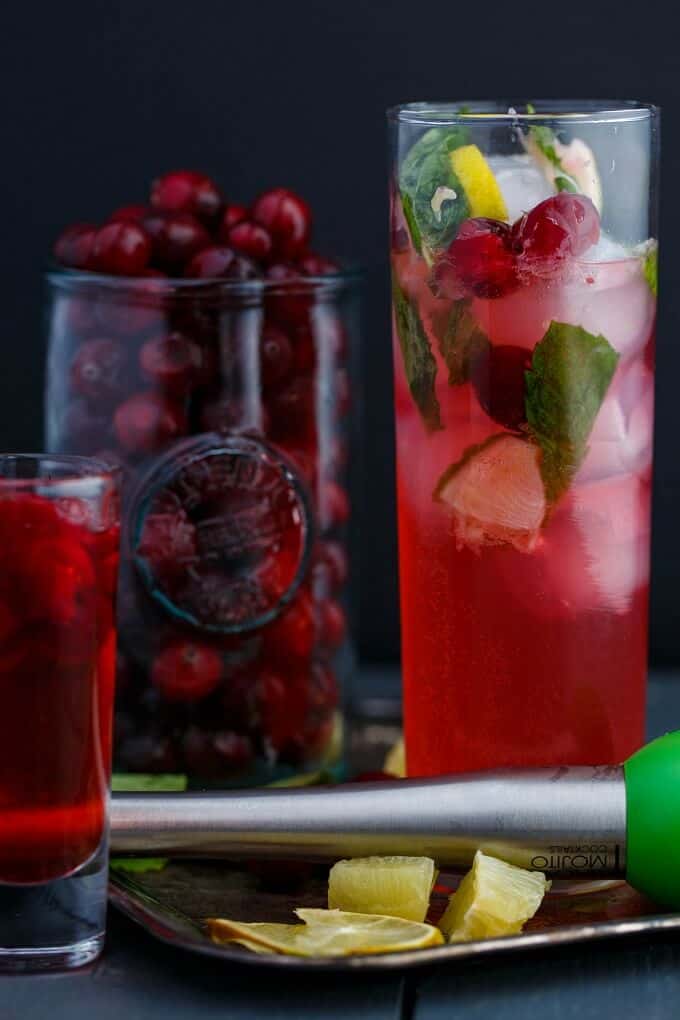 And what better way to celebrate than with these Christmas cranberry mojitos!
I think they will be a new tradition here. Santa would surely like a bit of punch after all his traveling, don't you think? And while rum is traditional in mojitos, you can totally leave it out to make the recipe family-friendly. I tend to leave the pitcher alcohol free, and add rum to the glasses as we go. This way my daughter can enjoy a glass or two with no worries (because mojitos are definitely up there in her favorite drink department!)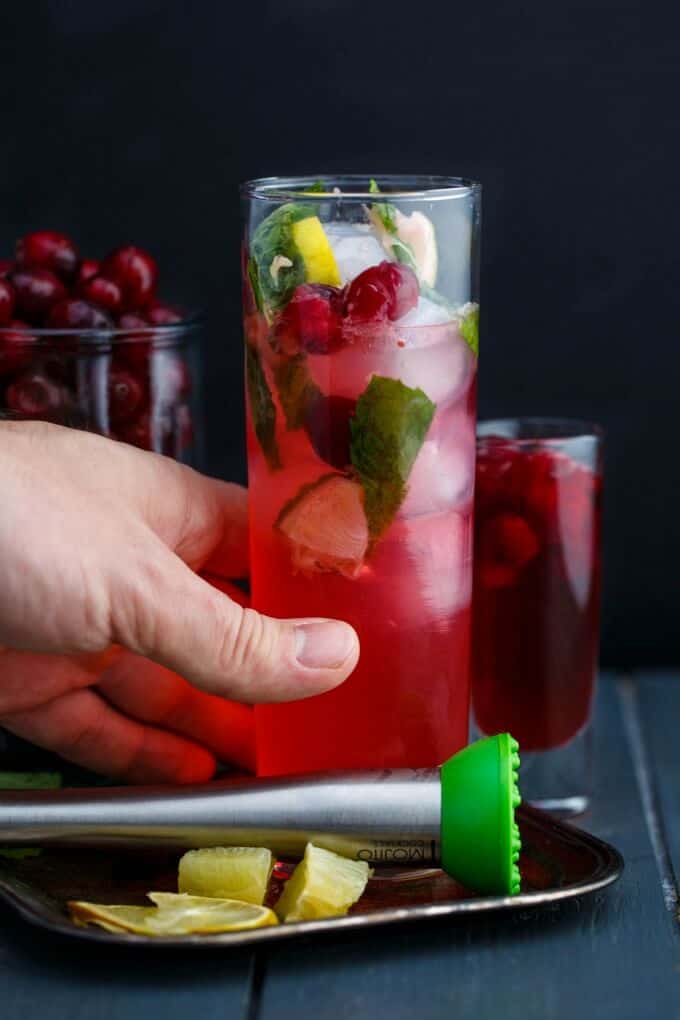 Originally I planned to leave the cranberries in their raw state, but raw cranberries are very tart. Don't need someone biting into one of those suckers while enjoying a drink or two! So I pre-cooked them a bit. I guess you could say I made a cranberry simple syrup for this recipe 🙂 My fear was turning the simple syrup into cranberry sauce, but if you cook the cranberries until they just begin to pop, you should be good. I squished the cranberries as I stirred the syrup to help break them down (without going too far!)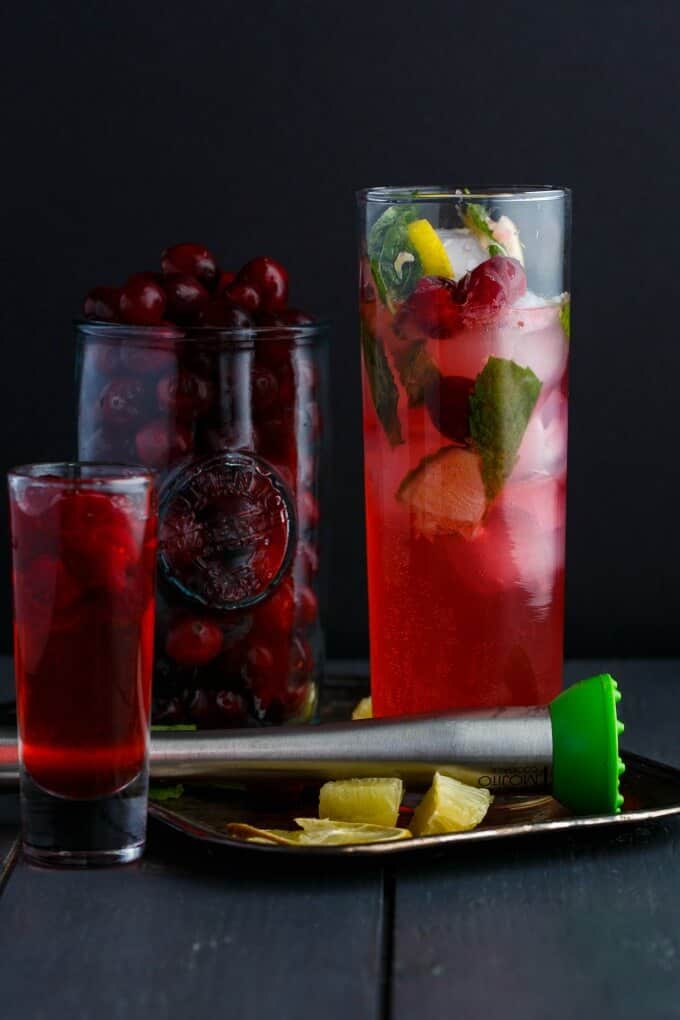 📖 Recipe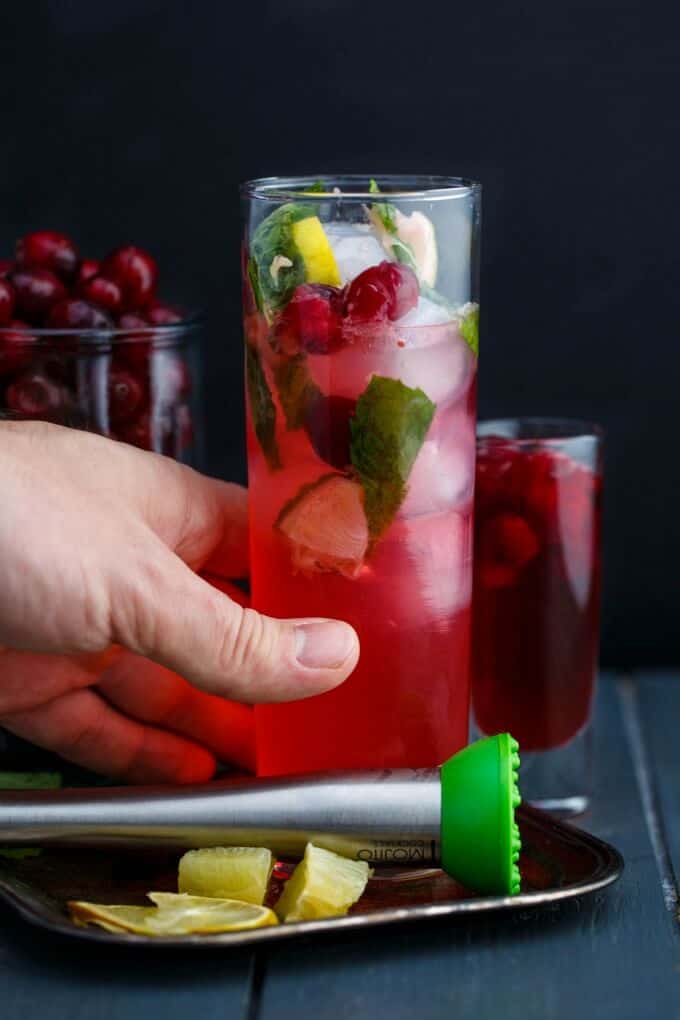 Christmas Cranberry Mojitos
Festive for Christmas, but also great any time of the year!
Ingredients
1 cup fresh cranberries
1 cup water
1 cup granulated sugar
Drink
1 cup white rum
1 bunch (30 grams) mint leaves, removed from stems
2 limes, sliced into wedges
3 cups club soda
Instructions
Add water, sugar, and cranberries to a saucepan over medium heat. Stir occasionally, pushing on cranberries to help break them down a bit, until sugar has dissolved completely. Remove from heat and continue stirring every so often, trying to break down those cranberries some more. Allow to cool.
Drink
Add limes and mint to a large pitcher. Using a muddler, crush limes until all juices have been released. Stir in 1 cup syrup and muddle a bit more.
Pour in club soda, and rum. Mix until combined (you can muddle the berries a bit to break them down if desired.)
Serve over ice in tall glasses!
Notes
Raw, fresh cranberries are tart, so you want them to cook a bit in the syrup. Once all the sugar dissolves, you can cook the mixture a bit more to help breakdown the cranberries.
Nutrition Information:
Yield:

4
Serving Size:

1
Amount Per Serving:
Calories:

316
Total Fat:

0g
Saturated Fat:

0g
Trans Fat:

0g
Unsaturated Fat:

0g
Cholesterol:

0mg
Sodium:

6mg
Carbohydrates:

57g
Fiber:

2g
Sugar:

52g
Protein:

0g
These Christmas cranberry mojitos are not just for the holiday season! They would make a great New Years drink. And if you keep frozen cranberries in your freezer all year round, you can enjoy this recipe in the summer (when I really bring out the mojito recipes!)
Stay tuned for one more recipe before the holiday season (here I thought I would get some more Christmas cookie recipes in, but I guess not!)
Love these Christmas cranberry mojitos?! Try some of these recipes: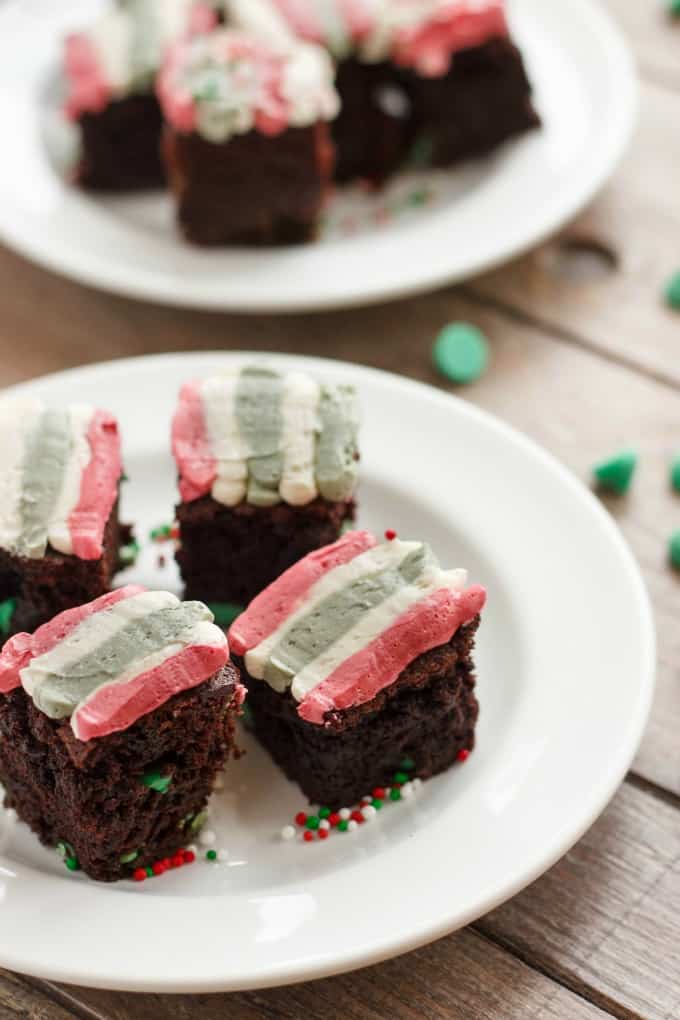 Christmas Brownies (Mint Chocolate Brownies)