Comforting, vegetarian, and suitable for even the biggest of meat eaters, this roasted mushroom pot pie is really easy to make, and sooooo filling! My meat-eating family had no issues with this meal (perfect for Thanksgiving or any holiday season!)
Canadian Thanksgiving has come and gone, but our American friends are still waiting to celebrate. I think it was my mom who mentioned that our Thanksgiving is way too early. I can see her point being that October is packed enough as is for us, but I like that we have our own celebration before Halloween. Leaves more time to come up with some awesome Christmas ideas!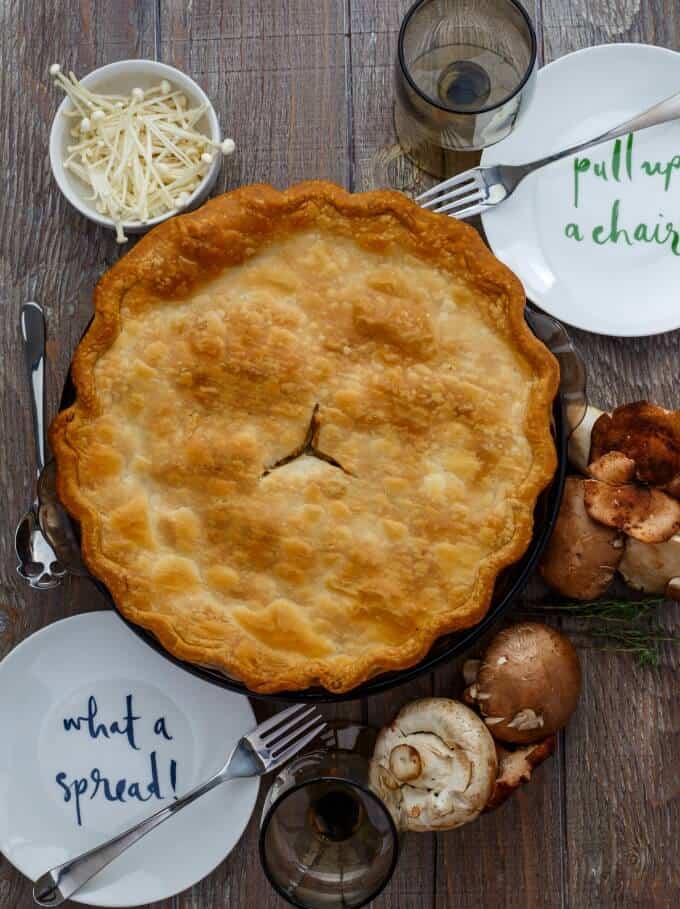 That being said, this roasted mushroom pot pie would be perfect for any holiday, or even just a weeknight dinner. I was so happy with the results of this dish! So flavourful, and yet so hearty and comforting without the addition of meat. Because let's be honest, mushrooms are pretty darn meaty!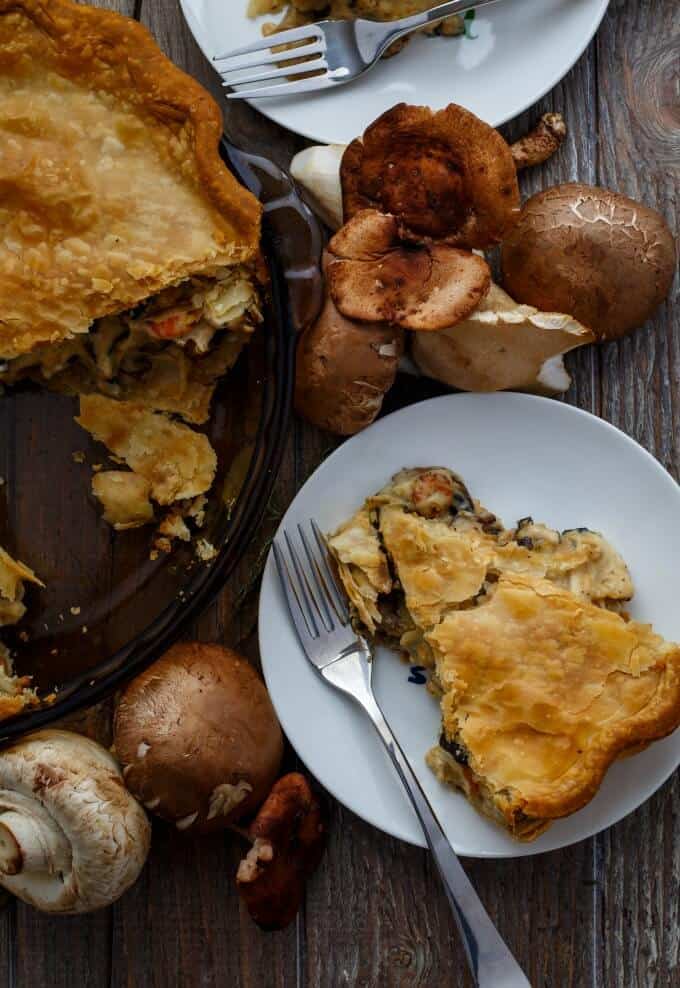 I've been on a pot pie kick as of late. The jalapeno popper chicken pot pie was just the beginning! I saw how nice and golden that crust was and knew I needed a version for myself (well, at least something I could eat!) Thyme, mushrooms, veggies… Such a perfect combination! I won't lie, I did not make my own crust this time around. I know!!! Pie crusts and me do not get along. The flavour is there, but I just cannot make a pretty looking crust. It is my goal within the next year to make one from scratch that is PERFECTION!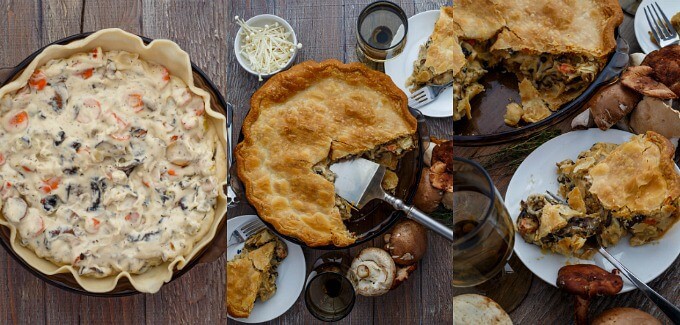 That being said, homemade or store-bought will work perfectly here. A crunchy, textured pie crust is amazing, but that filling needs to be perfect, too! And it sure is! Thyme is definitely my favourite herb, and I don't think there is anything that pairs better with mushrooms. You might have seen a trend over the years with my mushroom recipes, but I want to say over 90% pair with thyme… it must be a sign!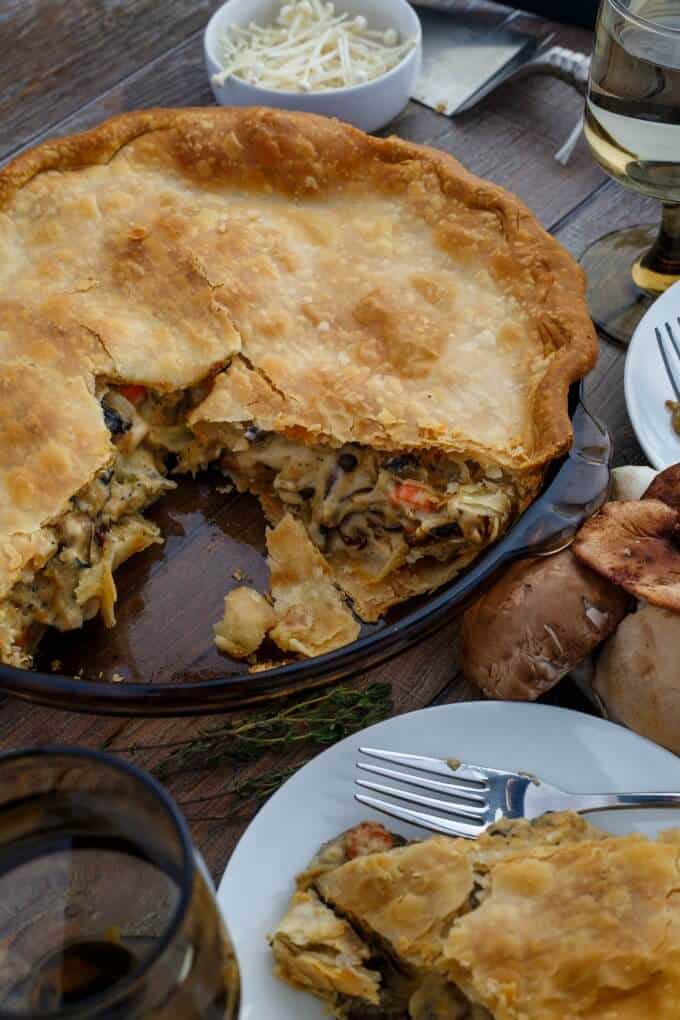 Lastly, I went with a wide variety of mushrooms in this recipe. Any kind will do! Mushrooms Canada was nice enough to give me some leftovers, so I went with a blend of button, cremini, oyster, shiitake, and I believe some enoki (but they tend to overcook quickly.) So much flavour! But my secret is definitely cooking the mushrooms until they reach a deep brown, resulting in more flavour. Sure, it may take more time, but so worth it!

I am so happy to be a part of Blogsgiving this year with my roasted mushroom pot pie! What a fun way to get people together without traveling (because let's be honest, we are located all over the world!) and share our favourite recipes. Many thanks to Meghan from Cake 'n Knife and Susannah from Feast + West for hosting Blogsgiving Dinner. There are more than 20 blogs sharing recipes today!
The idea is based on an old-fashioned potluck dinner party. Each blogger is bringing one or more dishes to the party, so be sure to stop by each one and get some ideas for your own Thanksgiving meal. We'll be posting to social media with the hashtag #blogsgivingdinner, but you can see the entire menu below in our recipe roundup.
Ginger Pumpkin Beer Shandy by Feast + West
glühwein/mulled wine by Tag&Tibby
White Chocolate Pumpkin Martini by The Culinary Compass
Apple Ginger Punch by The Little Epicurean
Cheesy brussels sprouts dip by Living Well Kitchen
Sun Dried Tomato & Goat Cheese Spread by Life's Ambrosia
Cranberry Goat Cheese Tarts by Cake 'n Knife
Roasted Butternut Squash Apple Ginger Soup by The Secret Ingredient Is
Brussels Sprout Salad with Farro and Walnuts by Sugar Dish Me
Sheet Pan Carrot Soup by Macheesmo
Kale + butternut squash mac and cheese by Family Food on the Table
Twice Baked Parmesan Butternut Squash by A Mind Full Mom
Twice The Onion Green Bean Casserole by Melanie Makes
Lightened Up Green Bean Casserole by Dash of Herbs
Easy Corn Casserole by Love Bakes Good Cakes
Cranberry Honey Butter by Little Dairy on the Prairie
Butternut Squash Lasagna by Hello Little Home
Beer-Brined Stuffed Turkey Loin by Beer Girl Cooks
Roasted Mushroom Pot Pie by The Cookie Writer
Chocolate Pumpkin Fudge by Around My Family Table
Carrot Cake by bell'alimento
Praline Pumpkin Upside Down Cake by The Speckled Palate
Roasted Banana Pecan Cheesecake by Lady Behind The Curtain
Chai-Spiced Apple Crumble Blondies by The Crumby Cupcake
Pecan Pie Crumble Bars by A Joyfully Mad Kitchen
Pecan Pie Milkshake by Brunch-n-Bites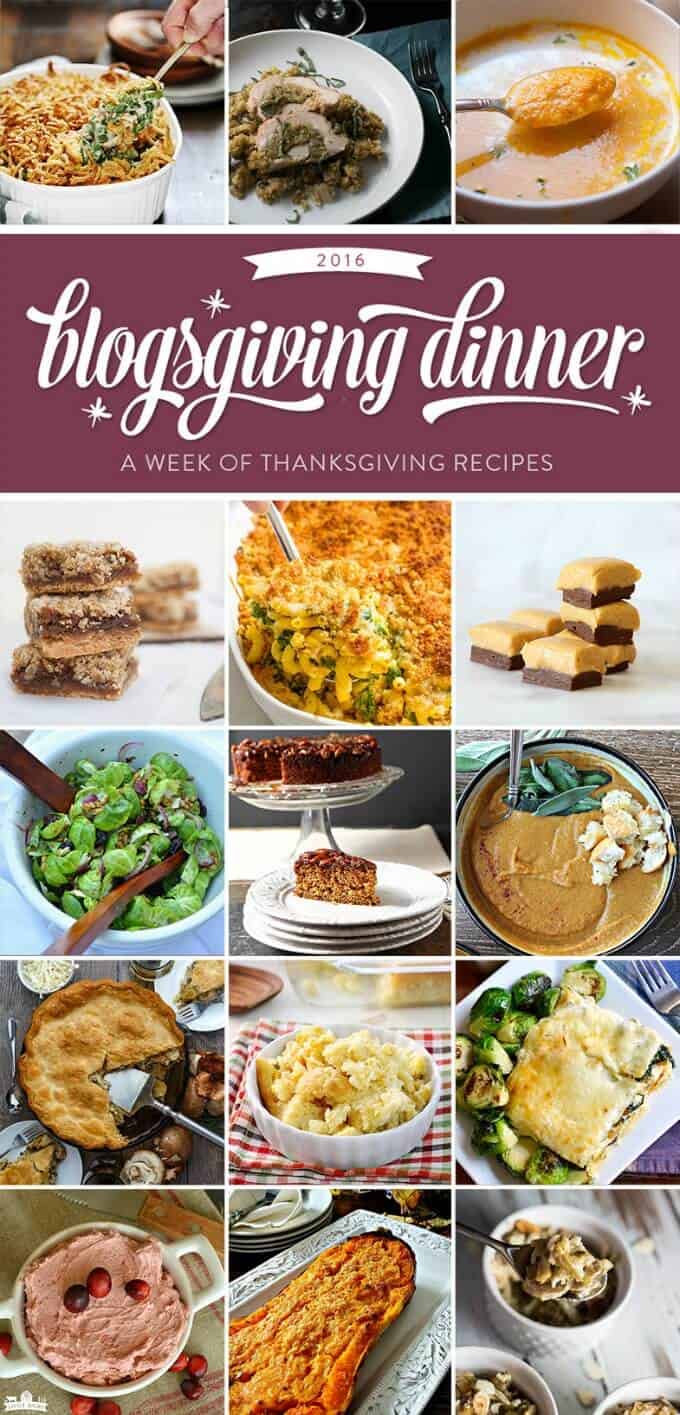 Love this roasted mushroom pot pie?! Try some of these recipes: