Comforting, vegetarian, and suitable for even the biggest of meat eaters, this roasted mushroom pot pie is really easy to make, and sooooo filling! My meat-eating family had no issues with this meal (perfect for Thanksgiving or any holiday season!)
Canadian Thanksgiving has come and gone, but our American friends are still waiting to celebrate. I think it was my mom who mentioned that our Thanksgiving is way too early. I can see her point being that October is packed enough as is for us, but I like that we have our own celebration before Halloween. Leaves more time to come up with some awesome Christmas ideas!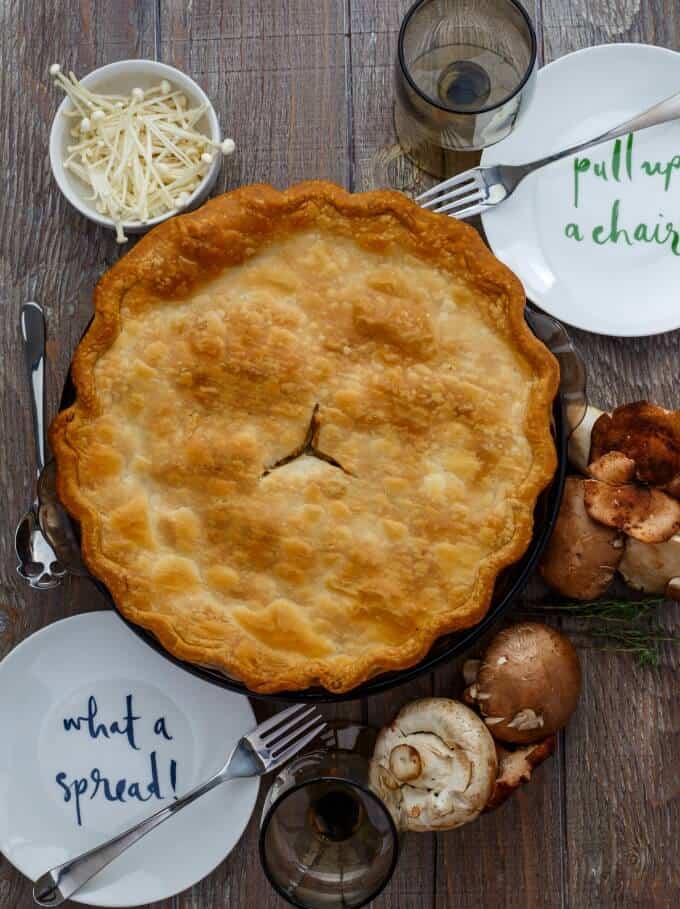 That being said, this roasted mushroom pot pie would be perfect for any holiday, or even just a weeknight dinner. I was so happy with the results of this dish! So flavorful, and yet so hearty and comforting without the addition of meat. Because let's be honest, mushrooms are pretty darn meaty!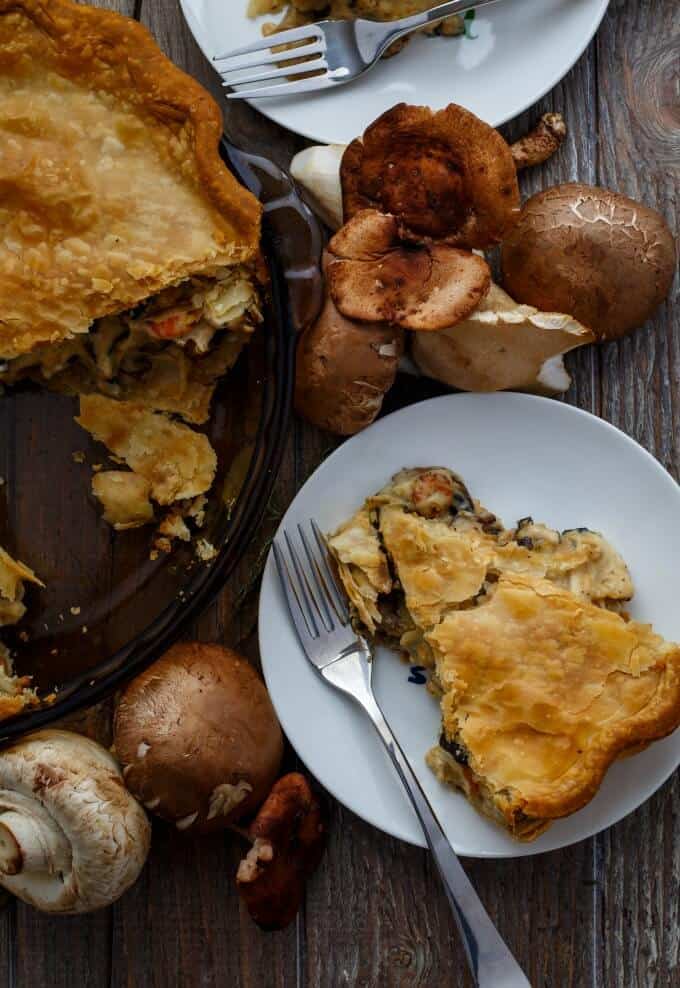 I've been on a pot pie kick as of late. The jalapeno popper chicken pot pie was just the beginning! I saw how nice and golden that crust was and knew I needed a version for myself (well, at least something I could eat!) Thyme, mushrooms, veggies... Such a perfect combination! I won't lie, I did not make my own crust this time around. I know!!! Pie crusts and me do not get along. The flavor is there, but I just cannot make a pretty looking crust. It is my goal within the next year to make one from scratch that is PERFECTION!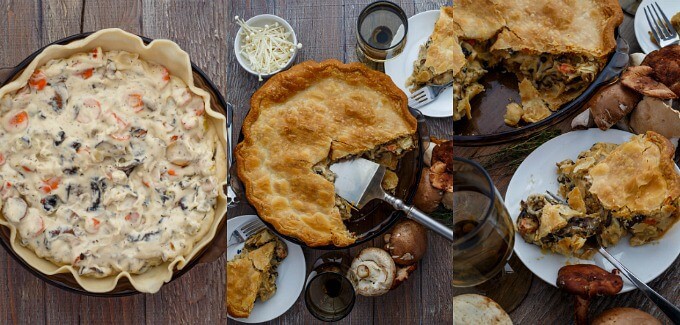 That being said, homemade or store-bought will work perfectly here. A crunchy, textured pie crust is amazing, but that filling needs to be perfect, too! And it sure is! Thyme is definitely my favorite herb, and I don't think there is anything that pairs better with mushrooms. You might have seen a trend over the years with my mushroom recipes, but I want to say over 90% pair with thyme... it must be a sign!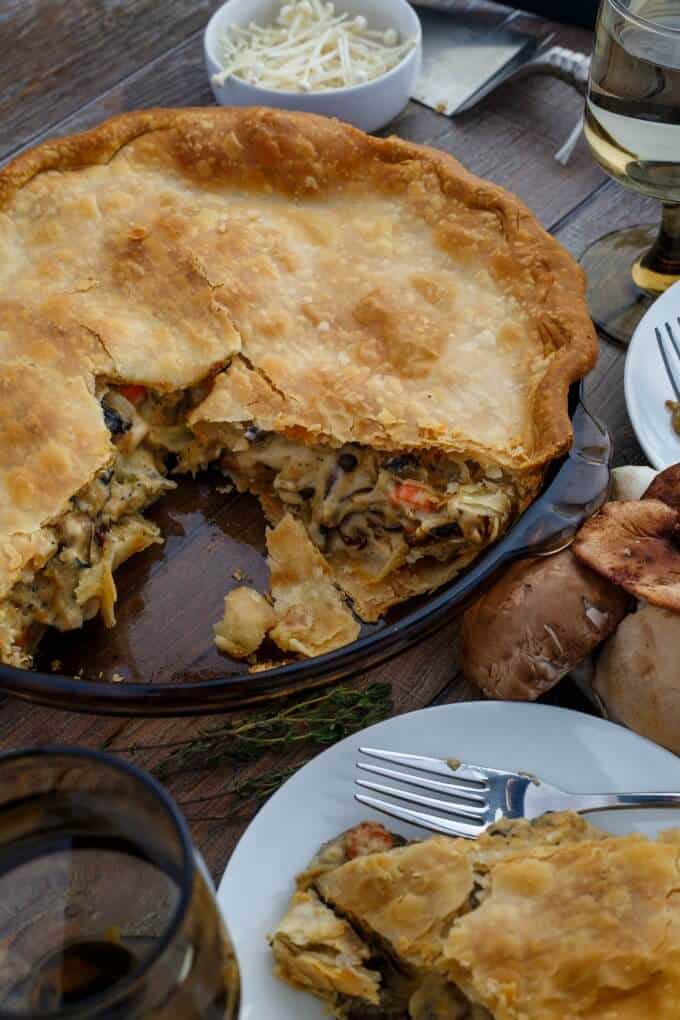 Lastly, I went with a wide variety of mushrooms in this recipe. Any kind will do! Mushrooms Canada was nice enough to give me some leftovers, so I went with a blend of button, cremini, oyster, shiitake, and I believe some enoki (but they tend to overcook quickly.) So much flavor! But my secret is definitely cooking the mushrooms until they reach a deep brown, resulting in more flavor. Sure, it may take more time, but so worth it!
📖 Recipe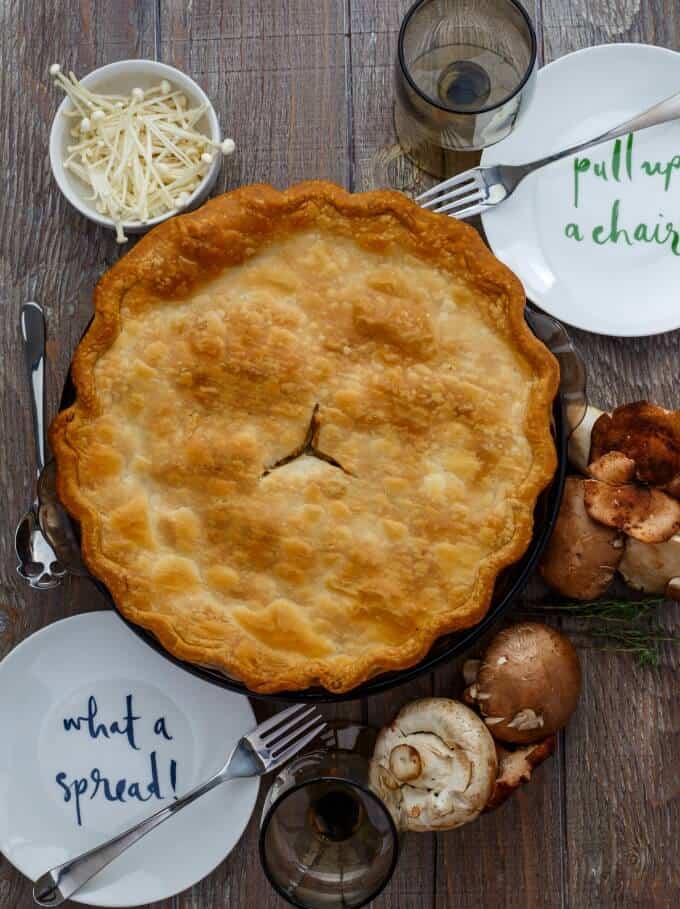 Roasted Mushroom Pot Pie
Total Time:
1 hour
20 minutes
Even the biggest of meat eaters will not miss the meat in this dish!
Ingredients
1 (2-layer) pie crust recipe (homemade or store-bought!)
1 lb assorted mushrooms (I used button, cremini, oyster, and shiitake!)
¾ lb carrots, sliced into coins
1 onion, roughly chopped
2 celery stalks, sliced
3 garlic, paper on and left whole
2-3 tbsp. olive oil
Salt and pepper
½ tsp. dried thyme
Sauce
⅓ cup butter
⅓ cup all-purpose flour
1 cup mushroom or vegetable broth
1 cup milk
1 (227g) container plain cream cheese
½ tbsp. coarse whole grain mustard
½ tsp. dried thyme
Salt and pepper
Instructions
Preheat oven to 425F. Place mushrooms, carrots, onion, celery, garlic, salt, pepper, thyme, and olive oil onto baking sheet. Toss with hands until well combined.
Roast for 30 minutes, tossing veggies after 15 minutes. Set aside. Leave oven on!
Sauce
In a small saucepan over medium heat, add the butter. When melted and bubbling, stir in flour. Whisk frequently, cooking for 5-7 minutes, or until roux darkens to a nice golden brown.
Combine milk, broth, mustard, salt, pepper, and thyme. Pour into pan, whisking constantly. Stir in cream cheese and heat until melted and mixture thickens. Remove from heat.
Assembly
Remove paper from garlic. Roughly chop. Stir veggies into sauce.
Layer bottom of 9-inch pie dish with dough. Pour in mixture. Top with remaining dough. Cut a slit in the centre.
Cover crust edges for the first 10 minutes of baking. Remove cover and bake for another 20 minutes.
Allow to cool a bit before serving!
Notes
Making the sauce while the veggies are roasting will save you a lot of time!
Nutrition Information:
Yield:

8
Serving Size:

1
Amount Per Serving:
Calories:

251
Total Fat:

20g
Saturated Fat:

7g
Trans Fat:

0g
Unsaturated Fat:

12g
Cholesterol:

26mg
Sodium:

299mg
Carbohydrates:

16g
Fiber:

4g
Sugar:

6g
Protein:

4g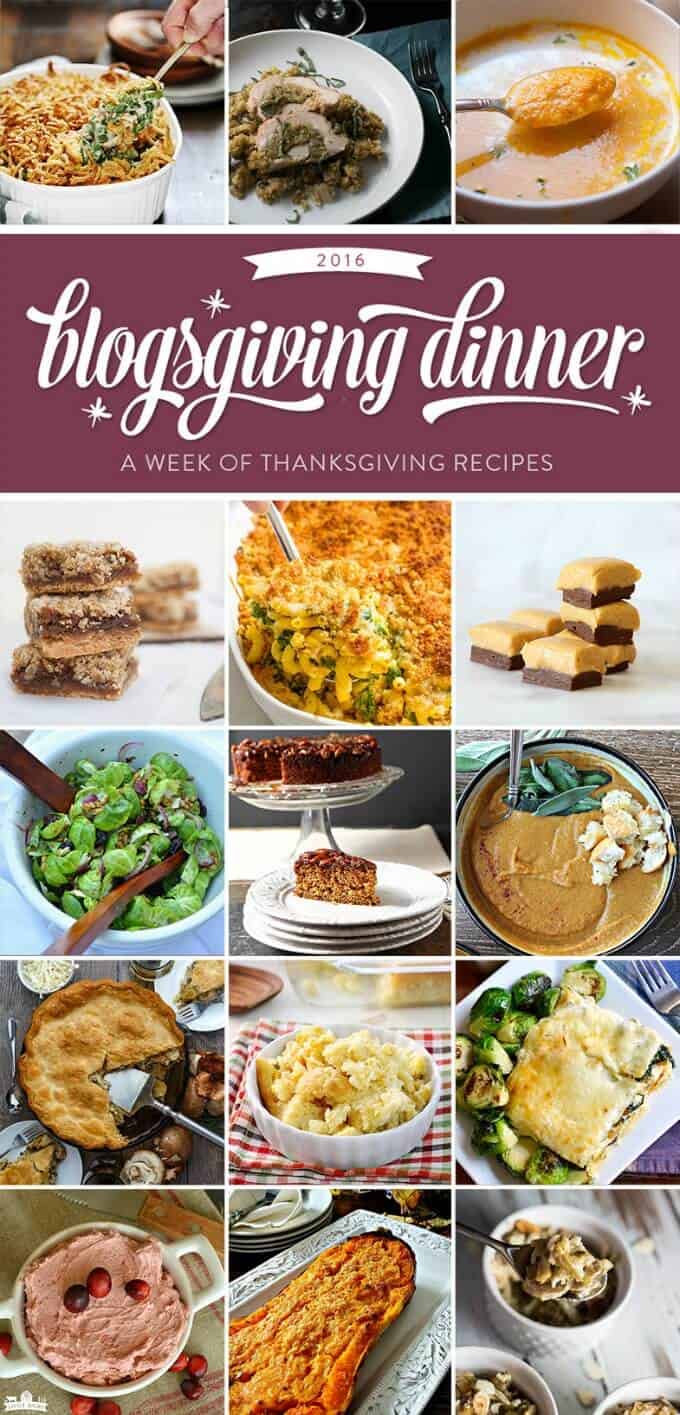 Love this roasted mushroom pot pie?! Try some of these recipes: