Summer heat is here and it is HOT, HOT, HOT! This homemade fresh mint chocolate chip ice cream is a great way to cool down AND it doesn't use mint extract!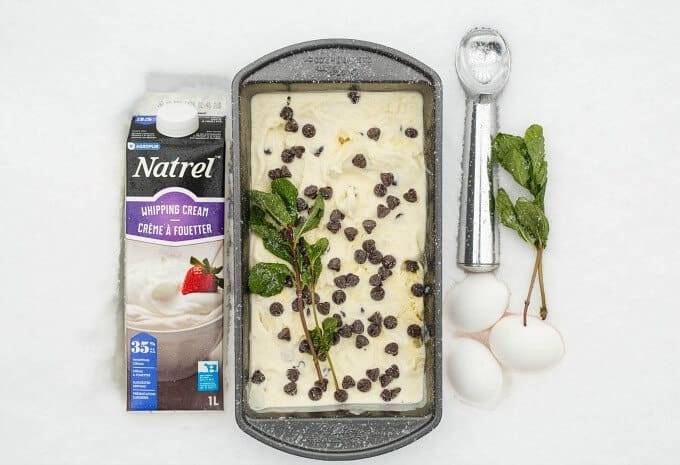 Our long weekend is coming to an end and Canada Day was as hot as ever!
Thank goodness for a pool.
We did enjoy some BBQing with my sister and her boyfriend. Nice not to heat up the house and enjoy some healthy snacks 🙂
But then there are always the not-so-healthy foods!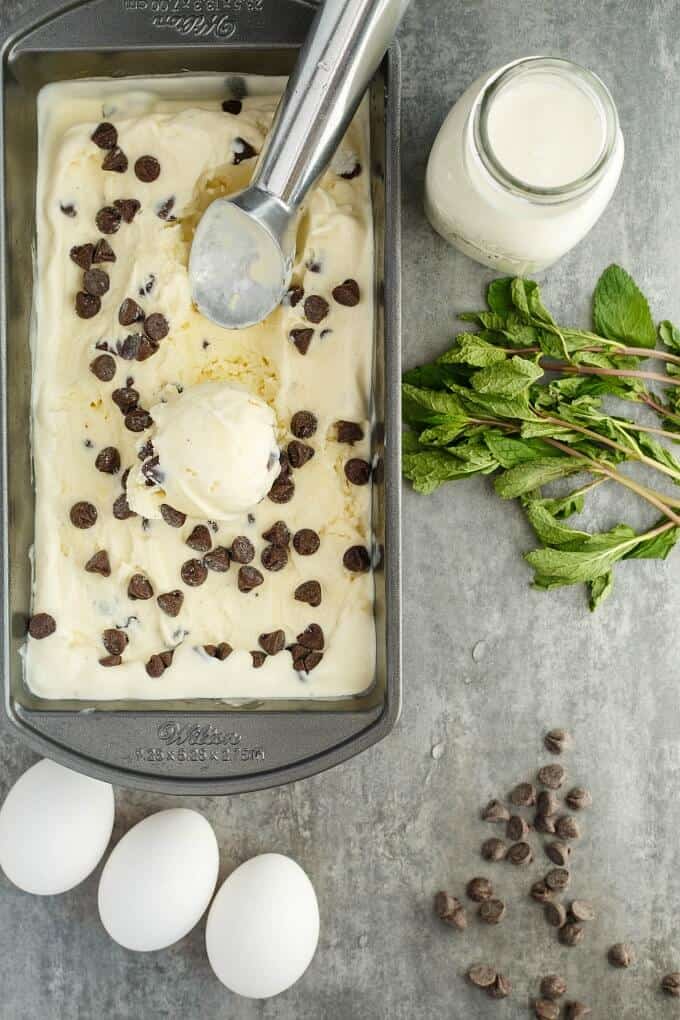 Okay, this homemade fresh mint chocolate chip ice cream is not SOOOOO unhealthy, and I mean, we do need ways to stay cool outside 😉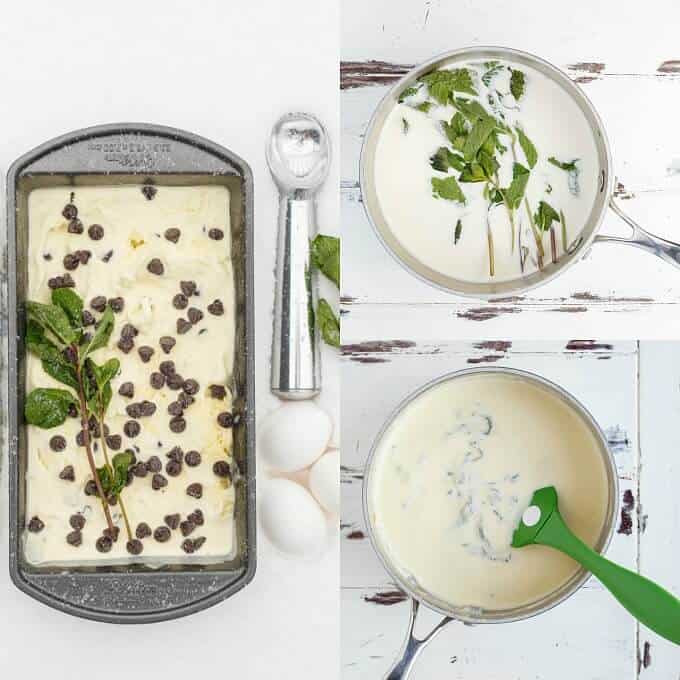 I actually came up with this recipe all the way back in our harsh winter. Yup! As you can see, some of the pictures have snow in them!!! Yes, snow!!
It all began when I did the Food Nook Tours last summer and had the opportunity of trying fresh mint chocolate chip ice cream. I swear it was magical! My husband and I are not mint fans, but this one was light and refreshing. Not like strong mint gums where you feel your mouth burn!
The owner of Delight told us his mint chocolate chip ice cream is made NOT with the bottled extract stuff, but with fresh mint leaves. And all I thought was "why did I NEVER think of that?!"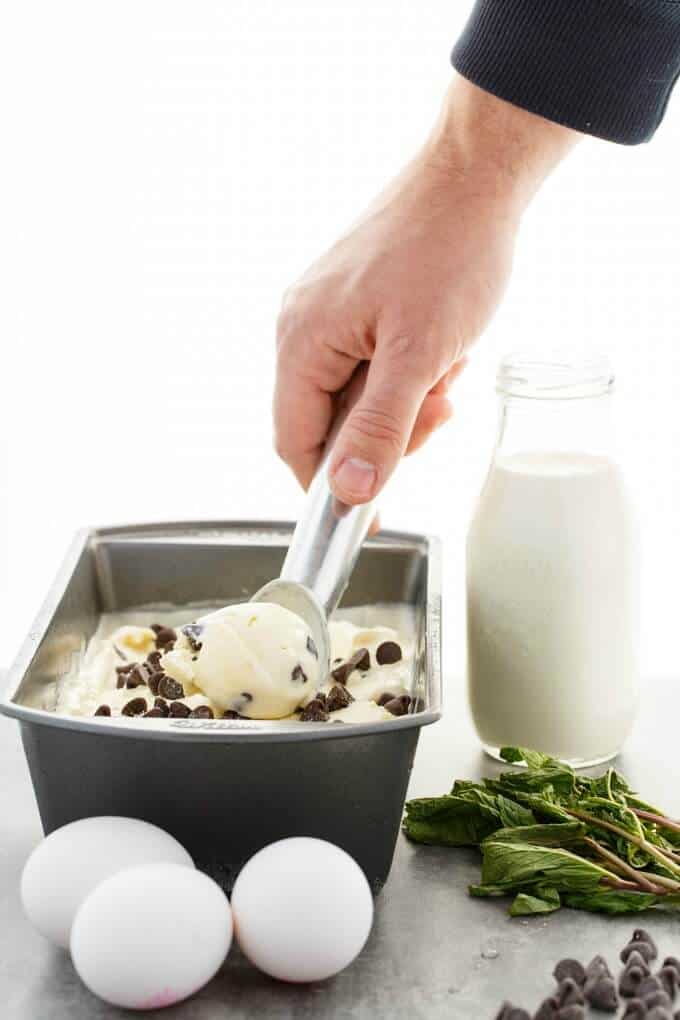 So of course, I had to try my own version 🙂
And, well, no more mint extract! We are fresh mint people in our ice cream now! Being that we always use fresh mint in our mojitos, this is not a surprise 😉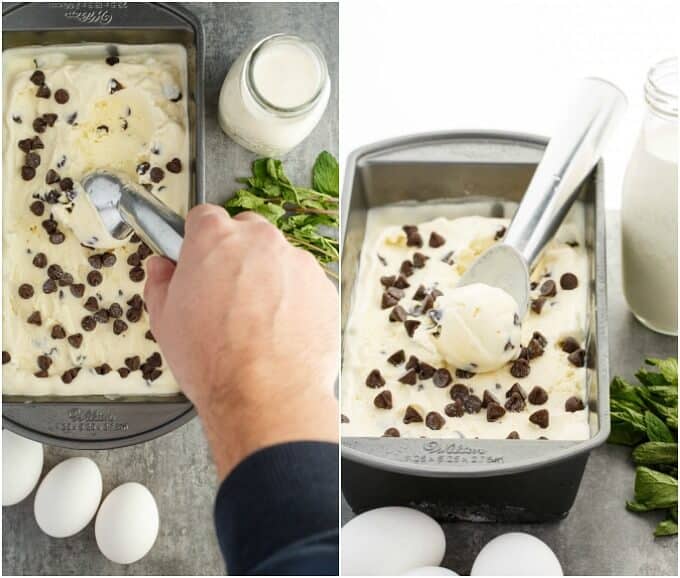 Of all the ice cream flavors I have made, this fresh mint chocolate chip ice cream is my daughter's favorite! And with our garden mint going crazy, there will definitely be a few batches made this summer 🙂
Keeping up with the cool dessert theme, you bet tomorrow's recipe will be another ice cream, so stick around!
📖 Recipe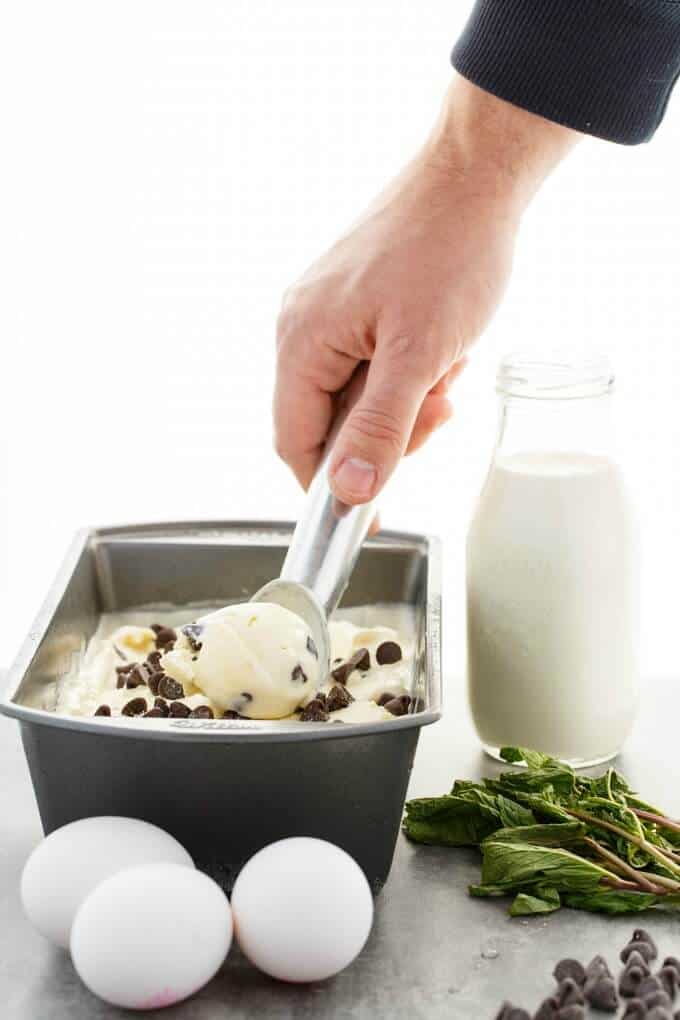 Homemade Fresh Mint Chocolate Chip Ice Cream
This homemade fresh mint chocolate chip ice cream is different than any other store-bought version you have ever had! Seriously, give it a go!
Ingredients
2 cups heavy whipping cream
1 cup milk
½ cup granulated sugar
30 grams fresh mint leaves
5 egg yolks
1 tbsp. cornstarch
Pinch of salt
1 cup chocolate chips (semi-sweet, bittersweet, etc.)
Instructions
Mix together 1 cup of cream and cornstarch. Set aside.
Combine 1 cup of cream and milk in a medium-sized saucepan over medium heat. Stir in sugar, salt, and fresh mint (can leave on stems for easy removal!) and continue to whisk frequently until sugar has dissolved and mixture is very hot (but not boiling!)
Whisk egg yolks in a mixing bowl until paler in color. Carefully and slowly pour the hot liquid from the stove into the eggs, whisking constantly so you do not curdle the eggs. When fully combined, add the mixture back into the pan and pour in cornstarch mixture. Bring to a hot temperature again (not boiling!,) stirring frequently. Remove from heat and allow to cool to room temperature (you can stir occasionally to prevent film build up.)
Cover and place into refrigerate overnight. Remove mint leaves (I pour the concoction through a fine sieve.) When time to churn, follow the directions on your ice cream machine. Store in freezer-safe containers and allow to sit out for 5-10 minutes before serving!
Notes
Feel free to add more mint leaves for a stronger flavor, but we totally dig how this one tastes as is!
Nutrition Information:
Yield:

6
Serving Size:

6
Amount Per Serving:
Calories:

547
Total Fat:

42g
Saturated Fat:

25g
Trans Fat:

1g
Unsaturated Fat:

14g
Cholesterol:

247mg
Sodium:

74mg
Carbohydrates:

42g
Fiber:

2g
Sugar:

37g
Protein:

7g
Need more ice cream recipes?! Here are my recommendations: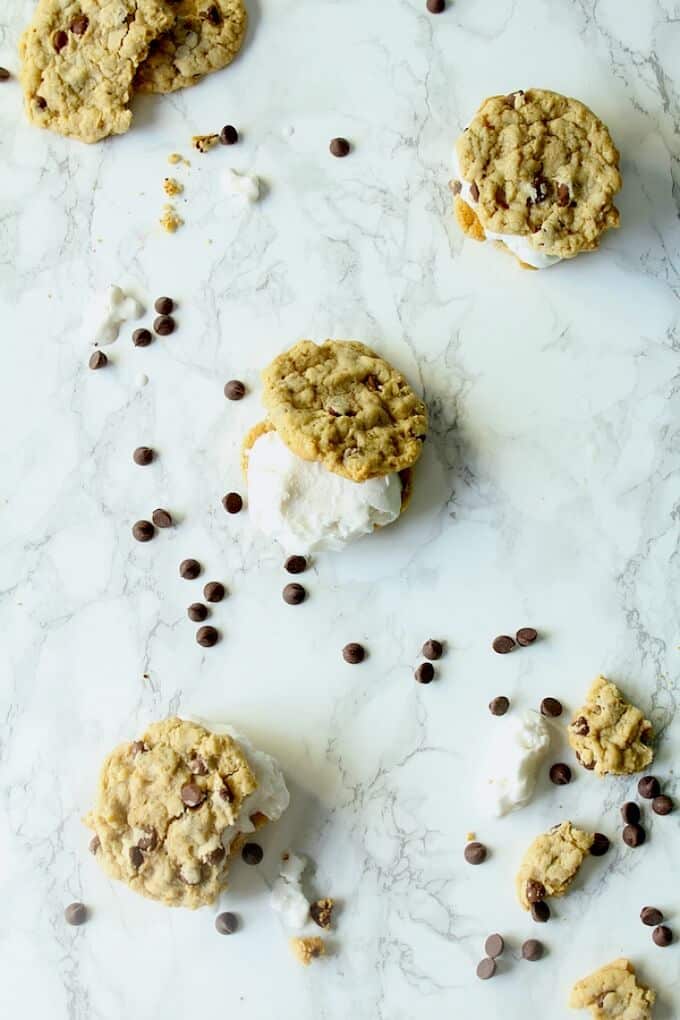 Chocolate Chip Cookie Ice Cream Sandwiches from Cooking in my Genes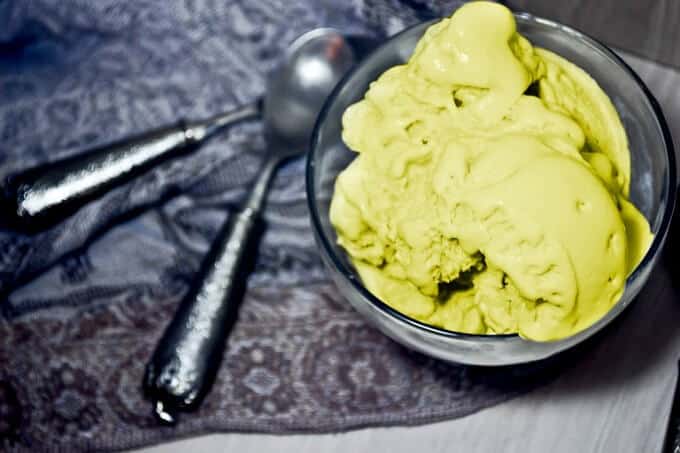 Matcha Ice Cream from Chocolates & Chai
Love this homemade fresh mint chocolate chip ice cream?! Try some of these recipes: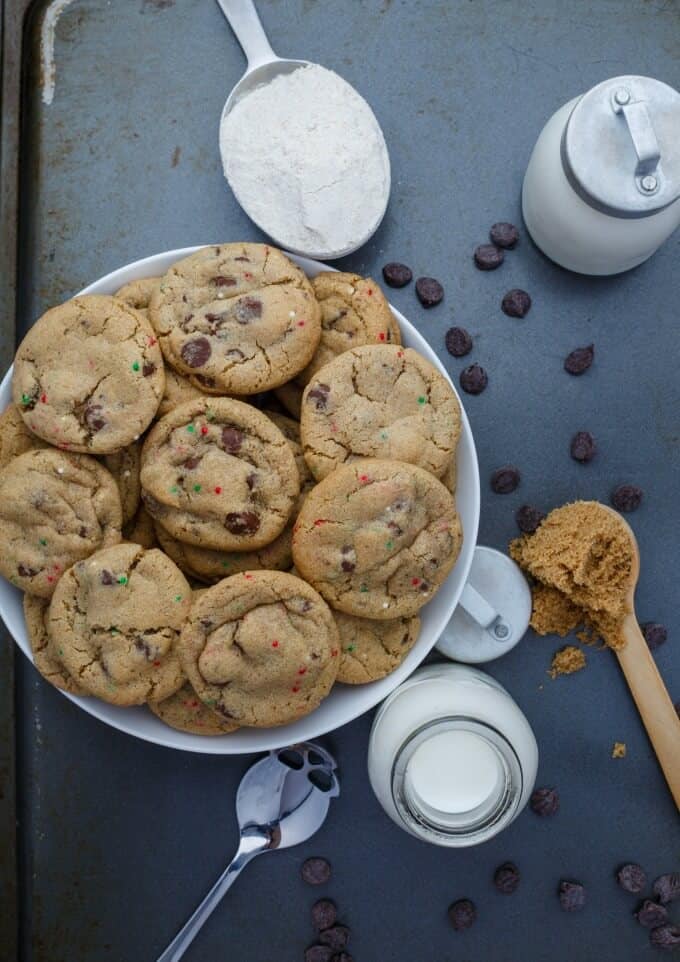 Gluten-Free Peppermint Cookies with Chocolate Chips