I am working with Ricardo Cuisine today to bring you homemade candied citrus peels! This step-by-step tutorial is completely inspired by their Candied Grapefruit Peel recipe!
The holiday season is upon us and many love the homemade route. I LOVE baking cookies and giving them away. There is no greater satisfaction than homemade desserts during the holiday season and when Ricardo Cuisine contacted me, I knew immediately I would be working with a dessert!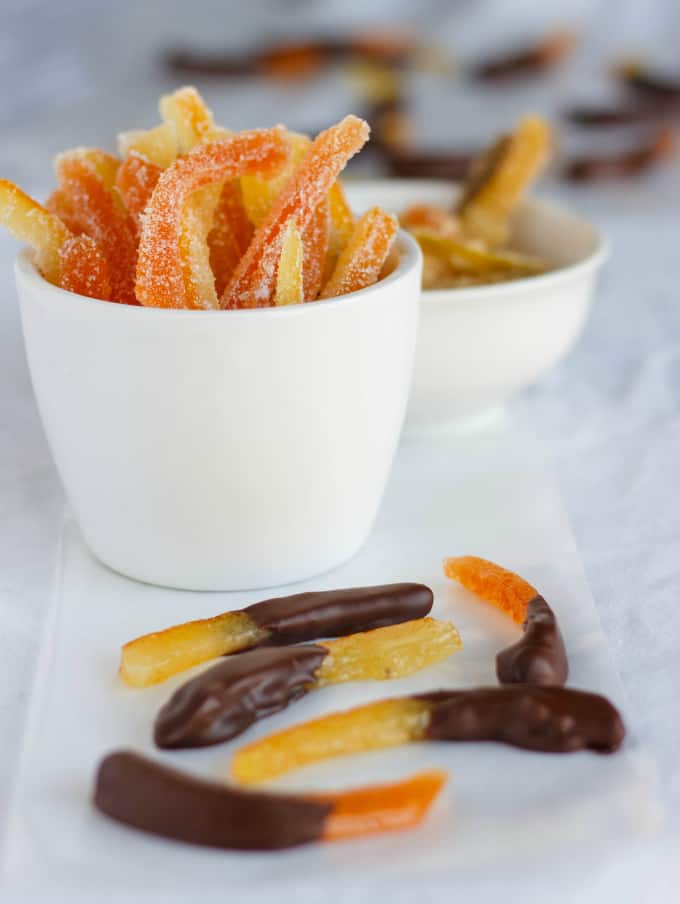 Homemade candied citrus peels are very popular during the holidays, and as complicated as they seem, it is all an elaborate ruse. I wish I had tried these earlier because they are such a fun and creative recipe. Simple, relatively quick to make, and pure sweetness; I can see many people showing great enthusiasm over the holidays for these. The original recipe is for grapefruit peels, but I thought it would be fun to include some other fruits. The possibilities are endless, and the finishing touches are even more detailed (think sugar-crusted, chocolate dipped, or even liquored-enhanced.) And please, do not throw away the extra fruit or syrup! I have a recipe that uses both ingredients up so stay tuned for those in the next few weeks!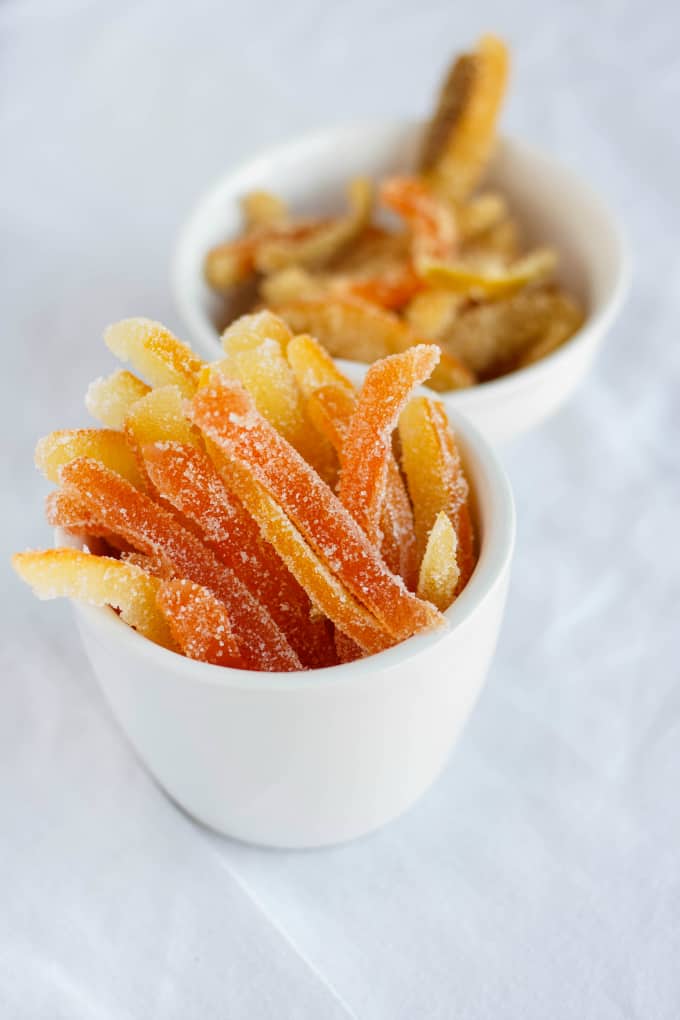 Let's begin the tutorial! You will need:
1 grapefruit
1 lemon
1 lime
1 orange
1 cup water (plus more for boiling stages)
2 cups granulated sugar (plus more for decorating)
1 tbsp. coconut oil (optional)
½ cup chocolate of your choice (optional)
*Please note, I am providing step-by-step photos for this candied citrus peels tutorial to better help serve you with this dessert. These candied citrus peels are inspired by Ricardo's Candied Grapefruit Peel recipe and their detailed instructions can be found here.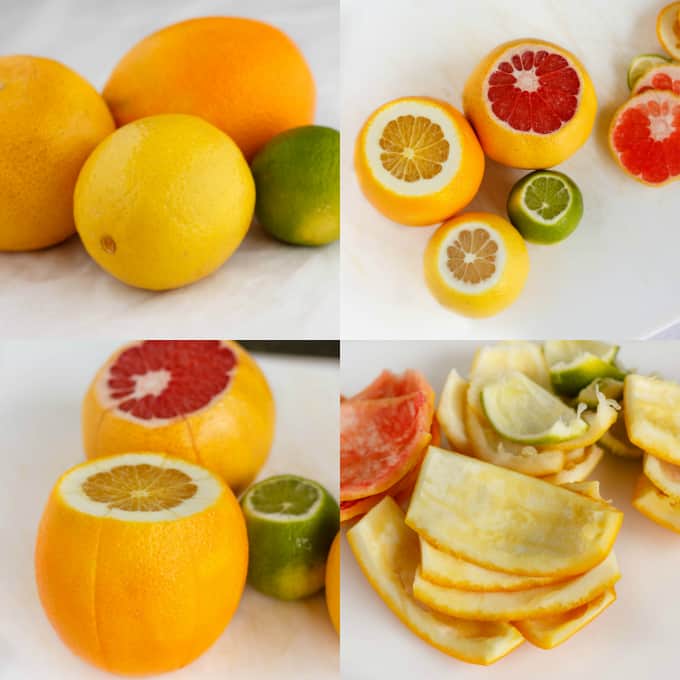 Pick relatively attractive fruit (some bruising or marks are fine, but if you are handing these out as gifts you probably want them to look pretty!) Wash the fruit really well. Dry thoroughly and move to cutting board.
Slice enough off each end of fruit so you can see the inner color (about ¼-1/2 inch.)
Slice around the fruit, lengthwise, until you just reach the end of the pith (right next to the inside flesh.) You can do this as many times as you want, but 4-6 slices should be good.
Remove the skin by prying from fruit. If you are having some trouble, use a paring knife to help separate the flesh and skin (I had to do that for the more difficult fruit such as the limes and lemons.) Use a spoon to scrape the excess fruit off the skin (leaving the white part is okay because we are cooking it enough to get rid of most of the bitterness.)
Slice the pieces into desired thickness (I want to say my thickness was between ¼ and ½ inch.) Place into a small saucepan.
Fill pot with cold water until peels are just submerged. Place over high heat and bring to a rapid boil. Drain and repeat two times.
Fill with cold water one more time and this time bring to a boil and simmer, over medium heat, for 15 minutes, uncovered. Drain.
Add the 1 cup of water and 2 cups sugar to the pot and bring to a boil again. Lower heat to a simmer over medium-low heat and allow to cook for 1 hour.
Here on the right you can see how thick the syrup has gotten after cooking for 1 hour! That is exactly what you want! On the left, well, this was an error! I accidentally added two cups water and 1 cup sugar!! That's alright, no harm was done. I just drained the pot and added the correct amounts 🙂
Line a baking sheet with parchment paper for easy clean up. Add a wire rack on top and carefully place the boiled peels onto it. Don't throw away that excess syrup!! Store in the fridge for later use. Allow the peels to sit overnight (you are looking for a good 24 hours of not touching these!)
When it is time, add some granulated sugar to a shallow bowl. Add some peels a couple at a time and roll in the sugar. Repeat until no fruit remains. You can also use brown sugar here (which I did for some!)
For a nice change, you can dip the slices in melted chocolate. Combine chocolate and coconut oil in a bowl and heat in 30 second intervals until melted. Dip the peels into the melted chocolate (do not coat them in sugar first!) and place onto parchment paper to firm up.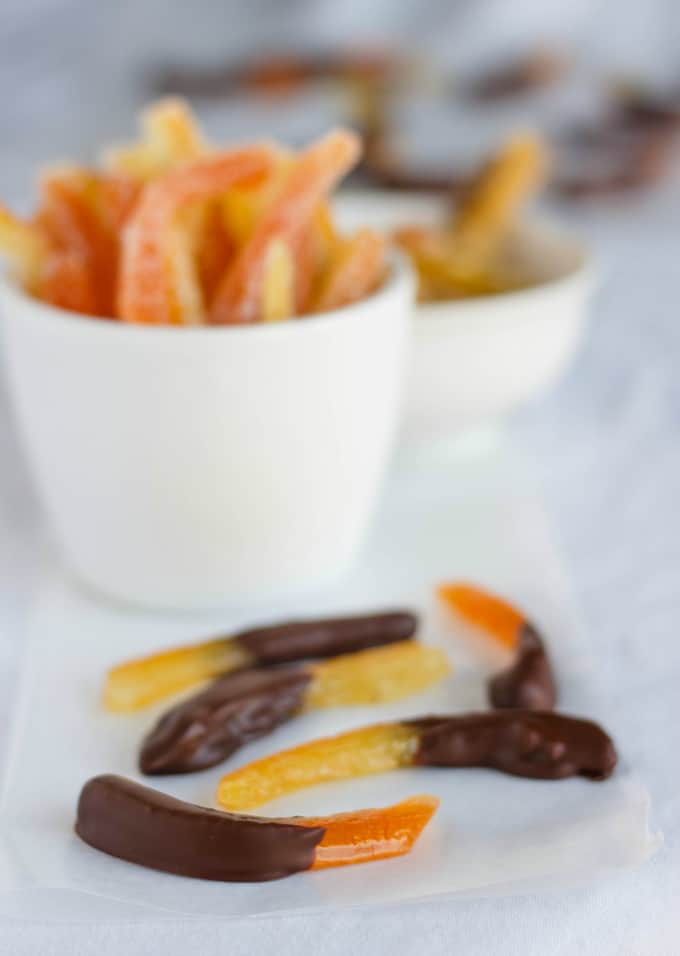 And that is it! They are super easy to make and we were incredibly impressed. You still get a hint of bitterness, but nothing overpowering. Personally, we thought it added character as otherwise these would be a very sweet treat.
Be sure to come back and check out what I have planned for all that extra fruit and syrup!
For more fun and inspirational holiday recipes, check out the holiday dessert category on Ricardo Cuisine!
This is a sponsored post. I was fortunate enough to receive monetary compensation from Ricardo Cuisine. All opinions are my own and I would not recommend a product or recipe that I did not enjoy.