Gluten-free chocolate cupcakes with peanut butter frosting: the perfect dessert for the gluten-free person in your life! Using a blend of Robin Hood Nutri Flour Blend and additional rice flour!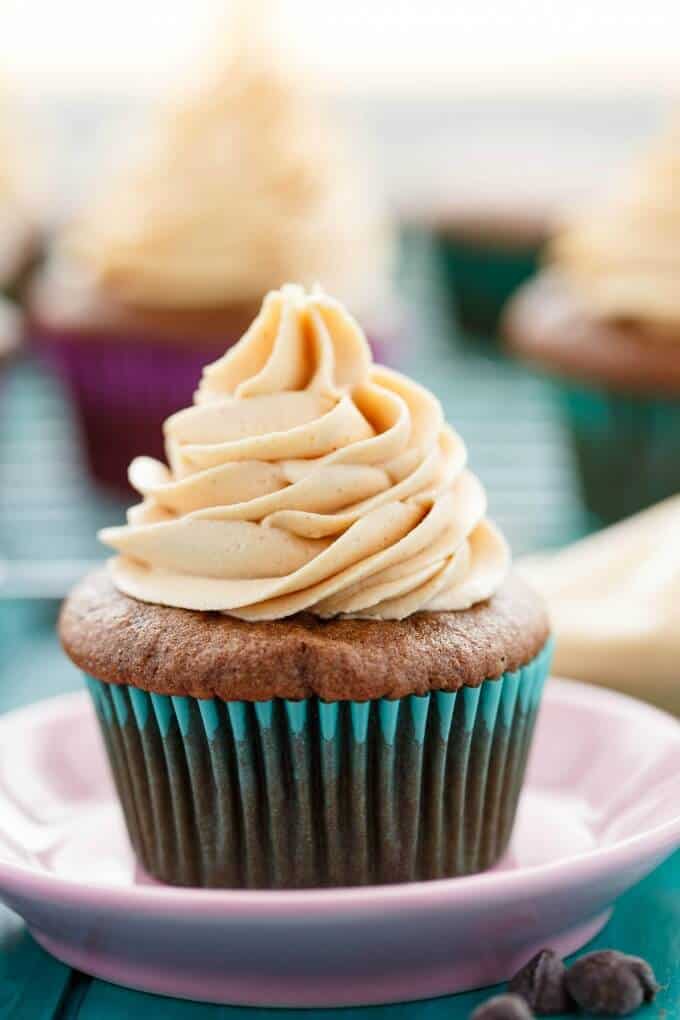 I have had the pleasure of working with Robin Hood Nutri Flour Blend- Gluten-Free (note: I have not been contacted by Robin Hood in any means. All opinions are my own.) One thing I enjoy about this flour blend is the ease of use. All you need to do is purchase some xanthan gum to help with the binding in your recipes. I find this conveniently easy because a lot of other gluten-free baking recipes include 3-4 different types of flours (anywhere from quinoa to coconut, etc.) and personally, it is hard enough finding those obscure flours let alone any of the other unique ingredients the recipe calls for.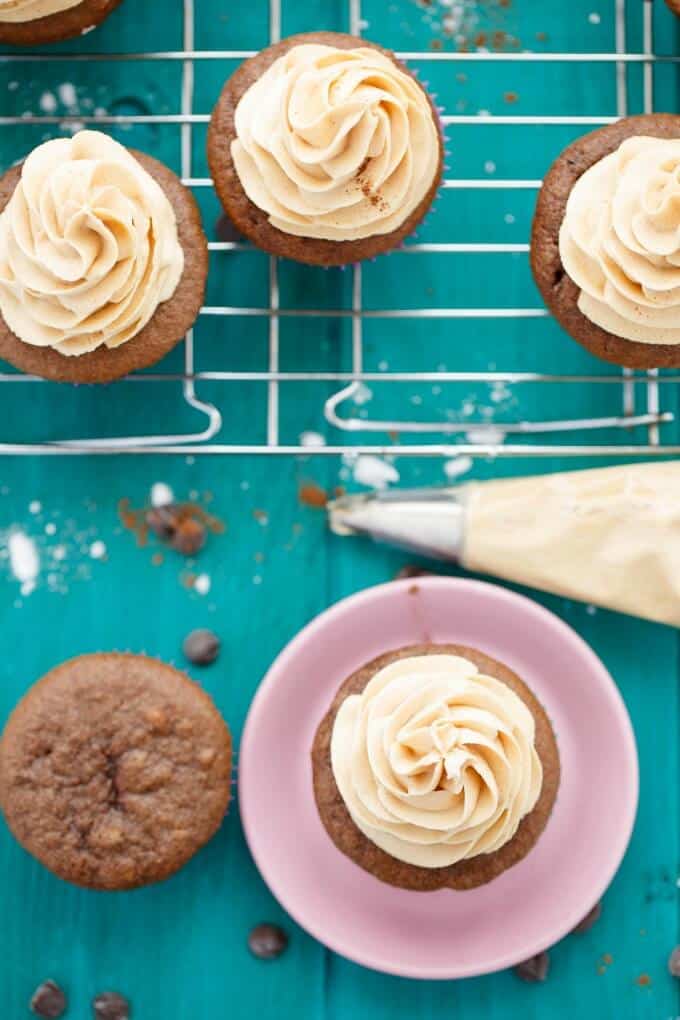 Don't get me wrong, I would love to try some of these crazy and delicious looking gluten-free desserts, but finding some of the ingredients is impossible, and once they are found they are super expensive. However, if you have a gluten allergy like my mother-in-law, and really want an awesome gluten-free dessert, you may have to push the price of these ingredients aside.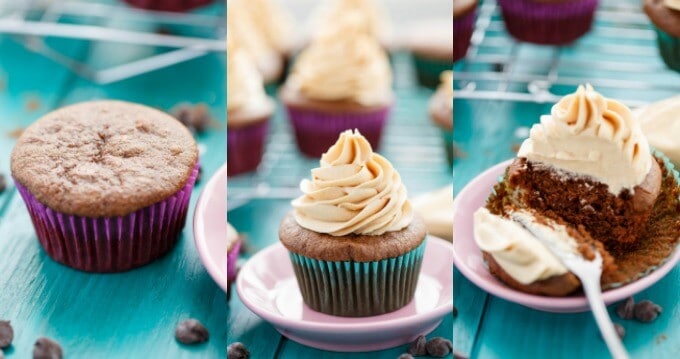 Thankfully, the Robin Hood Nutri-Flour Blend- Gluten-Free is readily available and they provide some recipes on their site. I decided to try my hand at their gluten-free chocolate cupcakes and topping with a homemade peanut butter frosting. They were surprisingly awesome! One thing I note about this flour is it does have a texture. Almost like the flour is grainy, similar to a whole wheat flour. We don't mind the texture and taste at all, but I am putting that warning out there. Since gluten-free desserts can sometimes be dry (which definitely wasn't the case here, but I wasn't sure how the cupcakes would turn out the first time), I wanted my gluten-free chocolate cupcakes to be topped with a rich, creamy icing. I figured peanut butter was a safe choice, and who does not like peanut butter and chocolate?!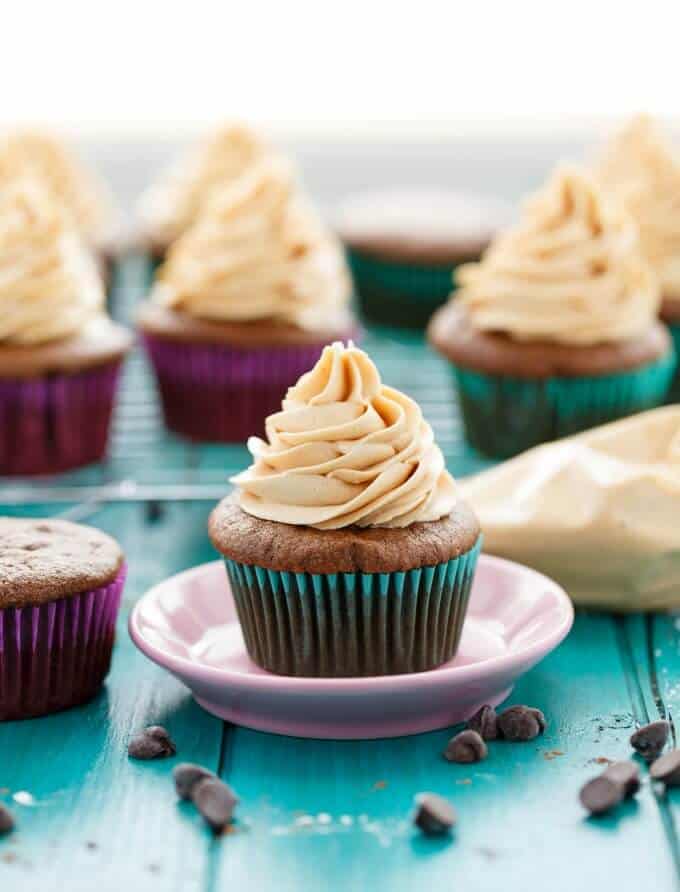 📖 Recipe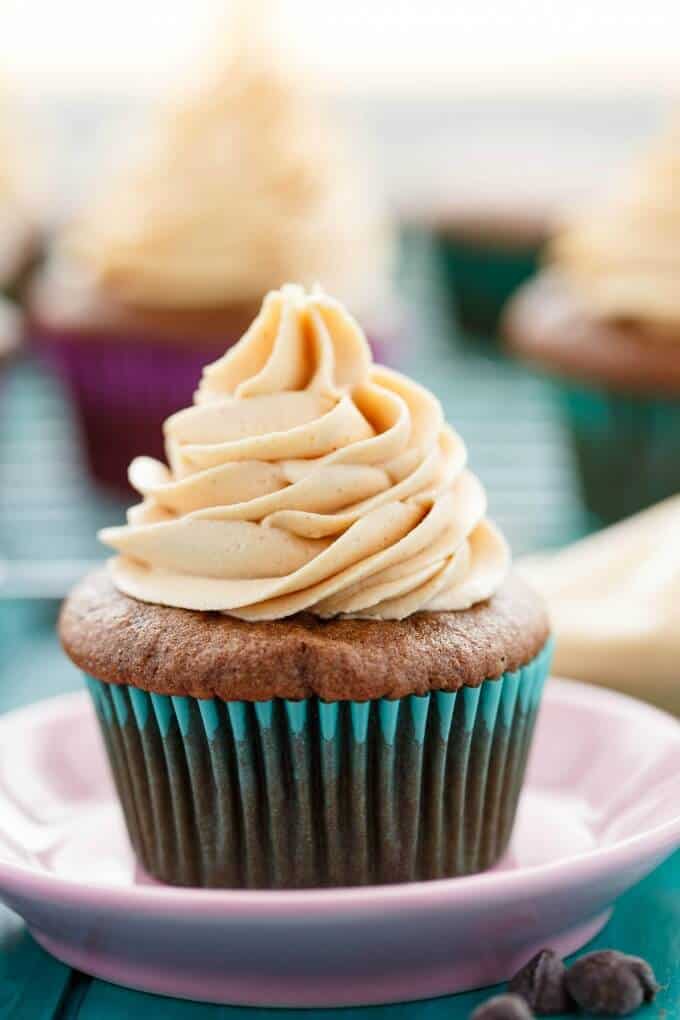 Gluten-Free Chocolate Cupcakes with Peanut Butter Frosting
The addition of rice flour really helps bring this cupcake together! Unlike traditional cake batter that requires minimal mixing, you want to really mix this recipe as it helps create air bubbles (lighter cake!)
Ingredients
½ cup Robin Hood Nutri Flour Blend Gluten-Free
½ rice flour
1 tbsp. unsweetened cocoa powder
½ tsp. ground cinnamon
1 tsp. baking soda
⅛ tsp. salt
½ tsp. xanthan gum
¼ cup coconut oil, room temperature
1 cup brown sugar
1 egg, room temperature
1 ripe banana
1 tsp. vanilla
¼ cup chocolate chips, melted and cooled slightly
½ cup gluten-free yogurt
½ cup brewed coffee
Peanut Butter Icing
1 cup peanut butter
½ cup butter, room temperature
2 ½ cups confectioners' sugar
½ tsp. vanilla
1-2 tbsp. heavy whipping cream (more if needed to achieve the right consistency.)
Instructions
Preheat oven to 325F. Line cupcake pan with liners.
Add coconut oil and sugar to the bowl of your stand mixer. Beat until light and fluffy, about 5 minutes. While the oil whips, sift together the flours, cocoa powder, cinnamon, baking soda, salt, and xanthan gum. Set aside.
Add in the egg to sugar mixture and beat until combined. Stir in vanilla and chocolate. Stir in yogurt and banana. Add the flour and mix for a good couple of minutes (even 5, as gluten-free batters need more air!) Carefully add the hot coffee mixture.
Divide into the cupcake liners (about ¾ full) and place into oven, baking for approximately 16 minutes. Allow to cool slightly in the baking pan and then move cupcakes to a wire rack to finish cooling.
To make the icing
Combine the butter and peanut butter into the bowl of the stand mixer. Whip for about 4-5 minutes. Add in the icing sugar along with the vanilla. Pour in the heavy cream, adding more if necessary for the right consistency.
Nutrition Information:
Yield:

12
Serving Size:

1
Amount Per Serving:
Calories:

494
Total Fat:

26g
Saturated Fat:

12g
Trans Fat:

0g
Unsaturated Fat:

11g
Cholesterol:

39mg
Sodium:

310mg
Carbohydrates:

62g
Fiber:

2g
Sugar:

43g
Protein:

8g
I find this flour appropriate for people who have to follow a gluten-free diet and are not big into baking. I know some do not want to buy a ton of ingredients, only to have them sit there and go to waste. However, if you are into baking and love to experiment, I really suggest looking up gluten-free baking recipes. There are some really neat ideas out there and truthfully, some recipes turn out so good you can't even tell they are gluten-free! For us though, these gluten-free chocolate cupcakes were a nice change and packed full of deliciousness. I do recommend giving them a try. Make sure to keep an eye on the cupcakes as they cook as you really not want to overcook them!
UPDATE: When making traditional baked goods, you want to mix the batter until the flour is JUST combined. However, with gluten-free baking, you want to mix it much longer because there is no gluten in the flour. This way, you create air bubbles that should help with the texture of the cake!
Love these gluten-free chocolate cupcakes with peanut butter frosting?! Try some of these recipes: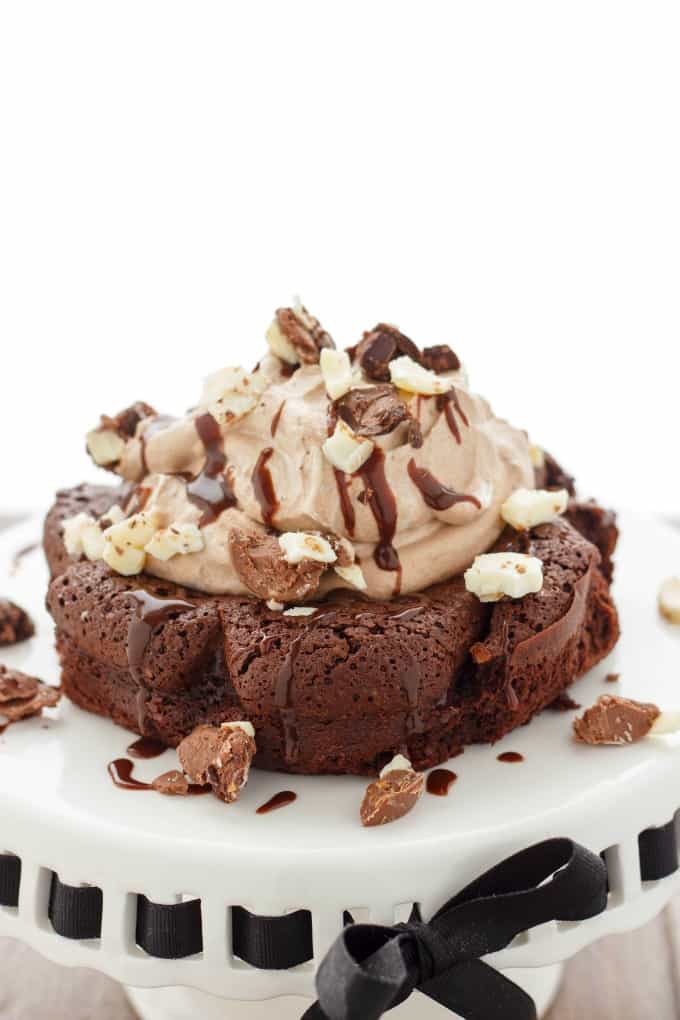 Gluten-Free Double Chocolate Torte with Chocolate Mousse