Move over general tso's chicken!! Us vegetarians (and vegans) have a wonderful side dish: General Tso's Cauliflower! I ate mine as a full meal 🙂
I fully admit I am greedy when it comes to food!
My husband's ringtone on his phone for my caller id is Daffy Duck shouting "it's mine, it's all mine!"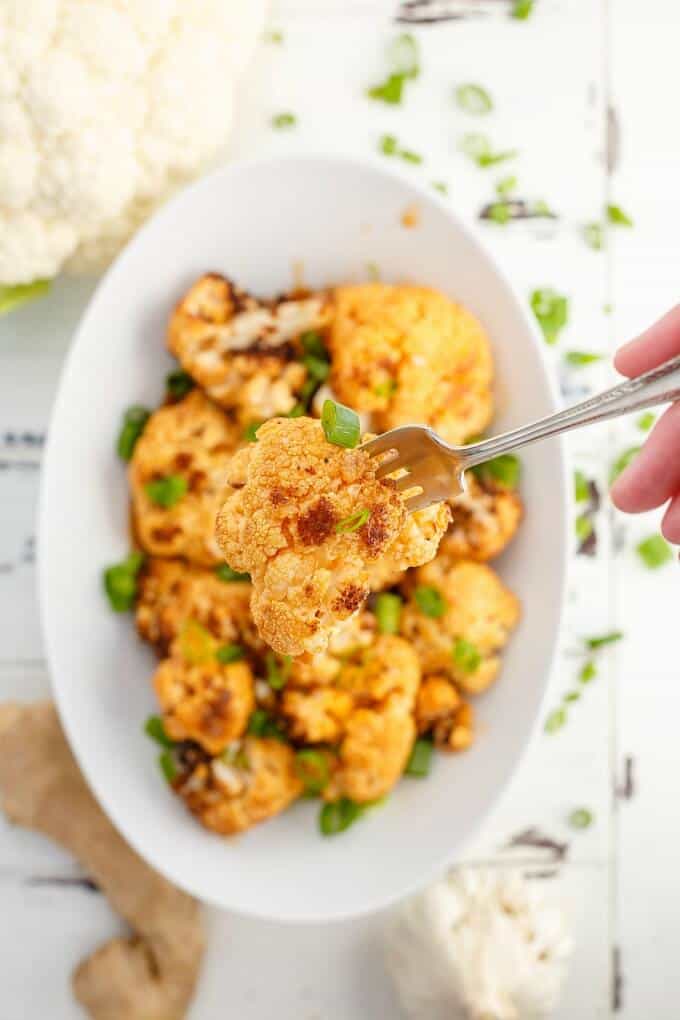 With today's general tso's cauliflower, I won't lie: I ate 95% of this meal! My stomach kind of hated me later, but it was worth it! I would do it all again 😉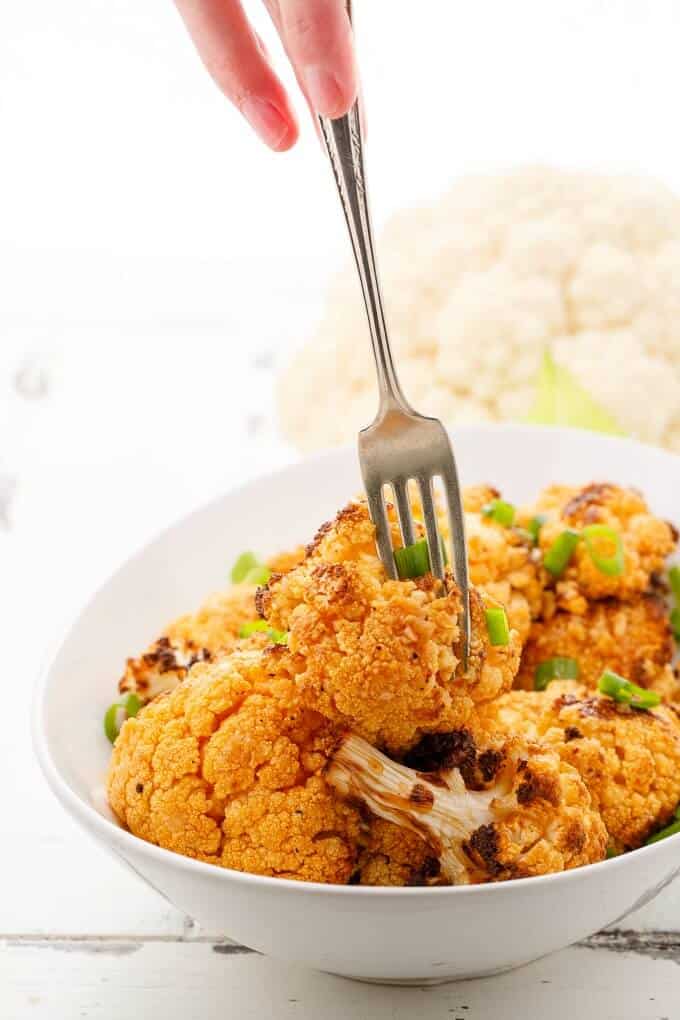 I know when it comes to general tso's sauce that the meal is usually smothered in it. It may be hard to tell in the pictures, but there is quite a bit of sauce in with the cauliflower! I think for photos I would have liked to have had more sauce just to showcase that beautiful red color. However, the cauliflower itself definitely had that bold saucy taste!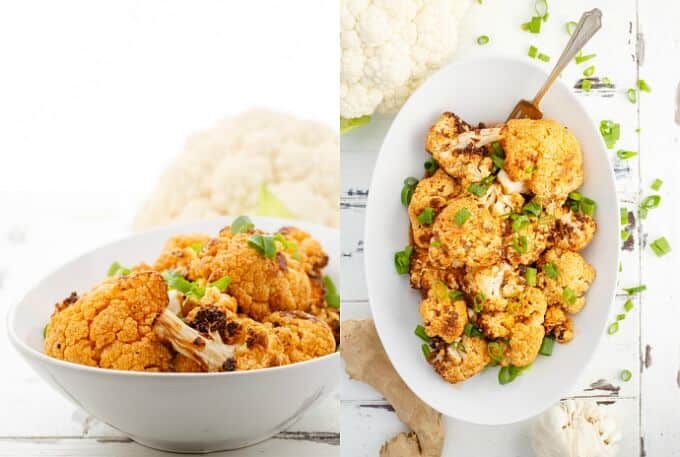 General's tso's cauliflower is a really easy side dish! I like the idea of it on my dinner table for the holidays (except my mother-in-law cannot eat cauliflower!!! More for us, then, haha!) The cauliflower is based off my oven-roasted cauliflower recipe. The sauce comes from all my previous general tso's interpretations but I use vegetable broth instead of chicken to keep it "safe" for non-meat-eaters. Meat-eaters can easily use chicken broth if desired.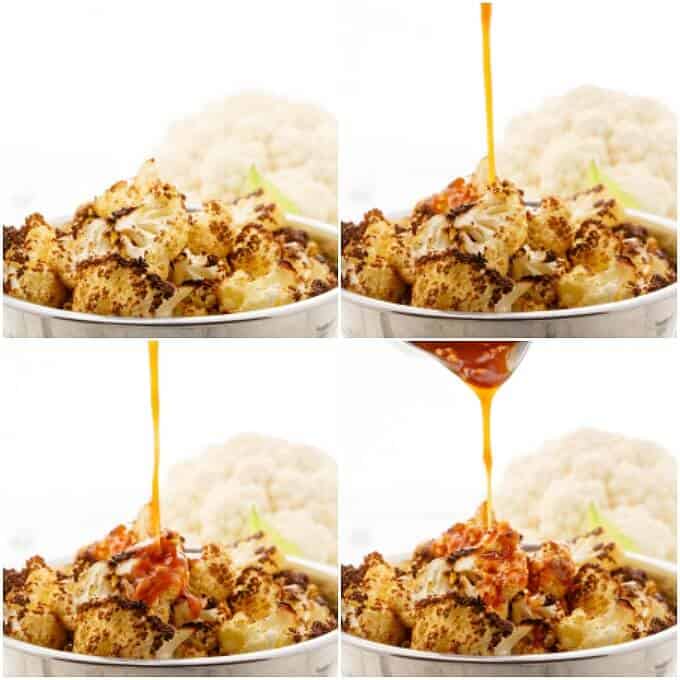 I really, really love this recipe! I have another idea using cauliflower and general tso's sauce that is more of a casserole. We will see how that works out, but for now I will enjoy this fun dish! It is also gluten-free friendly if you sub in the appropriate soy sauce 🙂
📖 Recipe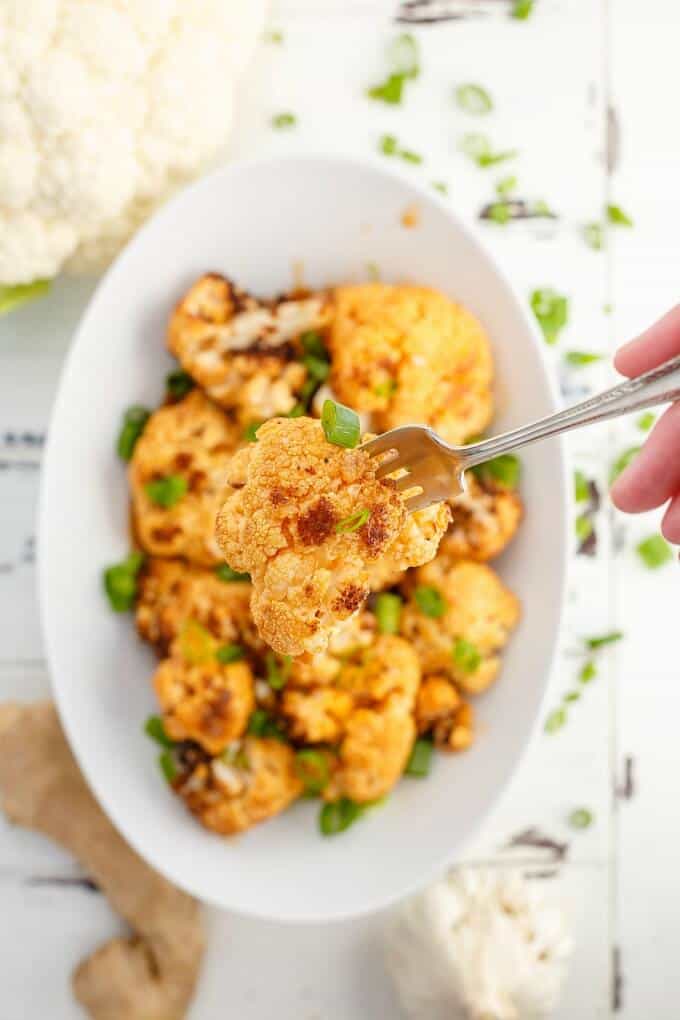 General Tso's Cauliflower (Vegan/Gluten-Free)
General tso's cauliflower can be a side dish or a vegetarian main dish!
Ingredients
1 large head of cauliflower, washed and cut into florets.
¼ tsp. salt
¼ tsp. black pepper
¼ tsp. red chili flakes (can omit if worried about spice!)
2-3 tbsp. olive oil (depending on the size of your cauliflower, you may need more!
Sauce
1 tsp. vegetable oil (or another flavor-less oil)
¾ cup vegetable broth
1 tbsp. tomato paste
2 tbsp. soy sauce
2 tbsp. seasoned rice vinegar
1 tsp. sesame oil
3 tbsp. granulated sugar
1 tbsp. cornstarch
4 garlic cloves, minced
1 tsp. freshly minced ginger
Salt and pepper
Chili flakes if desired
Instructions
Preheat oven to 450F.
Toss cauliflower with oil and seasonings until well coated, adding more oil if necessary.
Place onto baking sheet lined with parchment paper or silicone liner. Bake for 20-25 minutes, or until tender and golden brown (you will have to toss the cauliflower frequently so it doesn't burn.)
Sauce
While cauliflower is cooking, make the sauce.
In a small saucepan add vegetable oil and place over medium heat. Add garlic, ginger and cook until fragrant, about 1 minute. Stir in tomato paste and mix constantly for 1 minute. Mix together ½ cup broth, soy sauce, vinegar, sesame oil, sugar, salt, pepper, and dried chili flakes. Pour into pan and stir, bringing to a simmer. Cook for 1-2 minutes. Mix the remaining ¼ cup broth and cornstarch together, pour into pan and simmer for 3-4 minutes, or until the sauce has thickened. Remove from heat.
Pour sauce over cauliflower and garnish with green onions!
Notes
We are roasting the cauliflower at high temperatures so toss often to prevent burning!
Nutrition Information:
Yield:

4
Serving Size:

1
Amount Per Serving:
Calories:

343
Total Fat:

24g
Saturated Fat:

3g
Trans Fat:

0g
Unsaturated Fat:

20g
Cholesterol:

0mg
Sodium:

841mg
Carbohydrates:

29g
Fiber:

9g
Sugar:

18g
Protein:

8g
Love this general tso's cauliflower?! Try some of these recipes: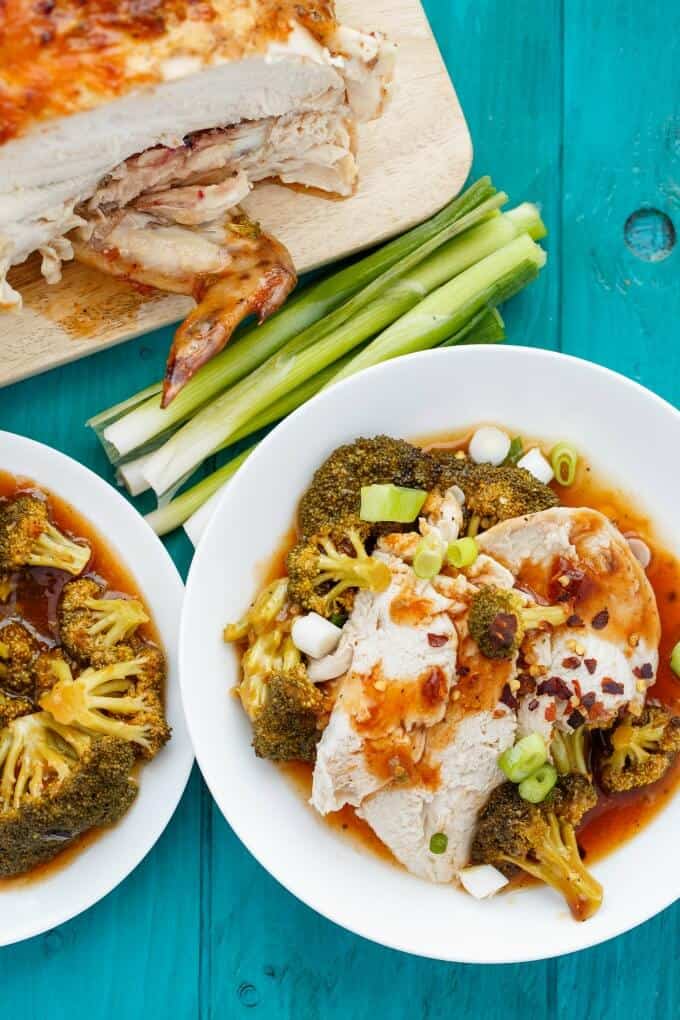 General Tso's Whole Chicken in the Slow Cooker