I love some good ole chocolate cookies for Valentine's Day. But why not take it a step further with these Cookies 'n' Cream stuffed cookies?!
I am in love with these cookies!
Let me tell you, I have had the idea set in my mind for some time, but every time I bought the Hershey's Cookies 'n' Cream bars I would eat them before I actually got around to making the cookies... Don't judge!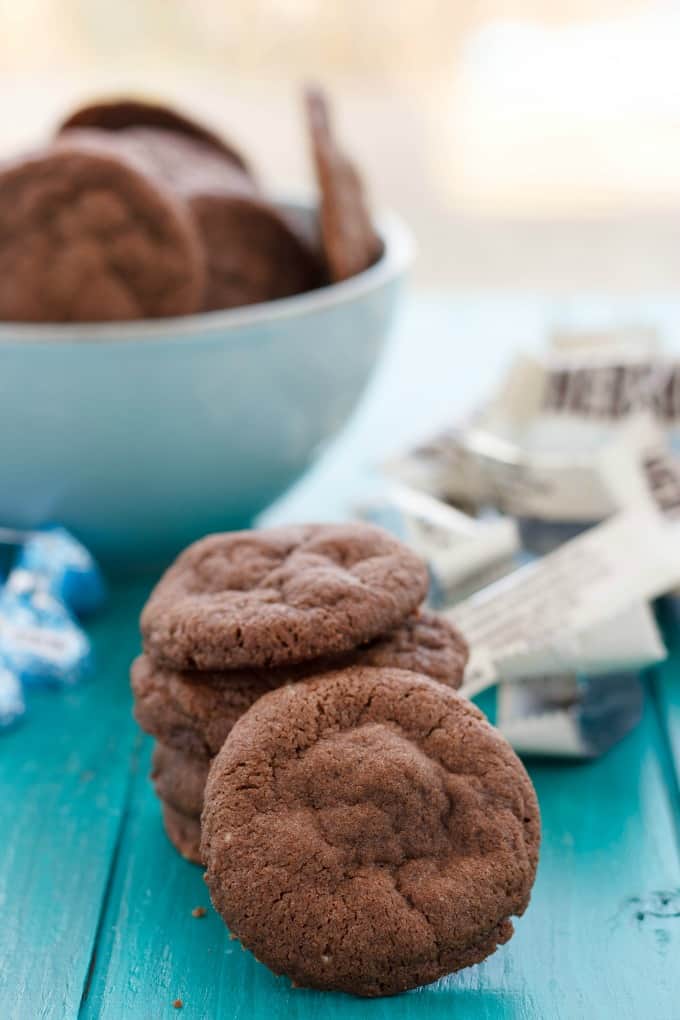 These Cookies 'n' Cream stuffed cookies remind me of high school. My friend, Jess, would make a very similar recipe (now that I think about it, I should really ask her for it!) and we all loved them! Her mom was also the only person we knew with a Kitchen Aid stand mixer, so she had that going, too 😉 That being said, these cookies are soooo easy. I actually adapted my soft and chew chocolate chip cookies recipe and turned them into these awesome stuffed ones!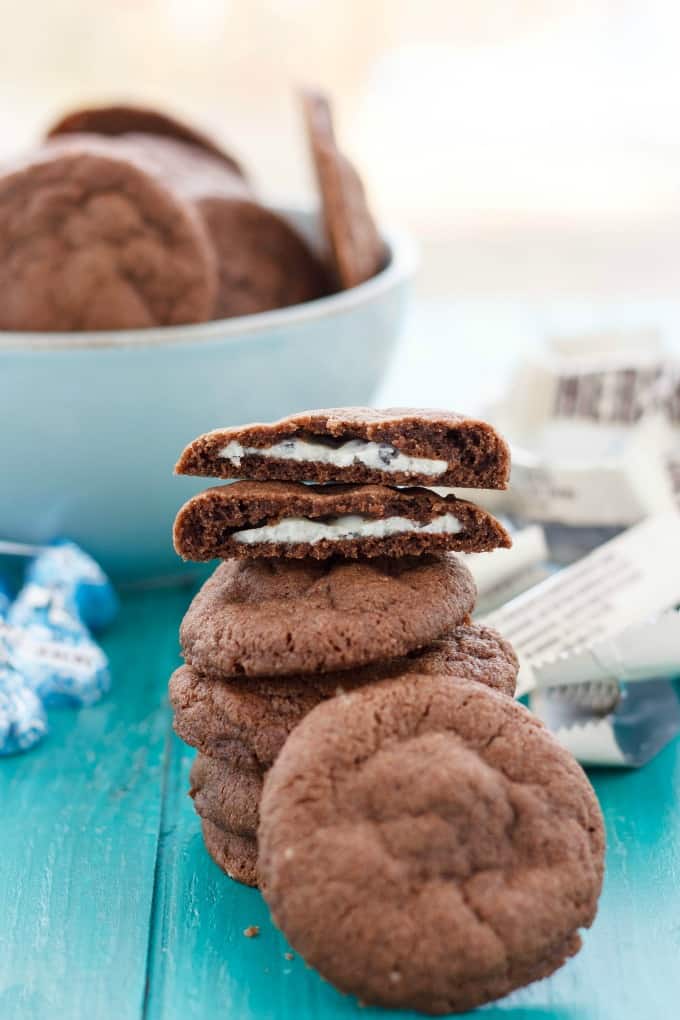 I compensated the flour ratio for the added cocoa powder. I always use a cookie scoop to measure out my cookies and these held up quite well. You may want to flour your hands lightly to help keep the dough from sticking (it was minimal, but rolling the dough around the chocolate pieces did add some heat.) Now, I am never one of those people to ever refrigerate their cookies before baking. I know some swear by it, but I usually do not have time (and I still want to experiment with it,) but since we are rolling and manipulating the dough here, you want to set these cookies in the refrigerator 10-15 minutes before baking to ensure they hold their shape. Otherwise, sit back and wait patiently for these Cookies 'n' Cream stuffed cookies to finish baking!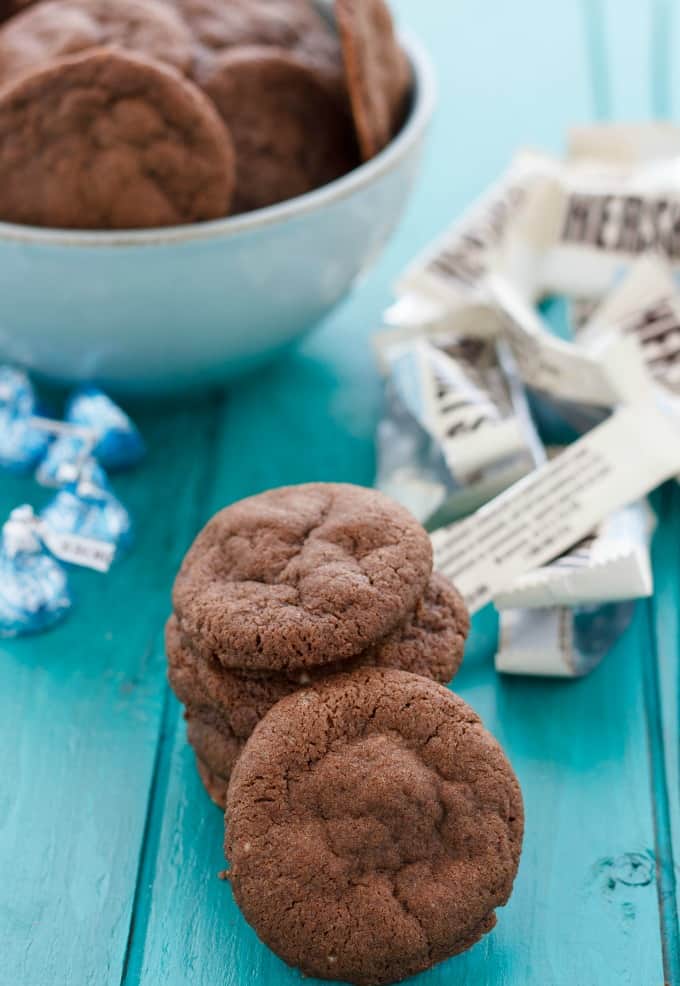 📖 Recipe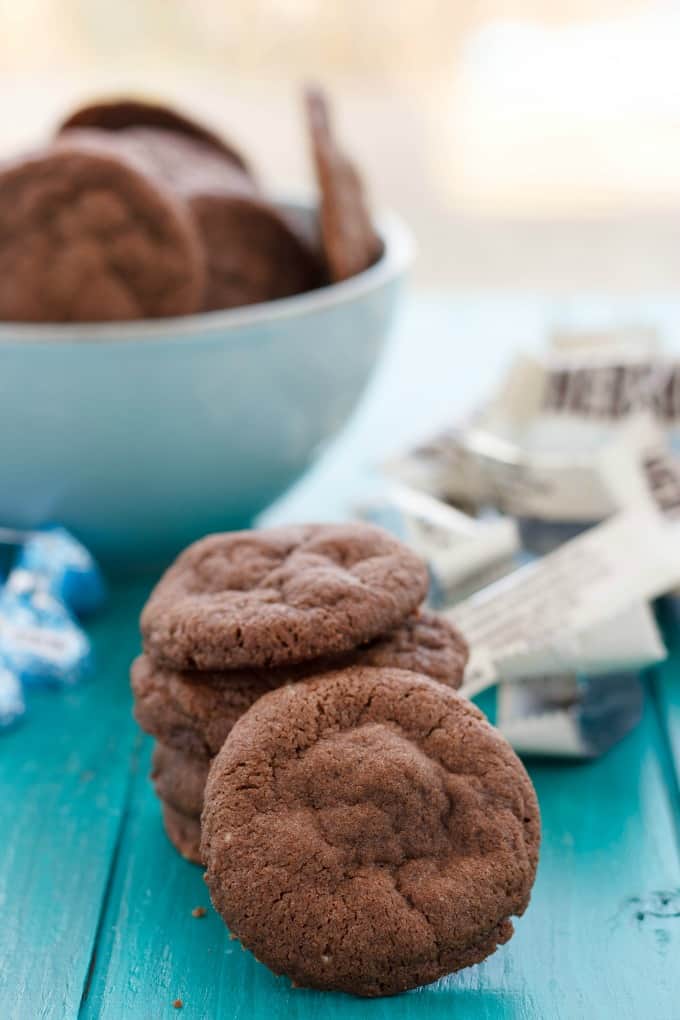 Cookies 'n' Cream Stuffed Cookies
What is better than chocolate cookies?! Cookies 'n' Cream Stuffed Cookies!! These are so easy, and filled with that Hershey's goodness!
Ingredients
½ cup packed brown sugar
½ cup granulated sugar
1 cup butter, softened
1 tsp. vanilla extract
1 egg, room temperature
1 ¾ cups all-purpose flour
¼ cup cocoa powder
1 tsp. baking soda
¼ tsp. salt
3 full-sized Hershey's Cookies 'n' Cream bars
Instructions
In the bowl of a stand mixer, add the butter and sugars. Beat until light and fluffy. Pour in the egg and vanilla and mix until combined.
In a small bowl, sift together the flour, cocoa powder, baking soda, and salt. Gradually add to the butter mixture, mixing until just combined.
Preheat oven to 350F. Line a baking sheet with parchment paper or silicone liner.
Measure out one tablespoon-sized portions and flatten in the palm of your hand. Add one piece of Cookies 'n' Cream here and roll into a ball. Continue doing this until no dough remains.
Place dough into refrigerator for a minimum of 10-15 minutes before baking!
Bake 12 cookies at a time, spread evenly apart, for about 9-10 minutes. Remove from oven and allow to cool for a couple of minutes on the tray before moving to a cooling rack.
Nutrition Information:
Yield:

36
Serving Size:

1
Amount Per Serving:
Calories:

98
Total Fat:

6g
Saturated Fat:

3g
Trans Fat:

0g
Unsaturated Fat:

2g
Cholesterol:

19mg
Sodium:

97mg
Carbohydrates:

11g
Fiber:

0g
Sugar:

6g
Protein:

1g
My husband's coworkers loved these cookies and he actually had one text him asking for the recipe before I posted because she specifically went out to buy the Hershey's Cookies 'n' Cream bars for this recipe (no affiliation!) I actually used the mini bars for this recipe, but the big ones will work, too. Just remember to break them down in size so they fit into the dough! I personally think these are a great, easy dessert for Valentine's Day that takes little effort (and it will sure to impress!)
Love these Cookies 'n' Cream stuffed cookies?! Try some of these recipes: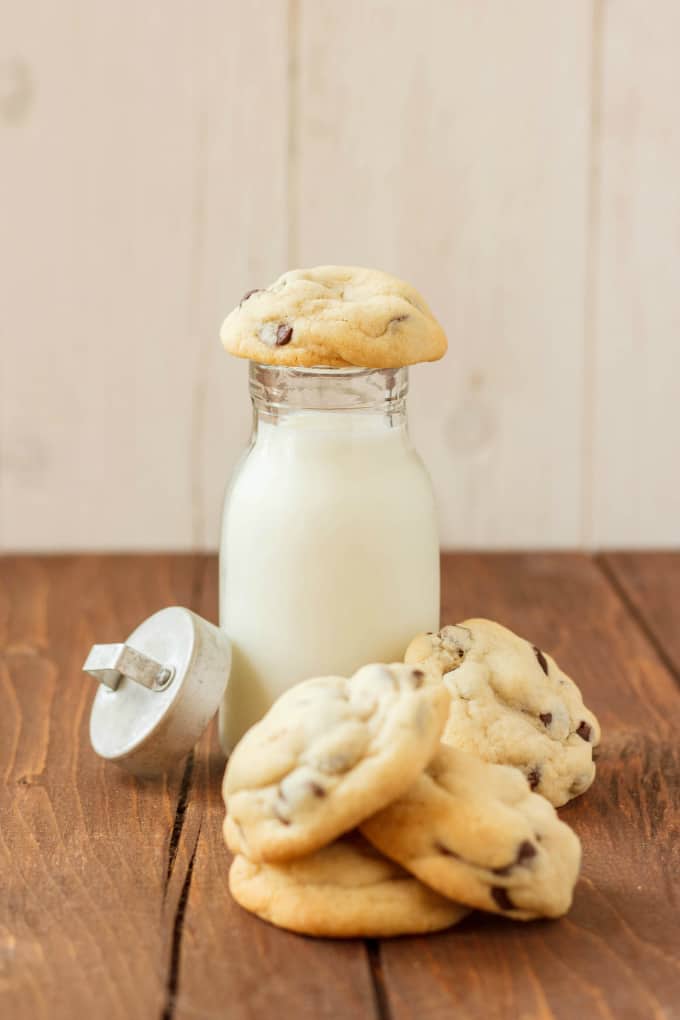 Soft and Chewy Chocolate Chip Cookies