Christmas or Valentine's Day, these chocolate dipped shortbread cookies are super simple and yield great flavor! Make them any time of the year 🙂
Today I present to you, my favorite Christmas cookie: Chocolate dipped shortbread cookies!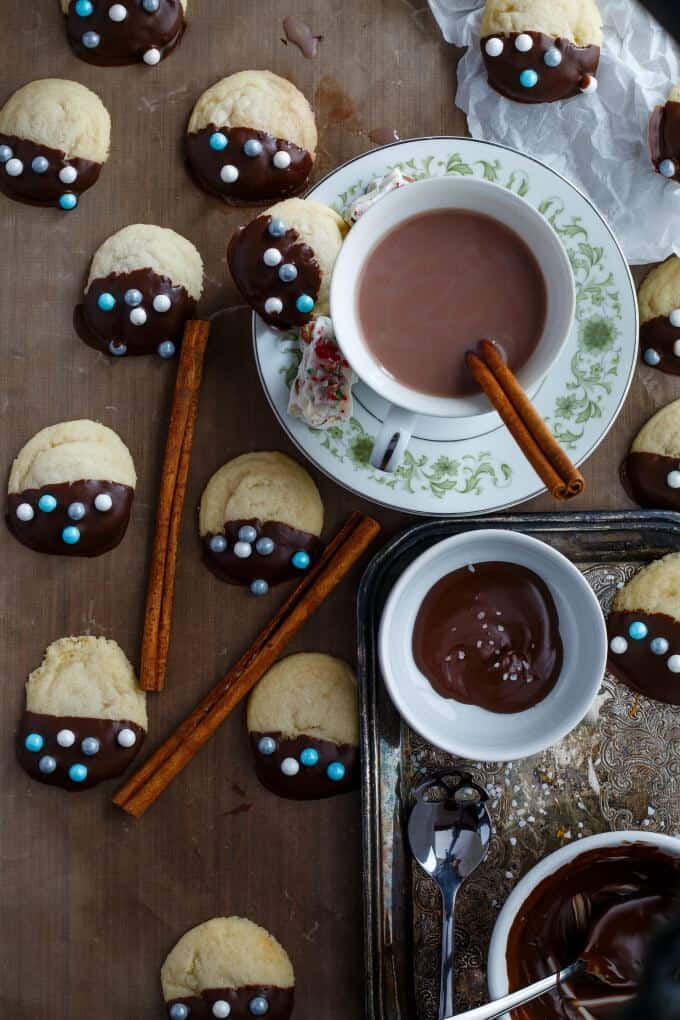 I can never have enough of these bad boys, and it seems like others hop on the bandwagon once they try my recipe. I make them every Christmas, no matter what, and have deemed them "my Christmas cookie" even though credit must be given to Uncle Bill at Food.com! Though, when I say "my Christmas cookie," I totally mean these are my favorite, go-to, melt-in-your-mouth, delicious shortbread cookies. They are that good!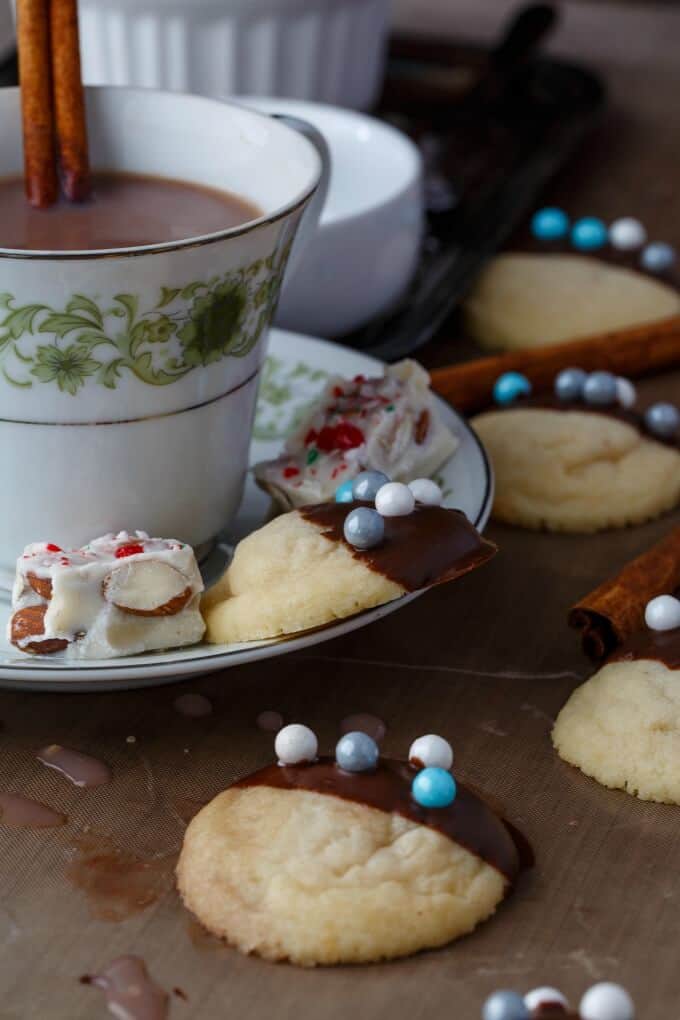 I usually top the shortbread cookies with Hershey's Kisses shortbread cookies, but this year I received an abundance of Hershey's Chipits and there was no way I was passing up the chance to use these delicious chocolate chips. Not only did I dip my shortbread cookies into melted semi-sweet chocolate, but I also topped some with mini Reese's pieces Chipits. UPDATE: This time around I went with more of a festive theme, but you can decorate your cookies with whatever topping you like!
Chocolate upon chocolate, with a hint of peanut butter. I sense nothing going wrong here! Mr. TCW took in the extra cookies for his coworkers and they seemed to be really pleased with them since none returned home with him!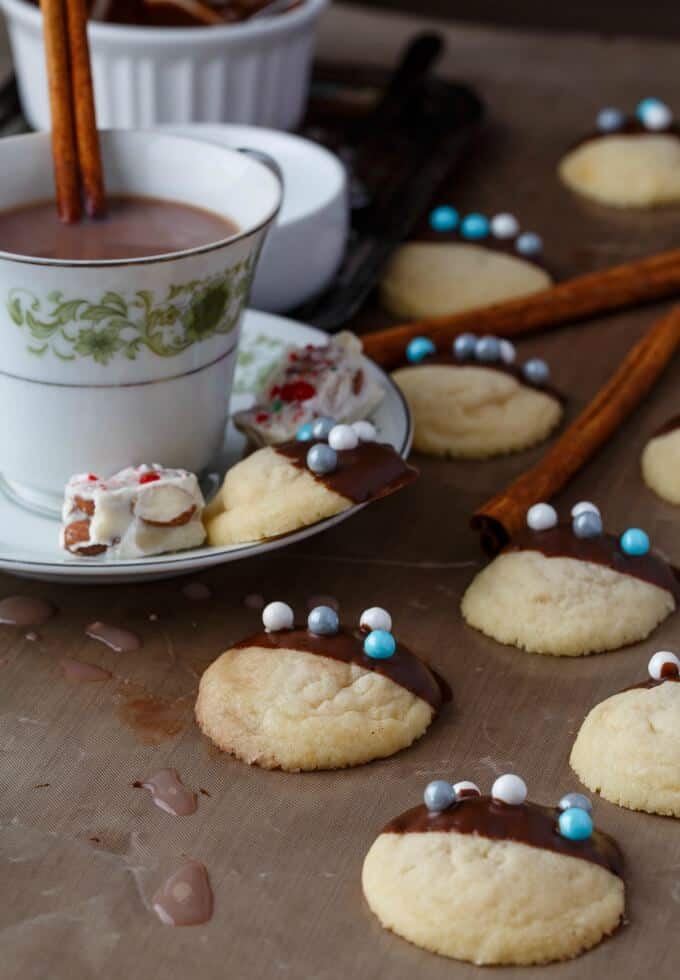 Feel free to use any chocolate you like. I am talking milk chocolate, white chocolate, butterscotch, you name it, it will work! I cannot emphasize enough how much I love these cookies. Chocolate or not, they are delicious! I even made a batch of these using matcha powder to create Grinch cookies using all natural food coloring (the matcha green really comes through!) Don't be scared off from the amount of butter, they are suppose to be tender, flaky, and so soft!
📖 Recipe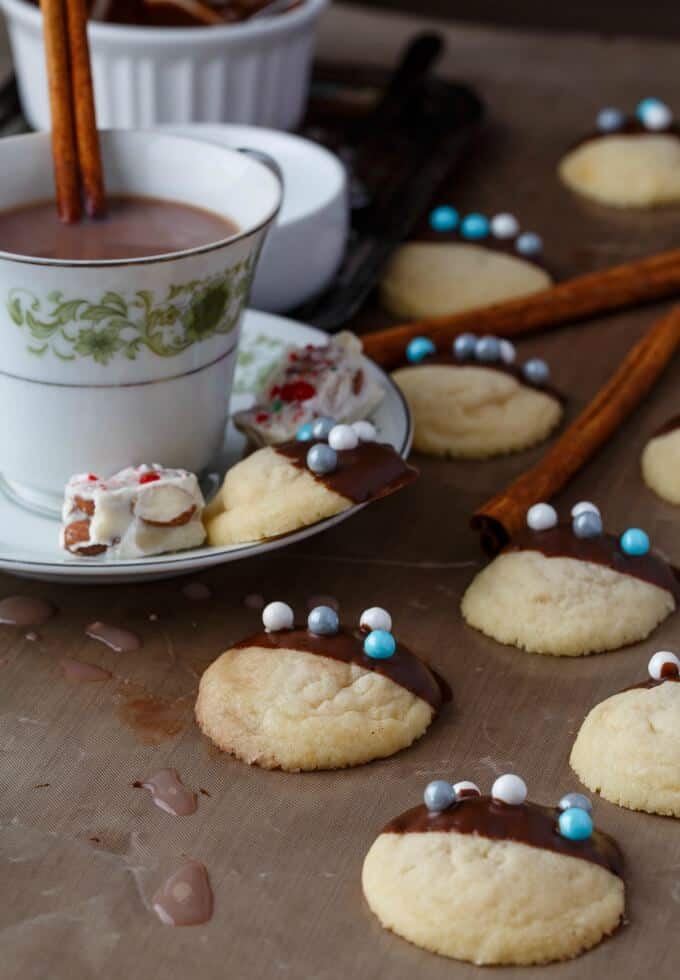 Shortbread Cookies Dipped in Chocolate
Perfect any time of the year, but I deem shortbread the winner of Christmas cookies!
Ingredients
1 cup butter, room temperature
1 ½ cups all-purpose flour
¼ cup confectioners' sugar
¼ cup granulated sugar
¼ tsp. almond extract
¾ cup chocolate (I used semi-sweet)
1 tsp. coconut oil
Additional chocolate for decorating (I used mini Reese's pieces.)
Instructions
Preheat oven to 350F. Line baking sheet with parchment paper or silicone liner.
Add butter and sugars to the bowl of your stand mixer. Beat until light and fluffy, about 5 minutes. Mix in almond extract. Add flour and mix until just combined.
Measure out dough by the tablespoonful. Roll the dough into balls and evenly space out 12 cookies per baking sheet.
Bake for 11-13 minutes or until the bottom edges are lightly browned. DO NOT OVER-BAKE!
Allow to cool for 5 minutes on baking sheet. Finish cooling on wire racks
Once cool, melt your chocolate and coconut oil together in the microwave in 30 second intervals until smooth. Take each cookie and dip it into the chocolate. Place onto a baking sheet covered in wax paper and repeat until no cookies remain. Decorate with additional chocolate before the melted chocolate solidifies. Leave at room temperature to firm up or for quicker results, stick the pan into the refrigerator for 10 minutes.
Notes
The chocolate does not do well at room temperature, so I suggest storing these in a tin with wax paper between each layer to prevent chocolate from melting over the other cookies.
Nutrition Information:
Yield:

24
Serving Size:

2 ½ dozen
Amount Per Serving:
Calories:

140
Total Fat:

10g
Saturated Fat:

6g
Trans Fat:

0g
Unsaturated Fat:

3g
Cholesterol:

22mg
Sodium:

65mg
Carbohydrates:

12g
Fiber:

0g
Sugar:

6g
Protein:

1g
10 days until Christmas, and still a billion recipes to share with you. I did not even have the chance to visit some of my other favorite Christmas cookies this year, such as the amazing
Caramilk Stuffed Snickerdoodles
. But I am impressed with all the recipes I have shared, and cannot wait to start off fresh in the new year with some healthy treats (I think everyone gets that feeling of overdoing it around the Christmas season.) But rest assure, I will still share delicious desserts and treats, because they are my favorite! I want to please everyone, so that shall be interesting (and fun!)
Love these chocolate dipped shortbread cookies?! Try some of these recipes: