Looking for a relatively healthy, simple, and delicious summer snack?! These baked eggplant pizza crust slices are calling your name! Gluten-free, vegetarian, and all the rage in this house!
Today's baked eggplant pizza crust slices are a long-living recipe in this household that I have finally gotten around to sharing on the blog!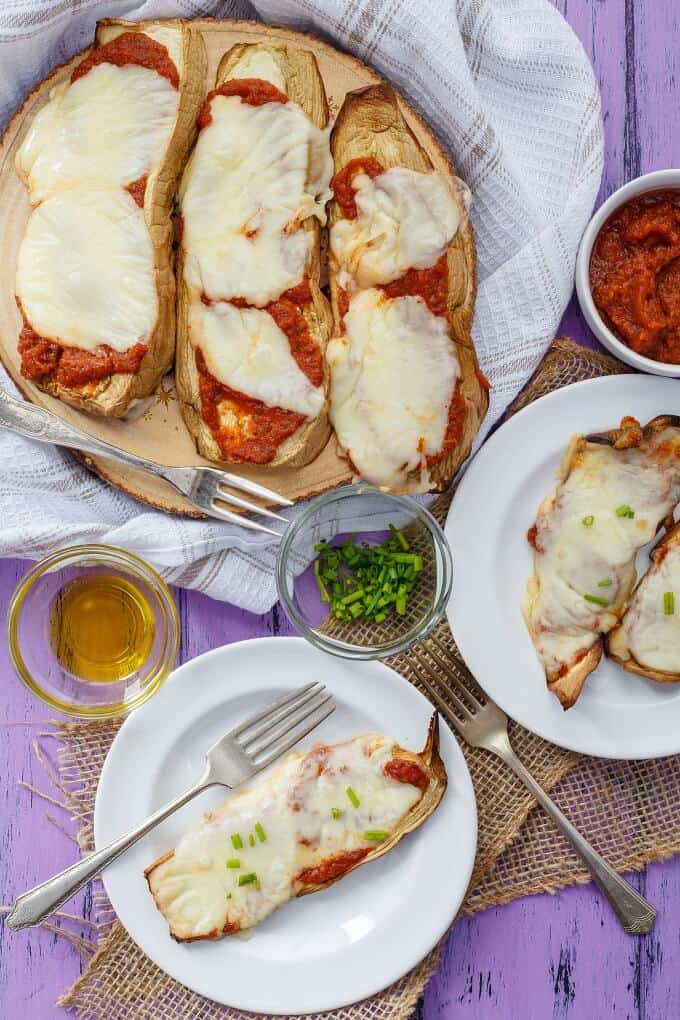 While I was attending university many years ago, I stayed with my aunt and uncle. My aunt would make a very similar dish and to this day I am amazed at how flavorful eggplant is!
Thankfully I live with two people who are not picky at all so we all get to enjoy these baked eggplant pizza crust slices!
Personally, as much as I LOVE eggplant, I do not dig the skin. Not at all. Nothing worse than biting into an eggplant Parmesan sandwich and having to gnaw through that skin... Arg, I hate even thinking about it! Feel free to leave the skin on if you like, but it only takes seconds to remove it.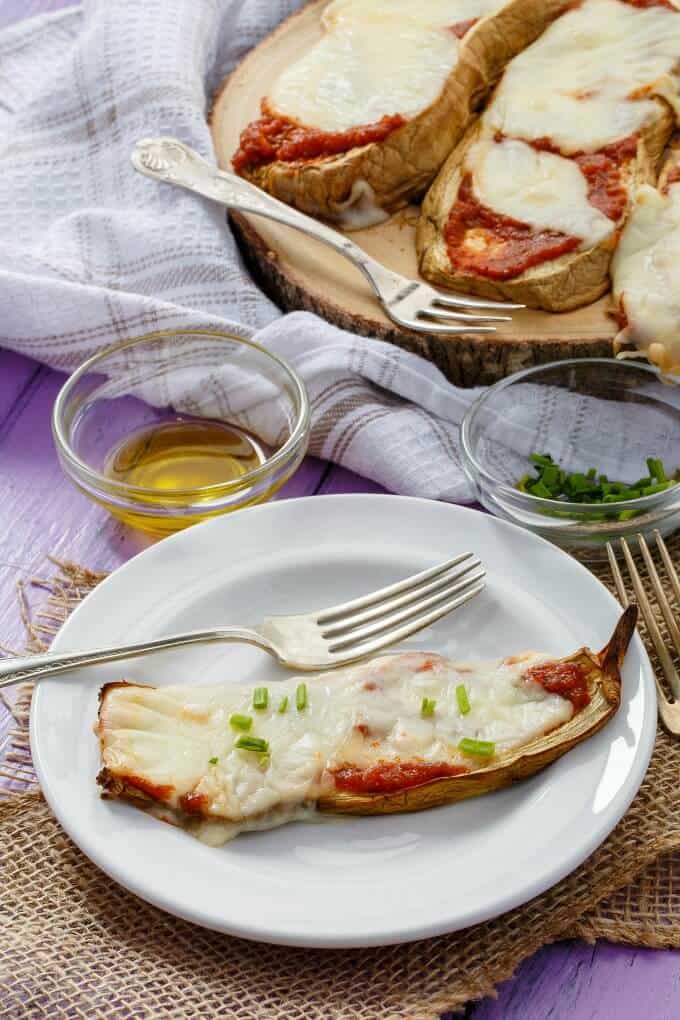 Many of you know I like making things difficult, but this recipe remains pretty simple! I did use my homemade herb pizza sauce, but your favorite store-bought brand will work here. Also, the meal is completely vegetarian and gluten-free! You can add on some extra veggies if desired 🙂
📖 Recipe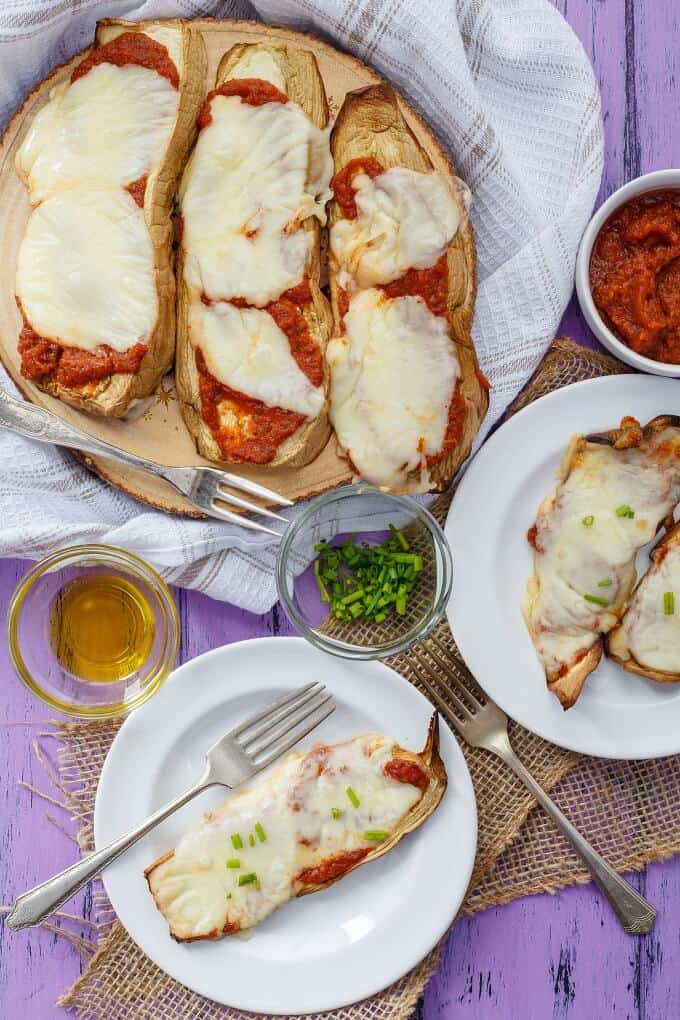 Baked Eggplant Pizza Crust Slices
A quick and delicious meal that can be made using homemade or store-bought sauce!
Ingredients
1 eggplant, skin peeled (mine was about 1 ½ lbs)
7 oz mozzarella cheese
1 ½ cups marinara sauce (store-bought or homemade)
Salt
2 tbsp. olive oil
Instructions
Trim and remove skin from eggplant. Slice into ¼-1/2 inch slices lengthwise.
Set onto rack and sprinkle with salt. Flip, and salt other side. Allow to rest for 20-30 minutes, or until water beads out of eggplant (this draws out the bitter flavors!) Pat dry.
Preheat oven to 425F.
Layer eggplant onto baking sheet lined with parchment paper or silicone mat. Lightly brush eggplant with olive oil. Place into oven and bake for 10 minutes. Flip: cook for another 10 minutes, or until golden brown.
Cover with sauce and cheese. Return to oven for 5 minutes or until cheese is melted.
Serve with chopped chives if desired!
Notes
Add any additional veggies you like that would fit onto your "pizza!" Don't skip the salting part: eggplant can be bitter and this helps remove those flavors.
Nutrition Information:
Yield:

4
Serving Size:

2-4
Amount Per Serving:
Calories:

308
Total Fat:

20g
Saturated Fat:

8g
Trans Fat:

0g
Unsaturated Fat:

10g
Cholesterol:

41mg
Sodium:

891mg
Carbohydrates:

21g
Fiber:

5g
Sugar:

10g
Protein:

14g
How many baked eggplant pizza crust slices you yield will all depend on the size of your veggie. Cook time may vary depending on the thickness of your eggplant slices (play around! You may prefer thicker or thinner slices.)
And honestly, the amount of cheese I use is just an estimate. I just pile it on there until no more fits! 🙂
Love these baked eggplant pizza crust slices?! Try some of these recipes: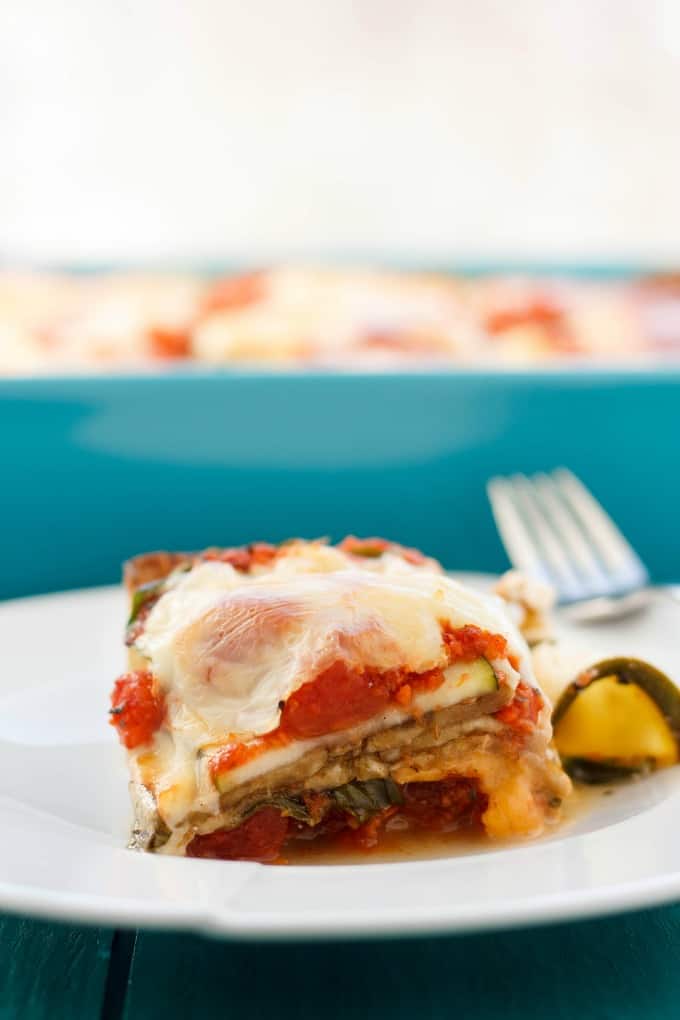 Eggplant and Zucchini Lasagna (No Pasta!)