Growing up, my parent's had pretty standard dinners. Pasta, pizza, home fries, etc. While they weren't gourmet, they got us by (I keep mentioning this, but my dad's huge dislike of onions really made our food... interesting.) I started cooking at a young age and have never fallen out of love with it (and hope I never do!) My skills have grown over the years, and one of my favorite things to do is take my childhood recipes and vamp them up.
While I am sharing with you a tutorial on how to make and grill homemade hamburgers, I am also divulging a family secret. Yes, that is right, I am spilling the beans!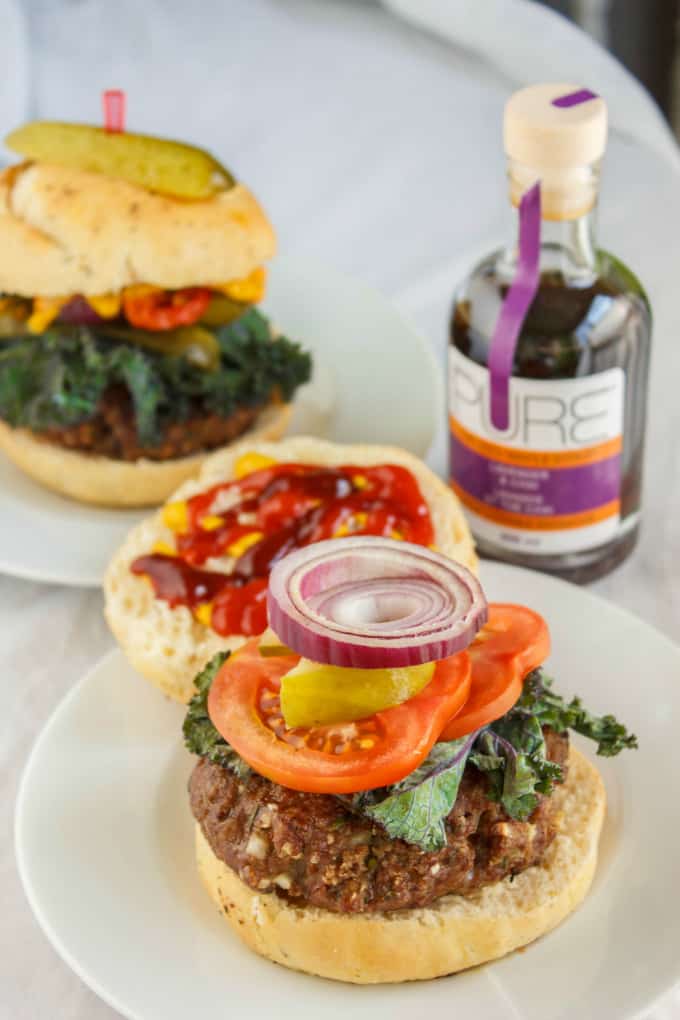 When my parent's would make homemade meatballs or hamburgers (namely my dad,) he, for some reason, mixed in a bit of maple syrup. Maple syrup. Well, probably more like that artificial stuff, but nonetheless, it was something unique and really added a sweetness to the recipe without going overboard. Since my childhood, I have always added a bit of maple syrup to my ground beef recipes. My husband noted immediately a sweetness to the recipe but loved it! Like I said, we are only adding a bit so we do not overkill the recipe. I no longer eat meat, but it was one of my favorite flavor combinations.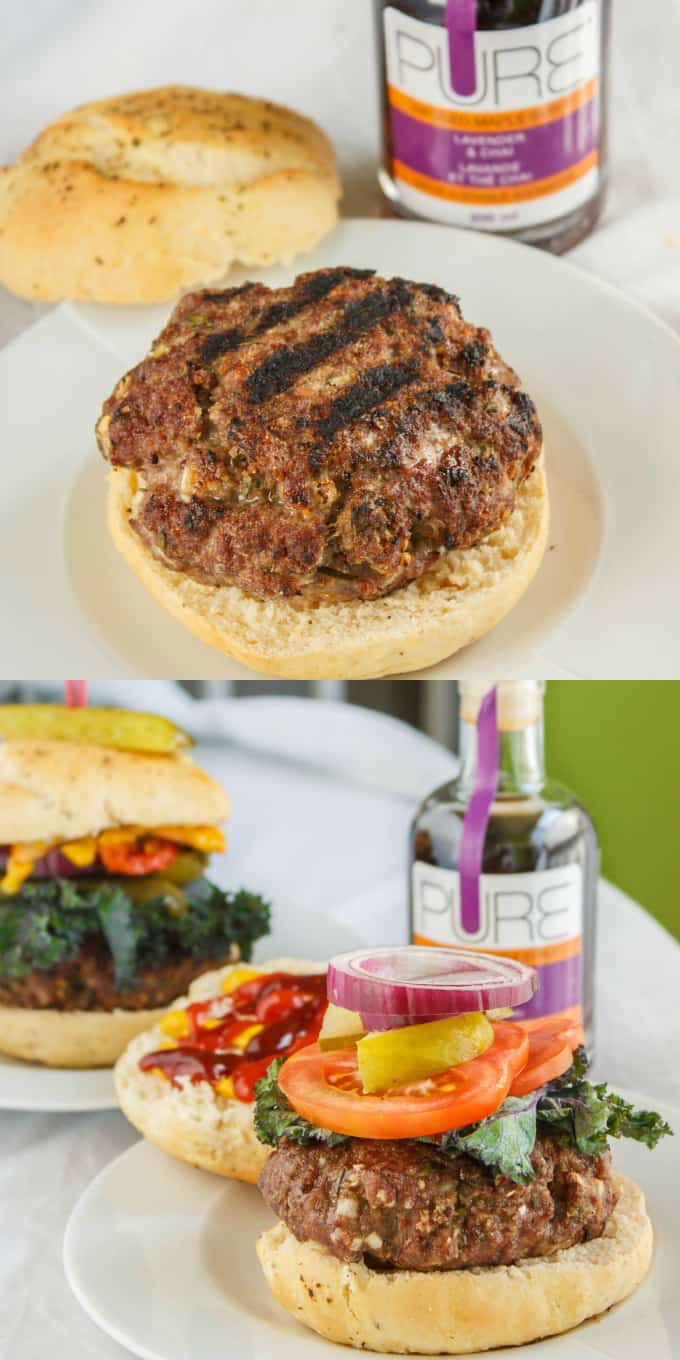 I had the opportunity to work with PURE Infused Maple Syrup and their awesome flavor combinations. I decided to revisit their syrups on my own accord because we enjoyed them that much (no affiliation; I did receive products from them in the past, but the opinions here are my own.) What I loved most was how these maple syrups were not those corn syrup creations: they are the real deal! And they sure make a difference in recipes. You all know the "maple syrup" I am talking about (she is a great Aunt, but that stuff is pure corn syrup and sugar.) Real maple syrup has a much milder sugar flavor I find. I especially noticed this in my burger recipe (I made portobello mushroom burgers that will be posted soon, and could taste the difference!) Usually I use MAX 1 tbsp. of "maple syrup" in burger recipes, but when it comes to the real deal, you could easily use more (or maybe it has to do with the infused flavoring in these syrups.) Either way, super impressed and I am so happy to share with you my family secret!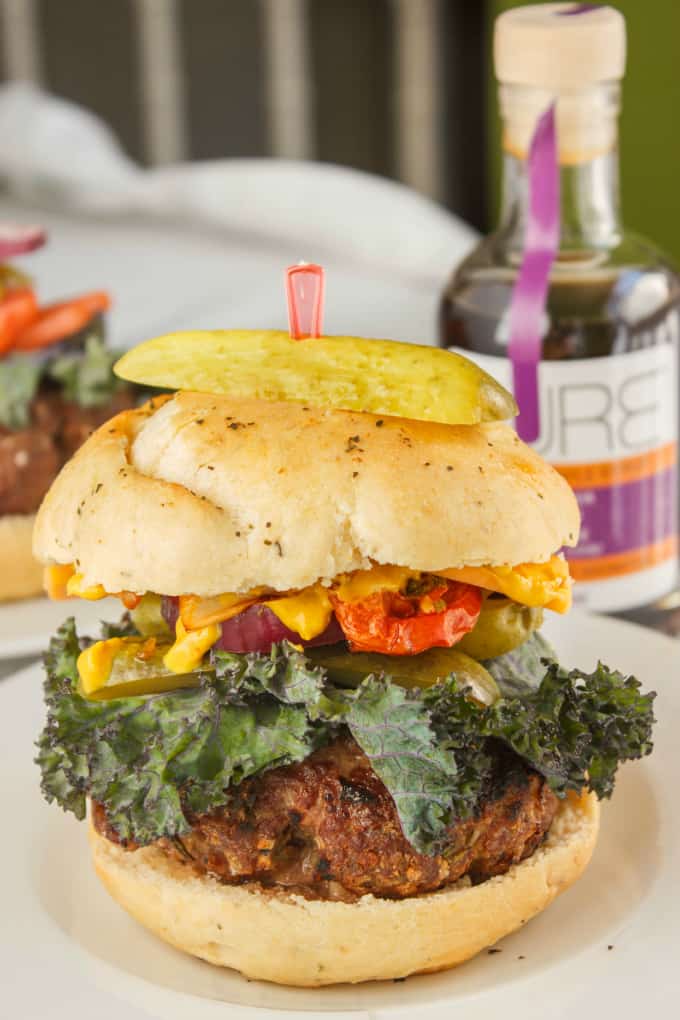 Now for the tutorial aspect on how to make and grill homemade hamburgers. It is not hard at all and the key thing is to not over-mix your meat. DO NOT OVER-MIX! I never knew this as a child, but as I have grown and cooked more and more, you learn a thing or two. My parent's probably still don't know about over-mixing, but I am making sure my daughter knows. Basically mix the meat and ingredients until everything is combined. No more. If you mixture feels loose or dry, add ingredients appropriately and mix again but really try and be careful! Shape into patties weighing all the same size. This is important because you want to cook your burgers evenly and different sizes mean different cooking times. I store my burgers in the fridge until ready to cook and once ready, I remove the burgers about ½ hour before cooking time so the meat has time to adjust to room temperature (helps greatly when cooking on the BBQ.) Lastly, have all your toppings prepped! You want to grill these burgers and eat them right away! I always forget to bring the cheese and buns (I made some awesome homemade buns!) out to the BBQ so melted cheese is sparse here.
And there you have it! So simple and seriously, the grilling part is super easy (listed in the recipe below.) Grilling is all based on how you prefer your burgers: well done, medium, medium-well. I see pink burgers on cooking shows all the time but I don't think that is my family's thing. So basically, up to you! Also, this recipe is easily made gluten-free by using oats instead of breadcrumbs!

📖 Recipe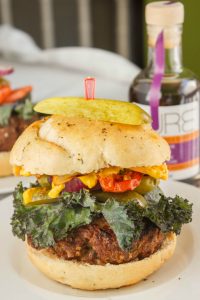 Tutorial: How to Make and Grill Homemade Hamburgers
A simple and quick tutorial on how to make and grill homemade hamburgers and divulging in a family secret recipe!
Ingredients
2 (375g each, about 1 ½ lbs) packs of ground beef (I used a mix of ground beef and ground pork)
1 ½ - 2 tbsp. fresh thyme, minced
1 tbsp. fresh rosemary, minced
3 garlic cloves, minced
⅛ cup minced onion
Salt and pepper
1 egg
½ cup breadcrumbs (I used seasoned breadcrumbs) or use oats for gluten-free recipe.
2 tsp. coarse mustard
1 ½ tbsp. maple syrup (I used Pure's Lavender and Chai infused maple syrup!)
Instructions
To make the burgers, add the ground meat and the rest of the ingredients as follows. Mix until JUST combined. You do not want to over-mix your meat. Shape into same-size patties (you can use a scale to weigh them if you want.) Cover and place into refrigerator until ready to grill.
Preheat grill to a high heat (around 450F.) Take burgers out of fridge and allow to get to room temperature.
Place hamburgers onto to grill and cook for a couple of minutes. Flip and cook for another few minutes. Move the burgers to indirect heat and continue cooking until burgers are to your liking (medium-rare, medium, well-done, etc.) We cooked ours for another 4-5 minutes. *Note!! The thickness of your burgers will also affect your cooking time so keep an eye on them!
Serve immediately (if you remember, add cheese to your burgers before taking them off the grill so it melts!)
Nutrition Information:
Yield:

4
Serving Size:

1
Amount Per Serving:
Calories:

549
Total Fat:

32g
Saturated Fat:

12g
Trans Fat:

1g
Unsaturated Fat:

15g
Cholesterol:

198mg
Sodium:

276mg
Carbohydrates:

14g
Fiber:

2g
Sugar:

5g
Protein:

49g
Okay, so my burgers are a bit overboard, but I love all the colors the veggies add! Eating them was kind of crazy though, I must admit.
Once you have homemade burgers, it will be hard to go back to store-bought. My husband likes taking store-bought burgers camping because he does not have to worry about keeping the homemade patties from getting squished and whatnot. At home though, homemade all the way! Plus, burgers are fun to customize to any theme! I love how many flavors you can create.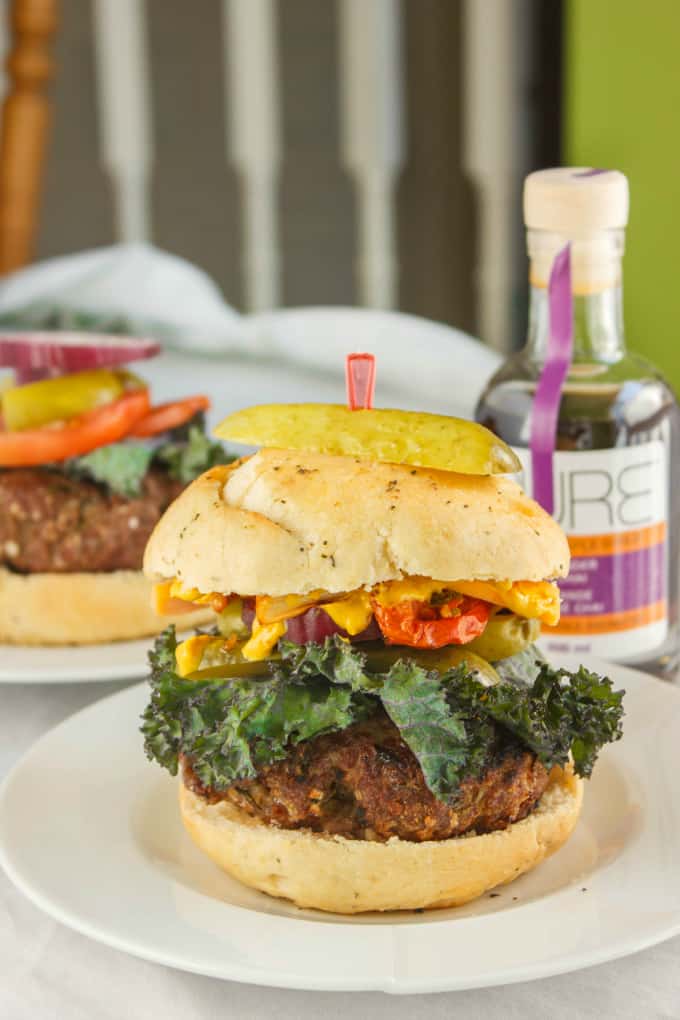 Since I cannot eat burgers, I made myself some portobello mushroom burgers. My sister's boyfriend totally wanted to top his burger with one of the mushrooms. I thought that was pretty crazy, but next time I will definitely make extra portobello mushrooms! Keep an eye out!