Comforting, and yet not too spicy (my 4 year old loved this!) these sweet sriracha chicken breasts are perfect for a quick, weeknight meal!
I see so many blogs with chicken recipes and began to realize I don't share that same feature. I don't know why because my daughter and husband love chicken, but I guess I do not serve it as often as I thought.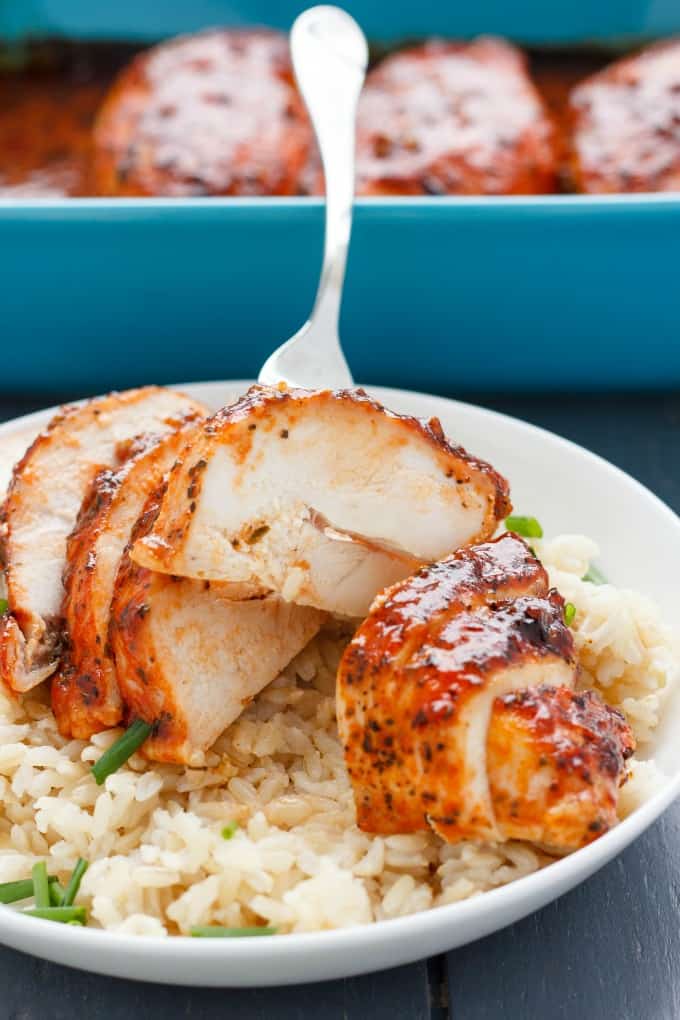 I kind of revisited an old recipe. I had made Sriracha chicken wings in the past and they turned out awesome! I figured the recipe would be easily adapted onto chicken breasts and that is exactly what I did. These sweet Sriracha chicken breasts were quick, simple, and oh so tasty! Sriracha can be spicy for many, but this recipe allows you to play around with that spice by adding more honey if you feel like it. I kind of want to call this honey-garlic chicken, but that is not the case. Sweet Sriracha chicken breasts seemed more appropriate, though there is a lot of basil here, too. Arg, naming recipes can be so hard at times!!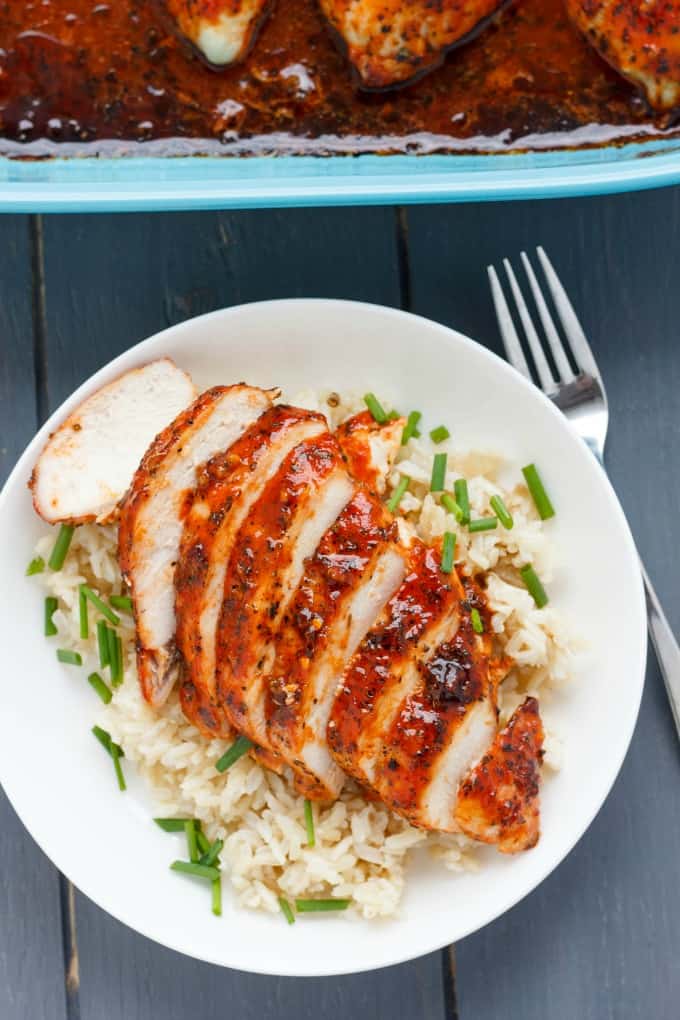 I used two different temperatures for this recipe. I wanted the chicken to cook without the sauce first to kind of get a nice "crust" on it. I mean, there is no skin on these breasts, but you do not want a soggy chicken piece served to your guests or family. UPDATE: I decided to for-go the pre-cooking of the chicken with no sauce and just add the sauce in the beginning. Great change and it made the recipe even easier! I also always worry about honey burning, so before I put the sauce onto the chicken, I lowered the temperature to 375F. It may not be necessary, but it left me feeling comforted that my sauce would not burn.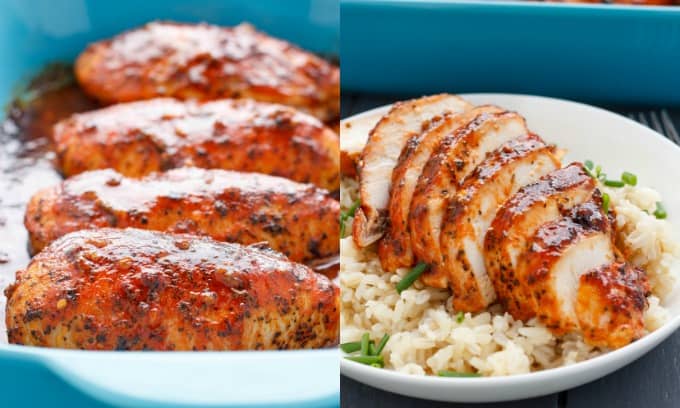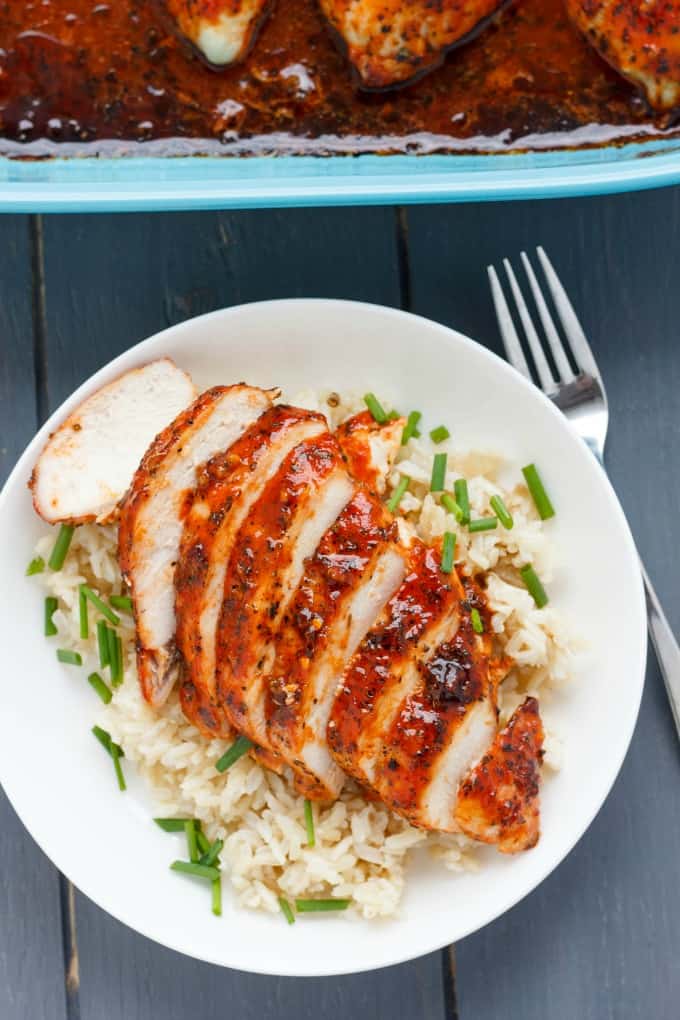 Sweet Sriracha Chicken Breasts
Pay attention to whether you chicken is bone in or not as it will affect the cooking time! Cooking time will also vary depending on the size of your chicken breasts.
Ingredients
2 lbs skinless, bone-in chicken breasts OR boneless, skinless chicken breasts (about 4 pieces)
Salt and pepper
Sauce
¼ cup Sriracha
¼ cup honey
2 tbsp. butter, melted
2 tsp. soy sauce
¼ tsp. red chili flakes
2 garlic cloves, minced
1 tsp. dried basil
Instructions
Preheat oven to 425F. Line a baking pan with aluminum foil/parchment paper for easy clean up. Place chicken into pan and season with salt and pepper.
Combine all the sauce ingredients. Pour about half the mixture onto the chicken breasts. Place into oven and bake for 15 minutes.
Remove from oven, pour remaining sauce on top, and place back into oven. Lower temperature to 375F and bake for another 10 minutes or until chicken reaches 160F internally (you may need another 5-10 minutes on top of that for bone-in breasts!)
Serve over rice!
Nutrition Information:
Yield:

4
Serving Size:

1
Amount Per Serving:
Calories:

562
Total Fat:

15g
Saturated Fat:

6g
Trans Fat:

0g
Unsaturated Fat:

7g
Cholesterol:

234mg
Sodium:

871mg
Carbohydrates:

22g
Fiber:

1g
Sugar:

20g
Protein:

81g
And there you have it! Sweet Sriracha chicken breasts, bone-in style! Bone-in chicken breasts tend to go on sale here a lot more often than boneless-skinless chicken breasts, and while I know many get creeped out by the bone-in, the bone is there to keep the chicken moist and juicy. I understand skinless chicken breasts for health reasons, but do not pass up on the bone! It is there for a reason (and as a vegetarian, I feel weird talking about this, haha.) UPDATE: I made this recipe with boneless, skinless chicken breasts and they were perfect! I adjusted the cook time accordingly to help you out 🙂 REMEMBER THAT CHICKEN BREASTS COME IN ALL DIFFERENT SIZES SO COOK TIME MAY VARY FOR EACH PERSON!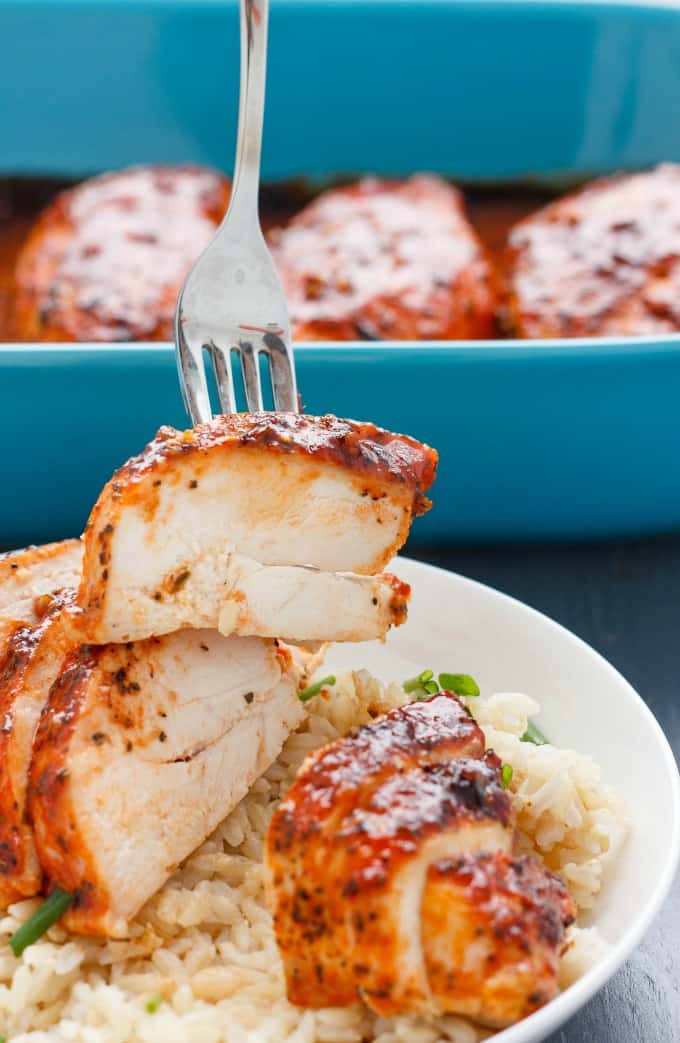 One more word of advice: you do not have to use Sriracha. Use your favorite hot sauce, but be warned, some sauces are looser than others and some carry a lot more spice. You may have to add more honey and spices to balance out flavors.
Love these sweet sriracha chicken breasts?! Try some of these recipes: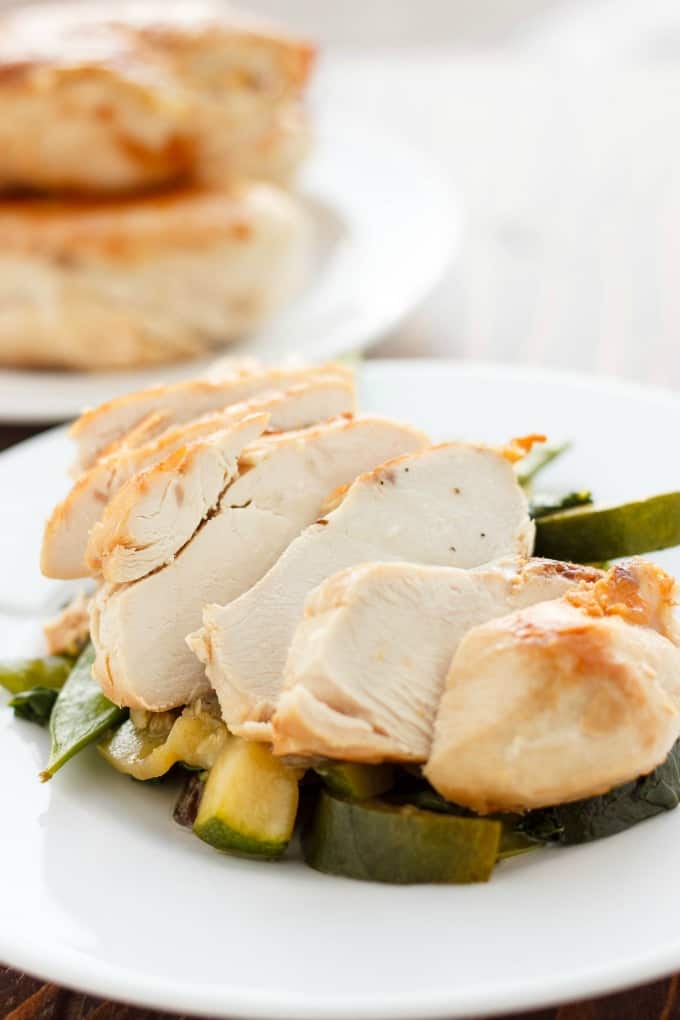 Coconut and Lime Chicken with Mixed Asian Vegetables