While mojitos are definitely a summer drink, I can personally enjoy them all-year-round! Use up those garden ingredients and sip on these strawberry-rhubarb mojitos! A twist on a classic 🙂
Summer is flying by!
Soon I'll be back to walking my daughter to and from school. Rainy mornings, followed by the impending doom of Canadian winters 🙂
But let's push that aside!!!! Happy talk from now on!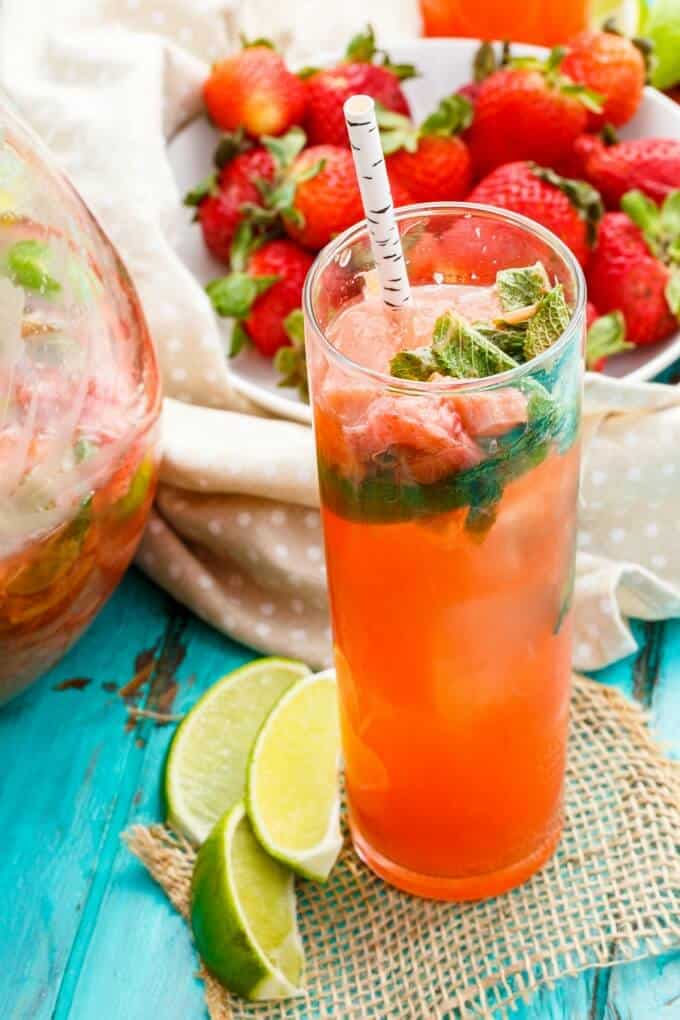 These strawberry-rhubarb mojitos were created months ago with the intentions of publishing them in early summer. As you can see, that definitely did not happen 😉
So I am bringing them to you now!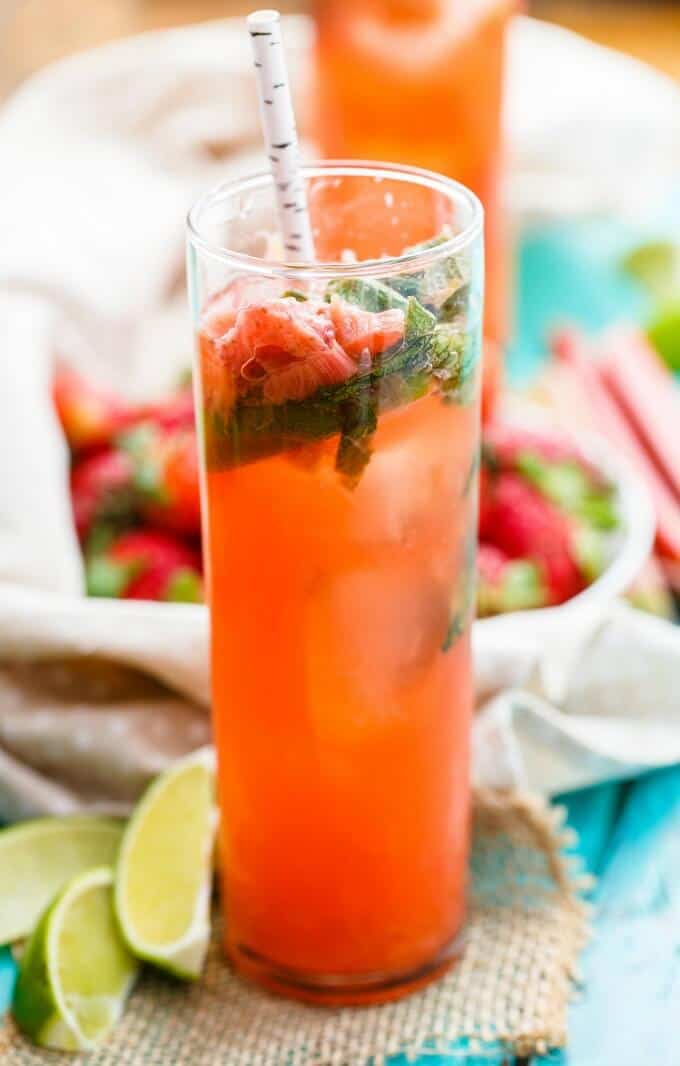 A mix of honey-drizzled rhubarb and fresh strawberries muddled with mint and lime leaves you with one amazing beverage! And better yet, if alcohol is not your thing, they are easily made into a mocktail. Trust me, my 5 year old has had her fair share of non-alcoholic mojitos 🙂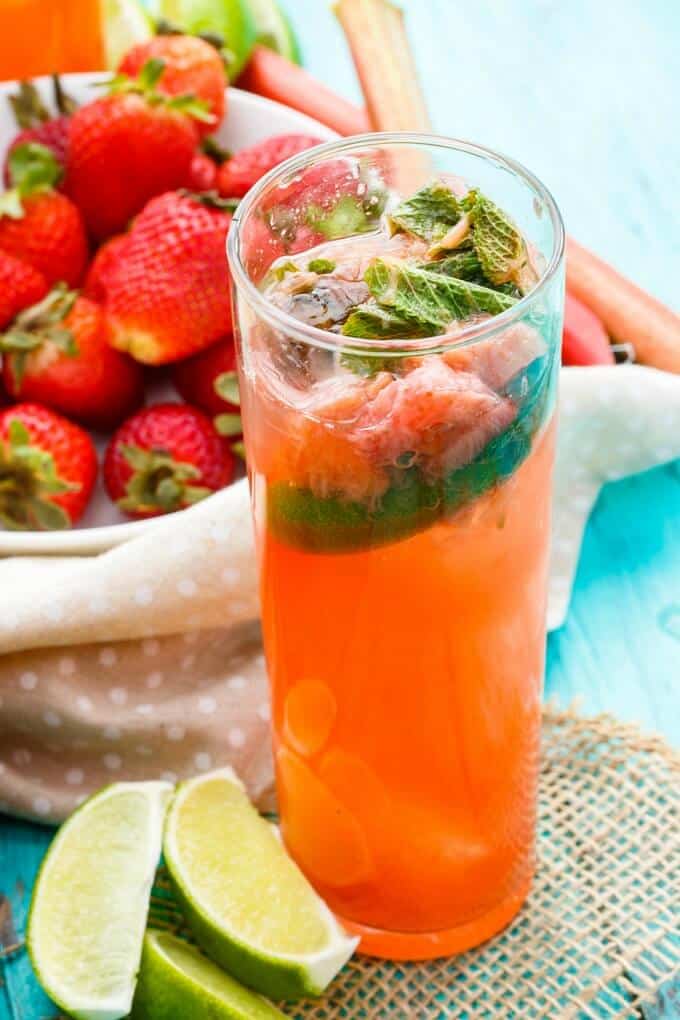 If you are a long time reader of my blog, you know I LOVE mojitos! By far my favorite alcoholic beverage. However. whiskey sours are a close second. These strawberry-rhubarb mojitos were actually created based on my previous honey-roasted rhubarb whiskey sour recipe. Something about roasted rhubarb makes all the difference. Because, if you are like my daughter, you know biting into an uncooked or unsweetened piece of rhubarb will result in a bad time, haha.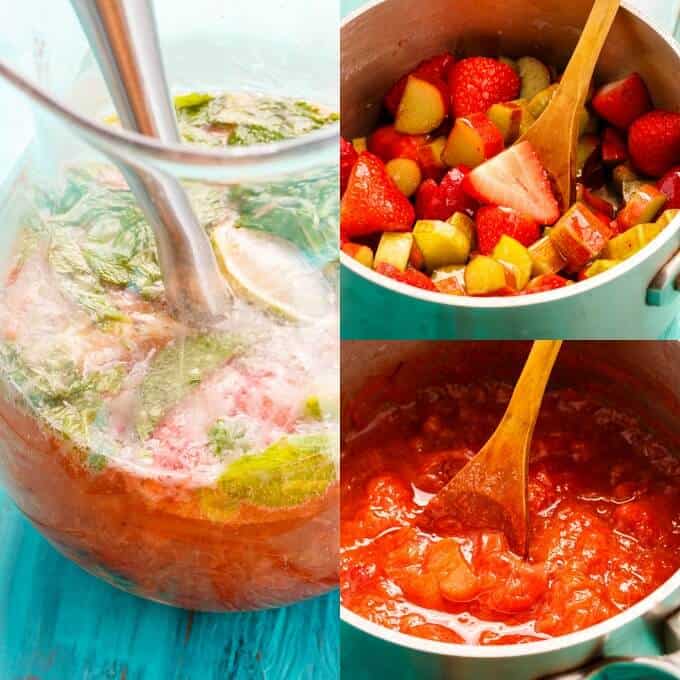 In this case, however, we are not roasting the rhubarb. For ease (and quick-finish) I threw the strawberries and rhubarb into a small pot with honey and cooked it down until it resembled a puree. It reminded me of a jam to be honest 🙂 You just want to cook them long enough so the rhubarb is no longer bitter-sour.
The puree can be made in advance and stored in an airtight container for a few days before use. This is great if you are planning a big pool party and want to get ahead on things!
And like always, feel free to adjust ratios where needed! Not a big rhubarb fan? Try more strawberries. Want a sour note? Try cooking the puree a bit less (but I am warning you, rhubarb is SOUR!)
📖 Recipe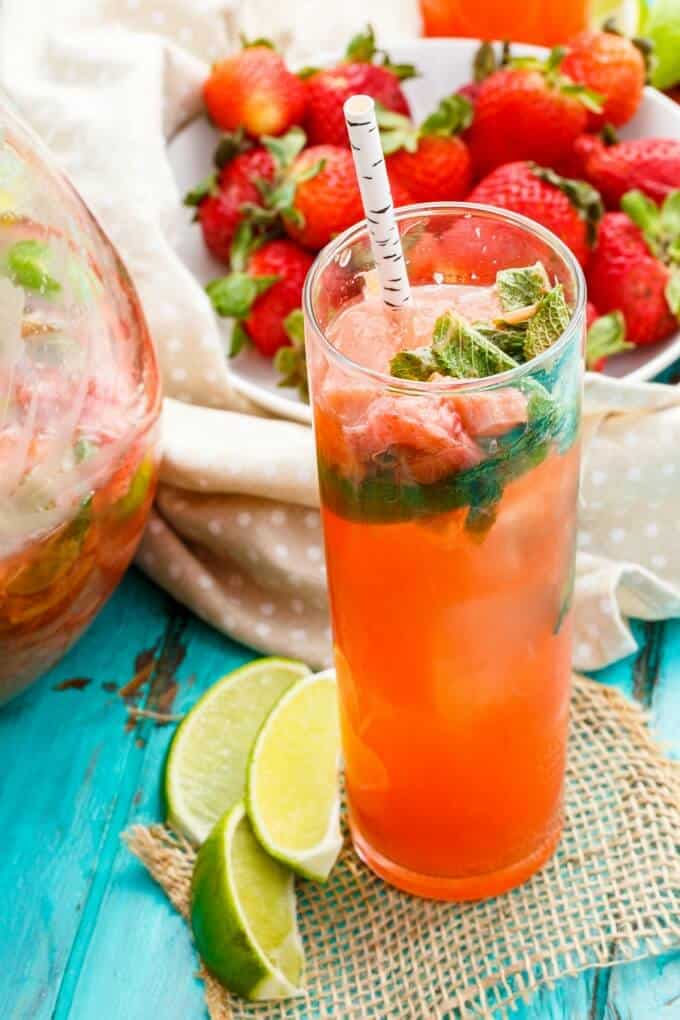 Garden Fresh Strawberry-Rhubarb Mojitos
A fun way to use up rhubarb that is not pie for once!
Ingredients
½ lb fresh strawberries, sliced
½ lb rhubarb, sliced
1 tbsp. honey
Pinch of salt
1 cup simple syrup
1 cup white rum (omit for alcohol-free recipe)
1 bunch (30 grams) mint leaves, removed from stems
2 limes, sliced into wedges
3 cups club soda
Instructions
Combine strawberries, rhubarb, honey, and salt into a small pot over medium-heat. Cook, stirring occasionally, until fruit breaks down, about 10 minutes. Puree if desired OR gently mash with a fork/spoon. Allow to cool.
Assembly
Add limes and mint to a large pitcher. Using a muddler, crush limes until all juices have been released. Stir in puree and muddle some more.
Pour in simple syrup, club soda, and rum. Mix until combined. Add sliced strawberries if desired!
Serve over ice in tall glasses!
Notes
Simple syrup is made using a 1:1 ratio of sugar and water. Cook over medium heat until sugar has dissolved (do not boil!) Cool and use.
Nutrition Information:
Yield:

4
Serving Size:

1
Amount Per Serving:
Calories:

302
Total Fat:

0g
Saturated Fat:

0g
Trans Fat:

0g
Unsaturated Fat:

0g
Cholesterol:

0mg
Sodium:

40mg
Carbohydrates:

52g
Fiber:

3g
Sugar:

46g
Protein:

1g
PS: I am starting to realize that my virgin mojitos are a tad sweet. Start by adding the simple syrup mixture slowly because you can always add more later (I, however, don't mind them on the sweet side!)
Love these strawberry-rhubarb mojitos?! Try some of these recipes: