I have decided to bring out my personality in the blog with a shift to more things geeky! I bring you my first Cookie Geek project: royal icing Sherlock cookies!
Cookie Geek?! What the heck is that?!
Okay, so I have been thinking for some time how to make my blog "me." Many food bloggers stick to simple, easy recipes that can be completed in 30 minutes or less. I like these type of recipes, too, but I often find myself making complicated recipes because 1) I like to cook and 2) I eat what I want to eat, so if I want a risotto at 7 PM at night, that means I am making a risotto!
Finding a niche in the food blogging industry is important, and while I focus on both baking and cooking, I often find it difficult to say what my niche is. To help fix this "issue," I plan to focus more of my personality into the blog. That means more video games, more books (I love my classic literature!) and more geeky/nerdy ideas relating to food! Yay!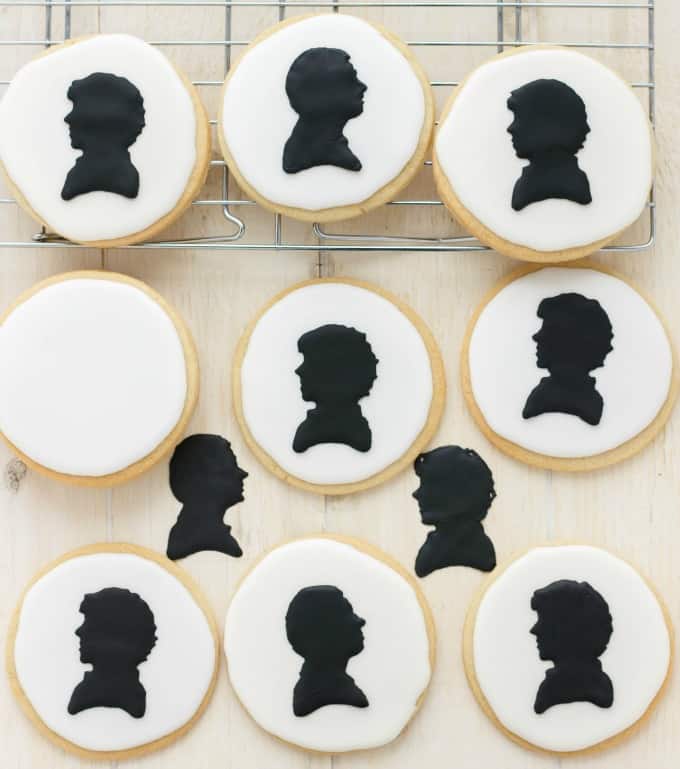 To introduce my new tradition, Cookie Geek, I am bringing you some royal icing Sherlock cookies. Many will know I am referencing the BBC TV series, but this project can easily be shifted to the work of Sir Arthur Conan Doyle. I was actually inspired by this idea from Kaisha Bakes and her traditional Sherlock Holmes Silhouette Cookies.

Since I am no artist, and I sure as heck need to work on my royal icing skills, I decided to stay casual and create these Sherlock cookies using the transfer method. I did not take step-by-step photos per-say, but I think I can explain the gist to you without making it sound overly complicated!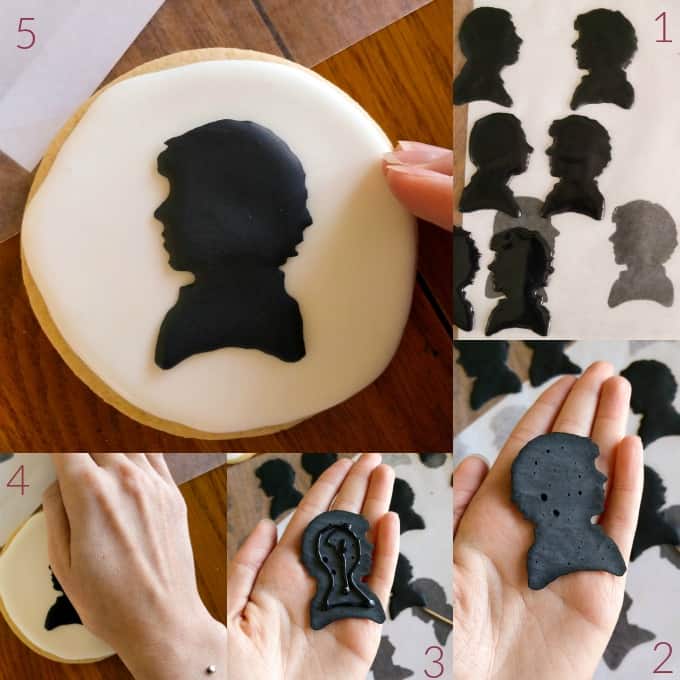 Steps:
Print off your silhouettes (found here) and adjust the size according to your cookie. Place print under wax paper and tape down so your transfer doesn't move while you work. Using your prepared batch of royal icing (I like Sweetopia's but I omit the extra cream of tartar,) adjusted to the right consistency (also a great tutorial found here,) pipe out the outline of ONE silhouette at a time. I used a 1s tip to begin with but moved up to a 1 and 2 later on. Whatever you feel comfortable with. Fill the inside of outline and use a toothpick to really get the fine details (such as nose and lips.) Allow to dry overnight for best results! Some people use fans and such but I just allow mine to air dry.
Carefully remove royal icing Sherlock and Watson. Flip upside down in your hand.
Add some royal icing onto the back (not too close to the edge so it does not leak out.) This will act as our "glue."
Gently place onto prepared cookies (again waiting overnight or 24 hours for the cookie to dry first before doing the transfer!) Press down gently to help it stick.
Allow to sit and harden before serving!
Sit back and enjoy your creations! Oh, and my favorite sugar cookie recipe can be found here!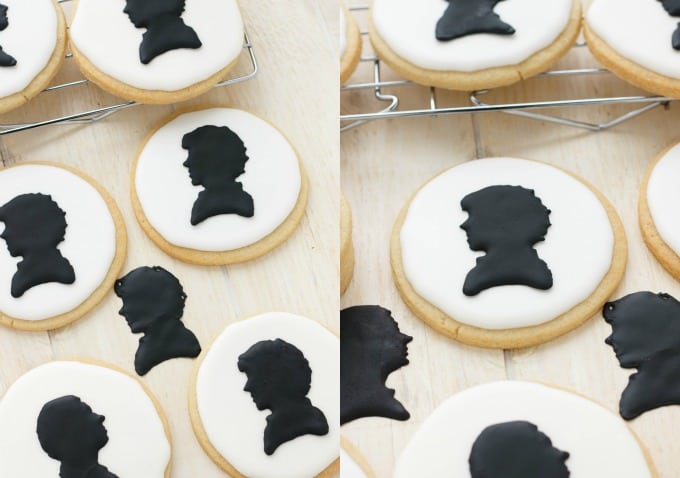 I am so happy these Sherlock cookies were my first post for my new Cookie Geek project! I hope to post a minimum of one new project a month, maybe even two! Chances are, if a holiday is near, there will be one geeky creation for that celebration 🙂
And do not fret if your creations are not perfect. I have not worked with royal icing cookies in two years!! Definitely need to get back into the game (and figure out why Sherlock was easier to make over Watson whose outline appeared simpler!)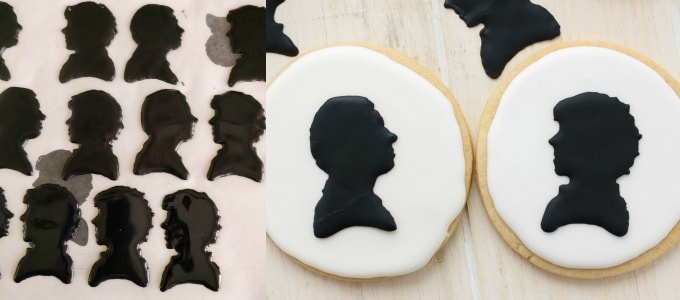 Cookie Geek is a project created by The Cookie Writer that brings together all things geeky! The creations will not always be cookie-based, but rest assure I will try and keep the projects simple in respect that you should not have to buy special tools such as custom cookie cutters. Feel free to share what creations you would like to see be a part of Cookie Geek!
Love these royal icing Sherlock cookies?! Check out some of these recipes: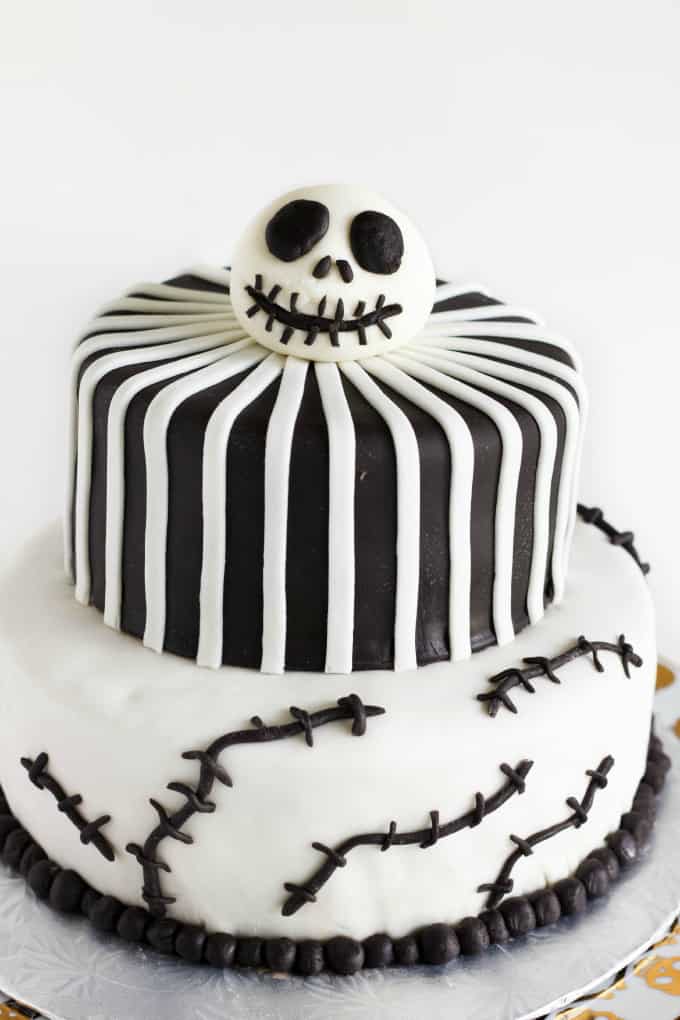 Marshmallow Fondant Nightmare Before Christmas Cake