Okay, okay, I know everyone has done pulled pork, but I am adding mine to the world!
I actually had never made pulled pork (or any pulled meat for that matter) until this recipe. I never had the reason to. Mr. TCW is not a crazy sandwich person, so I kind of avoid anything that has to do with sandwiches. However, occasionally he will pull out the "let's make homemade subs!" and I will be left in charge because of my previous job experience (I can cut some mean sub buns!)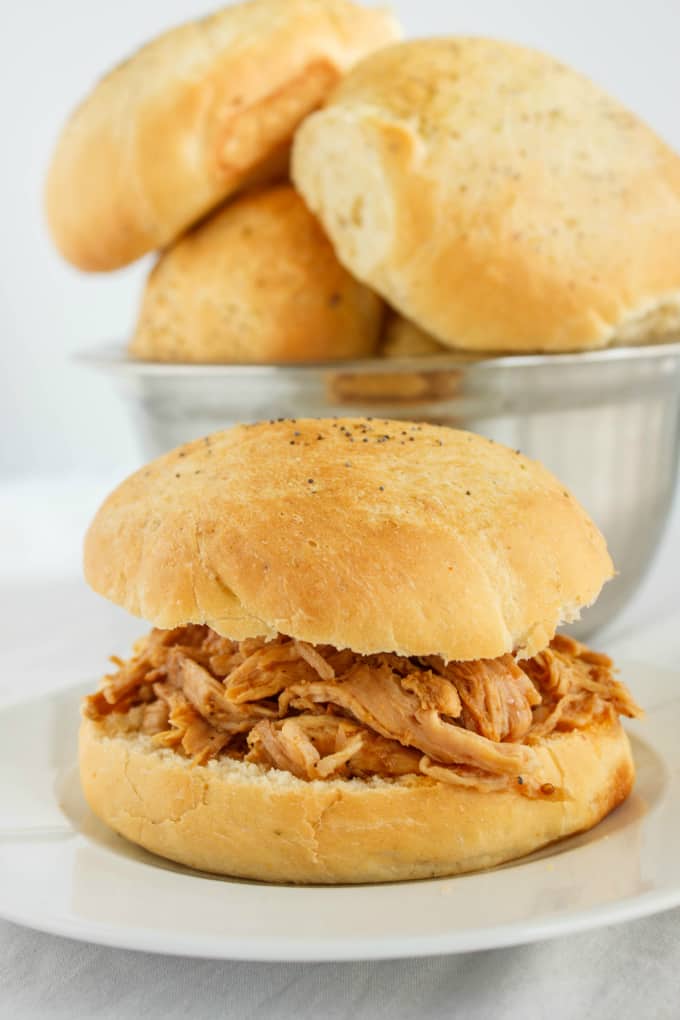 I finally delved into the pulled pork world when I had an extra pork loin sitting around and did not want to do another whole pork recipe. I had already done a few, but I really wanted to break out the slow cooker (it was a hot day.) So, this is my pulled pork in the slow cooker recipe! I did a lot of reading and found people tend to not like soggy pulled pork. Too much juice was a complaint, but I find that hard to avoid as you are literally cooking a pork loin in sauce until super tender. Another issue I had a hard time getting by was the fact you basically had to overcook your meat to result in that pull apart meat that is so common in pulled pork. Yeah, I originally used my built in thermometer to cook the meat to around 150-155F, but found there was nooooo way that would allow me to pull apart the meat. I kept cooking until the meat fell apart when I used a fork. Basically, the secret to pulled pork? Overcooked meat.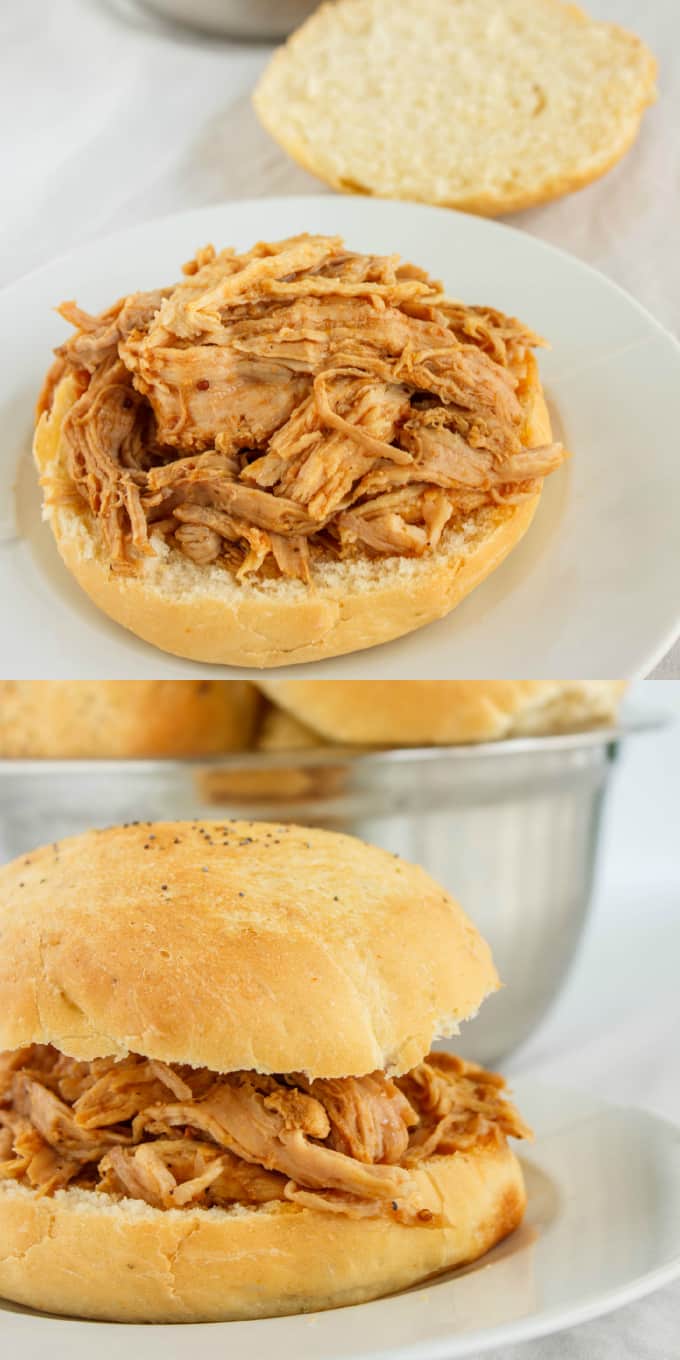 While doing my research, I say many people used colas in their recipes, or a ton of BBQ sauce. Seems like the comments were hit or mess, so I decided to create my own recipe. I think it worked out great! Still some extra liquid at the bottom of the slow cooker, but I mean, I see that being hard to avoid. Fat comes off the meat and while the BBQ sauce definitely adds flavor, it is also a liquid ingredient. And I had to add beer! Nonetheless, I was super happy with the results and actually saved the leftover pulled pork with the extra juices (you will see why!)
📖 Recipe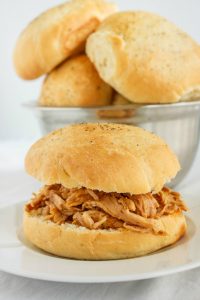 Pulled Pork in the Slow Cooker
Total Time:
8 hours
15 minutes
This awesome sandwich is super easy and made with pulled pork in the slow cooker. Leftovers are definitely going to happen here!
Ingredients
4 lb pork loin
¾ cup BBQ sauce
½ tbsp. coarse mustard
½ tsp. dried oregano
Salt and pepper
¼ tsp. ground thyme
½ cup beer
3-4 garlic cloves, sliced
1 onion, sliced
Instructions
Add the onions to the bottom of the slow cooker. Place pork shoulder on top of the onions and makes some slits into the top of the meat to hold the garlic. Place garlic into slits and pour beer over top. Season with salt and pepper. Cook for 1 hour on low heat.
Combine the BBQ sauce with coarse mustard, oregano, thyme, salt, and pepper. Pour over the pork and continue to cook until pork can easily be shredded with a fork (6-7 hours on low heat.)
Nutrition Information:
Yield:

8
Serving Size:

1
Amount Per Serving:
Calories:

496
Total Fat:

20g
Saturated Fat:

6g
Trans Fat:

0g
Unsaturated Fat:

10g
Cholesterol:

181mg
Sodium:

425mg
Carbohydrates:

13g
Fiber:

1g
Sugar:

9g
Protein:

61g
Now, we can say my pulled pork in the slow cooker is pretty darn amazing, but this is not ordinary pulled pork sandwiches. I went all out and made homemade buns for this meal! Woohoo! Number one! We had our neighbors over for dinner and they really loved everything about this dish. Even though there were three adults (exclude me, obviously) and one child/toddler, I still had a ton of leftover pork! No worries though, you will see those creations in the future!