Father's Day has come and gone, but recipes keep flowing here!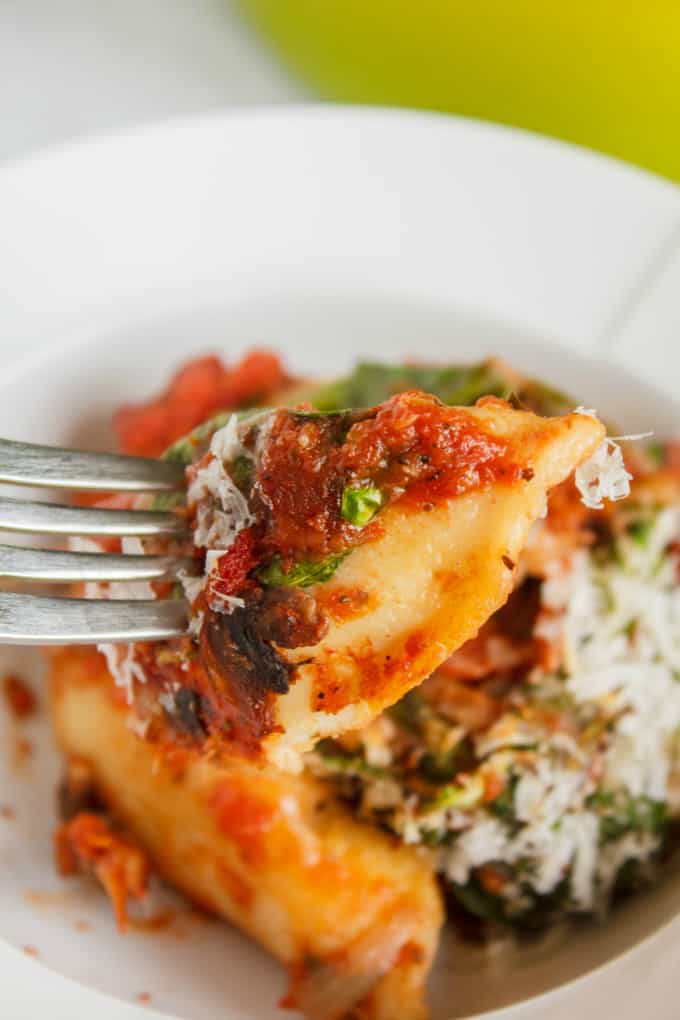 Mr. TCW is a major perogies guy. I bet he could eat them for breakfast, lunch, and dinner no problem! They remind me of my childhood, too, because it is a meal my dad, sister, and I really enjoyed (my dad would buy a huge bag and we would try and count how many perogies came in a bag over the course of multiple meals.) I have made homemade perogies once and they were AMAZING! However, my lack of skill and patience made me realize that buying them store-bought is much easier (maybe when kiddo starts school I can venture down that road again.)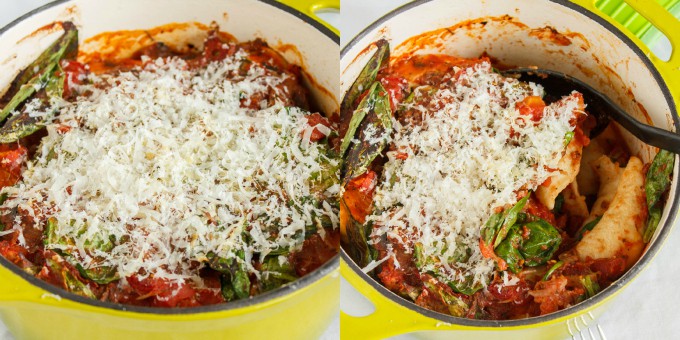 Now, typically most people either boil or fry their perogies. I am partial to boiling them and then frying them. Occasionally though, I like creating oven-baked perogies in tomato sauce! I remember seeing a photo on the box of perogies and thinking "hey, I can create something awesome like that!" And I must say, they were fantastic! Super easy, and little effort at all. I use a homemade sauce, but store-bought will work perfectly here. My dutch oven is quite small, but it still managed to hold a whole box of perogies.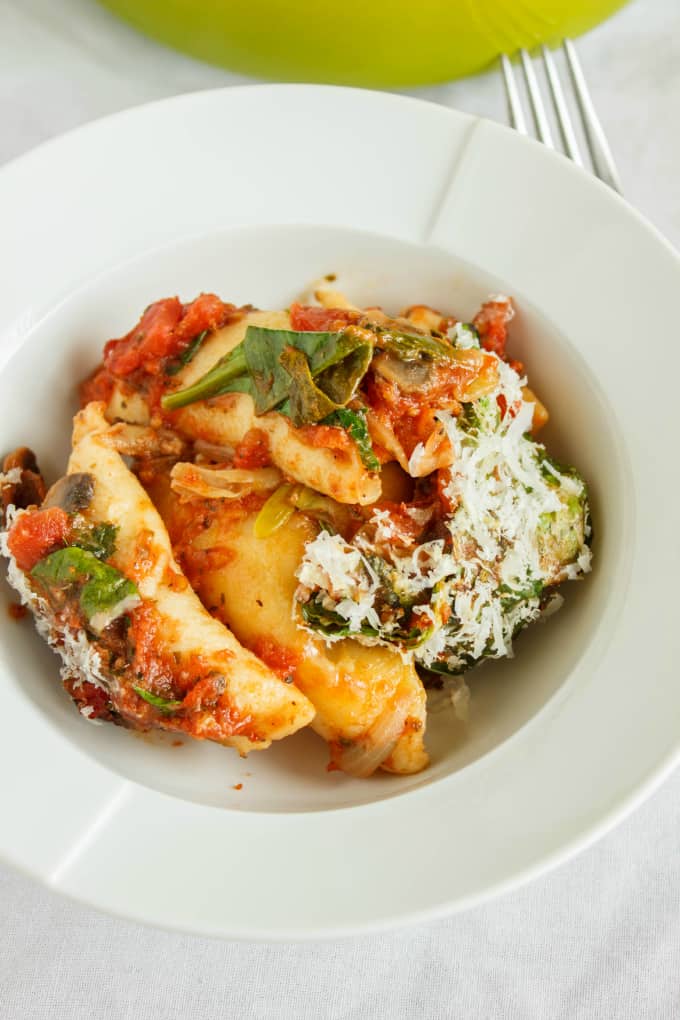 📖 Recipe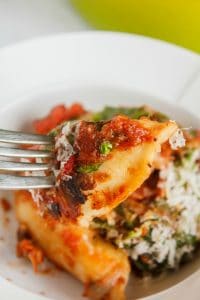 Oven-Baked Perogies in Tomato Sauce
A fast and simple meal during the week! Oven-baked perogies in tomato sauce uses frozen perogies and your favorite sauce!
Ingredients
1 (2.2 lbs) box frozen perogies
1 (28 oz can) diced tomatoes
1-2 tbsp. olive oil
1 large onion, sliced
8 oz mushrooms, sliced
3 garlic cloves, minced
¼ cup red wine
½ cup vegetable broth
½ tsp. dried parsley
1 tsp. dried basil
¼ tsp. dried thyme
½ tsp. dried oregano
½ tbsp. tomato paste
4 oz fresh spinach
Salt and pepper
Parmesan cheese. grated
Instructions
In a large saucepan, heat oil over medium. Add the onions and mushrooms and cook until beginning to soften, about 5 minutes. Stir in garlic. Continue cooking until mushrooms have some coloring to them. Deglaze pan with wine. Simmer for a couple of minutes. Add in tomato paste and cook for another couple of minutes. Add in broth, tomatoes, herbs, salt, and pepper. Simmer for 20 minutes.
Stir in spinach. In a dutch oven, add some of the sauce to the bottom of the pan. Layer with perogies, then sauce, and continue until nothing remains. Top with Parmesan cheese.
Bake, covered at 375F for 20 min. Remove cover and cook for another 20-30 minutes.
Nutrition Information:
Yield:

4
Serving Size:

1
Amount Per Serving:
Calories:

183
Total Fat:

9g
Saturated Fat:

2g
Trans Fat:

0g
Unsaturated Fat:

7g
Cholesterol:

2mg
Sodium:

344mg
Carbohydrates:

19g
Fiber:

3g
Sugar:

5g
Protein:

5g
I feel these oven-baked perogies in tomato sauce can be amped up even more by adding more veggies (maybe portobellos next time!) For the non-vegetarian, add meat would definitely build heartiness. Maybe a great way to use leftover spaghetti sauce? My dad could totally eat this since if I decided to leave out any onions, but again, another recipe that can be customized to your liking.