Looking for a quick midweek meal? This pork tenderloin in the slow cooker cooks super fast and pairs perfectly with mashed potatoes!
Ever since making the whole chicken in the crock-pot, I knew I would be bringing out the slow cooker again. I mean, they are great! Place all your ingredients in, set the timer, and bam! Off to keep yourself busy with other tasks. Plus, they are great for people who don't want to spend hours in the kitchen prepping and cooking.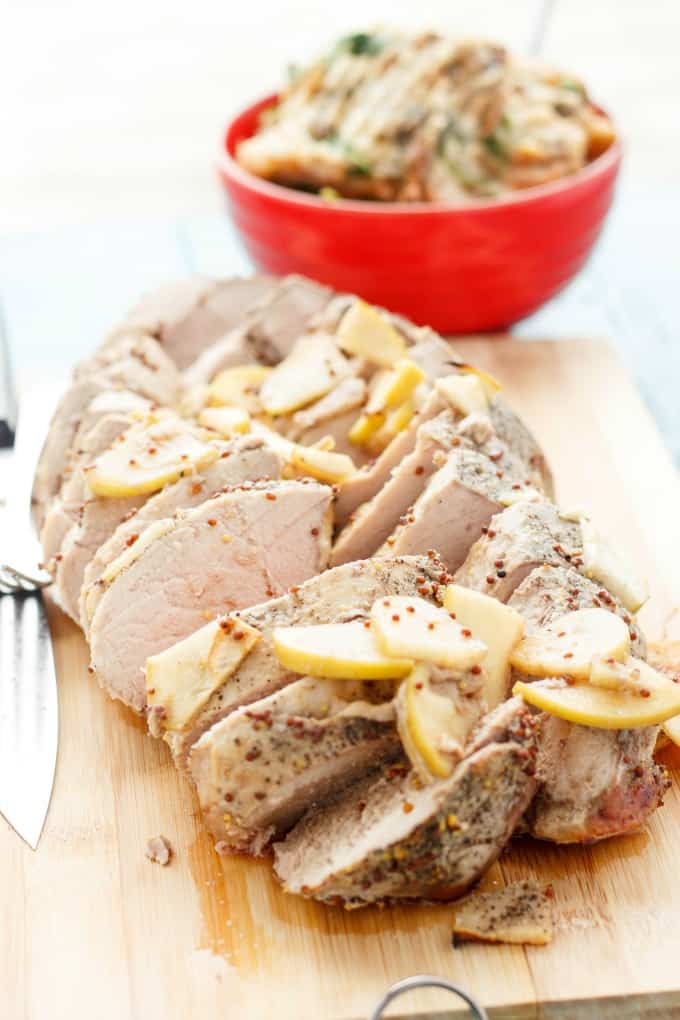 Since Mr. TCW created his first meal in the slow cooker a month or so ago now, he has been fascinated with making more meals in it. I was going to leave the pork tenderloin for him to make, but getting home later from work leaves him no time to use the crock pot. So, I decided to make pork tenderloin in the slow cooker while I prepped the walls for painting. I love my crock pot because you stick the thermometer probe into the meat and tell the settings to cook it until it reaches a specific temperature. In this case, I cooked the meat to 145F. No more setting the timer and worrying about overcooking the meat with this handy little feature! And when it is all done, complete the tenderloin by broiling it under the broiler to create an evenly caramelized piece of meat! It takes a matter of minutes and finishes the dish perfectly.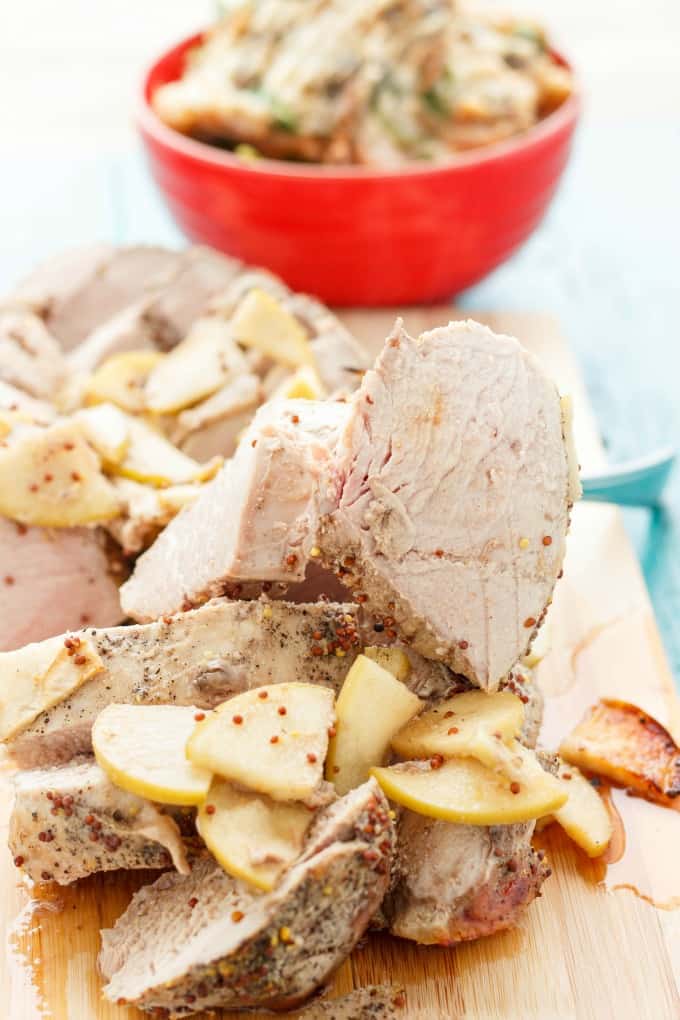 📖 Recipe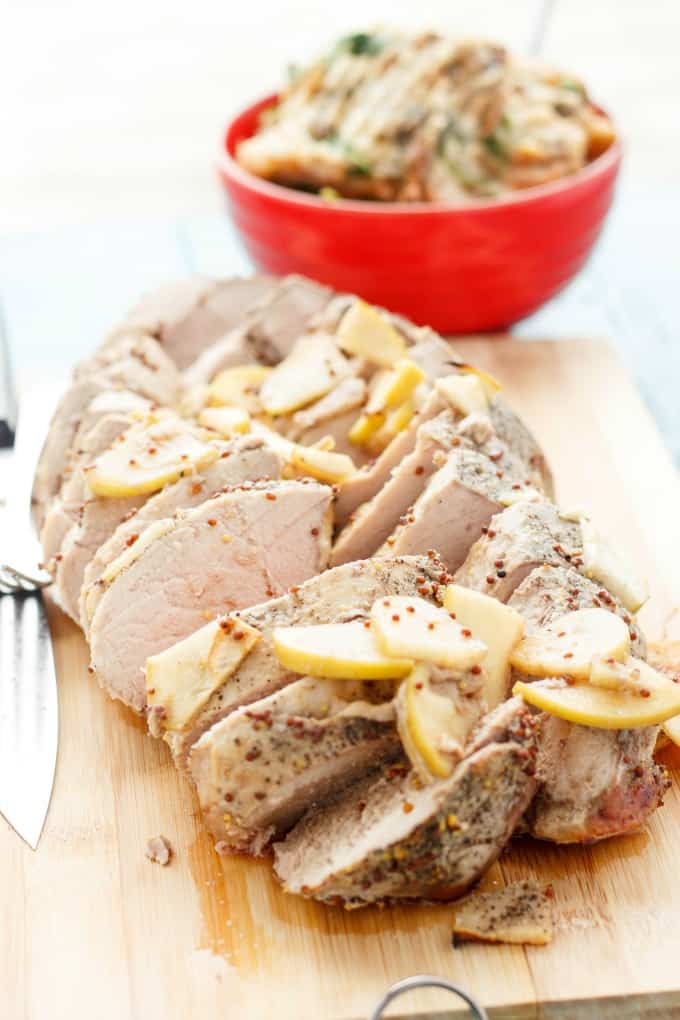 Pork Tenderloin in the Slow Cooker
Total Time:
4 hours
10 minutes
Quick and simple, this pork tenderloin is completed in no time and can be browned under the broiler if desired!
Ingredients
1 (2 ½ lbs) pork tenderloin, silver skin removed
1 granny smith apple, quartered and then sliced thin.
Salt and pepper
Sauce
¼ tsp. ground ginger
1 tsp. garlic powder
¼ cup apple cider vinegar
⅛ cup brown sugar
1 tbsp. soy sauce
1 tbsp. coarse mustard
Instructions
Place your tenderloin into the slow cooker. Season generously with salt and pepper.
Combine all the sauce ingredients and mix well. Add in the sliced apples. Toss again and pour over tenderloin.
Cook for 4-5 hours on low, or until meat reaches 145F internally (pork tenderloin is really easy to overcook so if you have a probe attached to your slow cooker, I highly suggest using it.)
Allow to rest for 10 minute before slicing.
*For deeper color and flavor, broil your meat for a few minutes before slicing!
Nutrition Information:
Yield:

4
Serving Size:

1
Amount Per Serving:
Calories:

464
Total Fat:

11g
Saturated Fat:

4g
Trans Fat:

0g
Unsaturated Fat:

6g
Cholesterol:

207mg
Sodium:

500mg
Carbohydrates:

10g
Fiber:

1g
Sugar:

8g
Protein:

75g
We paired the pork tenderloin in the slow cooker with a side of rice, and the vegan sweet potato salad I made the other day (which I will be posting soon!) The meal was enough to feed my husband and daughter. Next time I will look around for a larger piece of meat so they have some leftovers.
Update! Making this again (years later!) my husband said it was just as good, if not better 🙂 We paired it with some mashed potatoes and a vegetable side to add more sustenance.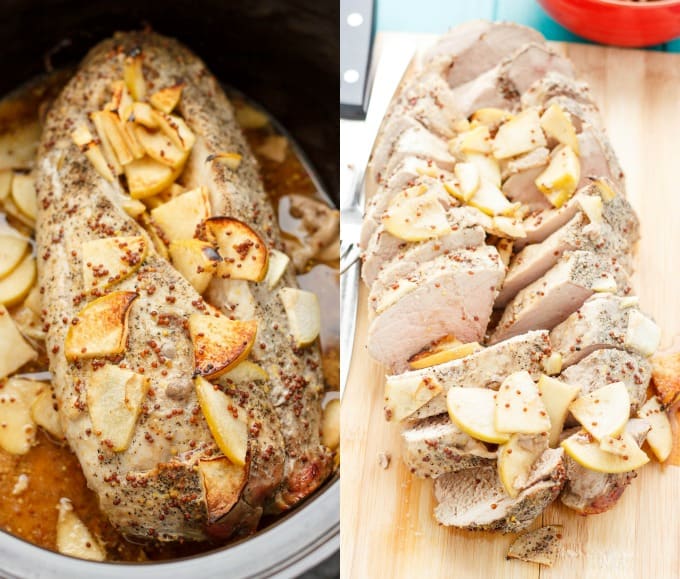 The act of broiling the meat after cooking it in the crock pot never occurred to me until I began browsing Pinterest. There is nothing wrong with the meat completed straight in the crock pot; broiling just gives it a nice crust and caramelized topping. If you don't want to create more dishes or heat up the house with the oven, the meat will be fine as is. The little extra step of broiling took me 5 minutes and gave the meat some nice color. I used the same technique for my Whole Chicken in the Crock Pot.