I am a terrible person.
My sister's boyfriend celebrated his birthday in February. I just got around to making his cheesecake last month...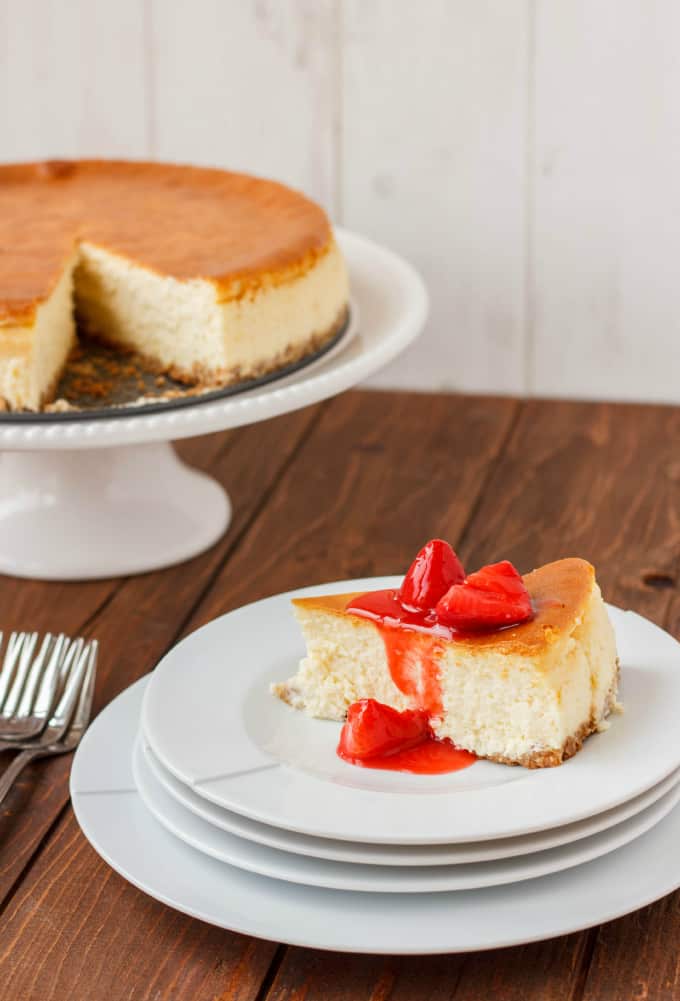 I know, I know! I do have my reasons though. I have never made a cheesecake before. There, I said it. I have made one no-bake cheesecake, but that was nothing. I did not realize how much work is involved in a cheesecake until I agreed to it. The cheesecake can crack, it can not cook, it can become overcooked, anything that could happen, it can happen to cheesecakes. I was terrified. Not only are you using a ton of ingredients that can get pretty pricey (hello sales!) but you also spend all this time baking the cheesecake to see it fail.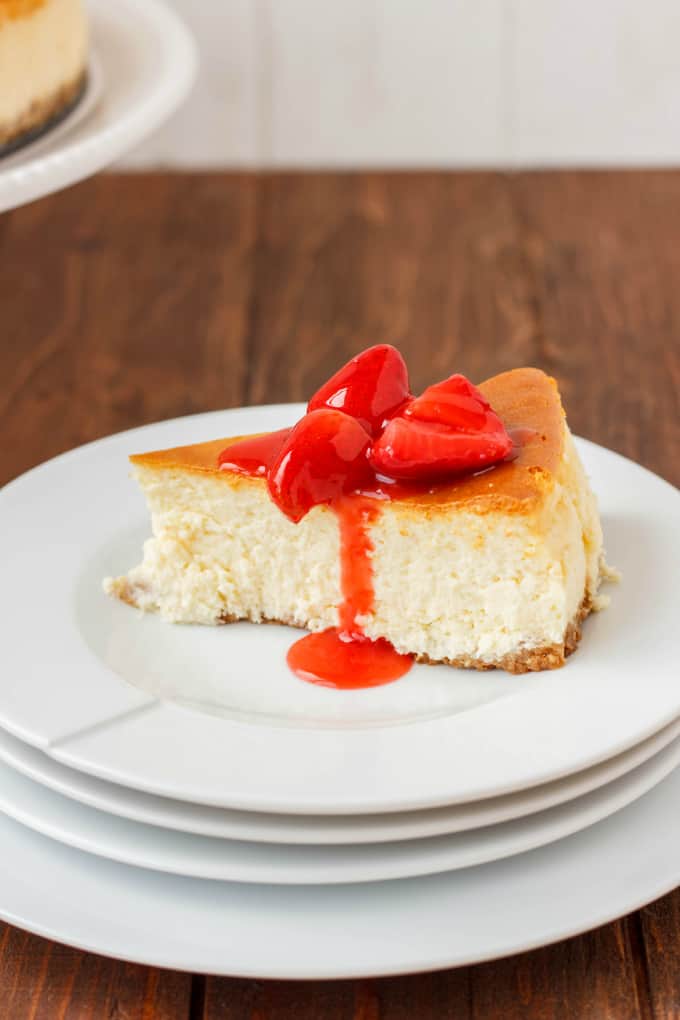 I did a lot of research. The two methods I was looking at were a water bath or cooking at an extremely high temperature and then reducing the temperature or turning off the oven completely. I was tempted to do the high temperature one but even then I saw people leaving comments left, right, and centre that true cheesecake creators use the water bath method. I figured okay, their arguments make sense, so I will give it a go (this doesn't mean the other method is bad, I just went with this one.) I am so glad I went this route!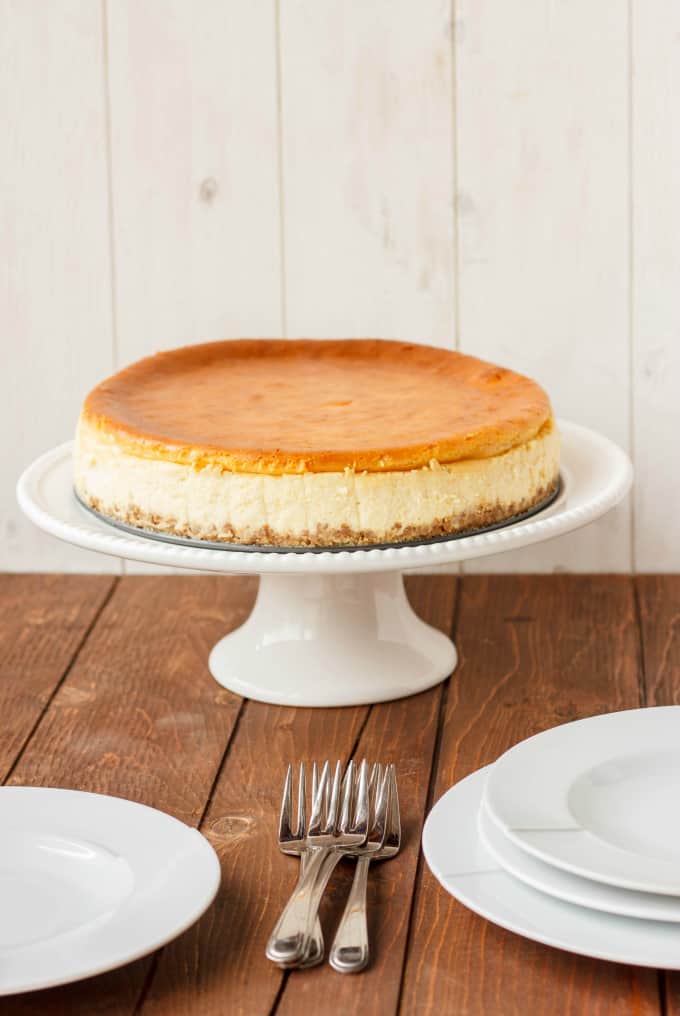 I decided on a New York style cheesecake with a strawberry topping because my sister stated her boyfriend liked "regular" cheesecakes. I asked what a "regular" cheesecake was and she had no idea (we aren't cheesecake lovers... Pretty sure I can feel the daggers on me now!) I see New York style cheesecake recipes all the time at restraurants so I figured this was a safe choice. It turned out perfect! Seriously, I need to brag about this cheesecake. Soft, moist, no cracks, and evenly browned. The topping a perfect blend of sweet and tart, creating a wonderful contrast to the cheesecake. I don't even like cheesecake and thought the flavor and texture was out-of-this-world! It was funny because he couldn't pick up the cheesecake for a day or so so everyone kept stealing slices from it. Good thing they did because this New York style cheesecake was HUGE. It could feed at least 20 people, if not more, depending on the size of the slices. Remember, cheesecake is rich, and packed full of about 2 lbs of cream cheese...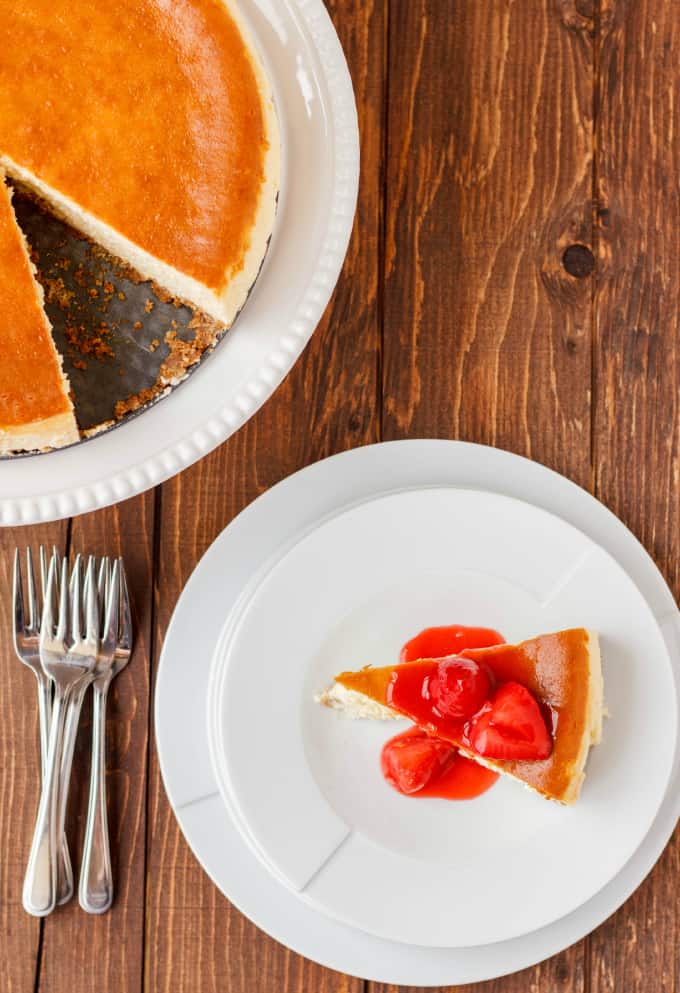 📖 Recipe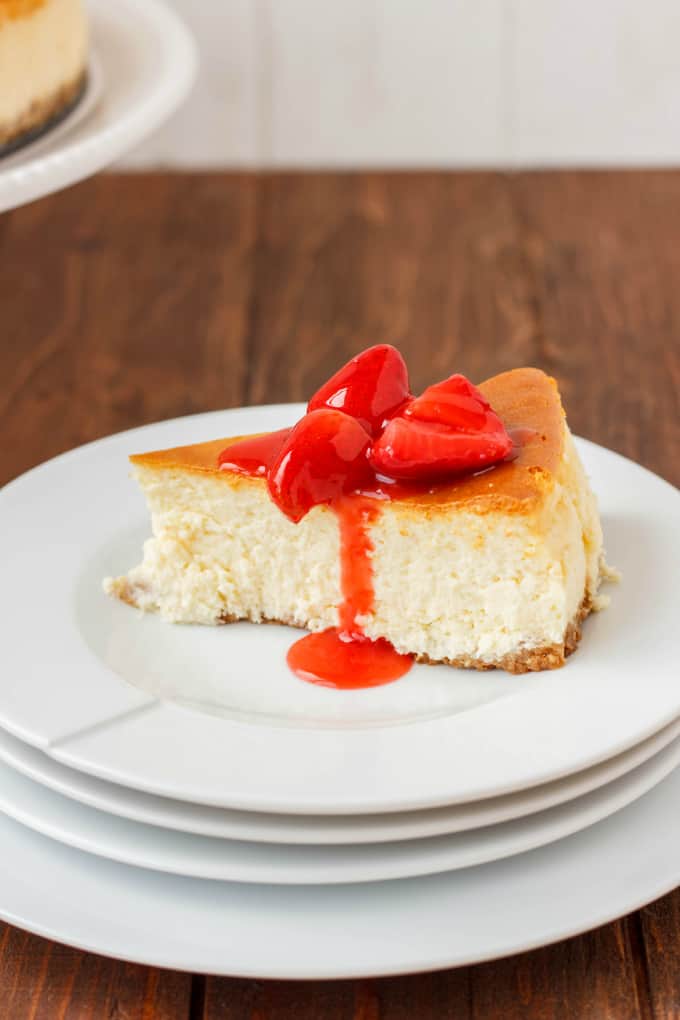 New York Style Cheesecake with Strawberry Topping
Total Time:
3 hours
30 minutes
The lightest and fluffiest New York style cheesecake topped with a strawberry topping. Cooked in a water bath to ensure no cracking.
Ingredients
5 large eggs, room temperature
500 mL container of sour cream, room temperature
2 (400g each) containers of cream cheese, room temperature
½ cup butter, room temperature (I used salted.)
1 ½ cups sugar
2 tbsp. cornstarch
2 tsp. vanilla extract
½ tbsp. lemon zest *optional
½ tbsp. orange zest *optional
Crust:
1 cup graham crackers (about 20 crackers.)
1 tbsp. sugar
¼ cup butter, melted
Strawberry Topping:
1 lb strawberries
¼ cup sugar
1 tbsp. cornstarch
¼ cup water
Pinch of salt
Squeeze of fresh lemon juice *optional
Instructions
You can make the crust in advance (at least I did.)
Crush your graham crackers until they resemble fine crumbs. Mix in sugar and butter, stirring until combined. Press crust into the bottom of your 10" springform pan. Bake at 350F for 10 minutes. Remove from oven and allow to cool.
*I forgot to grease my springform pan but my cheesecake still turned out. Don't fret, things happen!
Grease the sides of your 10' springform pan with butter (don't worry about the bottom part.) Wrap a couple of layers of aluminum foil around the outside of the bottom of the pan (and about half way up the sides of the pan.) Do not skip this part! Have available another pan that is big enough to hold your 10" springform.
Preheat oven to 300F.
Add the eggs and sour cream into a large bowl and beat well with a hand mixer. *Note, you will see I am not using a stand mixer. You really do not want to over-beat this cheesecake, trust me! In another bowl, add in the cream cheese and butter. Mix with your hand mixer until smooth (no lumps.) Pour this mixture into the sour cream mixture. Beat again until combined and smooth.
Add in the sugar, cornstarch, vanilla, lemon zest and orange zest. Beat until combined, about 2 minutes (you want a nice, soft batter, but you don't want to over-mix either.) Pour the mixture over your crust and shake/jiggle the tray for a smooth layer. Place into the larger pan. Fill the larger pan up with hot tap water, just about halfway up the springform pan (mine was a bit less than halfway, maybe even only ¼ of the way but it still worked.)
Place into oven and bake for 2 hours and 15 minutes, or until lightly brown (note: start checking the cheesecake around the 2 hour mark but don't stick anything into the cake as it may cause the cake to crack.)
Remove the pan from the oven and transfer the cheesecake out of the water and onto a cooling rack. Leave the aluminum foil on for the first 30 minutes to half an hour. Then remove the foil and continue to cool completely. Cover and refrigerate overnight preferably.
To create the topping, add the strawberries, sugar, cornstarch, water, and salt to a small saucepan. Place over medium-low heat and stir. Bring to a simmer, and turn down the heat, allowing the mixture to cook for about 10 minutes, stirring frequently. Remove from heat and allow to cool. Serve over your cheesecake!
Nutrition Information:
Yield:

10
Serving Size:

1
Amount Per Serving:
Calories:

467
Total Fat:

27g
Saturated Fat:

15g
Trans Fat:

1g
Unsaturated Fat:

9g
Cholesterol:

159mg
Sodium:

221mg
Carbohydrates:

53g
Fiber:

2g
Sugar:

43g
Protein:

6g
The entire time I made this cheesecake, I worried about what could go wrong. What if I did not beat the mixture enough? What happens if I over-mixed it? My biggest fear was the cheesecake cracking! No one would have cared but it would have bothered me. The water bath helped greatly here. Water surrounding the pan helps to ensure even temperatures all around the pan, making sure the cake doesn't cook uneven. The only worry with the water bath method is the fear of any water leaking into the pan. That is why you want to wrap it well in aluminum foil. I think a bit of water may have got into my pan but the crust was still nice and crisp so it all worked out.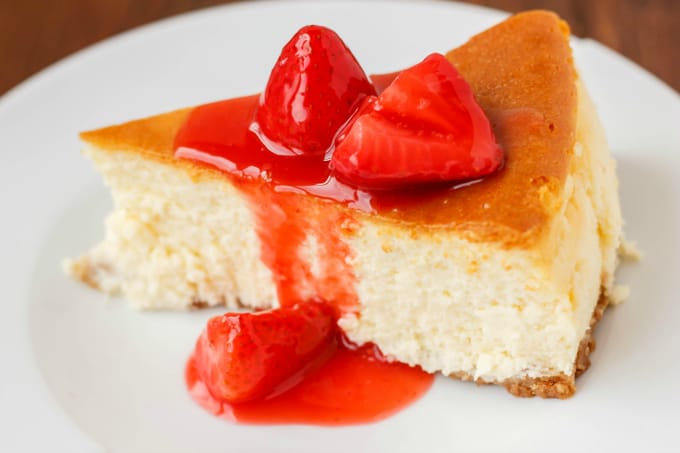 As for the topping, I knew I needed something. I wasn't sure if New York style cheesecake contained a strawberry or cherry topping, but strawberries were on sale so I went that route. All in all, I was extremely happy with this recipe and will say that it is my go-to for any future cheesecakes.