Having your children in the kitchen at a young age is important for their developmental skills! Find out how you can include them with today's recipe: Pizza Macaroni and Cheese using Creamer Potatoes (and my continued brand ambassadorship with The Little Potato Company!)
As a child I loved cooking. I would watch cooking shows, browse through cookbooks, and try my hand at creating my own recipes. It was a big learning experience for me because while one of my parents liked to cook, the other did not, and the one that did cook was a tad picky (once again, Dad hates onions!) As I grew older, I experimented more, but I feel I could have learned a lot more had I had a true food lover in the house. Not to say Dad's dinners were not amazing, but meals need onions (or so I thought!)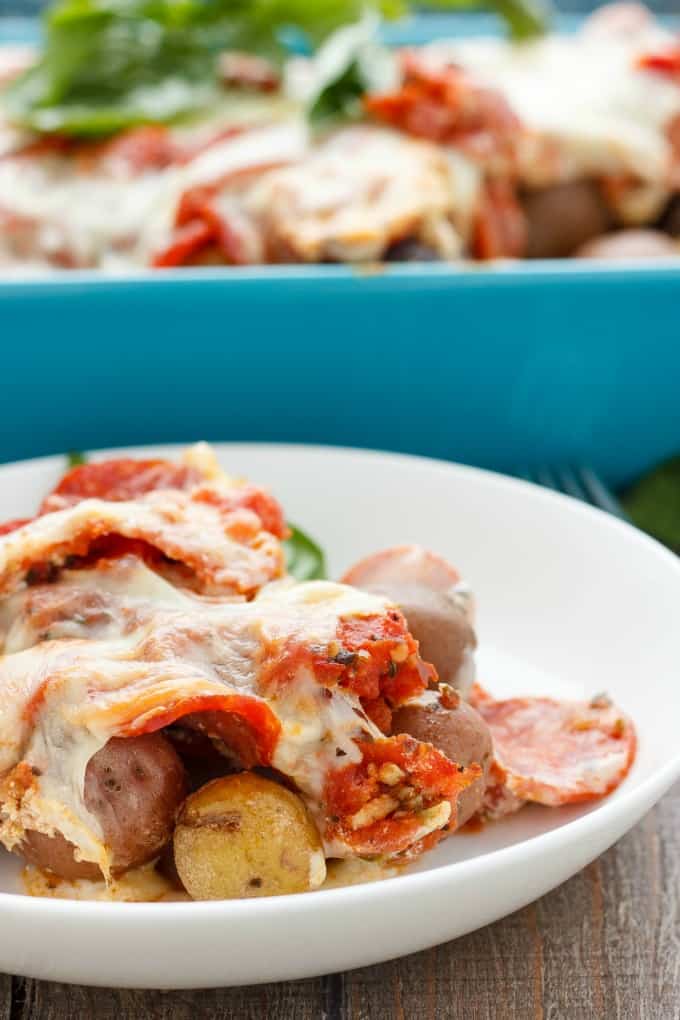 No surprise, I still love to cook! Actually, my brother and sister are big home cooks, too, and it is nice to know my daughter will always have great food in her life. Even before our daughter entered our lives, I knew I would be making homemade baby food and including her in anything related to food. It is so important to me that she at least knows the basics, though I would love to see her advance herself in the future! That being said, she is almost 4 years old now and she spends a lot of time in the kitchen with me. Not only is she one of my taste-testers, but she lends a helping hand whenever she can without complaint! She actually wants to be in the kitchen and that is fine with me.
Do not worry if your child has not spent much time in the kitchen; it is never too late. I have had my daughter handling a knife for a couple of years now and I know others would not let that happen. It is whatever you feel comfortable with! Many recipes can be made kid-friendly, and it will be quite a while before they will be making any stove/oven meals on their own. Until then, we are here to guide them and teach them right from wrong.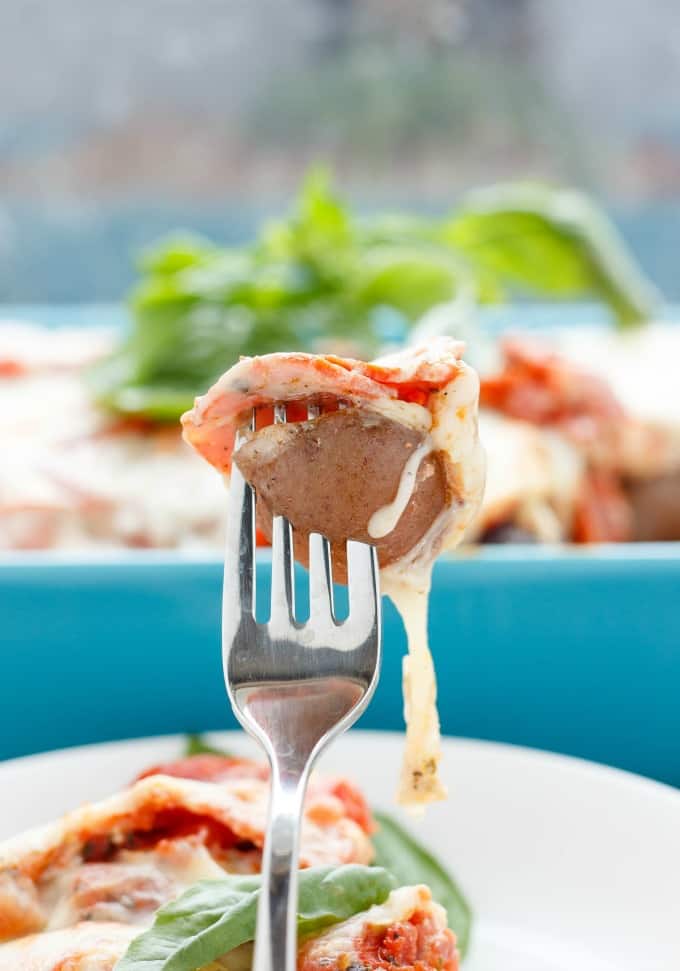 Today's recipe was very simple for my 3.5 year old, but I would definitely say this is geared more towards the 6-9 year olds (adult supervision required for stove and oven use.) I documented how she helped me out with this pizza macaroni and cheese (using Creamer potatoes instead of pasta!) and how proud she was to accomplish a meal of her own! Seriously, she was so happy with her pizza macaroni and cheese that she asked when we were delivering it to The Little Potato Company. So cute! She was still very happy that the only person we were delivering the dish to was daddy.
Of course, when I am cooking, I like to take everything a step further! In order to save time (and the fact my sister called us just as we started this recipe) we boiled the potatoes a day in advance. It is something my dad has always done for us. This way, when we were hungry, we could fry up some potatoes in no time rather than having to boil them and then cook. We also decided to bake our pizza macaroni and cheese because personally, I love those baked mac and cheese recipes! If you are short on time, feel free to skip the roasting part, but I really think it adds a nice touch.
As you can see from the pictures, my daughter went from "all dolled-up" to pajama time. Day one: chopping, pre-boiling potatoes, and roasting potatoes. Day two: cream sauce and assembly. The recipe may seem like it takes some time, but I assure you, it is really quick. You could easily pre-assemble the dish and store it in the refrigerator until ready to bake. If my child could stick around no problem on day two, I am sure you will stick around too!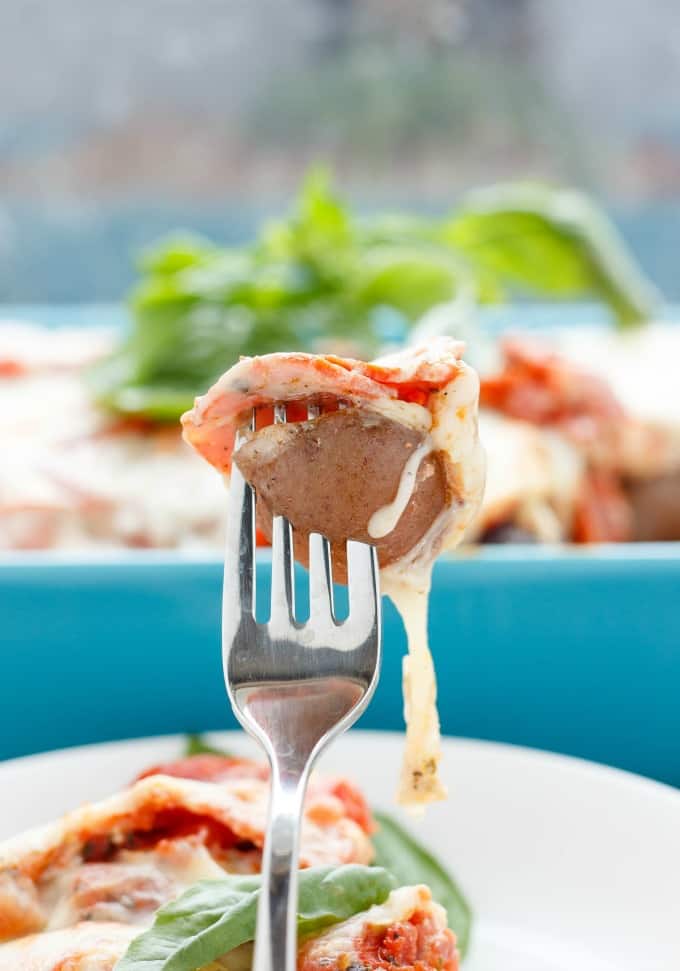 Pizza Macaroni and Cheese using Creamer Potatoes (Pasta-Free!)
Omit the pepperoni and you have a great vegetarian recipe!
Ingredients
3 lbs Creamer potatoes (I used The Little Potato Company's Terrific Trio)
2 cups mozzarella cheese, sliced
2 cups canned pizza sauce OR my herb pizza sauce recipe
½ cup cream cheese, softened
¼ tsp. cayenne pepper
1 tsp. dried basil
1 tsp. dried oregano
2 garlic cloves, minced
¾ cup milk
1 tbsp. coarse whole grain mustard
Salt and pepper
Pepperoni (250g)
Instructions
Slice your creamer potatoes in half if on the larger side. Place into a large pot and fill with water. Add salt and bring to a boil. Boil for 8-10 minutes, or until potatoes are fork tender. Drain.
Combine ½ cup pizza sauce, cream cheese, cream, cayenne, basil, oregano, garlic, salt, pepper, and mustard in a small saucepan. Place over medium heat and cook until combined and hot.
Preheat oven to 375F. Grease a 9x13 inch casserole pan (any size should do.) Place the potatoes into the pan. Add the pepperoni, cheese sauce, pizza sauce, and top with cheese. Bake for 15-20 minutes or until cheese is nice and bubbly and dish is heated through.
Allow to cool slightly before serving!
Note: You can roast the potatoes in the oven with some oil, salt, and pepper at 425F before combining with other ingredients for a more pronounced dish 🙂
Nutrition Information:
Yield:

4
Serving Size:

1
Amount Per Serving:
Calories:

882
Total Fat:

59g
Saturated Fat:

46g
Trans Fat:

0g
Unsaturated Fat:

9g
Cholesterol:

78mg
Sodium:

1355mg
Carbohydrates:

67g
Fiber:

4g
Sugar:

10g
Protein:

24g
A couple of things to discuss. First off, my daughter LOVED the blue potatoes in our Terrific Trio package. Sometimes the blue potatoes are actually yellow-flesh on the inside, but depending on season availability, you get the beautiful blue all the way through the potato! She was in awe! Secondly, this meal is completely gluten-free. Subbing in Creamer potatoes and omitting the usual pasta really transforms this dish and allows children (and adults!) with wheat allergies to indulge. While we did include pepperoni, you could easily omit it to make the dish vegetarian (something I really wish I had done so I could have some!) Also, you will note, no onions! So Dad, if you are reading this, you can actually eat this meal with no complaints...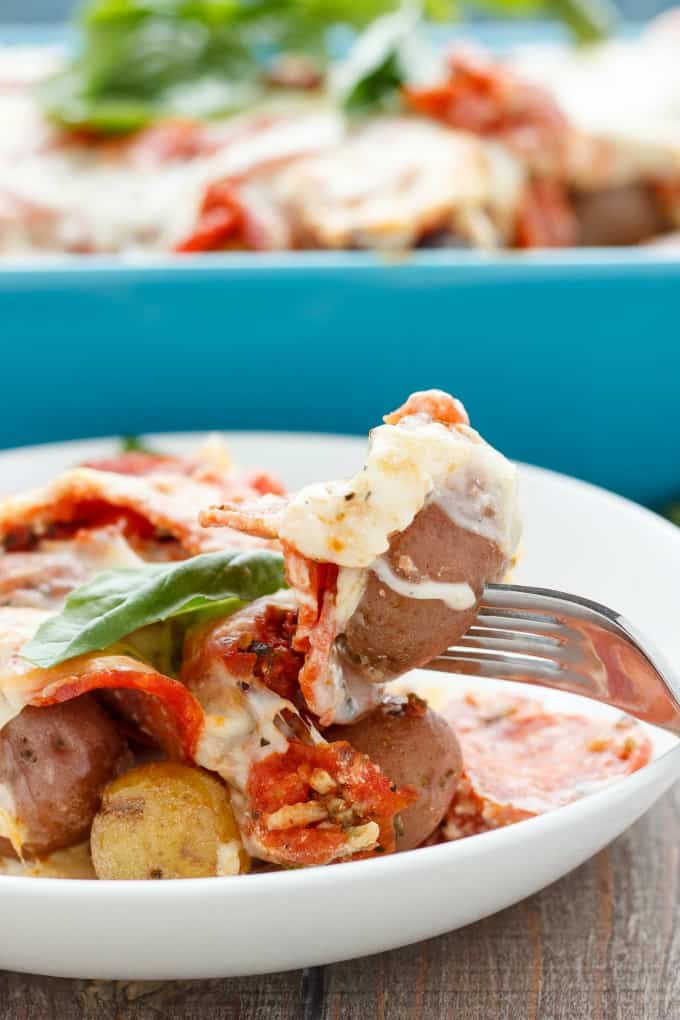 Pizza macaroni and cheese combines the favorites of children into one delicious dish and allows them to complete the dish themselves for the most part (my daughter got to stir the sauce on the stove with my supervision but I was in charge of the oven and boiling of potatoes.) Having my daughter in the kitchen is so important to me and I like to think if/when she goes off to college/university (many years away!) she will have a great cooking repertoire so her lifestyle remains healthy and happy (because who does not love food?!)
This is a sponsored post. I was fortunate enough to receive products and monetary compensation from The Little Potato Company. Though products were received, all opinions are my own and I would not recommend a product that I did not enjoy.