Lemon is so refreshing all-year-round! I love these lemon and almond cookie crinkles in the winter, but just as much so in the summer! Sometimes turning on the oven is worth it 🙂
This cookie recipe never gets old.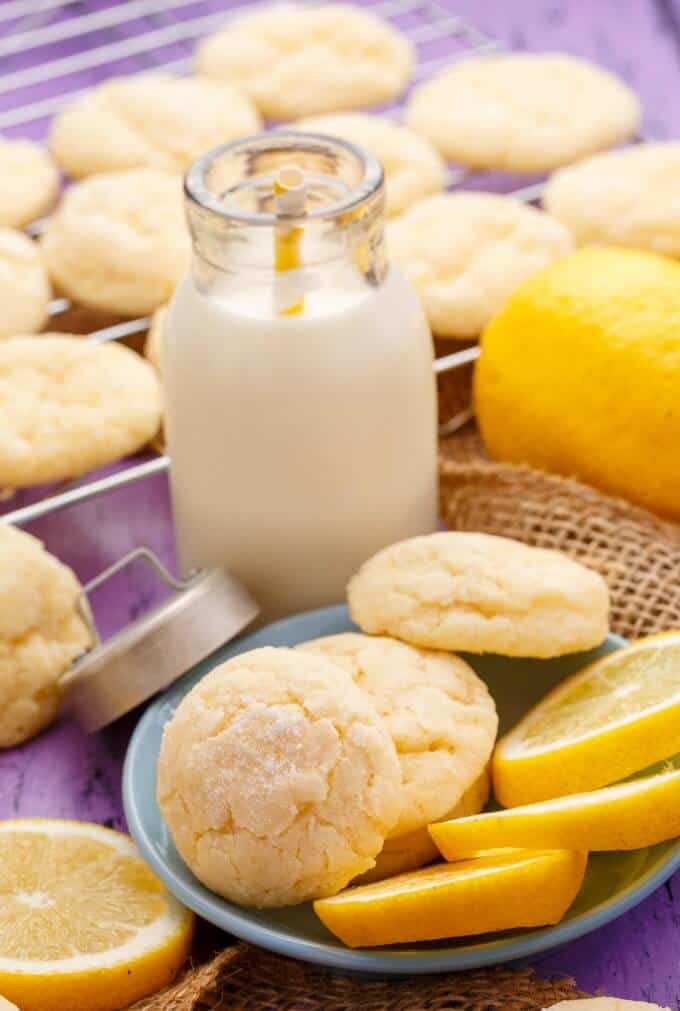 I love anything with a bold lemon flavor, but found when I made these cookies originally, they definitely needed more lemon (and that was after I zested an entire lemon!) It seems like other reviewers agreed; so when I went to make this recipe again, I totally put in more lemon, right?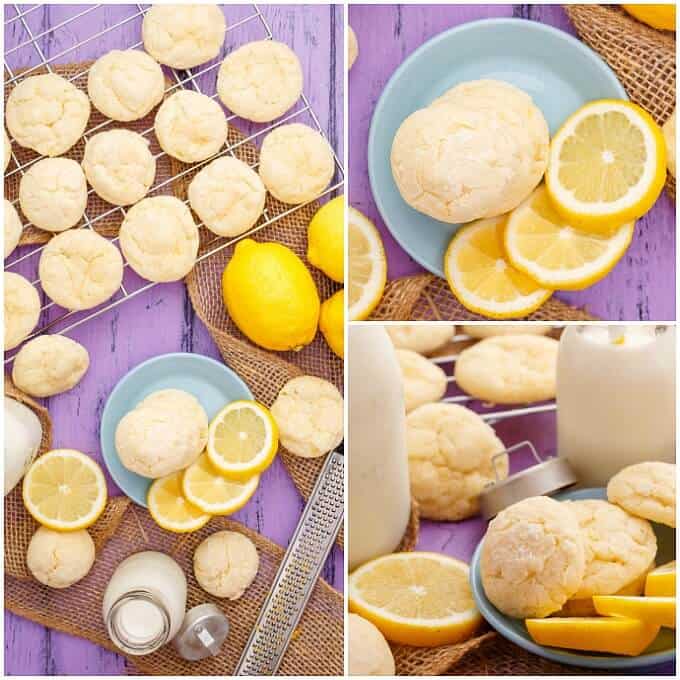 Wrong! I already had the first batch of cookies in the oven when I remembered I was supposed to add more lemon! No harm done, I added extra lemon to the remaining batter and while the cookies were a bit stickier to handle, they turned out perfect! A little different from my original take on these cookies because I decided to add almond extract instead of vanilla. It was well worth it because I find almond pairs so nicely with lemon. One word of advice: almond extract is very strong (at least to me.) Add a bit at first and then if you want more, add more.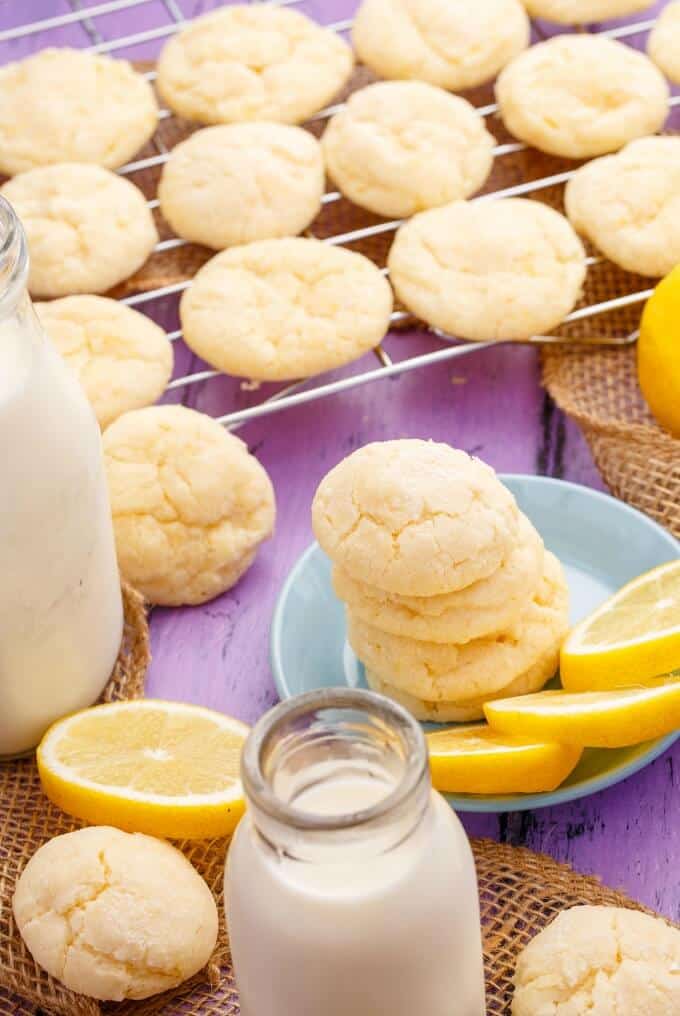 UPDATE: Soooo, after many years of making these lemon and almond cookie crinkles, I decided to rephotograph them! The recipe is pretty much the same, just some revisions text wise.
When making these cookies, I highly suggest using a cookie scoop as the dough is very soft. Scoop the one tablespoon of batter directly into the bowl of icing sugar. This way, no sticky hands and you can easily roll them into a ball with the help of sugar.
📖 Recipe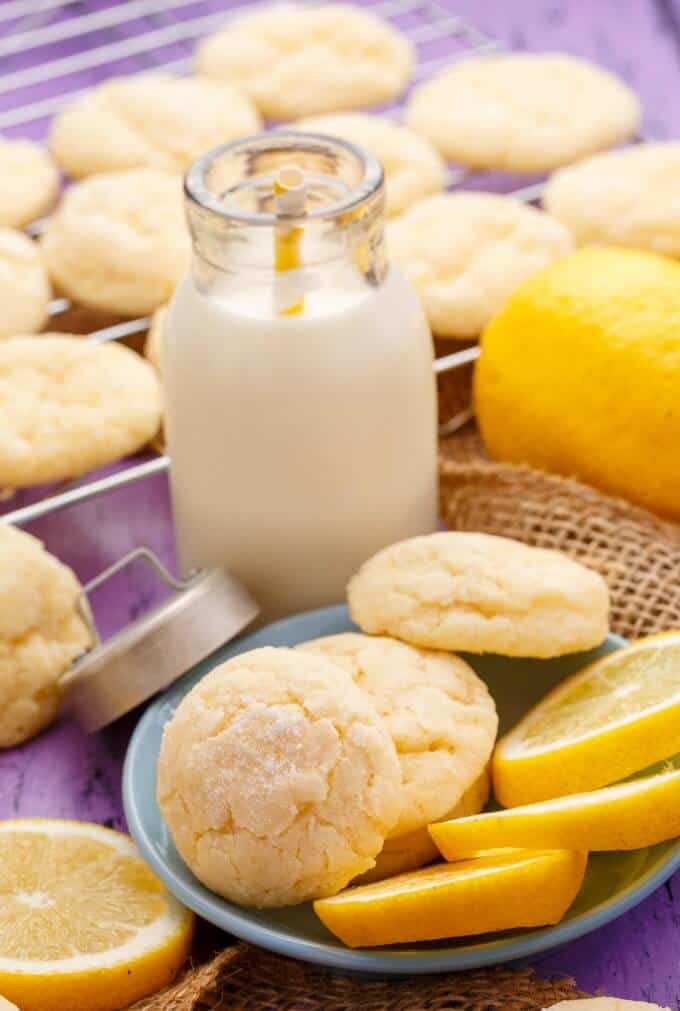 Lemon and Almond Cookie Crinkles
A spin on my lemon cookies, trying out almond extract instead!
Ingredients
½ cup butter, room temperature
¾ cup granulated sugar
¼ tsp. almond extract
1 large egg, room temperature
3 tbsp. freshly squeezed lemon juice
1 tbsp. lemon zest
⅛ tsp. salt
¼ tsp. baking powder
⅛ tsp. baking soda
1 ½ cups all-purpose flour
¼ cup confectioners' sugar for rolling
Instructions
Preheat oven to 350F.
Line baking sheet with parchment paper or silicone liner and set aside.
Add butter, lemon zest, and granulated sugar to the bowl of a stand mixer. Cream until light and fluffy (5-7 minutes.)
Add almond extract & egg. Mix until combined. Add lemon juice and mix again.
Sift together flour, baking soda, baking powder, and salt. Add to mixer ½ cup at a time, mixing until just combined. Dough will be sticky!
Measure out 1 tablespoon-sized dough portions and transfer immediately to confectioners' sugar. Roll until lightly coated and forms a ball.
Place onto baking sheet and bake for 8-10 minutes.
Cool for about 5 minutes on pan and then finish cooling on wire racks.
Notes
The dough is quite sticky, so using a cookie scoop is essential here (you can buy them super cheap!) You can make these ahead of time and chill in the refrigerator before baking 🙂
Nutrition Information:
Yield:

36
Serving Size:

1
Amount Per Serving:
Calories:

63
Total Fat:

3g
Saturated Fat:

2g
Trans Fat:

0g
Unsaturated Fat:

1g
Cholesterol:

12mg
Sodium:

38mg
Carbohydrates:

9g
Fiber:

0g
Sugar:

5g
Protein:

1g
I also took the time to reduce the sugar in these cookies. Whenever I think of lemon, I think bold citrus flavors, so cutting back on the sugar seemed to help here.
Love these lemon and almond cookie crinkles?! Try some of these recipes: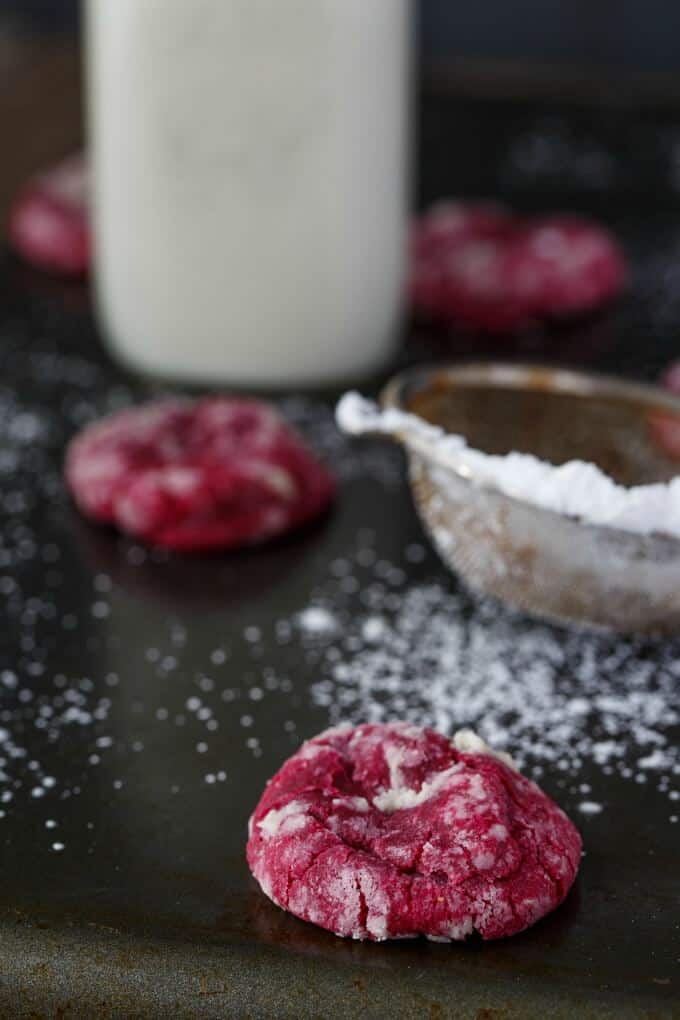 Red Velvet Cookie CrinklesDouble Chocolate Cookies with Hershey's Chipits