Not everyone enjoys buying 10 different bags of flour varieties, so I tried my hand at making gluten-free biscuits (using Robin Hood Nutri Flour Blend: Gluten-Free.)
While I am still unfamiliar with gluten-free recipes, I am beginning to see how they work. They are definitely different, both in taste and texture. But this is not necessarily a bad thing. As pointed out with the gluten-free chocolate chip cookies, they are different from the usual chocolate chip cookie, but it was a nice change. I wouldn't want to eat them everyday, but for a gluten-free diet, they are really good!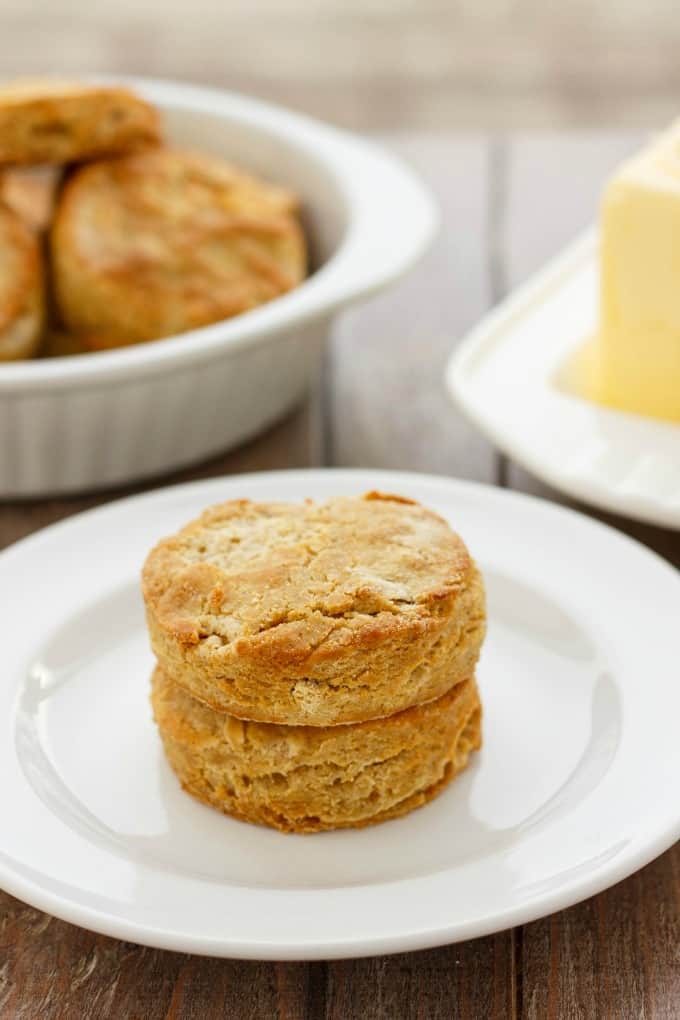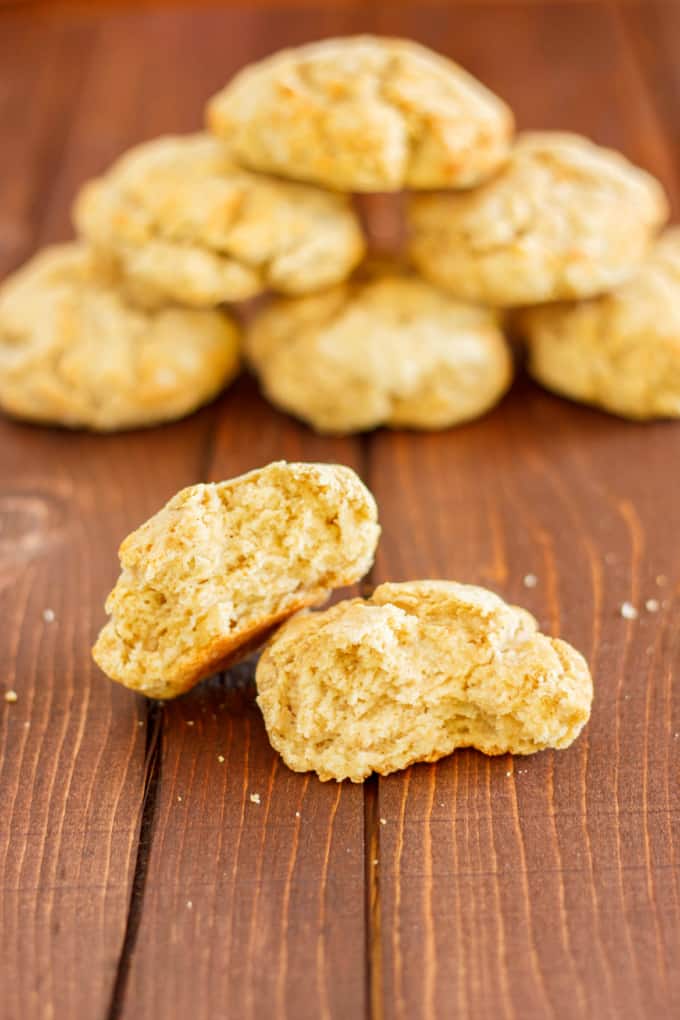 I decided I wanted to work more with Robin Hood Nutri Flour Blend Gluten-Free. I have a huge bag still, and while I look forward to trying all their recipes listed on their site, I began to think there was more out there. We decided to make my tomato basil spaghettini again, this time gluten-free for my mother-in-law. Working with the gluten-free pasta was interesting... the water got so thick and goopy-like, I was afraid I screwed up boiling pasta! Thankfully, all was well and I paired the meal with these awesome gluten-free biscuits! Best part? You don't need to buy a gluten-free Bisquick mix.
📖 Recipe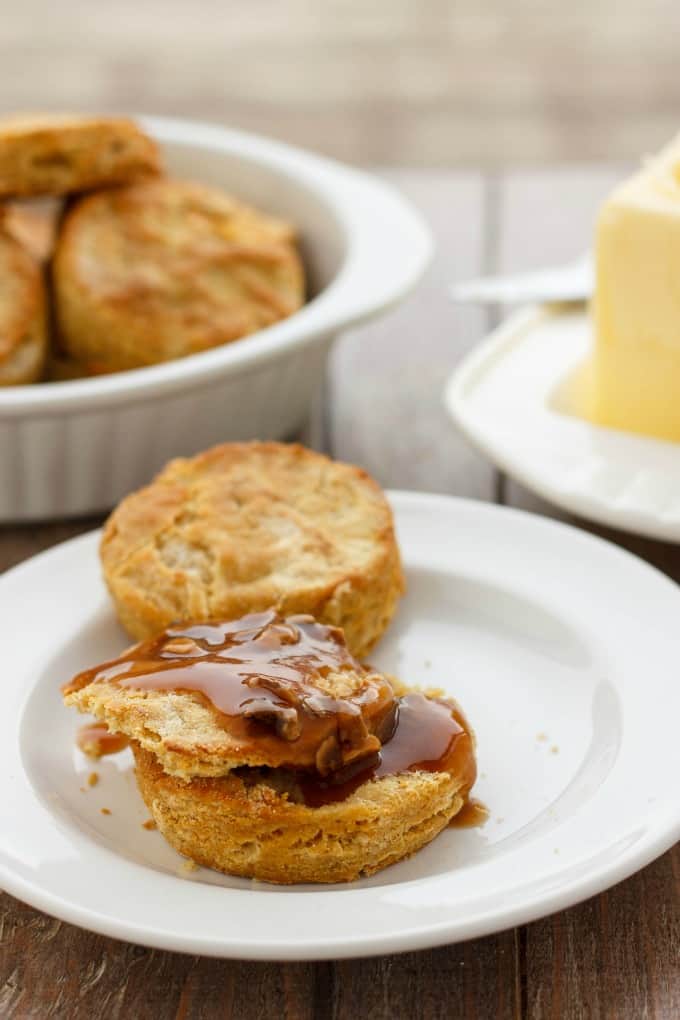 Gluten-Free Biscuits made with Robin Hood Nutri Flour Blend
Gluten-free biscuits that can be paired with a wonderful vegetarian spaghetti sauce.
Ingredients
1 cup Robin Hood Nutri Flour Blend Gluten-Free
1 cup cornstarch OR potato starch (I have worked with both and prefer the potato starch!)
1 tsp. xanthan gum
5 tsp. baking powder
1 tsp. baking soda
½ tsp. salt
1 tbsp. granulated sugar
6 tbsp. butter, chilled
1 cup buttermilk*
Instructions
Add the flour, potato starch, xanthan gum, baking powder, baking soda, salt, and sugar into a medium bowl. Combine ingredients with a pastry blender. Add butter and cut in with pastry blender. I left some larger chunks of butter instead of blending to a fine crumb matter because I figured the biscuits would come out flakier like a pie crust.
Preheat oven to 400F. Line a baking sheet with parchment paper.
Pour the wet ingredients into the dry ingredients, stirring just enough to combine. Add some flour to your countertop and pour out the batter. Roll around a few times before flattening down to ½ - 1-inch in thickness (I just used my hands.) Cut out rounds (my cutter was 2 ½ inches) and place onto baking sheet. Rework dough and cut out more until no batter remains.
Pop into the oven and bake for 10-12 minutes. Serve immediately (they are soooo delicious!) Or you can warm them up for later use.
Nutrition Information:
Yield:

14
Serving Size:

1
Amount Per Serving:
Calories:

126
Total Fat:

5g
Saturated Fat:

3g
Trans Fat:

0g
Unsaturated Fat:

2g
Cholesterol:

14mg
Sodium:

421mg
Carbohydrates:

18g
Fiber:

0g
Sugar:

2g
Protein:

2g
*If you do not have buttermilk on hand, add 1 tbsp. of white vinegar to a large measuring cup. Pour in enough milk to equal 1 cup total. Allow to sit 5-8 minutes and stir, creating "buttermilk."
Very simple and delicious! I think I ate two of these gluten-free biscuits before dinner was finished! I am already picturing savory biscuits in the future. Frying up some onions, adding some herbs, and perhaps some cheese... Yum!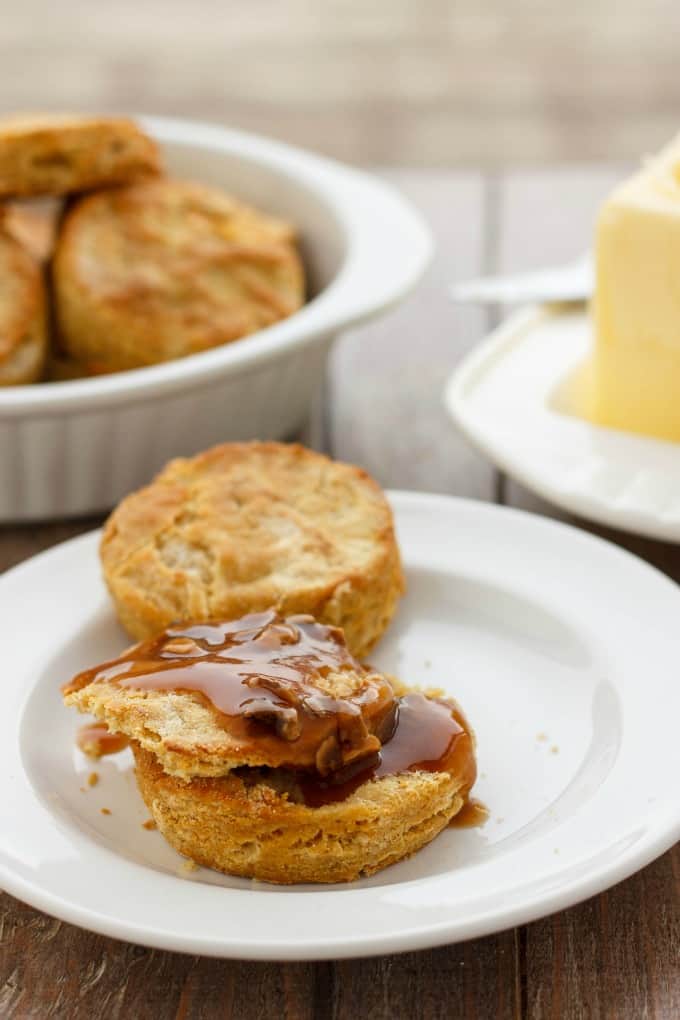 Try not to overwork the dough. I went as fast as possible. Any recipe suffers from over-mixed dough, but in this case, I was especially worried since it was gluten-free and did not want to dry out the biscuits. The dough was still drier to my liking, but I was afraid if I added more liquid, I would not be able to cut biscuits out. I mean, there is no harm in trying more liquid and making these drop gluten-free biscuits 🙂