Looking for a lighter cake that uses up some greens? This chocolate zucchini cake is a great way to hide greens from kids (though I just admitted outright to my daughter and she still loved it!)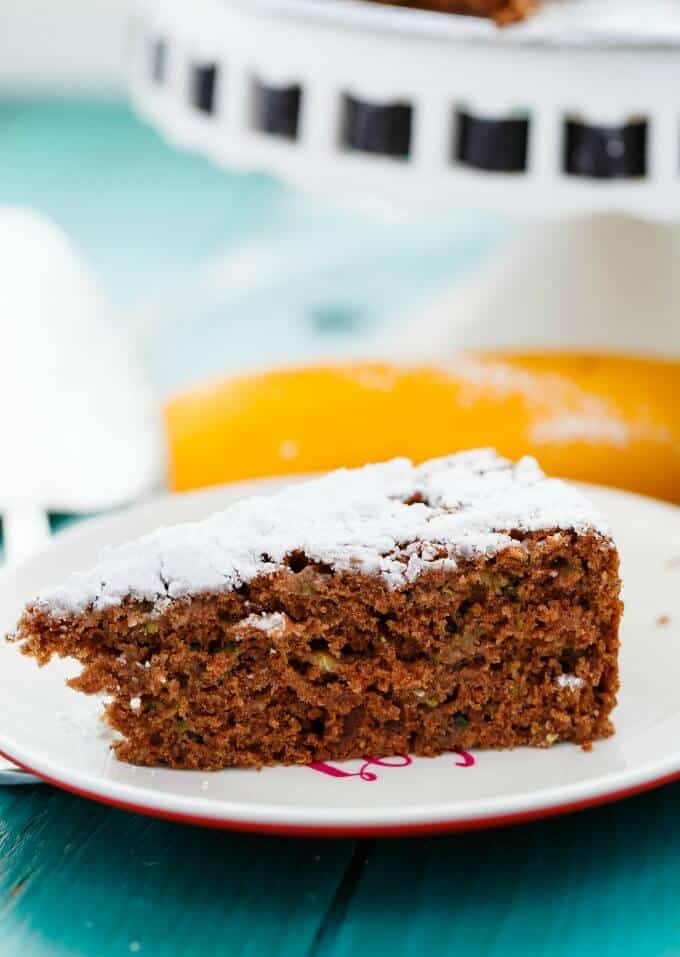 I made this chocolate zucchini cake a couple of weeks ago for my best friend's birthday. She has been working hard to lose weight by eating right and remaining positive in the fitness world. While it is still technically a cake with sugars and flour, I knew I wanted to steer clear of excess sugary icing and fillers. When I came across this recipe I thought it would be perfect because it is loaded with fresh zucchini, but is still a nice treat for someone who deserves something special!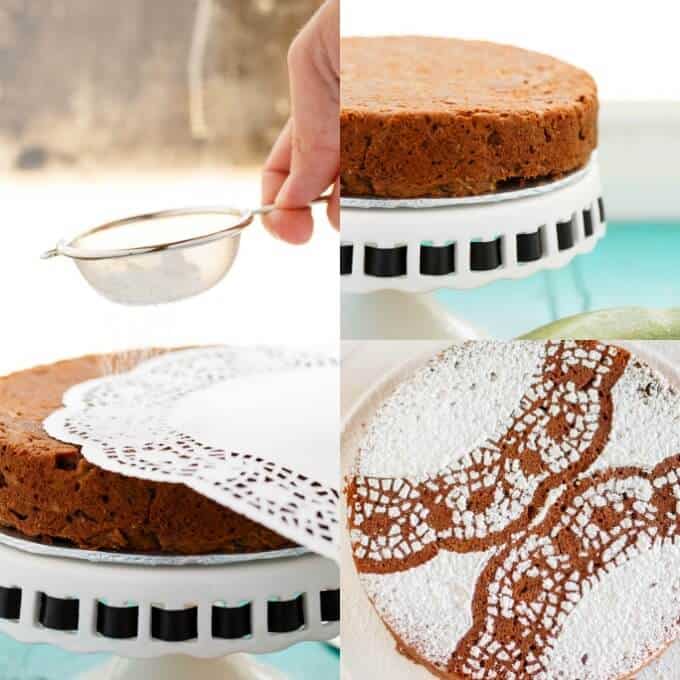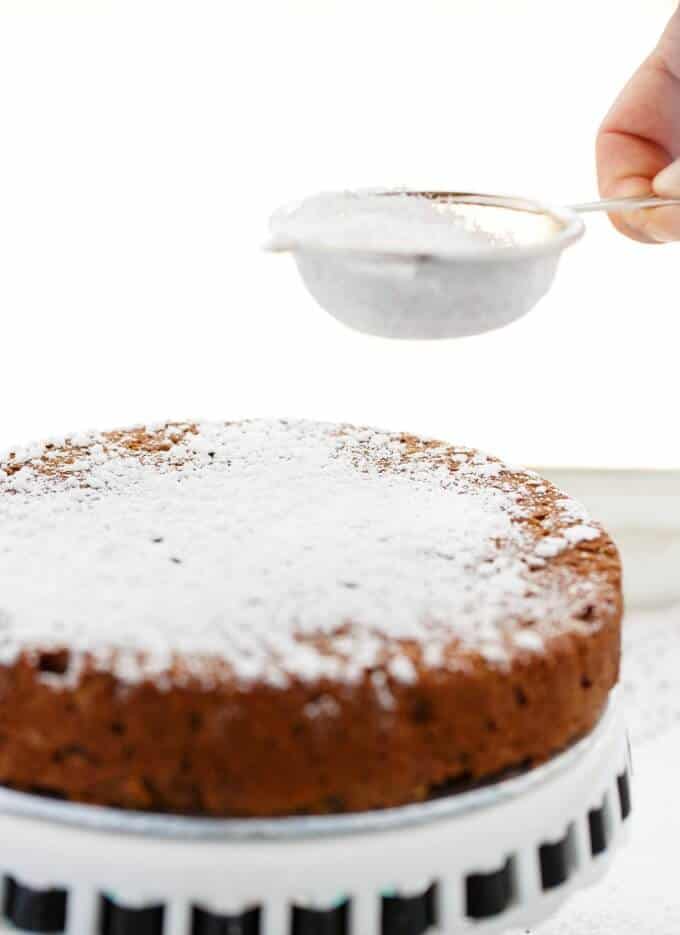 I ended up reducing the sugar and salt in the recipe. I usually use salted butter in all my cooking (yes, a big no-no in the baking world but I prefer it.) I could see substituting the buttermilk with another milk alternative to make this dish healthier, but for what it is worth, this recipe worked perfectly they way it is! UPDATE: I used coconut oil instead of butter and what a difference! Plus, coconut oil is probably a bit better than butter 😉
📖 Recipe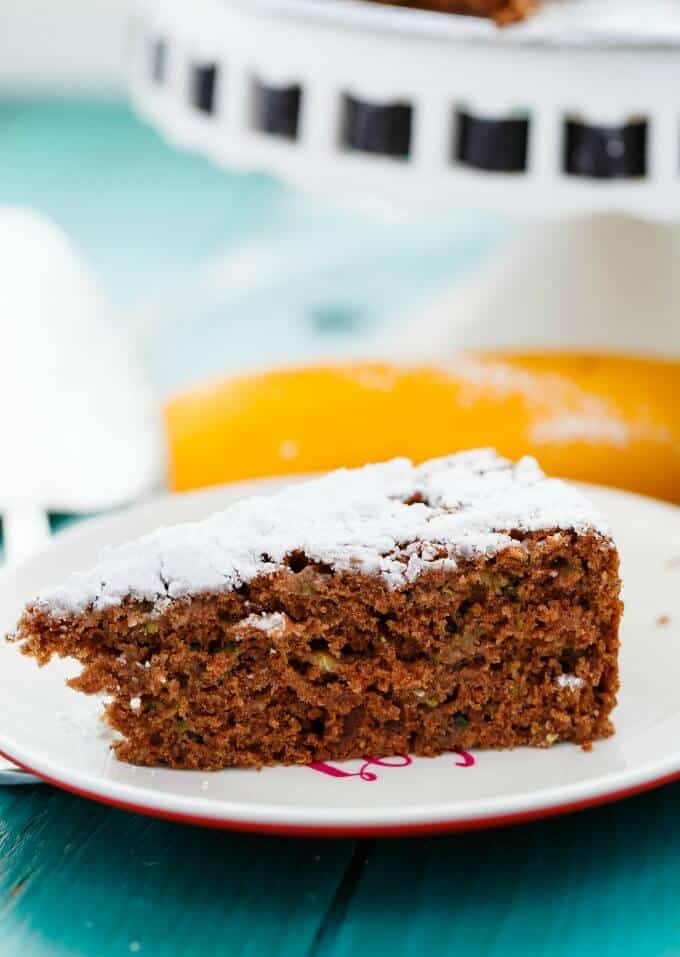 Chocolate Zucchini Cake
Total Time:
1 hour
15 minutes
Here is a great recipe to get those picky eaters to eat their greens!
Ingredients
2 medium zucchini, grated (1 ¼ lbs)
1 ripe banana
½ cup coconut oil, room temperature
2 ¼ cup whole wheat flour
½ cup cake & pastry flour (or sub in all-purpose!)
¼ cup unsweetened cocoa powder
1 ¼ tsp. baking soda
¼ tsp. salt
1 ¼ cups brown sugar
2 eggs, room temperature
2 tsp. vanilla
½ cup buttermilk
Confectioners' sugar for decorating
Instructions
Using a towel or cheesecloth, squeeze out as much water from the zucchini as possible. Set aside.
Sift together your flours, cocoa, baking soda, and salt.
In the bowl of your stand mixer, add the coconut oil and sugar and beat until light and fluffy, about 5 minutes. While they are mixing, generously grease an 8-inch pan.
Preheat oven to 325F.
With the mixer on medium-low, add the bananal and beat until combined. Add in one egg at a time, waiting until each is completely combined before adding the next. Pour in the vanilla. Reduce speed to low and add the flour and buttermilk alternatively, beginning and ending with the dry mixture. Add the zucchini and stir until just combined.
Add the batter to the pan (about ¾ths full) and place into the oven for 50 minutes - 1 hour. You will have extra batter but that can be used for muffins. Test with a toothpick to see when the centre of the cake is cooked. Allow to cool on a wire rack, about 15 minutes. Turn onto the wire rack and cool completely. Finish by sifting confectioners' sugar on top of the cake.
Notes
This recipe would work well with two 6-inch layers.
Nutrition Information:
Yield:

12
Serving Size:

1
Amount Per Serving:
Calories:

407
Total Fat:

14g
Saturated Fat:

9g
Trans Fat:

0g
Unsaturated Fat:

3g
Cholesterol:

42mg
Sodium:

268mg
Carbohydrates:

66g
Fiber:

4g
Sugar:

36g
Protein:

7g
Don't obsess over the amount of zucchini you put in. As stated from the original site, the zucchini is very forgiving in this recipe. I plan to add a shredded apple next time, reducing the zucchini slightly. As for the cake itself, it turned out wonderful! She absolutely loved it, which I am glad! You could skip the icing sugar on top of the cake but you don't want to deny people too much 🙂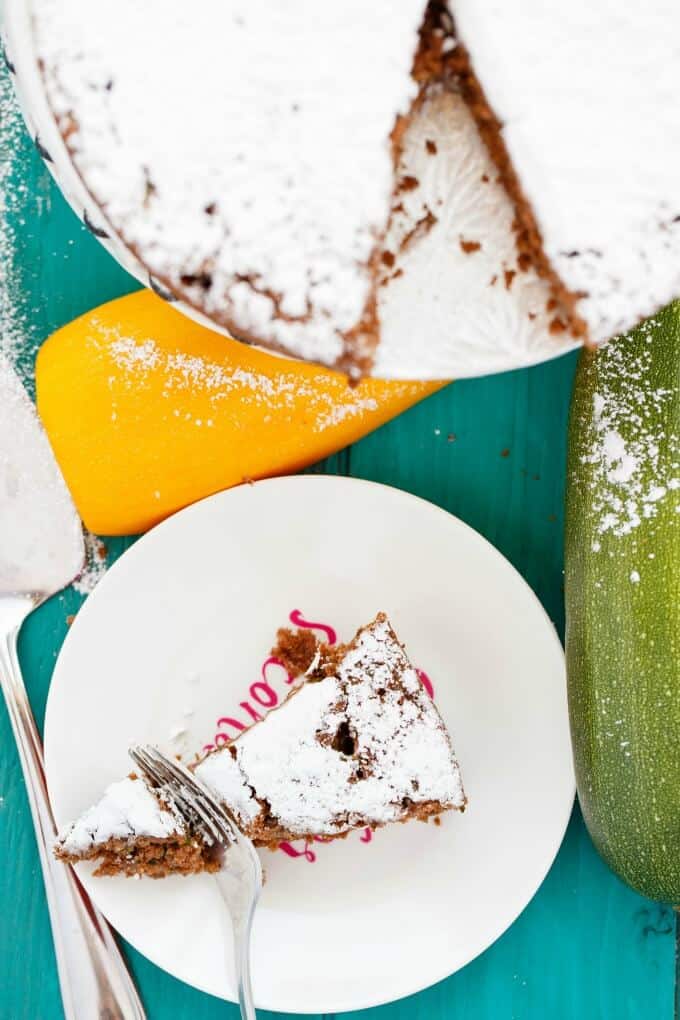 Also, I used an 8-inch pan because I don't own 9-inch ones. The chocolate zucchini cake puffed up on top, which I compensated by cutting off the dome and eating the excess. Just make sure to put the cut side down so you are left with a beautiful top. And, for an added decorative touch, place a doily on top of your cake and sift the confectioners' sugar on top. Carefully remove the doily and you will be left with an awesome pattern! UPDATE: I still make this cake in an 8-inch pan and use the additional batter to make muffins! Heck, this could easily make two 6-inch layers!
Love this chocolate zucchini cake?! Try some of these recipes: