Fun and easy, these strawberry and raspberry Jell-O parfaits with almond whipped cream are perfect for Canada Day!
I have been slacking on my posts. Yes, I have been keeping up with my Monday-Friday "job," however, I get a little excited when it comes to certain meals. I will create a schedule of when to post certain recipes, but then I make something I deem "totally awesome," so I forget about my schedule and post whatever it is I made that day. Wouldn't be so bad if I didn't push some recipes away, completely forgetting about them. This is the case with today's recipe: Strawberry and Raspberry Jell-O Parfaits with Almond Whipped Cream. I made them for Canada Day... Yes, over a month ago...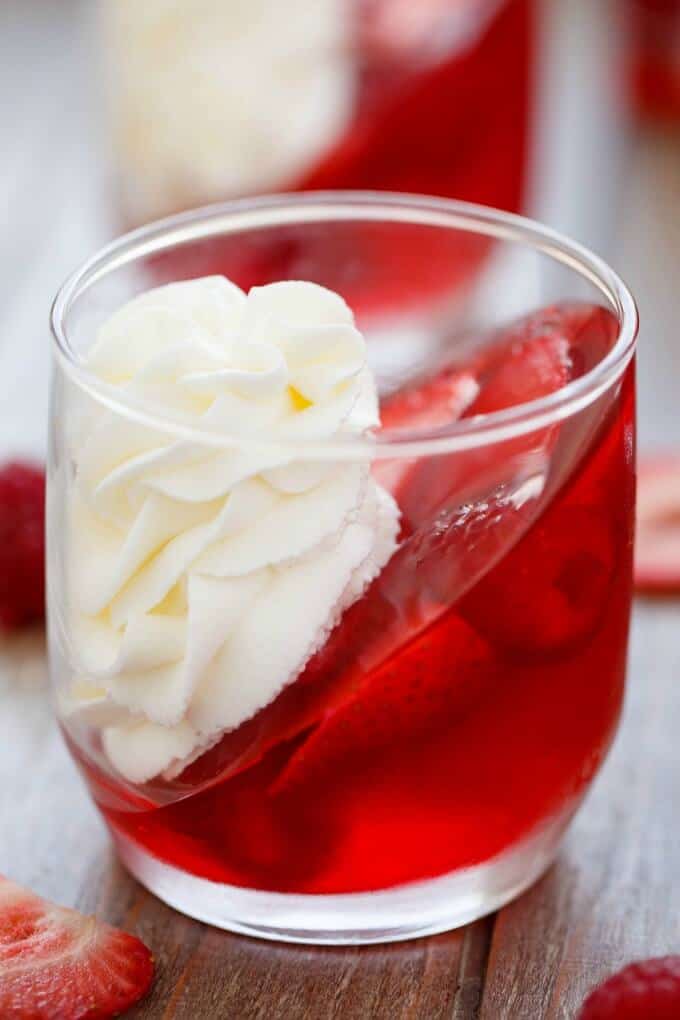 But I am posting them now so that is okay, right? I really thought the idea was cute when I saw it in the What's Cooking magazine. However, you don't have to stick with Canadian colors for this project. I was attracted by the slanted look of the Jell-O more than anything. Plus kids will love them when they see the bright colors on an angle! Don't tell them the secret is angling the glasses in a muffin tin so the Jell-O hardens on a slant.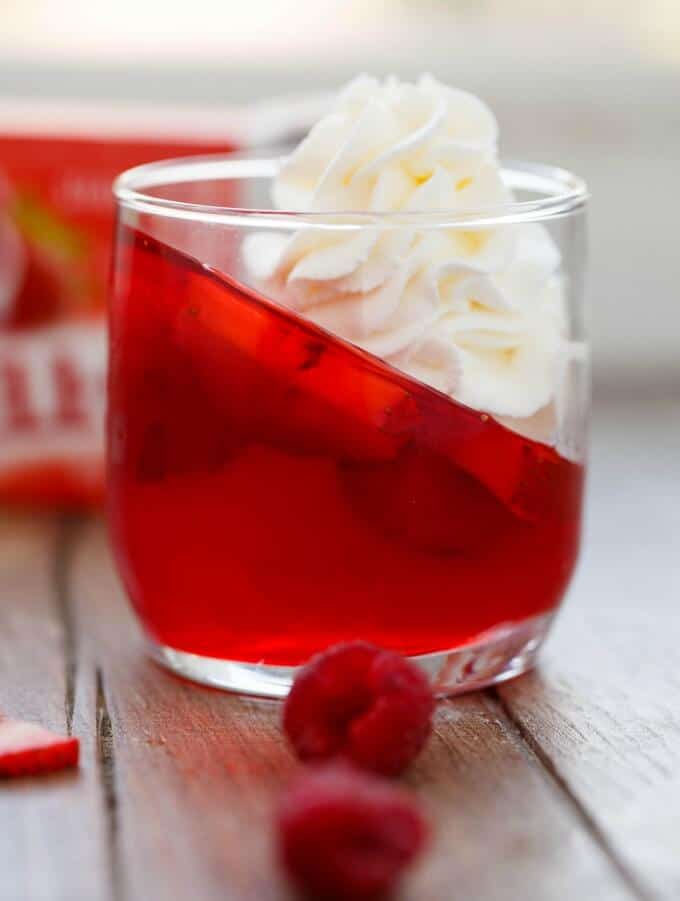 UPDATE: This dessert is so easy that I had my 4 year old help me make a video of them!
This recipe made a lot more than what the magazine stated. Maybe my dessert cups were really small, but either way, the amount you get is going to depend on how big your glasses are. You can make these in advanced but be sure to leave out the whipped cream until ready to serve.
📖 Recipe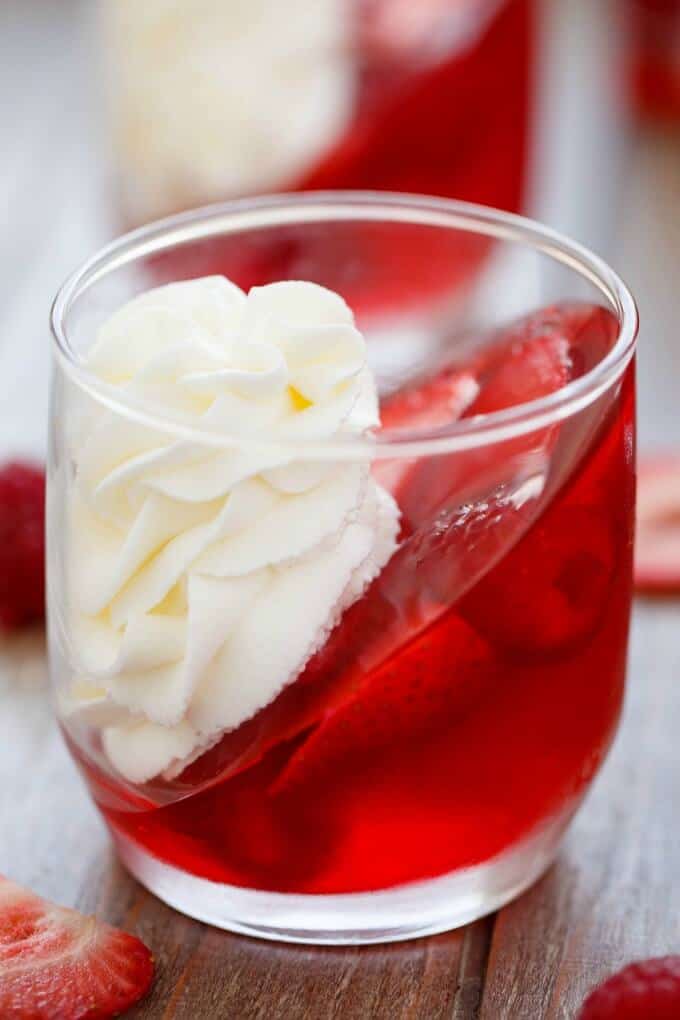 Strawberry and Raspberry Jell-O Parfaits with Almond Whipped Cream
A fun, no-bake Canada Day dessert!
Ingredients
1 cup boiling water
1 cup cold water
1 (85g) package of Jell-O Strawberry Jelly Powder
Half pint of fresh raspberries
¾ cup of fresh strawberries, sliced
Whipped Cream
1 cup heavy whipping cream
1 tsp. granulated
¼ tsp. almond extract
Instructions
Add strawberry Jell-O powder to medium-sized mixing bowl. Stir in boiling water and mix until completely dissolved. Add cold water and stir. Place into fridge until the mixture has thickened up slightly (don't forget about it!!)
Lean 6 dessert glasses in a muffin tray (you want them on an angle so when you add the liquid, the mixture is from one corner of the glass to the other.) Equally distribute the strawberry slices and raspberries into each cup. Pour Jell-O liquid into each cup, filling until the liquid comes to the edge of glass.
Carefully transfer to fridge and allow mixture to firm up, about 2 hours. Once the mixture has firmed up, you can take them out of the tray and have them stand upright.
Whipped cream
Place whipping cream into a large mixing bowl. Using a hand mixer, whip on medium-high until soft peaks form. Add sugar and almond extract and continue beating until stiff peaks form.
Pipe the whipped cream beside the firm Jell-O to create perfect parfaits!
Nutrition Information:
Yield:

6
Serving Size:

1
Amount Per Serving:
Calories:

165
Total Fat:

15g
Saturated Fat:

9g
Trans Fat:

0g
Unsaturated Fat:

4g
Cholesterol:

45mg
Sodium:

15mg
Carbohydrates:

8g
Fiber:

2g
Sugar:

5g
Protein:

2g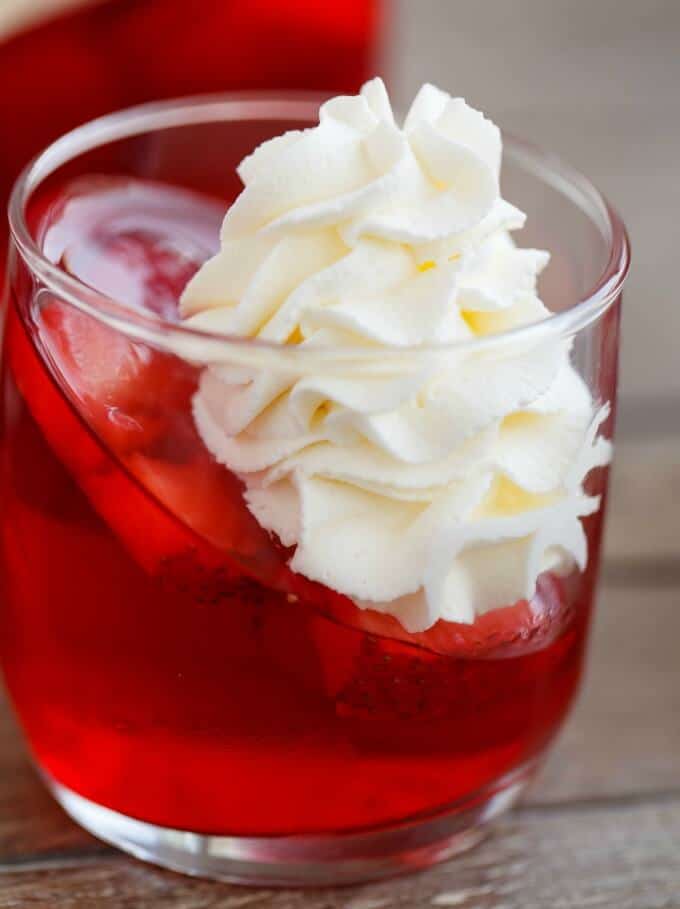 Sorry about the pictures. When I took them, I had immediately moved the glasses from the fridge to the outdoors, resulting in some condensation build up. I should have wiped the glasses but were having company and I didn't want to spend too long on photographs. Will be sure to update them next Canada's Day when I make these treats again! UPDATE: Pictures have been updated and the recipe was so easy that my daughter made most of the project!