Want to know how you can vamp up a traditional salad this summer? Continue reading to find out how to make this roasted potato and chicken caprese salad as I continue my brand ambassadorship with The Little Potato Company!
Our summer temperatures are finally showing their true colors. It has been up and down with our weather: think rain, then sun, then lots more rain, then some cold temperatures. Canada has been confusing this year! That aside, we have kept busy, working on the house and having our daughter attend swimming lessons along with her regular classes. Needless to say, I am exhausted!! When I get home, I actually find myself not wanting to cook something elaborate (shocking!!) I have been leaning towards easier recipes and I think this one takes the cake.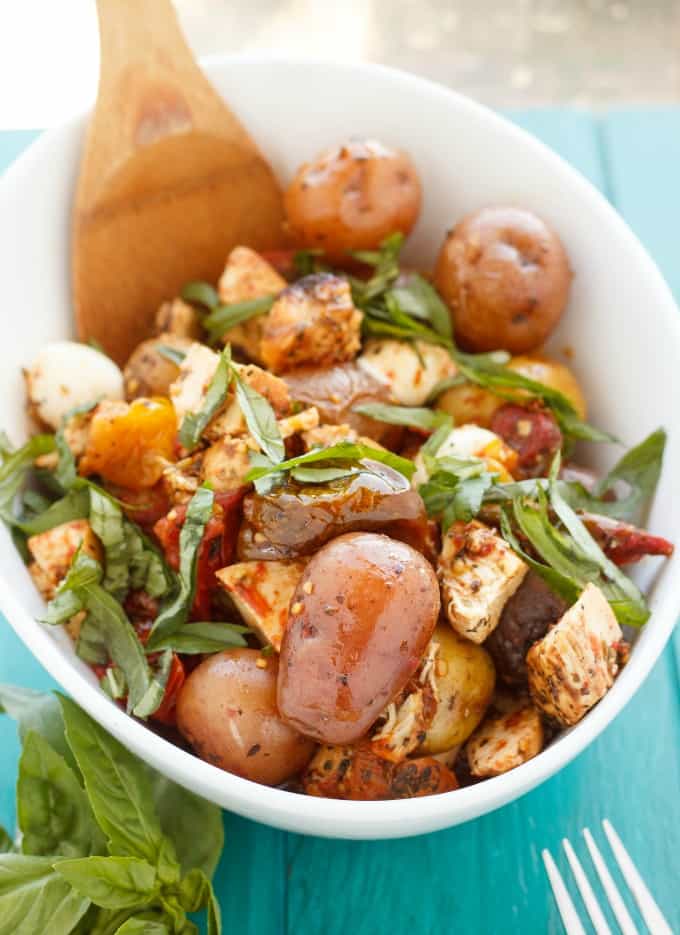 Roasted potato and chicken caprese salad is nowhere near your traditional salad! I mean, who does not love caprese?! It has to be one of my favorite creations, and working it into this salad recipe, well, let's just say I was super impressed with myself! My husband does not eat salad. Never. Ever. He was actually my inspiration for this recipe. He told me he would try hot salads. Okay... a little specific but I could work with it! When The Little Potato Company asked me to highlight their Oven | BBQ Ready packages, I knew immediately where I was going with my recipe. While I decided to make my roasted potato and chicken caprese salad in the oven, this recipe transitions very well on the BBQ. I won't lie, my BBQ scares me. I bought it for my husband when we first moved into our house and it is showing its age (aka, the only way to light it is to throw a match in there...)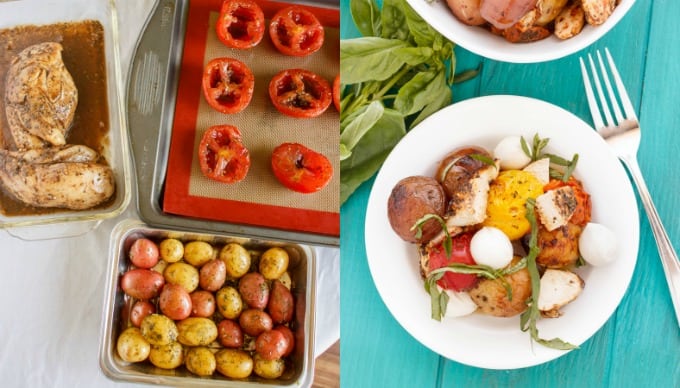 Fears aside, once the BBQ is up and running, I am totally down for grilling! Once marinated, the chicken and tomatoes are cooked directly on the grill, alongside the Oven | BBQ Ready creamer potatoes. If you cannot find these potatoes in store, do not fret! I pre-boil some Creamer potatoes (even a day in advance) and have no problem roasting them in the oven or on the grill. You could easily use any of The Little Potato Company's 1.5 lb bags for this recipe in place of the Ready packages (but who doesn't like convenience!) Just remember, the BBQ Ready packages come with their own seasoning packages, so you will want to season your Creamer potatoes accordingly.
📖 Recipe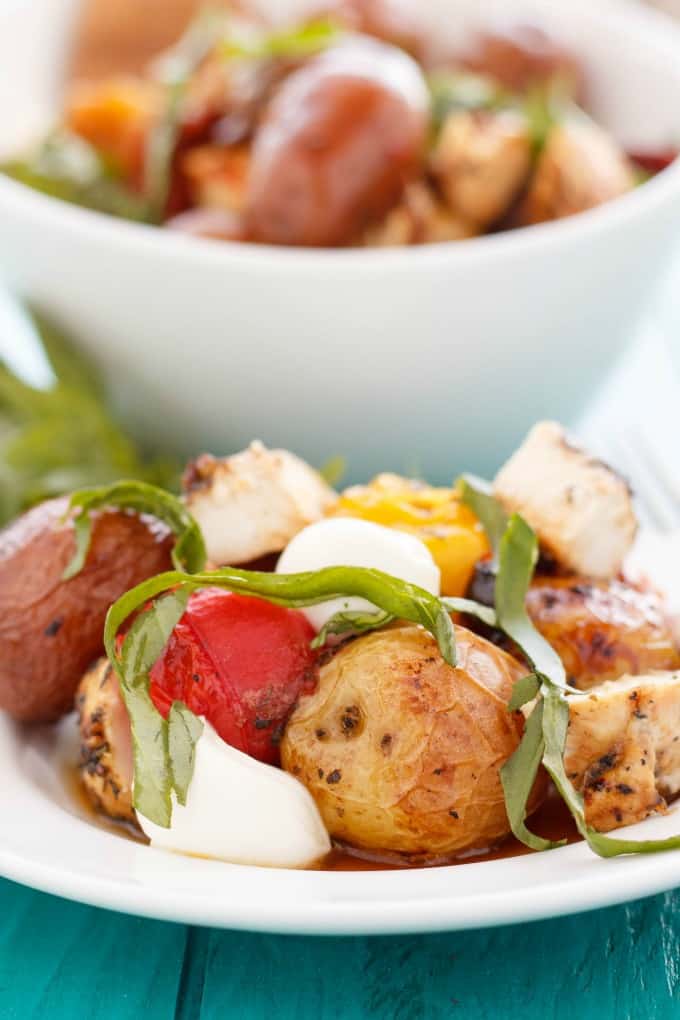 Roasted Potato and Chicken Caprese Salad
This warm salad can be made in the oven or on the grill!
Ingredients
Chicken
2 boneless, skinless chicken breasts
1 tbsp. olive oil
2 tbsp. balsamic vinegar
Salt and pepper
1 tsp. dried basil
Salt and pepper
2 garlic cloves, minced
Tomatoes
5 medium-sized tomatoes, halved and core removed OR two pints cherry tomatoes
1 tbsp.olive oil
2 tbsp. balsamic vinegar
½ tsp. dried basil
Fresh basil (I used about 10 large leaves, but it is up to you!)
1 (200 g) container bocconcini cheese, drained and patted dry
Instructions
*You can marinade the chicken and tomatoes separately overnight, like I did, or a couple of hours in advance if you are short on time. If using Creamer potatoes and NOT the BBQ ready package, boiling the potatoes in advance will help save time.
In one large Ziploc bag, add the chicken, olive oil, balsamic vinegar, dried basil, salt, pepper, and garlic cloves. In another, add the tomatoes, olive oil, balsamic vinegar, salt, pepper, and dried basil. Marinade overnight if possible.
Preheat oven to 450F.
Add tomatoes, cut-size up, into a baking dish. Add chicken breasts and marinade to a shallow baking dish. Prepare the potatoes following the instructions on the box of potatoes OR if using Creamer potatoes, toss pre-boiled potatoes with salt, pepper, and 1 tbsp. olive oil. Place onto large baking sheet. Add the tomatoes, chicken, and potatoes to the oven and cook for 15 minutes. Check internal temperature of chicken breasts until they reach 160F. Remove tomatoes and chicken (if done) and continue cooking potatoes for another 10-15 minutes, or until nicely golden.
In a large mixing or serving bowl, add the potatoes. Slice the chicken into small chunks and add them, along with roughly chopped tomatoes and any excess tomato juice, to your potatoes. Garnish with bocconcini and freshly chopped basil.
If feeling adventurous, make some balsamic glaze to drizzle over the salad!
Nutrition Information:
Yield:

4
Serving Size:

1
Amount Per Serving:
Calories:

383
Total Fat:

13g
Saturated Fat:

4g
Trans Fat:

0g
Unsaturated Fat:

9g
Cholesterol:

62mg
Sodium:

305mg
Carbohydrates:

40g
Fiber:

6g
Sugar:

12g
Protein:

27g
Grilling Instructions:
Preheat BBQ to 450F. The potatoes will take the longest, so add them first (if using the BBQ ready kit, follow instructions on packaging. If using pre-boiled potatoes, just toss them with olive oil, salt, and pepper and put directly onto the grill.) Cook for about 10 minutes, and then add the chicken and tomatoes. Flip the chicken every couple of minutes until internal temperature reaches 160F (about 15 minutes max depending on size of breasts.) The tomatoes should be done fairly quick, but keep an eye on them! When the potatoes are nice and golden (30-40 minutes total,) remove from heat. In a large mixing or serving bowl, add the potatoes (you can decide to slice them in half or not.) Slice the chicken into small chunks and add them, along with roughly chopped tomatoes, to your potatoes. Garnish with bocconcini and freshly chopped basil.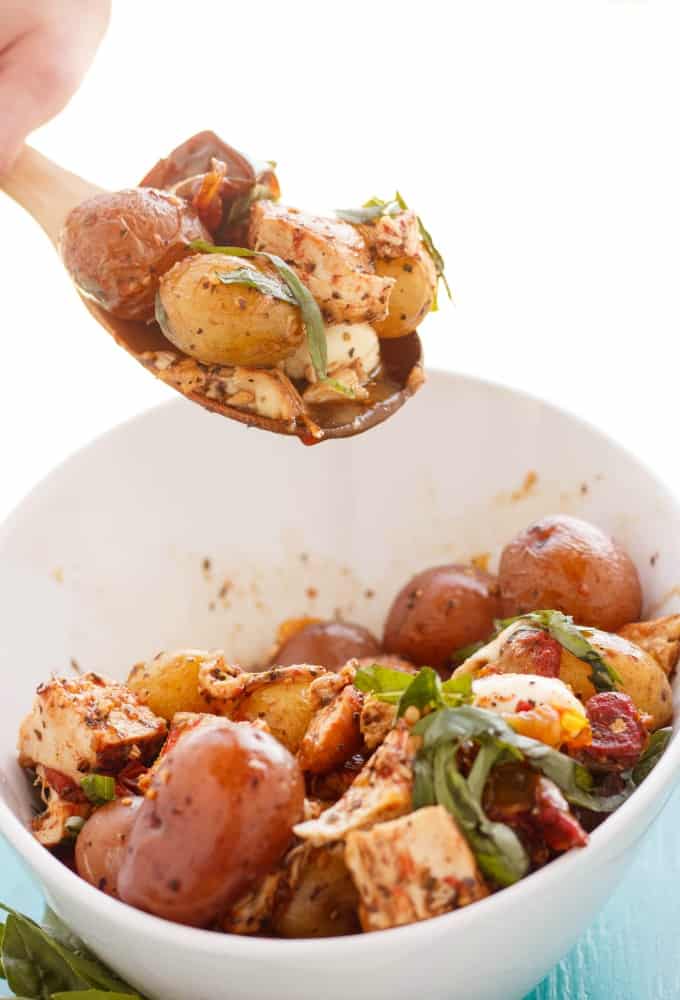 I really wish I could have indulged in this salad with my daughter and husband because it smelled so good! I know for sure I could whip up an awesome vegetarian version, whether by omitting the chicken/protein altogether, or adding in some grilled tofu. Mmmm, I feel like I need to make this version sooner than later! I love showing people how even though there is one dietary concern in the house, doesn't mean anyone has to suffer/lack in the flavor department. I could even go as far as keeping some of the salad to myself before adding the chicken in so we do not have to make two separate side recipes.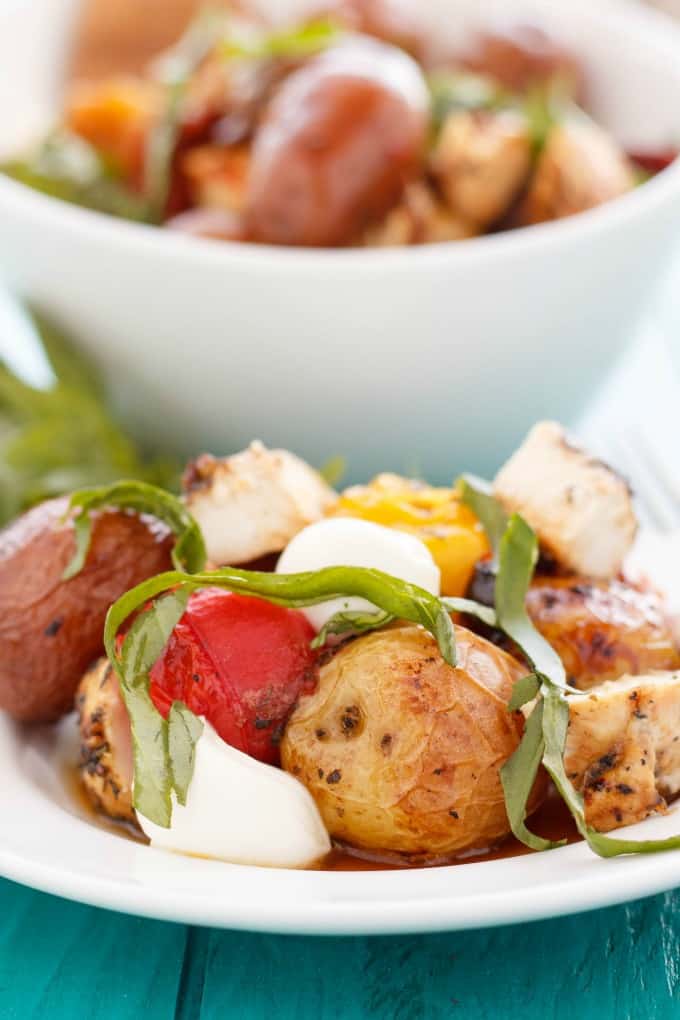 This is a sponsored post. I was fortunate enough to receive products and monetary compensation from The Little Potato Company. Though products were received, all opinions are my own and I would not recommend a product that I did not enjoy.
Love this roasted potato and chicken caprese salad?! Try some of these recipes: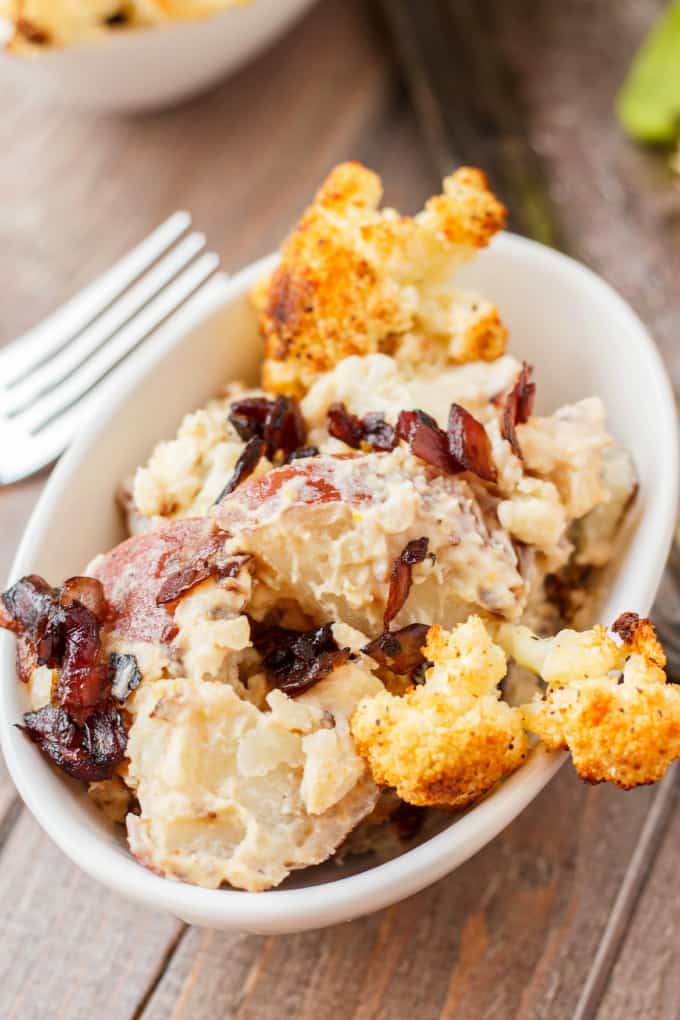 Potato Salad with Roasted Cauliflower and Caramelized Onions