Extra rhubarb on hand? Look no further because this rhubarb crumble brown betty is the ultimate crispy and chewy dessert!
I have been lucky enough to acquire a ton of rhubarb from friends and neighbors. This is my first year ever working with it, and I have to say, I love it! Which brings me to The Cookie Writer's first theme week: Rhubarb Week!
All this week I will be posting rhubarb recipes. I have already made rhubarb biscuits, so they will not be included. However, be on the look out for some cool creations (and not just dessert!)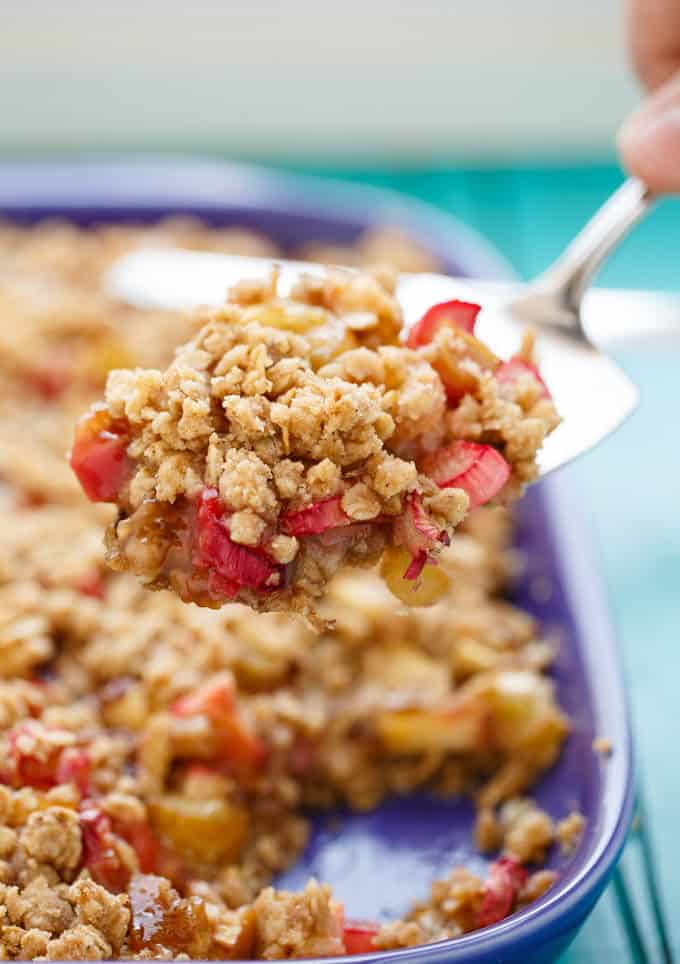 Rhubarb is quite tart, and sugar is best paired with it (I know, not very healthy, but it definitely needs it.) However, depending on your preference, you can adjust your sugar quantity accordingly. I tend to use less because I love the sour taste of the rhubarb, but it is all based on your liking. When I went to try this rhubarb crumble, I knew I would reduce the sugar, and it worked perfectly! This rhubarb crumble was to die for. I was so impressed by it, considering it was my first time ever making anything with rhubarb. I will have no problems making it again, maybe with strawberry next time.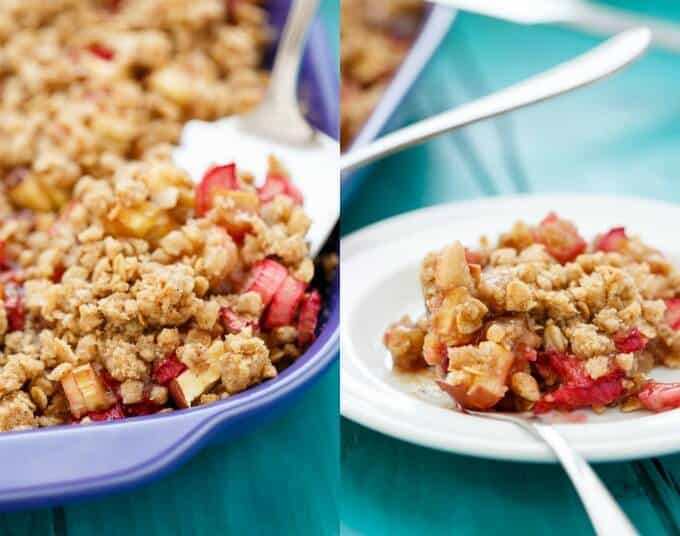 📖 Recipe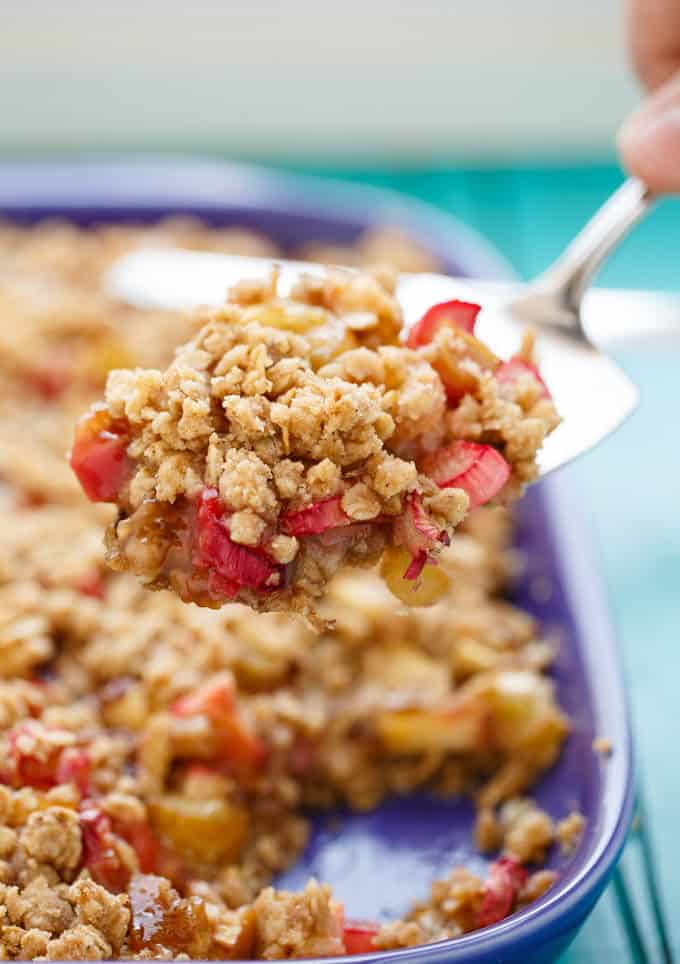 Rhubarb Crumble or Rhubarb Crumble Brown Betty?
You can easily double the topping portion so you have even more crispy goodness!
Ingredients
½ cup apples, diced
3 cups rhubarb, chopped
1 cup all-purpose flour
1 cup old-fashioned oats
1 cup brown sugar
½ cup butter, melted
1 tsp. cinnamon
½ tsp. nutmeg
Sauce
1 cup cold water
¾ cup brown sugar
2 tbsp. cornstarch
¼ tsp. salt
½ tsp. vanilla
Instructions
Grease a baking dish (9x13 inch) with butter.
In a medium-sized mixing bowl, add the flour, oats, cinnamon, nutmeg, sugar, and butter. Stir until combined. Pour half the mixture into the greased pan and pat down firmly. Set aside.
In a small sauce pan, add the sugar, cornstarch, water, and salt. Place over medium-low heat and bring to a boil, stirring occasionally. Remove from heat and stir in vanilla.
Preheat oven to 350F.
Add the rhubarb and apple on top of the mixture in your baking pan. Pour the sauce over top, making sure to spread it from corner to corner. Top with remaining crumble mixture. Place into oven for 30 minutes, or until crumble is lightly browned.
Note: You can always double up the topping recipe but even in a 9x13-inch baking dish, I found the topping to be just right 🙂
Nutrition Information:
Yield:

6
Serving Size:

1
Amount Per Serving:
Calories:

496
Total Fat:

17g
Saturated Fat:

10g
Trans Fat:

1g
Unsaturated Fat:

5g
Cholesterol:

41mg
Sodium:

239mg
Carbohydrates:

84g
Fiber:

4g
Sugar:

54g
Protein:

5g
I paired the rhubarb with apples in this dish because I see strawberries and rhubarb are quite the popular couple. I wanted to be different! But strawberries would obviously work here.
I cannot emphasize how tasty this rhubarb crumble was. It will definitely be a recipe I go back to each year when rhubarb season hits. For now though, I have received a ton more rhubarb and need to start creating other recipes to share with you!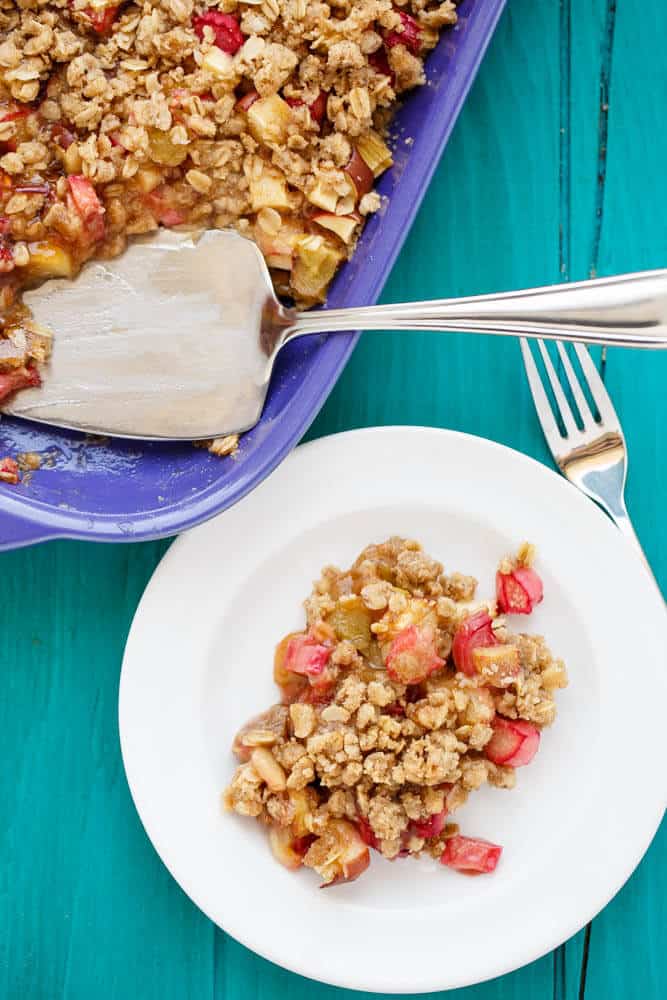 Interesting fact about this recipe. When I began writing this post, I decided to see what the difference is between a crisp and a crumble. Turns out, a crisp has no oats while a crumble does. But as I researched further, I found a dessert called a brown Betty. A brown Betty uses the same topping as a crisp, but has a layer on top and bottom. So while my dessert is a crumble, it also features a bit of a brown Betty with two layers of "crisp." You can find out more about crisps, cobblers, and crumbles from here.