Welcome to another post regarding my brand ambassadorship with The Little Potato Company! Prepare to be amazed!
I am so excited to share with you this awesome recipe that combines two favorites of my husband and sister. My husband, as you have probably heard, is a BIG potato lover. It is insane. Kind of freaks me out at times, but nonetheless, let me tell you, he can be completely full from dinner and still eat potatoes... My sister, on the other hand, cannot handle spice, and yet she loves my jalapeno poppers. Don't ask me why I thought about pairing these two recipes/ingredients, but it works! Say hello to jalapeno popper stuffed Creamer potatoes!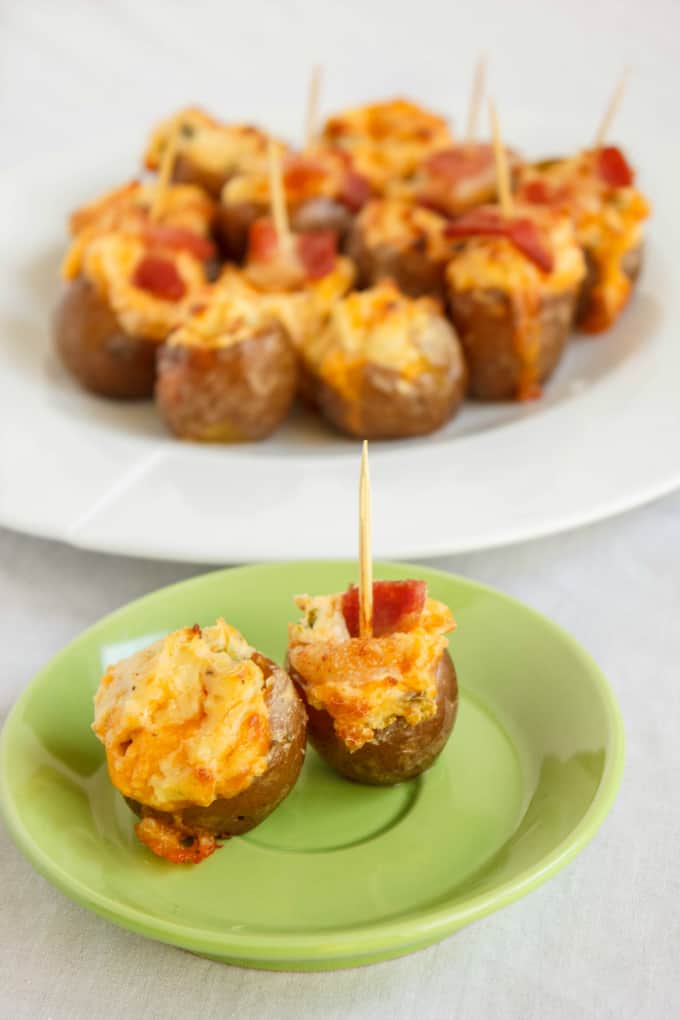 Jalapeno popper stuffed Creamer potatoes?! How do you do it?!

Psh, easy-peasy, let me tell you. Especially if you boil your Creamer potatoes ahead of time (I allow my potatoes to chill overnight in the refrigerator. It saves time and they are easier to work with.) And want to know some other fun facts? This meal is completely gluten-free and vegetarian (however, I do add bacon to my husband's jalapeno popper stuffed Creamer potatoes.) Sorry vegans, I see this one being a bit hard to recreate animal-byproduct-free, but if someone comes up with a creative recipe with no meat, please let me know!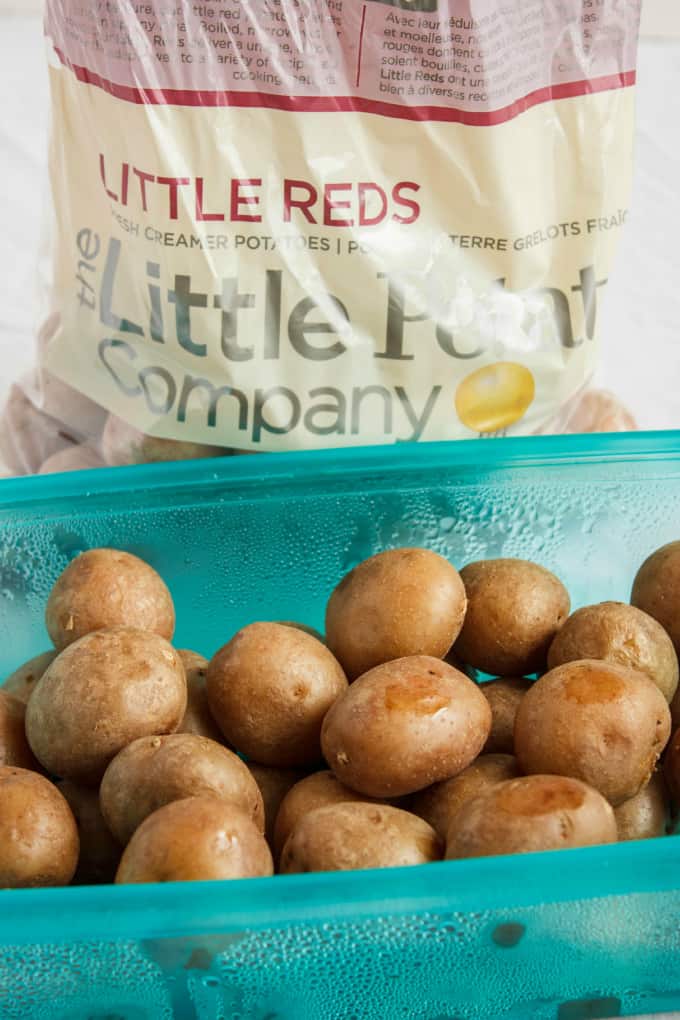 Now, as I stated in my previous posts in regards to The Little Potato Company and their Creamer potatoes, I have been lucky enough to work with all their products and find they offer the perfect range of sizes/portions. In this case, I used their 5 lb bag of Little Reds. The recipe calls for half the bag, but trust me, these potatoes will go quick, so you better double up the recipe! We loved these jalapeno popper stuffed Creamer potatoes so much that I have made the recipe many times (using different potatoes each time so don't be confused when you see other Creamer potatoes in the photos!) The Little Reds added nice contrast to the jalapeno cream cheese filling, but I bet Something Blue potatoes would look amazing on an appetizer plate at a party! And really short on time or forgot to pre-boil your Creamer potatoes? The Microwave Ready packages from The Little Potato Company would come in handy here (I loved using them in my Easy Creamer Potatoes with Roasted Vegetables recipe.)

Fun fact just before you dive into this amazing recipe: One may wonder what makes these Creamer potatoes so special. Did you know that The Little Potato Company is the only company in North America to specialize in Creamer potatoes? I find that little tidbit fascinating, but trust me, there are many more facts that make the company different from the rest!
📖 Recipe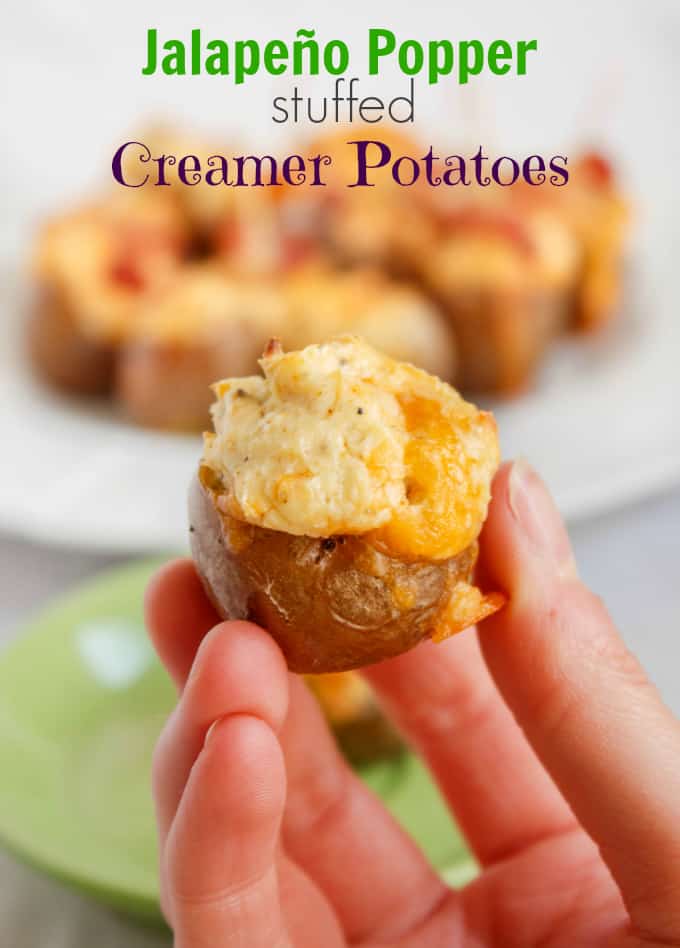 Jalapeno Popper Stuffed Creamer Potatoes
Total Time:
1 hour
10 minutes
So cute and adorable, these Jalapeno Popper Stuffed Creamer Potatoes will be a showstopping appetizer or a great side to a delicate meal.
Ingredients
2 ½ lbs Little Potato Company Creamer Potatoes (I used Little Reds)
¼ tsp. cumin
¼ tsp. Hungarian paprika
½ tsp. garlic powder
½ tsp. dried oregano
Salt and pepper
Olive oil
1 (8 oz) package Philadelphia cream cheese, room temperature (you can also use the 400 g container and double the recipe.)
1 ½ cups cheddar cheese, grated
1 or 2 jalapenos, diced (depending on your heat tolerance.)
4 slices of bacon, sliced (optional.)
Instructions
Bring a large pot of salted water to a boil. Add potatoes and boil 8-10 minutes, or until potatoes are fork tender. Drain water and rinse potatoes with cold water to stop the continuous of cooking. Chill overnight in refrigerator if desired.
Slice the top off each potato (don't take too much, just enough to be able to dig a small spoon into.) I used a small, metal ½ tsp. measuring spoon to hollow out about half of the potato from each creamer potato. Once completed, slice a TINY sliver of potato off the bottom of each potato so they can stand up easily on the baking sheet.
Preheat oven to 375F. Line a baking sheet with parchment paper.
Place hollowed potatoes into a large mixing bowl and add just enough olive oil to coat the potatoes. Season with salt and pepper. Arrange potatoes onto baking sheet.
Add the cream cheese and seasonings to a large mixing bowl (remember to season with salt and pepper.) Mix until thoroughly combined. Stir in the cheese and jalapenos.
Place a bit of the cheese mixture into each potato. Once completed, top potatoes with optional bacon and secure with toothpicks.
Bake for 15-20 minutes (maybe a bit longer for the bacon pieces if you prefer a crispier texture.) Remove from oven and allow to cool slightly.
Serve.
Nutrition Information:
Yield:

2
Serving Size:

1
Amount Per Serving:
Calories:

1097
Total Fat:

49g
Saturated Fat:

23g
Trans Fat:

1g
Unsaturated Fat:

22g
Cholesterol:

121mg
Sodium:

1192mg
Carbohydrates:

126g
Fiber:

13g
Sugar:

8g
Protein:

43g
I love these little potatoes as an appetizer, but I won't lie when I say I can eat this meal for dinner! I was lucky enough to save one potato for my neighbor to try (she totally cannot handle spice and loved this recipe.) Her husband, unfortunately, never got the chance to try one because Mr. TCW devoured the rest of the plate! An excuse to make these jalapeno popper stuffed Creamer potatoes again?! No excuse needed: they WILL be made again, and probably soon!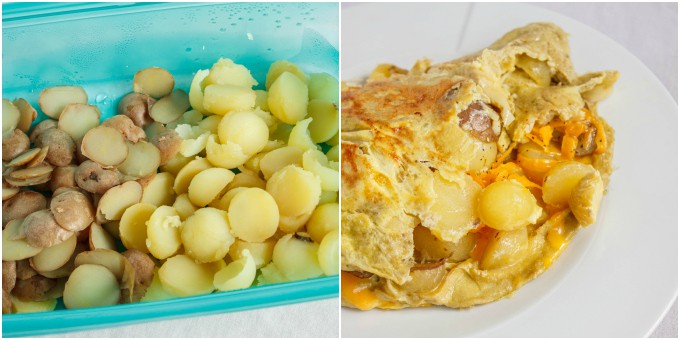 Now, I am sure some are going to ask "what are you going to do with all the leftover potato from hollowing out the Little Reds?" Well, I chopped up the remaining potato flesh and skin and mixed them into an omelette with artichoke hearts and cheese! My local breakfast place makes a wonderful potato omelette, so it was the perfect way to not waste the leftovers. Don't judge my horrible omelette-making skills, I am not a good breakfast chef at all! In previous attempts of this recipe, I just sauteed up the remaining potato filling and ate it with butter. Never throw it away!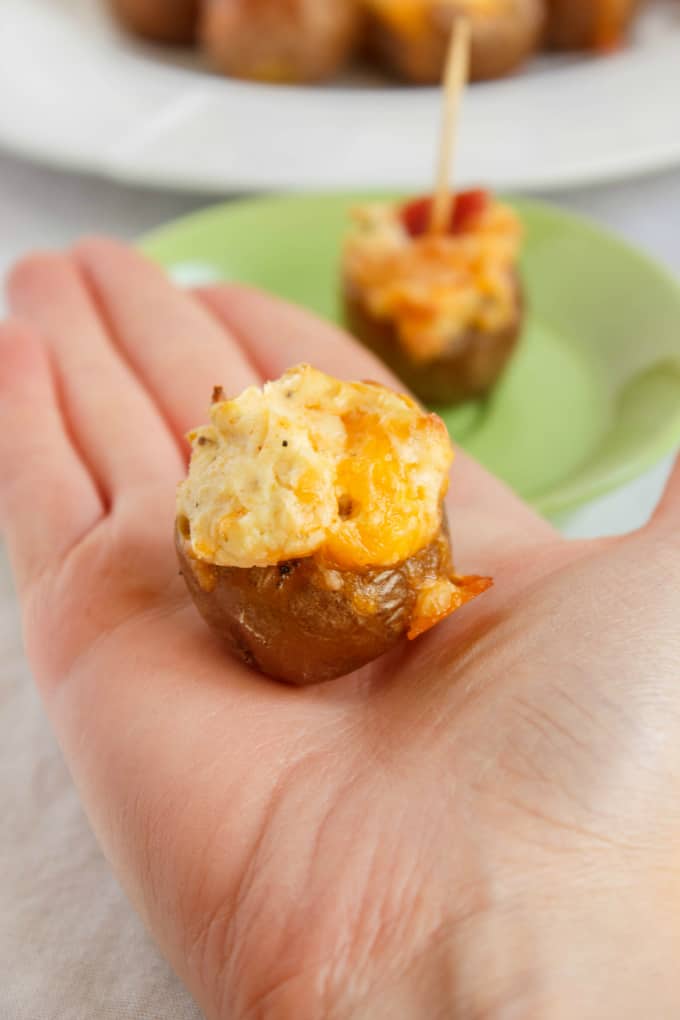 Have fun with the recipe and adjust accordingly (I know jalapenos can be a bit much for some, but if you remove all the seeds, spice should not be an issue.) And like I said, the recipe can be made vegetarian or not. I usually split the batch and do half with bacon for Mr. TCW, and half without for me. Tip of the day: bacon tends to shrink when it cooks, so you may want to put larger slices of bacon on top of the stuffed potatoes.
This is a sponsored post. I was fortunate enough to receive products from The Little Potato Company. Though products were received, all opinions are my own and I would not recommend a product that I did not enjoy.