As I stated yesterday, there was a reason for my madness when it came to making red velvet cupcakes. I wanted to revisit a recipe that my neighbor and I had made in the past, and while I did hit some obstacles along the way by trying some new recipes, I am actually pretty impressed with how they turned out!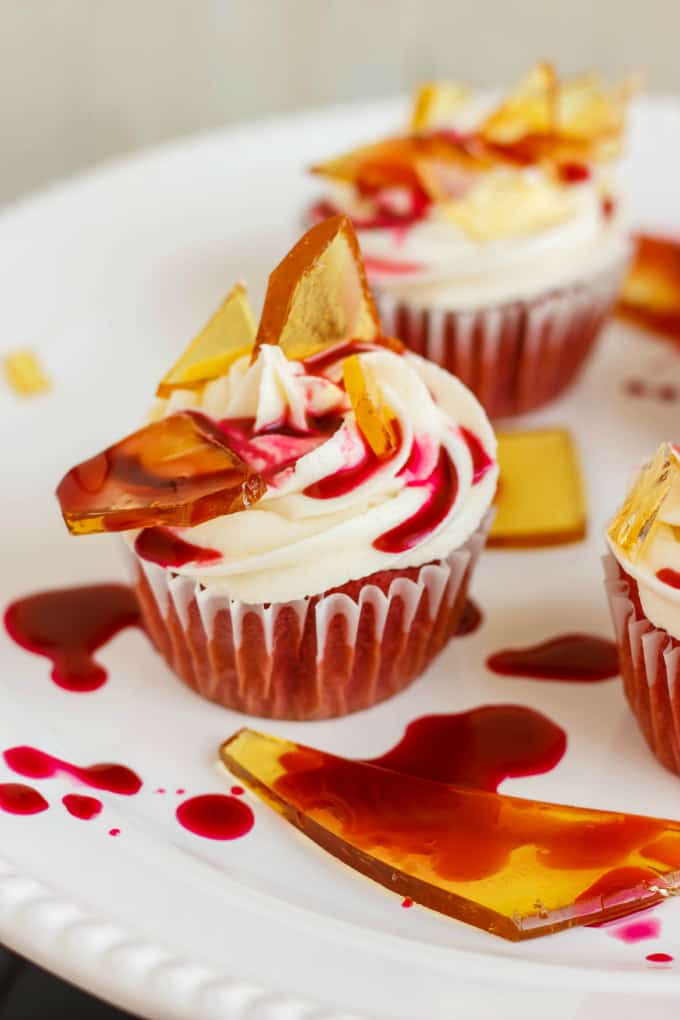 These scary Halloween cupcakes were a lot of fun to make. Blood cupcakes with broken beer bottle glass shards (don't worry, it isn't real glass or blood!) Originally I was going for the clear glass look that I had made in the past but for some reason I decided to try a new sugar glass recipe that used corn syrup. First, I was out of corn syrup. It is annoying because I KNEW I needed some and had a bottle in my hand last weekend when I went grocery shopping, but placed it back because "I won't need this anytime soon." Luckily I had the truck for the day so I popped out to the store quickly with Girlie and decided to go to the closer of the three grocery stores (but not the super expensive one.) Go in there, search the baking aisle and no corn syrup. Darn. I even asked an employee and without saying a word he pointed to the maple syrup... Okay, maybe he didn't hear me but at that point I just wanted to get going and grab this corn syrup! Finally get out, after spending $20 on random groceries that I would not have bought had I not gone to this store at all. Sigh. Popped over to the expensive grocery store and didn't even think about reading the bottle of corn syrup in my hand. Didn't realize until I got home (which was after a truck caught on fire across the street from the store!) that I had bought golden corn syrup and not pale. Why is this all important? Well, there is no way my glass is going to come out clear when the initial mixture is so dark from the corn syrup.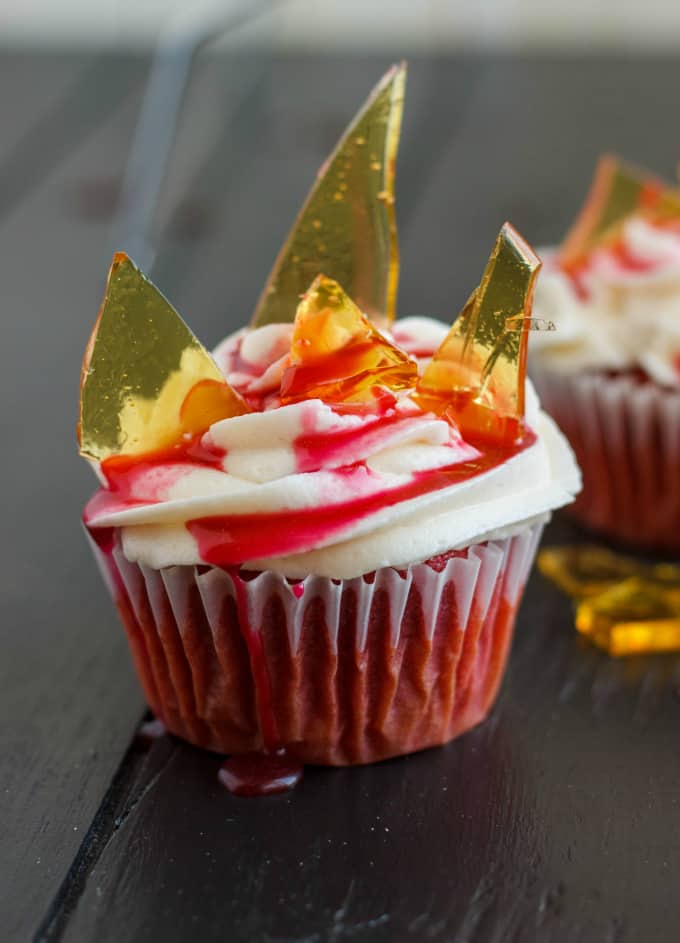 But in the end, I think it worked to my benefit. I have a completely unique look and spun a story on it. These bloody cupcakes with broken beer bottle glass shards represent your stereotypical horror movie. Lots of young adults drinking, an old classmate who they thought long dead comes back for revenge and does so with the beer bottles! I am sure I have seen some horror movie that uses beer bottles as a weapon... Either way, horror movie=blood, and these cupcakes have lots of that!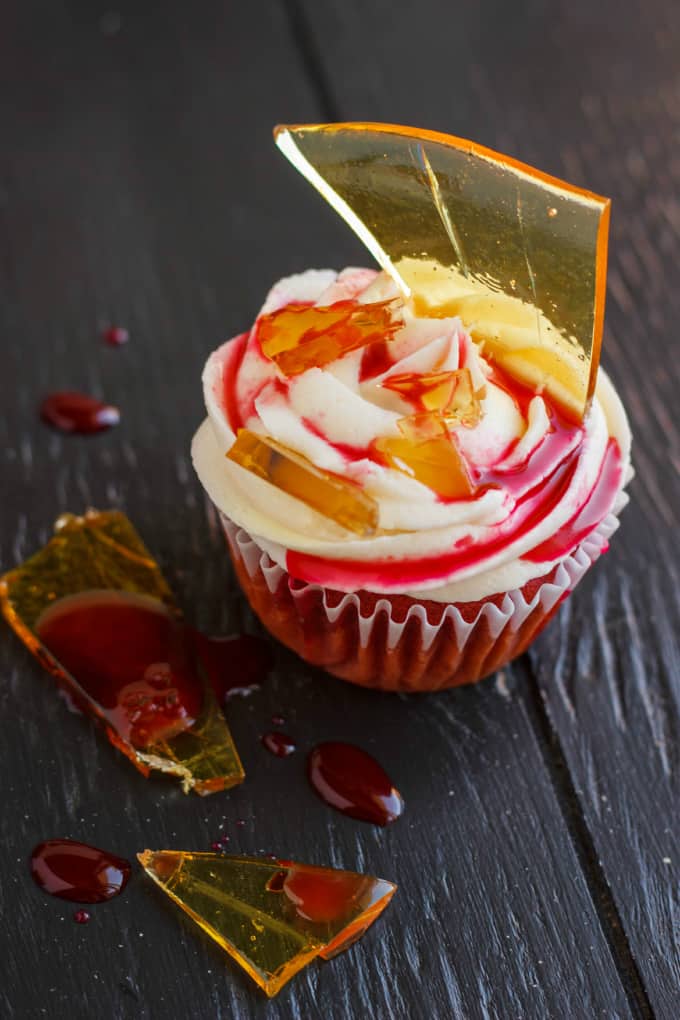 Now, be warned. The blood goes on nice and blood-like, but once it begins to settle, or you stick your cupcakes in the fridge (my bad, but working with cream cheese frosting, I didn't want to risk the chance of tops melting,) the color turns pretty pink. It is depressing after all that hard work making the cupcakes look bloody. I suggest pouring the blood on last minute before serving so your guests get the true effect. I made these cupcakes in advance, and then told my husband to take in the leftover blood so he could reapply a new coat for his coworkers. It just isn't the same with neon pink blood!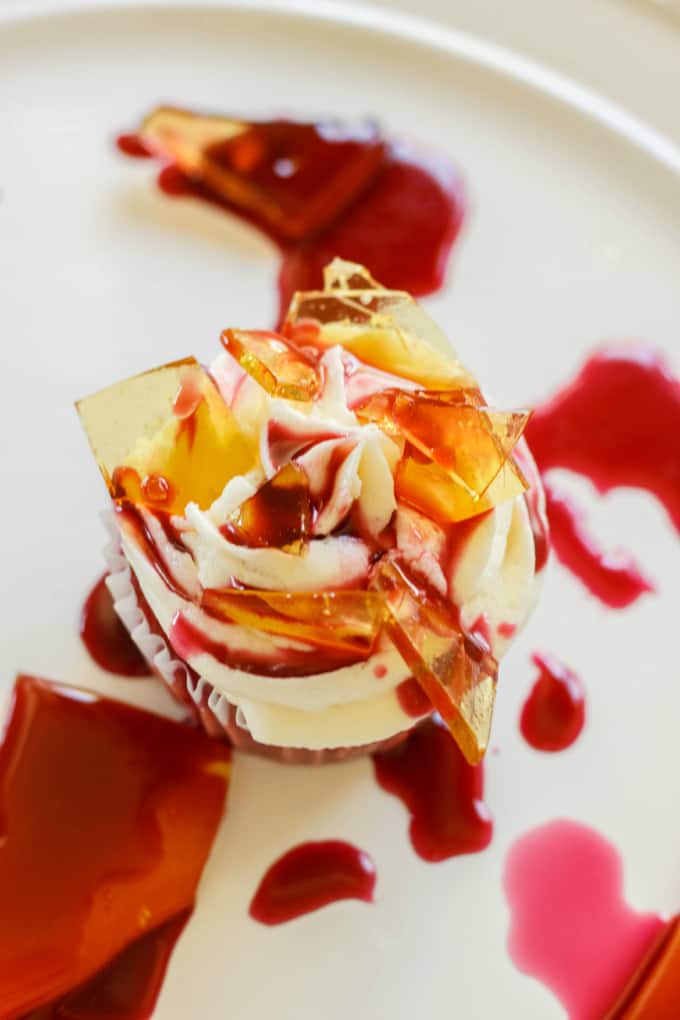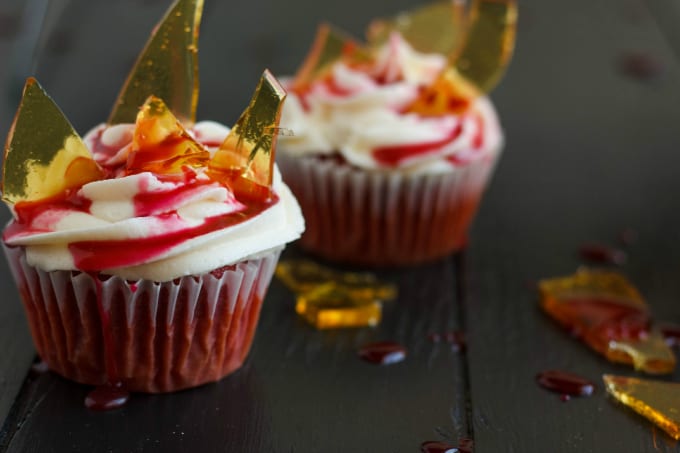 📖 Recipe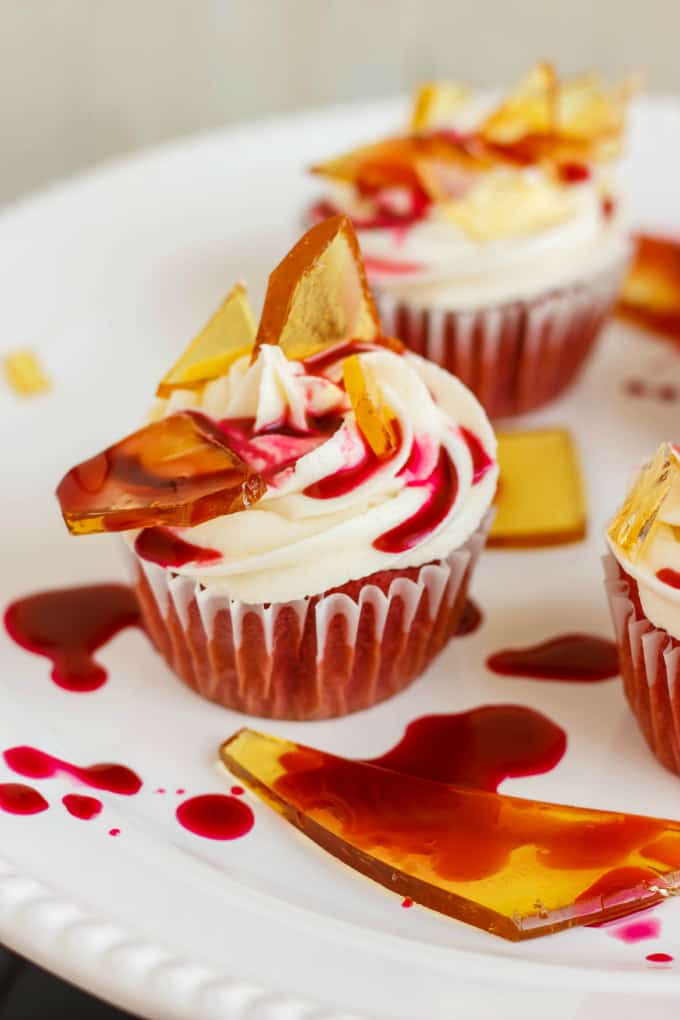 Halloween Cupcakes: Blood Cupcakes with Broken Beer Bottle Glass Shards
Scare all your guests this Halloween with these awesome blood cupcakes with broken beer bottle glass shards!
Ingredients
¼ cup golden corn syrup (this will make the amber color.)
1 tbsp. + 1 tsp. cornstarch
⅛ - ¼ cup water
15 drops red food coloring
3 drops blue food coloring.
Broken Glass:
Coconut oil or cooking spray for greasing pan
1 cup water
½ cup corn syrup
1 ½ cups granulated sugar
¼ tsp. cream of tartar
Instructions
In a bowl, add the corn syrup, cornstarch and water (start with ⅛ cup first and then keep adding more until you reach your desired blood consistency. Whisk until smooth and no chunks of cornstarch remain.
Add the red coloring and begin adding the blue, one drop at a time. I only added two drops and the color was perfect, but found when the blood dried on the cupcakes, it turned almost pinkish in color.
Pour over your cupcakes using a spoon, trying not to think about it too hard!
Sugar Glass:
Grease a baking sheet with coconut oil. Trust me, this mixture will stick otherwise.
In a small saucepan, attach a candy thermometer to the side. Place over low heat (around a 3 on my stove) and pour in all the ingredients. Stir to combine and every so often until the mixture begins to boil. Allow the mixture to reach 300F and then carefully pour onto the baking sheet, turning the pan to help the liquid spread out to a thinner consistency if desired. Set pan aside for a couple of hours so the mixture can harden.
Once the sugar mixture has harden, give it a couple of good whacks (I used my rolling pin) to break the glass into shards. Use immediately!
Nutrition Information:
Yield:

8
Serving Size:

1
Amount Per Serving:
Calories:

253
Total Fat:

2g
Saturated Fat:

1g
Trans Fat:

0g
Unsaturated Fat:

0g
Cholesterol:

0mg
Sodium:

22mg
Carbohydrates:

62g
Fiber:

0g
Sugar:

62g
Protein:

0g
I absolutely love these cupcakes! They are scary, yet enticing for a Halloween night. My daughter loved them, but then again, she loves her sweets! I suggest putting aside a good amount of your day to make these. I usually try to make things in advance but the broken sugar glass tends to get sticky over time. I mean, you could make that immediately in the morning, but make sure to put aside enough time to assemble and decorate the cupcakes. There are a lot of steps: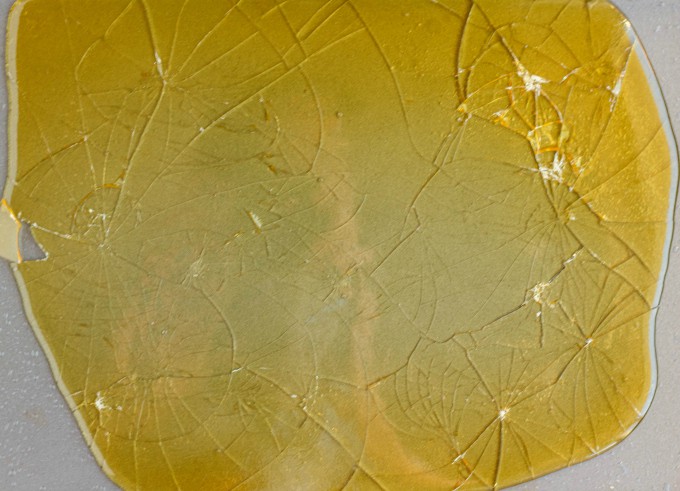 Make the broken glass shards.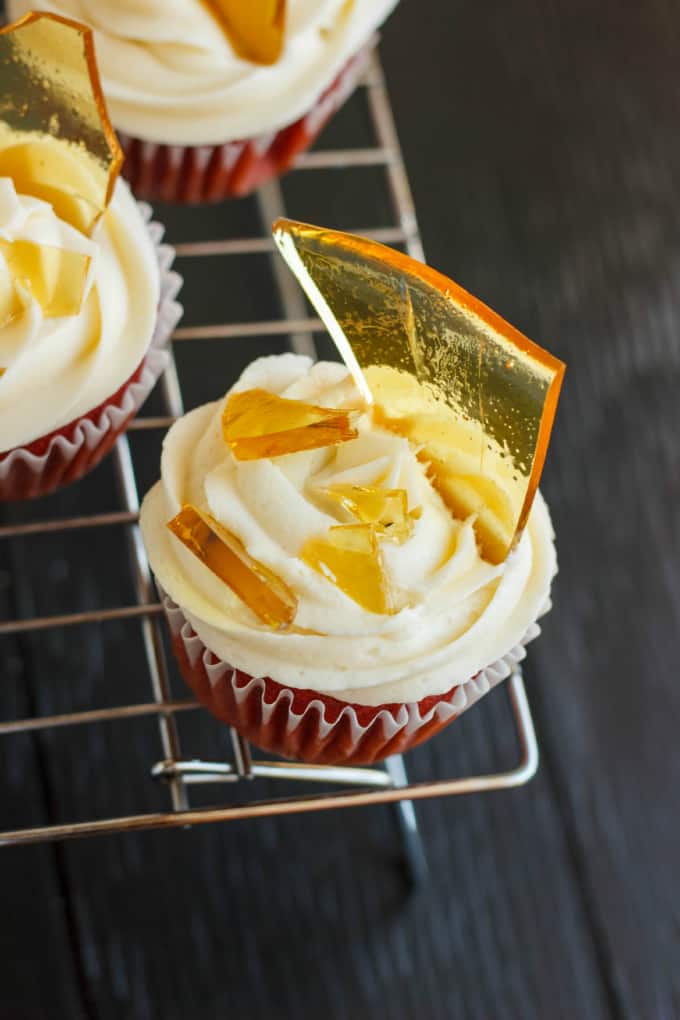 Make the red velvet cupcakes and cream cheese frosting. Remember, the cupcakes need to cool completely before piping the frosting on top! Pipe on the frosting and stick in the glass shards (I use a mixture of large pieces and some of the small flecks.)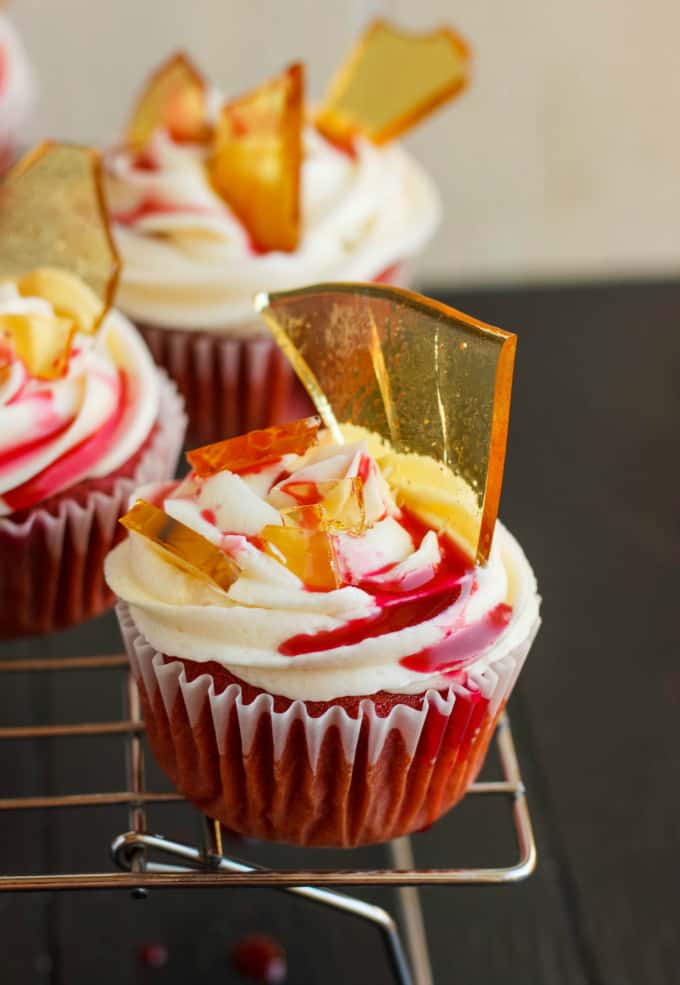 Lastly, top with the fake blood!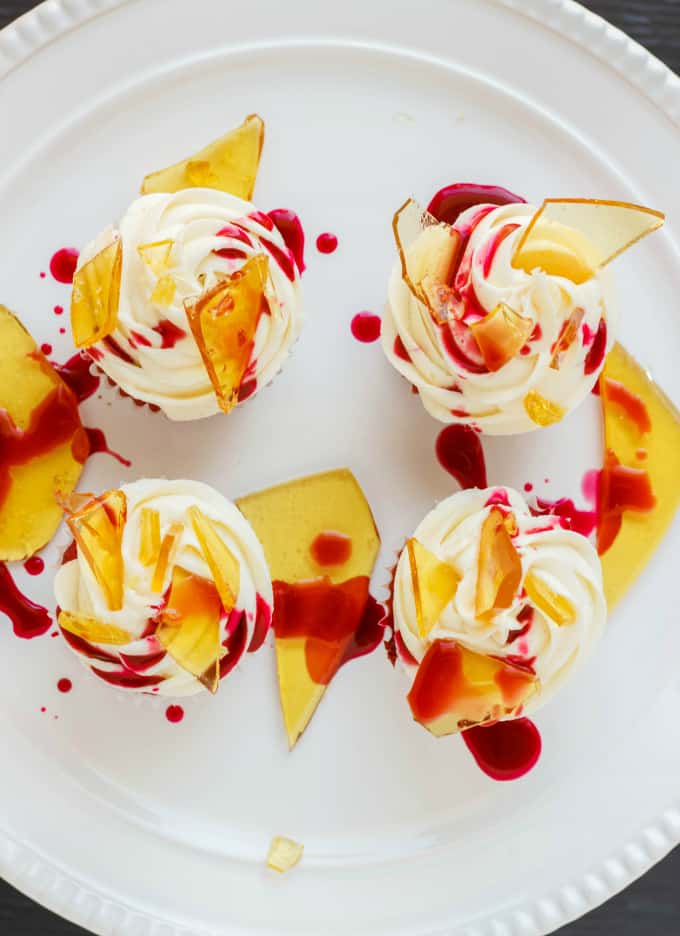 And there you have it! I have made royal icing cookies for Halloween, but I must say, my favorite projects are definitely cakes and cupcakes. I would like to try my hand at cake pops at some point, but for now, I have enough on my plate.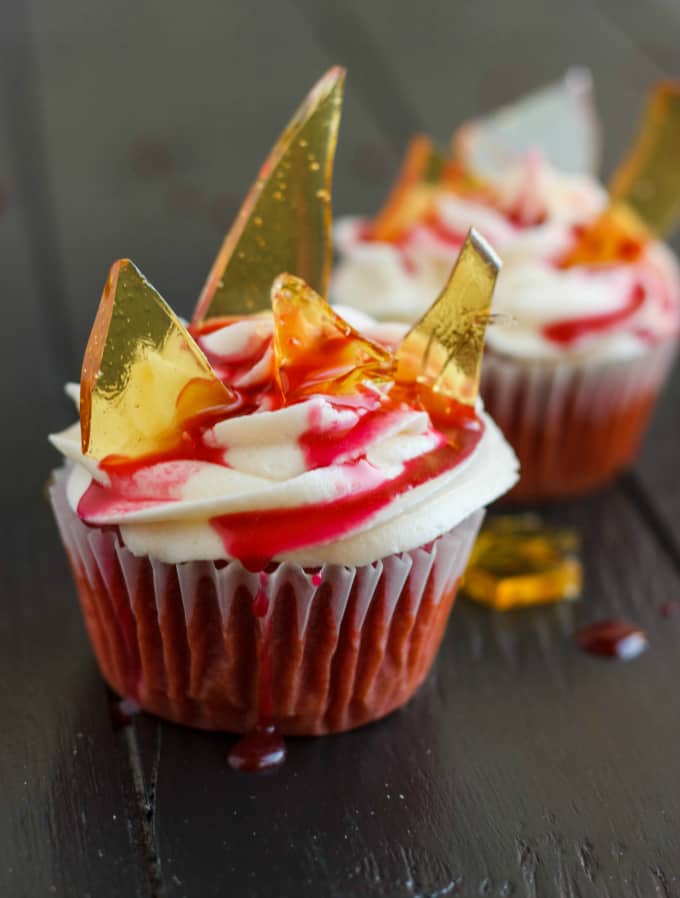 Be sure to warn people about the "glass." I am thinking more about the little ones, but the glass becomes quite hard. I am sure no one is going to use the pieces to stab someone with but I remember some pieces being kind of sharp (you could always avoid this my breaking off any sharp points.)