One of the many upsides to entering a relationship and getting to know the other person, is being introduced to their home-cooking. While I am the one often cooking (because I love it and always want to try something new) my husband has brought many delicious recipes into my life. They are his go-to meals when I am not in the mood for any of my recipes.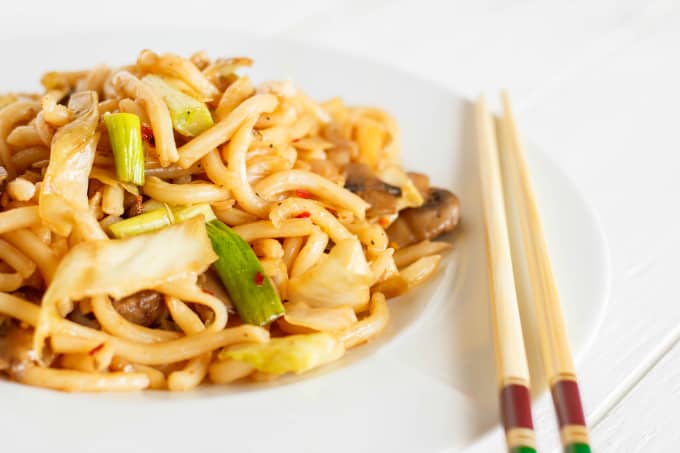 However, over the many years of him making these recipes, I have found myself slowly pushing myself into these meals. He can no longer make Artichoke Heart Chicken because I prefer my method. Now I have taken over his "noodle dish" as he refers to it. But I had my reasons! He worked hard installing new pot and pan drawers for me and I felt bad that he was going to cook dinner the following day so I jumped ahead and made the dish while he was at work. However, I could not leave it alone and had to put my own spin on it. I think I have him hooked on my version but he won't tell me outright 🙂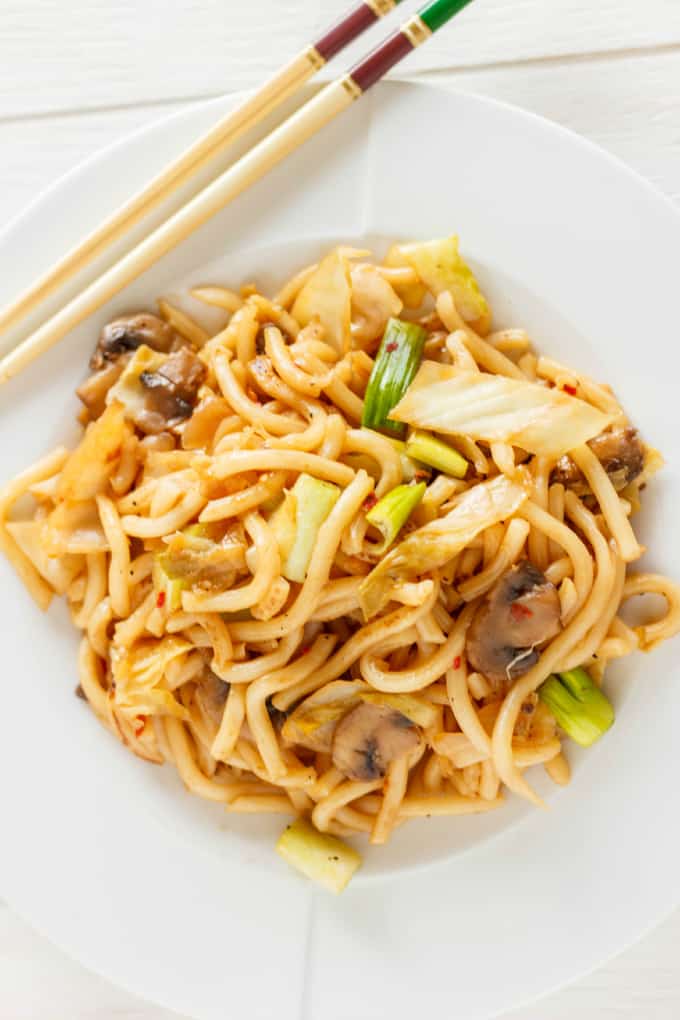 📖 Recipe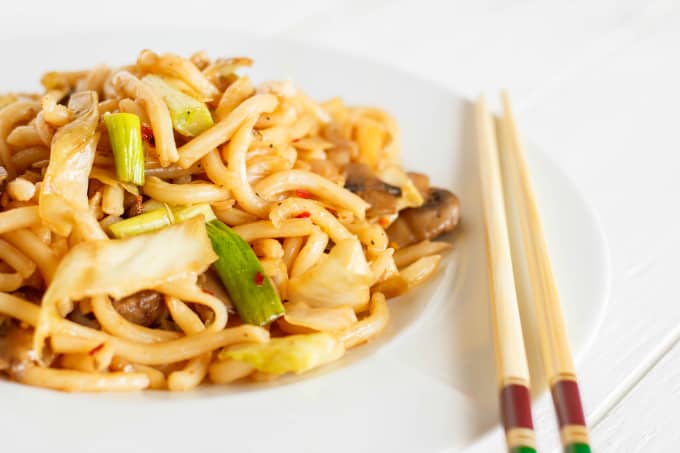 Fried Udon Noodles with Mushrooms and Cabbage
If you love thick noodles, this sweet dish is for you!
Ingredients
5-6 garlic cloves
1200 g Udon noodles
2 tbsp. soy sauce + 2 tbsp. soy sauce
1 tbsp. sugar + 1 tbsp. sugar
¼ cup hoison
¼ cup rice wine vinegar
½ tbsp. cornstarch
8 oz mushrooms, sliced
1 tsp. fresh ginger
1 tsp. red chili flakes + more if desired
2 tsp. sesame oil
4 tbsp. olive oil
½ of a green cabbage, diced
3-6 stalks of green onions, sliced into 1-inch pieces
Instructions
In a wok, add 2 tbsp. olive oil over medium-high and add the mushrooms and fresh ginger. Saute until the mushrooms are golden brown, about 5-10 minutes. Remove from pan and set aside.
Add remaining olive oil to the wok and heat over medium. Add the cabbage and garlic and saute for a minute or two. Season with chili flakes, 2 tbsp. soy sauce, and 1 tbsp. sugar. Continue to cook until cabbage is tender-crisp (that is the consistency I enjoy, you can cook until soft if you like.) Pour the cabbage into the same bowl as the mushrooms and set aside.
Heat the sesame oil in the wok over medium. Add the noodles, cooking for a couple of minutes, or until beginning to crisp. Add the remaining soy sauce and sugar. Cook until noodles develop a crispy layer to them.
While the noodles are crisping, mix together the hoison sauce, rice wine vinegar, and cornstarch. Mix well.
When the noodles are done, give the sauce one final mix to make sure the cornstarch hasn't settled, and pour into the wok. Stir. Add the mushrooms, green onions, and cabbage into the wok. Give a toss and add any additional seasoning (we tend to add more chili flakes here.) Stir the mixture until completely combined and heat through.
Nutrition Information:
Yield:

4
Serving Size:

1
Amount Per Serving:
Calories:

440
Total Fat:

17g
Saturated Fat:

2g
Trans Fat:

0g
Unsaturated Fat:

14g
Cholesterol:

0mg
Sodium:

900mg
Carbohydrates:

61g
Fiber:

5g
Sugar:

10g
Protein:

11g
This has to be one of my most favorite recipes that he created. We usually make ours super spicy! He doesn't even measure out the red chili flakes; I just see him pour handfuls in! My version definitely could have been spicier, but for the non-spice lovers, this recipe will work perfectly. Girlie loves this dish so much, she grabs her fork and bowl before the meal is completed and hands the bowl to us. And then proceeds to eat 2-3 bowls... That is how amazing it is!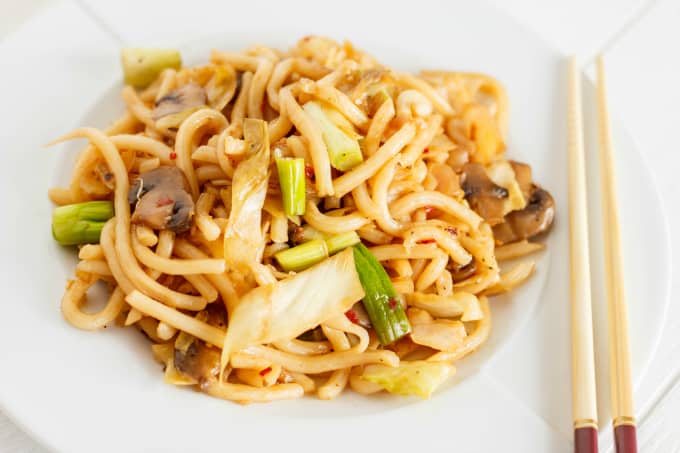 I recently saw a great idea online to add bok choy instead of cabbage. We love both, but I would love to try a bok choy variant. Whenever we go out for sushi, we always order their fried udon noodles and they include broccoli, peppers, mushrooms, and onions. So this dish could easily be beefed up however you wish.